This website uses cookies to ensure you get the best experience while browsing it. By clicking 'Got It' you're accepting these terms.
Will Norway Ban Sales of Gas-Powered Cars by 2025?
Jun. 06, 2016 08:36AM EST
Norway's four leading political parties have reportedly reached an agreement to ban the sale of all gasoline-powered cars by 2025, according to Norwegian Liberal Party MP Ola Elverstuen. "After 2025 new private cars, buses and light commercial vehicles will be zero-emission vehicles. By 2030, new heavier vans, 75 percent of new long-distance buses, 50 percent of new trucks will be zero emission vehicles," he said.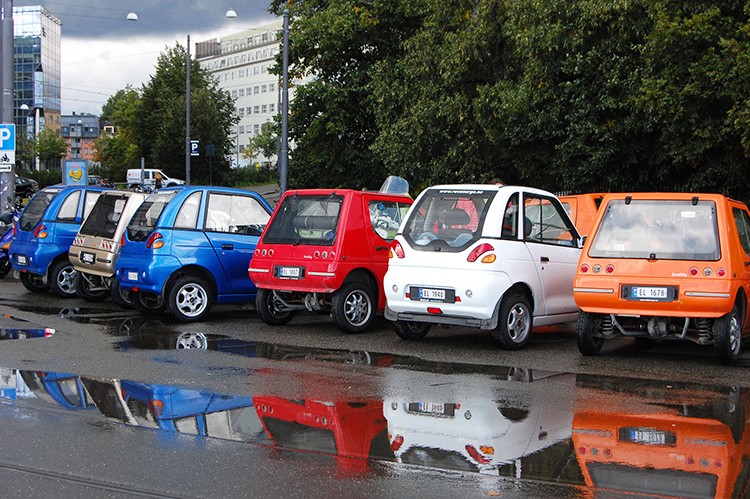 About 24 percent of Norway's cars are already electric vehicles. Tesla CEO Elon Musk tweeted words of praise for the development, calling Norway an "amazingly awesome country."
However, there is some uncertainty as the two left-leaning parties have confirmed the news while the two right-leaning parties have denied it.
"The government and its partners agree on a new step on the way towards a low-emission society ... but there is no talk of banning the sale of diesel and petrol vehicles in 2025 as one would be led to believe in Dagens Næringsliv," the conservative party said in a press release, as quoted by The Local.
According to RT:
Elvestuen also stepped forward after the report's publication, clarifying that the parties had only agreed to "set target numbers for how many low- and zero emissions" cars there should be in Norway in 2025. The agreement is aimed at reaching climate goals due to be presented next year as part of the country's national transport plan.
"We have not reached an agreement on how to reach the goals," he said.
Although it seems Norway isn't quite ready to ditch traditional cars by 2025, the country is still a leader when it comes to environmentally-friendly vehicles.
Last year, 17.1 percent of new car registrations were zero-emissions vehicles, giving Norway the highest market share for clean vehicles anywhere in the world. The country also has a small ownership of cars, accounting for less than 1 percent of all vehicles in Europe.
For a deeper dive: Independent, Quartz, Fortune, RT, Gizmodo, CNBC
For more climate change and clean energy news, you can follow Climate Nexus on Twitter and Facebook, and sign up for daily Hot News.
YOU MIGHT ALSO LIKE
Meet the World's First Electric Walking Bike
Chile Producing So Much Solar Energy It's Giving Electricity Away for Free
1 Million+ Electric Cars Are Now on the World's Roads
BMW South Africa Unveils Solar Carport to Charge Electric Vehicles
Cycling advocates set up "ghost bikes," like this one in Brooklyn, in memory of bikers killed in traffic.
Nick Gray
/
CC BY-SA
By John Rennie Short
As cities strive to improve the quality of life for their residents, many are working to promote walking and biking. Such policies make sense, since they can, in the long run, lead to less traffic, cleaner air and healthier people. But the results aren't all positive, especially in the short to medium term.
smodj / iStock / Getty Images Plus
By Pete Stauffer
For those of us who love the coast, the negative impacts of offshore oil drilling are obvious. Offshore drilling has a proven track record of polluting the ocean, damaging coastal economies and threatening a way of life enjoyed by millions of people. Yet, the oil and gas industry—and the elected officials who prioritize them over the public interest—would like you to believe that offshore drilling is somehow a safe and necessary practice.
An indigenous environmental activist was killed in Morelos, Mexico Wednesday, three days before a referendum on the construction of a gas pipeline and two thermoelectric plants that he had organized to oppose, the Associated Press reported.
Samir Flores Soberanes had challenged the words of government representatives at a forum about the so-called Morelos Comprehensive Project a day before his murder, The Peoples in Defense of Land and Water Front (FPDTA), the group Soberanes organized with, said in a statement.
William Happer, head of proposed White House climate panel, in the lobby of Trump Tower in 2017. Jabin Botsford / The Washington Post via Getty Images
The White House is assembling a climate change panel to be headed by a known climate denier who once took money from a coal company to testify at a hearing and who has compared criticism of carbon dioxide to Hitler's demonization of the Jews.
William Happer, a Princeton physicist who has never trained as a climate scientist, joined the Trump administration in September 2018 as senior director for emerging technologies at the National Security Council (NSC).