This website uses cookies to ensure you get the best experience while browsing it. By clicking 'Got It' you're accepting these terms.
Will New Relations With Cuba Impact Its Pristine Ocean Environment?
Dec. 18, 2014 10:44AM EST
With the news yesterday from President Obama that his administration is moving to normalize relations with Cuba, many experts have argued that ending the embargo would be a boon for the island nation's economy. But whether it will be an entirely beneficial thing for Cuba's natural environment and surrounding oceans remains to be seen. In the environmental community, many organizations that have been working tirelessly on ocean conservation in the Caribbean hope that there can now be true cooperation between the U.S. and Cuba in the environmental realm.
Dr. David Guggenheim, founder of Ocean Doctor, a nonprofit dedicated to protecting and restoring our oceans through hands-on conservation, has legitimate concerns about the impacts of ending the embargo. In October, he joined Thom Hartmann on The Big Picture to talk about the potential environmental effects—good and bad—of ending the embargo.
Guggenheim readily admits the embargo was a "failed policy," but under the embargo, Cuba's environment—namely its pristine national parks and coral reefs—has thrived. He cites the fact that "Cuba has protected 25 percent of its marine waters compared to the worldwide average of one percent." So, the question going forward will be: Can Cuba maintain its pristine environment after it's opened up to the U.S. and the rest of the world?
In a five-part series on EcoWatch, Conor Kennedy explores the pristine coral reefs of the Gardens of the Queen after his visit to Cuba this summer with Ocean Doctor. In his piece, Cuba and the Embargo, Kennedy shares his hopes for normalized relations between Cuba and the U.S. that includes policies that will protect Cuba's pristine ocean ecosystem.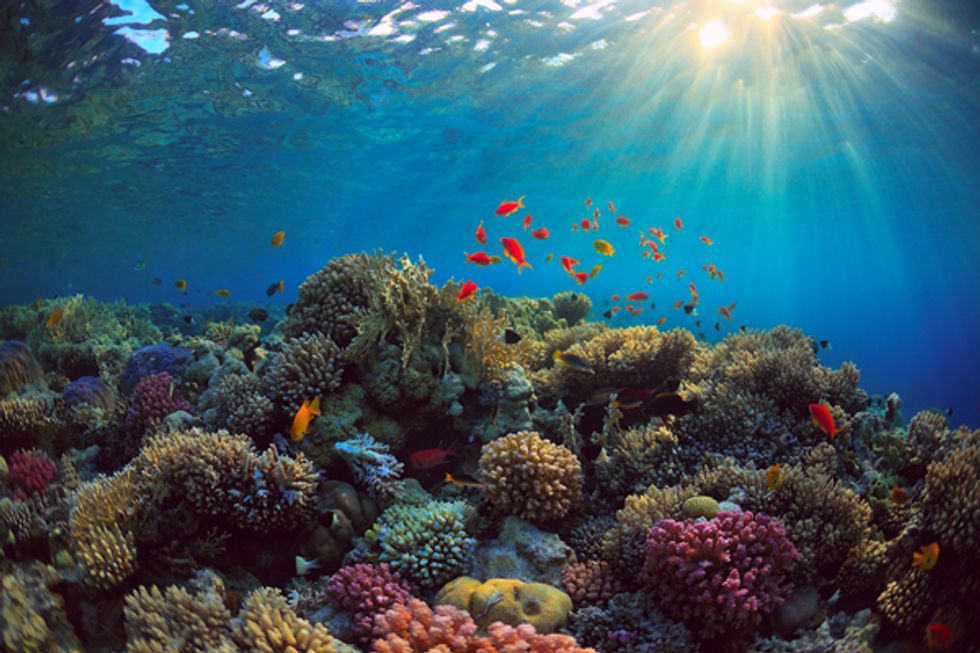 Cuba protects 25 percent of its marine waters compared to the worldwide average of 1 percent. Photo credit: Shutterstock
The Environmental Defense Fund (EDF) would also like to see an end to the embargo because it will allow them to expand their work to promote an exchange and a dialog around critical conservation issues.
"With normalized relations come great opportunity, but also great challenges," said Dan Whittle, director of EDF's Cuba Oceans Program and Senior Attorney.
"The doors are now open to U.S. travel and investment, and the rigor of Cuba's environmental rules will be tested. As money begins to flow into Cuba, it is critical that we continue our work helping Cuba build upon its impressive environmental protections and double down. EDF believes the environment will fuel economic growth, but we cannot allow the environment to be sacrificed in the process."
YOU MIGHT ALSO LIKE
What Becomes of Cuba After the Embargo Is Lifted?
Obama Permanently Protects Alaska's Bristol Bay From Oil and Gas Development
EcoWatch Daily Newsletter
Pro-environment demonstrators on the streets of Washington, DC during the Jan. 20, 2017 Trump inauguration.
Mobilus In Mobili
/ Flickr /
CC BY-SA 2.0
By Dr. Brian R. Shmaefsky
One year after the Flint Water Crisis I was invited to participate in a water rights session at a conference hosted by the US Human Rights Network in Austin, Texas in 2015. The reason I was at the conference was to promote efforts by the American Association for the Advancement of Science (AAAS) to encourage scientists to shine a light on how science intersects with human rights, in the U.S. as well as in the context of international development. My plan was to sit at an information booth and share my stories about water quality projects I spearheaded in communities in Bangladesh, Colombia, and the Philippines. I did not expect to be thrown into conversations that made me reexamine how scientists use their knowledge as a public good.
Mt. Rainier and Reflection Lake on Sept. 10, 2015. Crystal Geyser planned to open a bottling plant near Mt. Rainier, emails show.
louelke - on and off / Flickr
Bottled water manufacturers looking to capture cool, mountain water from Washington's Cascade Mountains may have to look elsewhere after the state senate passed a bill banning new water permits, as The Guardian reported.
Large storage tank of Ammonia at a fertilizer plant in Cubatão, Sao Paulo State, Brazil. Luis Veiga / The Image Bank / Getty Images
The shipping industry is coming to grips with its egregious carbon footprint, as it has an outsized contribution to greenhouse gas emissions and to the dumping of chemicals into open seas. Already, the global shipping industry contributes about 2 percent of global carbon emissions, about the same as Germany, as the BBC reported.
At high tide, people are forced off parts of the pathway surrounding DC's Tidal Basin. Andrew Bossi /
Wikimedia
The Jefferson Memorial in Washington, DC overlooks the Tidal Basin, a man-made body of water surrounded by cherry trees. Visitors can stroll along the water's edge, gazing up at the stately monument.
But at high tide, people are forced off parts of the path. Twice a day, the Tidal Basin floods and water spills onto the walkway.
Lioness displays teeth during light rainstorm in Kruger National Park, South Africa. johan63 / iStock / Getty Images
Ahead of government negotiations scheduled for next week on a global plan to address the biodiversity crisis, 23 former foreign ministers from various countries released a statement on Tuesday urging world leaders to act "boldly" to protect nature.