This website uses cookies to ensure you get the best experience while browsing it. By clicking 'Got It' you're accepting these terms.
Will New FERC Chair Protect People or the Fossil Fuel Lobby?
Apr. 17, 2015 01:31PM EST
Energy

From the time I walked yesterday into the FERC building—that's the Federal Energy Regulatory Commission, the most powerful and dangerous federal agency most people have never heard of—things felt and looked different.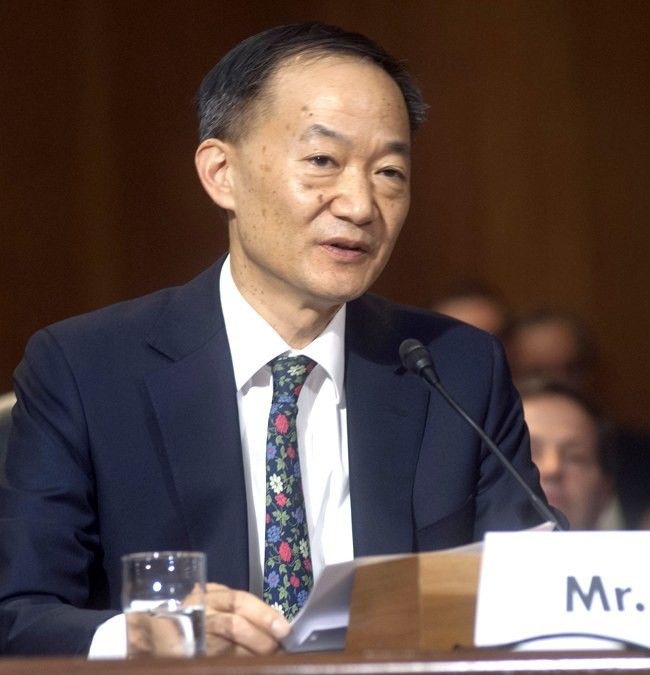 Unlike most of the other FERC commissioners, Norman Bay does not have an extensive background of work with or for the fossil fuel industry. Photo credit: Flickr
First were the cops. There are always FERC security personnel at the front entrance, but it seemed like there were twice as many yesterday as I'd ever seen before in past visits. In addition, and ominously, there were also a couple of Department of Homeland Security/Federal Protective Services police prominently stationed where they could not be missed.
Then there was the atmosphere in the auditorium where the five FERC commissioners were soon going to be having their monthly meeting. There was a noticeable tenseness, a lot less smiles, more uptight FERC staff faces than I've seen before, and this was about my seventh time at one of these monthly meetings.
Of course, it is true that last month during the March meeting Beyond Extreme Energy did what has never before been done inside FERC: a loud and boisterous, though nonviolent, sit-in. I suppose they had reason to be uptight wondering what we were going to do yesterday.
Yesterday was day one of Norman Bay's tenure as Chair of FERC. It was also the sixth straight monthly meeting where Beyond Extreme Energy has had a visible presence, calling them out for their rubber-stamping of permits for the gas industry to expand its fracking infrastructure—pipelines, compressor stations, storage terminal and export terminals. Our activities since last summer, combined with the growing and inspiring resistance in frontline communities to this tsunami of infrastructure expansion, led then-Chair Cheryl LaFleur in late January to publicly call attention to the "situation" that FERC now has.
Bay has an interesting background. Unlike most of the other FERC commissioners, he does not have an extensive background of work with or for the fossil fuel industry. Prior to coming to FERC in 2009 he was a federal prosecutor in U.S. Attorneys' offices in DC and New Mexico and a professor of law at the University of New Mexico Law School. Since 2009 he has been the director of enforcement at FERC, and his record seems somewhat hopeful.
U.S. Senator Diane Feinstein said of Bay's work that "(his) market oversight unit at FERC has taken significant actions to crack down on the type of Wall Street energy speculation and market abuse that led to the energy crisis and allowed traders to rob American consumers and darken cities. He has used authority that I worked to pass in 2005—prohibiting fraud and manipulation in electricity and natural gas markets—in order to catch major financial institutions manipulating California's electricity markets."
And in explaining his opposition last summer to Bay being named as FERC chair, Republican Senate leader Mitch McConnell said, "There are factors that lead us to believe that Mr. Bay would reliably serve as a rubber stamp for this administration's extreme anti-coal agenda."
When Norman Bay began speaking to open the meeting yesterday, Beyond Extreme Energy activists, one by one, six of us, spoke up from where we were sitting throughout the room. Using Bay's own words from a statement released the day before, we called for him to support "the public interest," not the interests of the fossil fuel industry. We also called for FERC to stop threatening the futures of young children, to stop its rubber stamping ways and for Bay to lead efforts to transform this industry-cozy, industry-financed agency.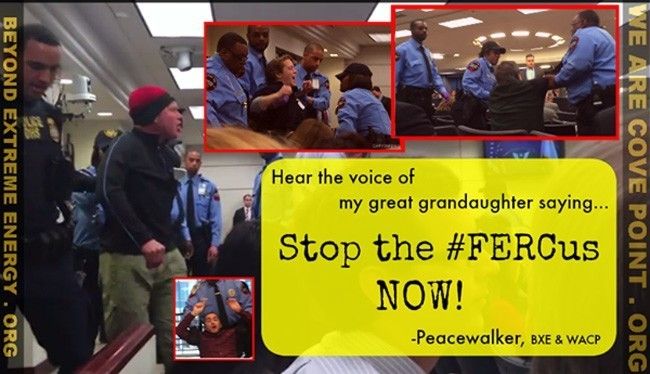 Six Beyond Extreme Energy activists were arrested after speaking out at the FERC meeting yesterday. Photo credit: Beyond Extreme Energy
As we each did so, Bay stopped speaking and let the ample security in the room move into the rows where we were sitting and drag us out of our seats and out of the building. None of us were seriously injured, but some of us were handled by Federal Protective Service police in a pretty tough way.
Next up for the movement to stop and transform FERC: the Beyond Extreme Energy FERCus, beginning on May 21st, the date of FERC's next monthly meeting, followed by stepping-it-up nonviolent but strong actions at their front doors every day they are open from then until May 29th. Let's do it!
Watch the video of the six activists calling on FERC to support the public interest:
YOU MIGHT ALSO LIKE
Maryland Passes 2.5 Year Fracking Ban
We Will Not Be Silent: Beyond Extreme Energy Continues Actions Against FERC
EcoWatch Daily Newsletter
A vegan diet can improve your health, but experts say it's important to keep track of nutrients and protein. Getty Images
By Dan Gray
Research shows that 16 weeks of a vegan diet can boost the gut microbiome, helping with weight loss and overall health.
A healthy microbiome is a diverse microbiome. A plant-based diet is the best way to achieve this.
It isn't necessary to opt for a strictly vegan diet, but it's beneficial to limit meat intake.
New research shows that following a vegan diet for about 4 months can boost your gut microbiome. In turn, that can lead to improvements in body weight and blood sugar management.
Students gathered at the National Mall in Washington DC, Sept. 20. NRDC
By Jeff Turrentine
Nearly 20 years have passed since the journalist Malcolm Gladwell popularized the term tipping point, in his best-selling book of the same name. The phrase denotes the moment that a certain idea, behavior, or practice catches on exponentially and gains widespread currency throughout a culture. Having transcended its roots in sociological theory, the tipping point is now part of our everyday vernacular. We use it in scientific contexts to describe, for instance, the climatological point of no return that we'll hit if we allow average global temperatures to rise more than 2 degrees Celsius above preindustrial levels. But we also use it to describe everything from resistance movements to the disenchantment of hockey fans when their team is on a losing streak.
samael334 / iStock / Getty Images
Berries are small, soft, round fruit of various colors — mainly blue, red, or purple.
A glacier is seen in the Kenai Mountains on Sept. 6, near Primrose, Alaska. Scientists from the U.S. Geological Survey have been studying the glaciers in the area since 1966 and their studies show that the warming climate has resulted in sustained glacial mass loss as melting outpaced the accumulation of new snow and ice. Joe Raedle / Getty Images
By Mark Mancini
On Aug. 18, Iceland held a funeral for the first glacier lost to climate change. The deceased party was Okjökull, a historic body of ice that covered 14.6 square miles (38 square kilometers) in the Icelandic Highlands at the turn of the 20th century. But its glory days are long gone. In 2014, having dwindled to less than 1/15 its former size, Okjökull lost its status as an official glacier.
Members of Chicago Democratic Socialists of America table at the Logan Square Farmers Market on Aug. 18. Alex Schwartz
By Alex Schwartz
Among the many vendors at the Logan Square Farmers Market on Aug. 18 sat three young people peddling neither organic vegetables, gourmet cheese nor handmade crafts. Instead, they offered liberation from capitalism.
Hackney primary school students went to the Town Hall on May 24 in London after school to protest about the climate emergency. Jenny Matthews / In Pictures / Getty Images
Bird watching in the U.S. may be a lot harder than it once was, since bird populations are dropping off in droves, according to a new study.