This website uses cookies to ensure you get the best experience while browsing it. By clicking 'Got It' you're accepting these terms.
Will Michigan Voters Decide to Strengthen Commitment to a Sustainable Economy and Renewable Energy Future?
Aug. 08, 2012 09:15AM EST
Renewable Energy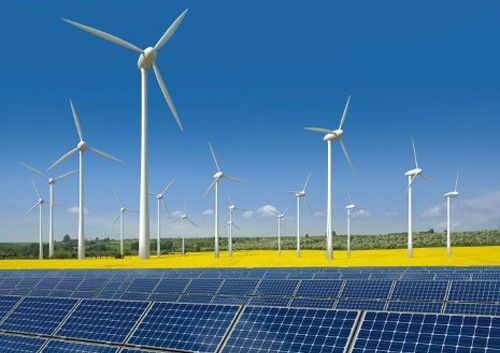 Michigan is positioned to become a leader in clean energy technology, securing cleaner air, a stronger economic future and new jobs for the state, experts speaking at an event hosted by the Union of Concerned Scientists (UCS) on the Michigan State University campus said on Aug. 7.
The panel of energy, economic and technology experts agreed that initiatives such as a renewable energy measure on the state ballot this fall could jump-start Michigan's clean energy sector.
The ballot measure would require 25 percent of the state's electricity to come from renewable sources such as wind, solar and biomass by 2025. Michigan's current standard, which requires utilities to generate 10 percent of their electricity from renewable sources by 2015, has already spurred at least $100 million in investments in the state, according to the Michigan Public Service Commission.
"When it comes to energy, the status quo is not an option," said Arnold Boezaart, director of the Michigan Alternative and Renewable Energy Center. "In a rapidly changing global environment, new and emerging technologies are forever changing the way we produce and use energy. Making a commitment to develop a more comprehensive U.S. energy portfolio, including renewable energy, is a forward-looking choice."
The BlueGreen Alliance—a nationwide partnership of labor unions and environmental organizations—co-hosted the event. Mark Schauer, national co-chair of BlueGreen Alliance's Jobs21! Campaign, said Michigan is already benefiting from clean technology initiatives, especially federal fuel efficiency and global warming pollution standards for new cars and light trucks. For instance, a recent report by the BlueGreen Alliance found that the new standards, which the Obama administration will likely finalize this month, could bring an estimated 570,000 full-time equivalent jobs throughout the U.S., including 50,000 in light-duty vehicle manufacturing, by the year 2030.
"Clean energy is on a roll in Michigan and we need to continue that momentum," said Schauer. "The report affirms that the largest increase in auto fuel efficiency standards in a generation will yield significant rewards in job creation and environmental benefits. Looking ahead, we need to double down on clean energy technology across the board."
The benefits of the new standards will extend far beyond creating new jobs. A UCS-Natural Resources Defense Council analysis concluded that the new standards could save Michigan drivers $1.1 billion in 2030, even after paying the additional cost of the cleaner technology. Nationally, the standards could cut oil consumption nearly 1.5 million barrels per day in 2030 and reduce heat-trapping carbon pollution by as much as 270 million metric tons—equivalent to taking 40 million of today's typical cars and light trucks off the road for a year.
Jim Kliesch, research director for UCS's Clean Vehicles program, said steps like the new vehicle standards can help lower the country's long-term oil use. Kliesch noted that if the country did nothing to reduce oil use, it would consume 22 million barrels of oil every day by 2035 across the entire economy; but if the nation invests in its workers, good policy and American know-how, the U.S. could cut that number in half.
Steps like the new fuel efficiency standards are included in UCS's Half the Oil Plan, which offers a practical plan to dramatically reduce U.S. oil consumption, save consumers billions of dollars and position the U.S. as a global leader in transportation technology.
Kliesch said that Michigan will already benefit from the new efficiency standards, but can further capitalize on clean energy through other elements of the Half the Oil Plan, including electric vehicle technology, industrial energy efficiency and cleaner commercial vehicles.
"These innovative developments can help the United States lower its oil consumption, and Michigan is in the ideal position to deliver," Kliesch told the panel. "By tapping deeper into existing efficiency technology and promoting innovative solutions here in Michigan and the rest of the country—driven by a skilled and determined workforce—our nation can cut its projected oil use in half within 20 years."
Visit EcoWatch's RENEWABLES page for more related news on this topic.
EcoWatch Daily Newsletter
Artist's conception of solar islands in the open ocean. PNAS
Millions of solar panels clustered together to form an island could convert carbon dioxide in seawater into methanol, which can fuel airplanes and trucks, according to new research from Norway and Switzerland and published in the Proceedings of the National Academy of Sciences journal, PNAS, as NBC News reported. The floating islands could drastically reduce greenhouse gas emissions and dependence on fossil fuels.
Marcos Alves / Moment Open / Getty Images
More than 40 percent of insects could go extinct globally in the next few decades. So why did the U.S. Environmental Protection Agency (EPA) last week OK the 'emergency' use of the bee-killing pesticide sulfoxaflor on 13.9 million acres?
EcoWatch teamed up with Center for Biological Diversity via EcoWatch Live on Facebook to find out why. Environmental Health Director and Senior Attorney Lori Ann Burd explained how there is a loophole in the The Federal Insecticide, Fungicide, and Rodenticide Act under section 18, "that allows for entities and states to request emergency exemptions to spraying pesticides where they otherwise wouldn't be allowed to spray."
Simple swaps that cut down on kitchen trash.
Sponsored
By Kayla Robbins
Along with the bathroom, the kitchen is one of the most daunting areas to try and make zero waste.
View of downtown Miami, Florida from Hobie Island on Feb. 2, 2019.
Michael Muraz / Flickr
The Democratic candidates for president descended upon Miami for a two-night debate on Wednesday and Thursday. Any candidate hoping to carry the state will have to make the climate crisis central to their campaign, as The New York Times reported.
By Sharon Kelly
On Monday, the Wall Street Journal featured a profile of Scott Sheffield, CEO of Pioneer Natural Resources, whose company is known among investors for its emphasis on drawing oil and gas from the Permian basin in Texas using horizontal drilling and hydraulic fracturing, or fracking.
Pexels
By Craig K. Chandler
The federal government has available to it, should it choose to use them, a wide range of potential climate change management tools, going well beyond the traditional pollution control regulatory options. And, in some cases (not all), without new legislative authorization.
Denis Poroy / Getty Images
By Dan Gray
Processed foods, in their many delicious forms, are an American favorite.
But new research shows that despite increasing evidence on just how unhealthy processed foods are, Americans have continued to eat the products at the same rate.
By Sarah Steffen
With a profound understanding of their environmental surroundings, indigenous communities around the world are often cited as being pivotal to tackling climate change.