This website uses cookies to ensure you get the best experience while browsing it. By clicking 'Got It' you're accepting these terms.
Will Longmont Be the First Colorado City to Ban Fracking?
May. 31, 2012 09:36AM EST
Energy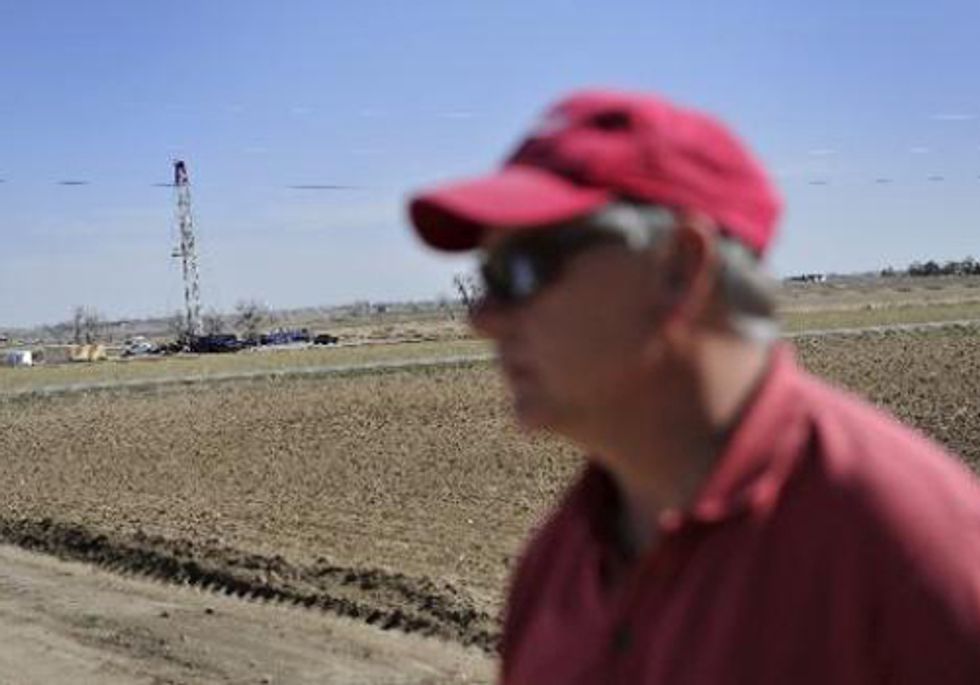 On May 30, the Longmont ballot issue committee Our Health, Our Future, Our Longmont filed a notice of intent with the Longmont City Clerk to put a charter amendment on the November ballot to ban hydraulic fracturing (fracking) within Longmont city limits. This controversial oil and gas drilling method threatens health and safety, erodes property values, and pollutes water and air when done in close proximity to densely populated areas.
"The state and the Colorado Oil and Gas Association are bullying Longmont to take away their local control and the city council is not standing strong to protect the health, safety and welfare of Longmont residents, so this petition is our only recourse," said Peter Champe with Our Health, Our Future, Our Longmont. "People who live, work and raise their families in Longmont should have a say on whether or not they want their air, water, soil and roadways threatened by the risky process of fracking and the subsequent well production. If no action is taken, existing regulations would allow hundreds of wells to be drilled in Longmont."
For months, Longmont Citizens for Responsible Oil and Gas Regulation (LongmontROAR) has been urging the Longmont City Council to pass local regulations for oil and gas drilling that cover basic protections such as prohibiting drilling in residential areas. These regulations were developed after several months of citizen input, scientific testimony and research by city staff. However, in the last four weeks, the Colorado Oil and Gas Association (COGA) and the Colorado Attorney General have actively sought to derail these commonsense measures to protect the health and safety of Longmont residents. The Attorney General sent a letter to the City of Longmont with a veiled threat of a lawsuit should Longmont proceed with the regulations. Then, COGA conducted a push poll to manipulate public opinion and intimidate members of Longmont's City Council. Unfortunately, the Longmont City Council responded to this pressure last week by putting the regulations on hold.
Our Health, Our Future, Our Longmont was created in response to these efforts by the State of Colorado and the oil and gas industry to prevent Longmont citizens from protecting their health, property and families. The citizens' petition is based on the Colorado Constitution, which confers on all individuals in the state, including the citizens of Longmont, certain inalienable rights, including "the right of enjoying and defending their lives and liberties; of acquiring, possessing and protecting property; and of seeking and obtaining their safety and happiness," (Colo. Const. Art. II, Sec. 3). Since Longmont is a home rule city, a charter amendment can be put to a public vote with signatures from 10 percent of registered voters. Our Longmont and its allies will need to collect approximately 6,000 valid signatures from Longmont voters to qualify the measure for the Nov. 6 ballot.
If successful, Longmont would be the first city in Colorado to ban fracking. The national consumer advocacy group Food & Water Watch supports communities across the country that are fighting to protect their health, safety and environment from fracking. Longmont's case is of particular importance because it could set a precedent across the state of Colorado where many communities oppose giving the oil and gas industry free rein to frack, but are stifled by industry dominance and state regulations that claim to pre-empt local governments from protecting their residents and natural resources.
"Longmont is Exhibit A for how the state of Colorado has failed its citizens," said Sam Schabacker, who grew up in Longmont and is now the Mountain West Region director for Food & Water Watch. "Under the current state regulations, if fracking goes forward in Longmont, it could take place next to half of the city's schools, in parks and our neighborhoods. This may mean big profits for oil and gas companies but no amount of money should trump the right to clean air, clean water, or a safe place for children to live and play. The people of Longmont deserve to be part of the decision-making process that will ultimately impact their families' health, safety and the property values of their homes."
A moratorium on drilling in Longmont expires on June 16, 2012. When the moratorium expires, fracking could take place throughout much of Longmont–next to homes, in open spaces and parks such as Union Reservoir, Sandstone Ranch and McIntosh Lake, and next to half of the city's schools.
There are more than 47,000 fracked wells throughout Colorado and the oil and gas industry is aggressively moving to dramatically increase that number. Twenty percent of the known chemicals used in fracking fluid can cause cancer, 37 percent can disrupt the endocrine system, and up to 50 percent can affect nervous, immune and cardiovascular systems. According to a Denver Post analysis of the Colorado Oil and Gas Conservation Commission (COGCC) database, there is more than one spill of fluids associated with oil and gas activity each day in Colorado. One well next to Trail Ridge Middle School in Longmont was found to have 98 times the allowable amount of cancer-causing Benzene in the groundwater.
A recent University of Colorado-Denver School of Public Health report found that people living within a half-mile of fracking operations were exposed to air pollutants five times above the federal hazard standard, which could increase their chances of developing cancer by 60 percent.
"The COGCC states that it is charged with promoting 'efficient exploration and production of oil and gas resources in a manner consistent with the protection of public health, safety and welfare,' but they have failed to initiate a single study verifying that fracking is safe," said Champe. "State government persistently supports the oil and gas industry's plans to expand fracking across the state despite communities' concerns based on mounting data that suggests significant health impacts."
Our Health, Our Future, Our Longmont, is a group of concerned citizens from throughout Longmont. We believe that Longmont has a right to protect the public health, safety, and welfare of our community. Our goal is to preserve the quality of life in our exceptional city by protecting the health, safety and welfare of our citizens. By so doing we will preserve our economic vitality, our home values, our water, parks, wildlife, lakes, trails, streams, open space and recreational areas for ourselves and future generations.
Visit EcoWatch's FRACKING page for more related news on this topic.
EcoWatch Daily Newsletter
A pangolin at a rescue center in Cambodia. Rhett A. Butler / Mongabay
A man carries plastic shopping bags in Times Square on May 5, 2018 in New York City. Kena Betancur / VIEWpress / Corbis / Getty Images
White gold man-made diamond solitaire engagement ring. Clean Origin
While keeping track of the new trends in the diamond industry can be hard, it is still an essential task of any savvy consumer or industry observer. Whether you are looking to catch a deal on your next diamond purchase or researching the pros and cons of an investment within the diamond industry, keeping up with the trends is imperative.
Rep. Alexandria Ocasio-Cortez (D-NY) (C) chants with housing and environmental advocates before a news conference to introduce legislation to transform public housing as part of her Green New Deal outside the U.S. Capitol Nov. 14, 2019 in Washington, DC. Chip Somodevilla / Getty Images
Rep. Alexandria Ocasio-Cortez (D-N.Y.) took to the floor of the House of Representatives yesterday to chide Republicans for not reading the Green New Deal, which she introduced over one year ago, as The Hill reported. She then read the entire 14-page document into the congressional record.
Anti Ivan Duque's demonstrator is seen holding a placard with the photos of social leader Alirio Sánchez Sánchez and the indigenous Hector Janer Latín, both killed in Cauca, Colombia during a protest against Ivan Duque visit in London which included a meeting about fracking, environmental issues, the peace process implementation, and questioning the risk that social leaders in Colombia face. Andres Pantoja / SOPA Images / LightRocket / Getty Images
Colombia was the most dangerous nation in 2019 to be an environmental activist and experts suspect that conditions will only get worse.