Will Hawaii Be the First State to Go 100% Renewable?
Mar. 11, 2015 10:51AM EST
Climate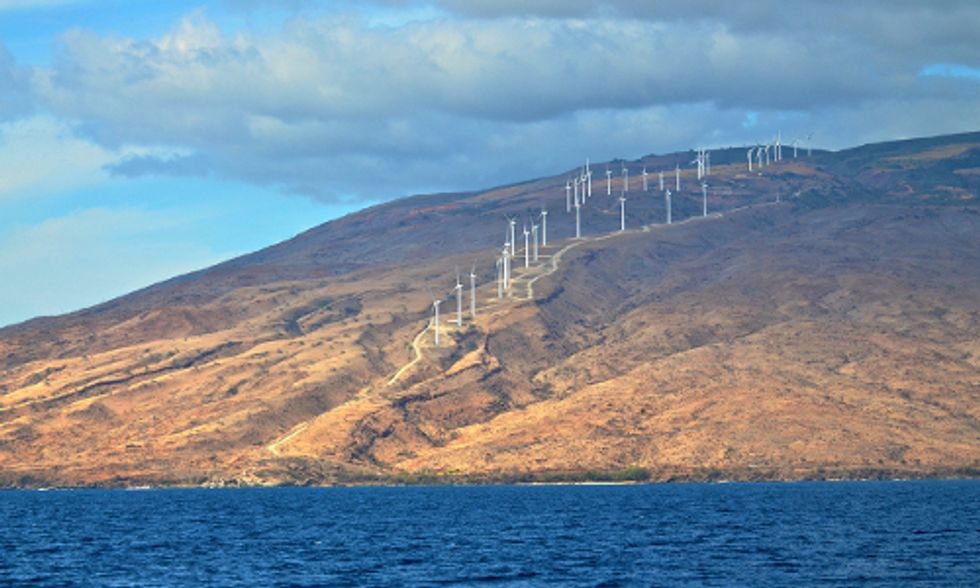 Islands are particularly vulnerable to the impacts of climate change, especially rising sea levels. So maybe it's no surprise that Hawaii is considering legislation that would make it the first state in the U.S. to be entirely powered by renewable energy—in a mere 25 years.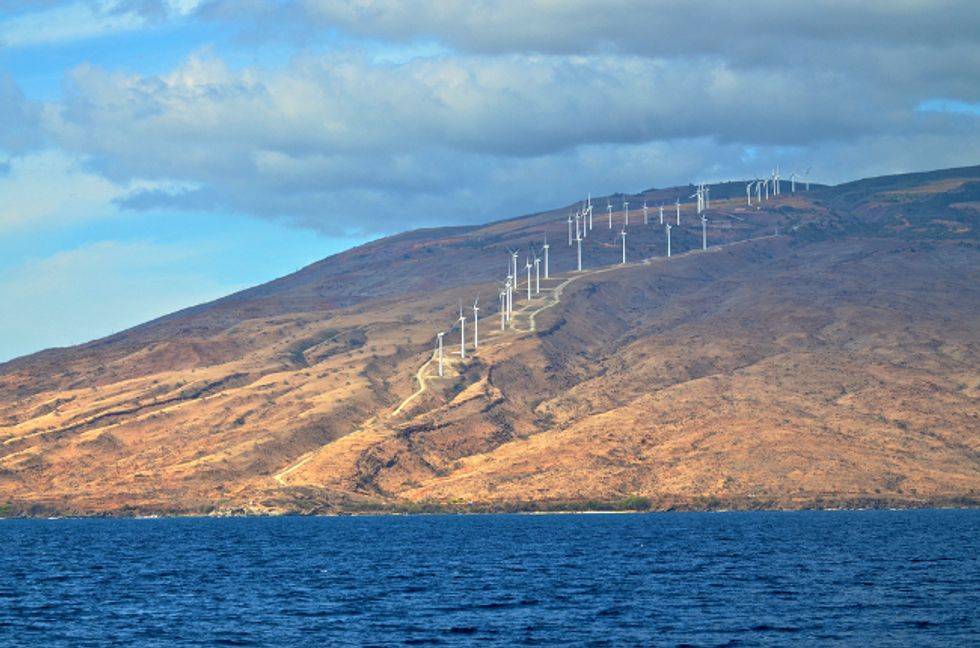 Photo credit: Shutterstock
The legislation would raise the state's renewable energy portfolio, with its current target of 70 percent by 2030, to a goal of 100 percent by 2040.
"The legislature finds that Hawaii's dependency on imported fuel drains our economy of billions of dollars each year," the bill says. "A stronger local economy depends on a transition away from imported fuels and toward renewable local resources that provide a secure source of affordable energy."
The legislation unanimously passed committee votes in both houses of the state legislature last week.
"Under the state's existing renewable energy laws, in 2031—around the time today's preschoolers will graduate high school—the majority of our energy could still come from fossil fuels. We owe it to the kids growing up today, and the ones following them, to do better than that," wrote former Hawaii Governor George Ariyoshi, real estate developer Christine Camp and dean of the college of engineering at the University of Hawaii Peter Crouch in the Honolulu Star-Advertiser last week.
The benefits of renewable energy to Hawaii are clear. While it has to import virtually all of its fuel and hence has among the highest electricity prices in the country, it has an an ample supply of sun and wind, as well as sources of geothermal and hydropower. To date, imported oil has been the source of most of its power. But that's already changing quickly. In the last six years, it's increased the share of power coming from renewables by 12 percent. Currently the state gets slightly more than 21 percent of its power from renewable sources, exceeding its 2015 target of 15 percent.
The bill's senate sponsor and chair of the Energy and Environment Committee, State Senator Mike Gabbard, told Think Progress, "Even our utility is saying we can hit 65 percent by 2030, so 100 percent is definitely doable. This is huge for our state's future. Each year, we spend $3 to $5 billion importing fossil fuels to power our economy. Our electricity bills are roughly three times the national average."
In addition to an ample supply of resources, Hawaii has two advantages most other states do not: a utility company that embraces renewables and a highly favorable political climate.
Currently, the state has three power grids on different islands, all owned by Hawaiian Electric Industries. They are being acquired by Florida-based NextEra Energy, which has a track record of building large scale solar and wind facilities.
"NextEra Energy is North America's largest producer of renewable energy from the wind and sun and operates one of the country's largest and most well-respected utilities," said the company in its announcement of the acquisition. "Hawaiian Electric, which includes Maui Electric and Hawaii Electric Light, has among the most ambitious clean energy goals in the nation. In NextEra Energy, Hawaiian Electric is gaining a partner with a shared vision of achieving a more affordable clean energy future we all want for Hawaii."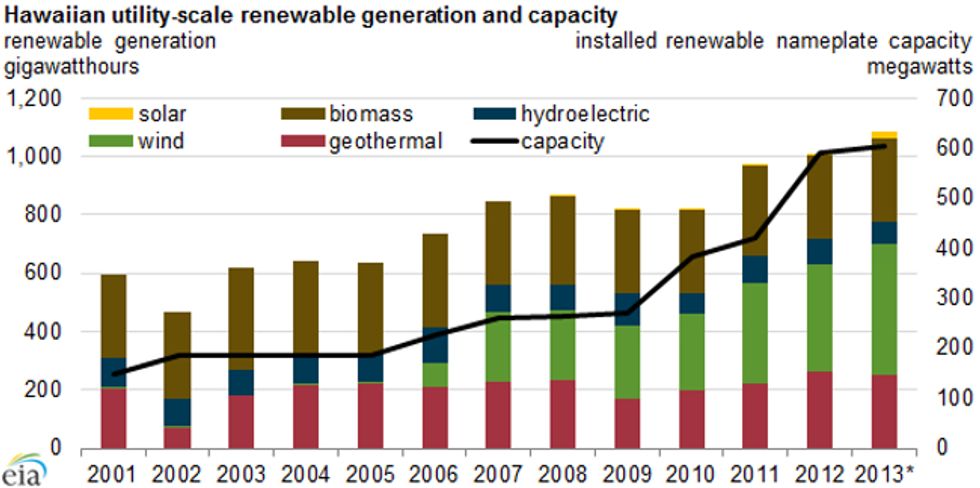 Still, some have expressed concern that NextEra is looking at replacing oil with liquified natural Gas (LNG) as well as blocking the growth of distributed solar.
"While some are excited about the potential of NextEra's capacity to invest in grid modernization and other infrastructure necessary to support renewable energy, others are worried about their use of LNG and lack of support for customer-sited distributed generation," Jeff Mikulina, executive director of the Hawaii-based Blue Planet Foundation, told ThinkProgress. "We shouldn't forget that Hawaii has some of the world's steadiest wind resources, sun that shines almost every day, waves that pound our shores and a volcano in our back yard. So if anywhere can solve these challenges, Hawaii can."
State legislator Chris Lee, who sponsored the bill on the house side, also expressed some concern about the utility's pushback on solar. There's currently a backlog on the approval of rooftop solar permits.
"There is growing fear that in order to make that money back [the $6 billion spent acquiring Hawaiian Electric Industries], they will have to eliminate competition from rooftop solar and other renewables and keep our prices artificially high," Lee told Think Progress.
On the political side, it's hard to overlook the fact that the more Democrats you have, the more favorable the prospects for renewable energy. The state's current governor, David Ige, is a Democrat, as are 24 out of 25 members of its state senate and 44 of 51 of the members of its state house. And most of the climate denial is coming from the other side, as fossil fuel money pours into their campaign coffers.
But in vulnerable Hawaii, the impacts of climate change are visible to all, regardless of political party.
"Climate reality is everywhere: eroding coastlines, dying coral reefs, droughts, floods, extreme weather," said Ariyoshi, Camp and Crouch in their editorial. "Sea-level rise will soak Waikiki before the end of the century. Knowing that the single most important thing we can do about all this is to stop burning fossil fuels, will we commit today to securing hope for a stable climate tomorrow?"
YOU MIGHT ALSO LIKE
Disappearing Islands: How Sea Level Rise Impacts Communities
We Can Transition to 100% Renewable Energy Starting Today
Public Utilities Should Embrace Renewable Energy Revolution, Not Get Run Over By It
EcoWatch Daily Newsletter