This website uses cookies to ensure you get the best experience while browsing it. By clicking 'Got It' you're accepting these terms.
Will Free Trade Agreements Allow Chlorinated Canadian Beef to Be Exported to Europe?
May. 23, 2014 12:04PM EST
Food
The issue of chlorinated chicken has become a major issue of concern in the Transatlantic Trade and Investment Partnership (TTIP) "free trade" talks between the U.S. and the European Union (EU). EU Observer explains, "U.S. poultry producers have fewer sanitary demands on conditions for chicken, because once the chickens are slaughtered, they are dipped in a bleaching solution which kills all germs and bacteria. The EU has banned imports of this kind of meat."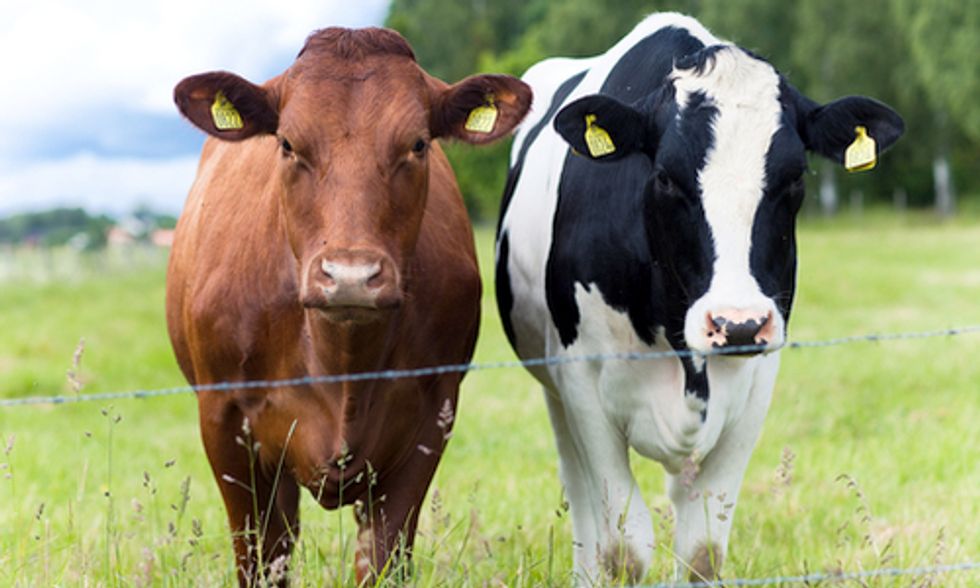 Photo courtesy of Shutterstock
Last October, an environment committee report for the European Parliament flagged this as a concern. Then in February, EU Observer noted, "A top EU official has sought to allay German fears about the U.S. being able to export bleached chicken ... to Europe once a free trade pact comes into force." And France 24 has reported, "Chicken washed in chlorine ... could be making their way into European supermarkets under a free trade agreement being negotiated between the U.S. and EU."
While European activists have rightly focused on this issue within TTIP, should similar concerns be expressed about the Canada-European Union Comprehensive Economic and Trade Agreement (CETA)?
Yes, poultry was excluded in CETA, but Health Canada says of our regulations: "Poultry carcasses and parts are also permitted to be dipped, sprayed, or washed with water containing 20-50 mg total available chlorine/L (CFIA, 2004) or up to 10 mg/L for total available chlorine as hypochlorous acid, provided that treatment is followed by a rinse with potable water."
But if not chicken (for now), what about chlorinated beef?
Exporting more Canadian beef to Europe was a top demand of Canadian negotiators in the CETA talks. And CETA means that Canadian beef producers will be able sell an additional 50,000 tons of beef to Europe, which in Canada is washed and processed using chlorinated water. Our regulations state: "Beef must then be followed by a rinse with potable water or a similar appropriate measure to ensure that residues resulting from treatment are negligible (CFIA, 2004)."
It's also notable that the regulatory cooperation chapter in CETA inserts the Canadian beef industry more into the European regulatory process. CETA would also establish a separate "Joint Management Committee for Sanitary and Phytosanitary Measures", including plant and animal safety rules and food regulation. That Sanitary and Phytosanitary Measures chapter also includes sections on equivalency of rules which could serve to erode the more stringent European food safety standards.
It should be highlighted that the EU appears to be heading down this path already. In Feb. 2013, before the TTIP negotiations began, EurActiv reported, "The European Union [has] dropped its ban on ... beef washed in lactic acid [which] is meant to show the Europeans are serious about a [TTIP] deal." The U.S. Mission to the European Union Foreign Agricultural Service notes, "Commission Regulation (EU) No 101/2013, published in the Official Journal on Feb. 5, 2013, allows the application of lactic acid as a pathogen reduction treatment (PRT) on beef carcasses, half-carcasses and beef quarters in the slaughterhouse. ...[This] will allow U.S. beef exporters to better take advantage of EU beef quotas, worth $700 million ..."
--------
YOU MIGHT ALSO LIKE
Big Food Freaking Out About 'Fed Up'
5 Ways Trans-Pacific Partnership Threatens Local Food
Rising CO2 Levels Will Make Staple Crops Less Nutritious 
--------
EcoWatch Daily Newsletter
A new study shows that half of all Arctic warming and corresponding sea-loss during the late 20th century was caused by ozone-depleting substances. Here, icebergs discharged from Greenland's Jakobshavn Glacier. Kevin Krajick / Earth Institute /
EurekAlert!
The world awakened to the hole in the ozone layer in 1985, which scientists attributed it to ozone depleting substances. Two years later, in Montreal, the world agreed to ban the halogen compounds causing the massive hole over Antarctica. Research now shows that those chemicals didn't just cut a hole in the ozone layer, they also warmed up the Arctic.
Diane Wilson holds up a bag full of nurdles she collected from one of Formosa's outfall areas on Jan. 15. Julie Dermansky / DeSmogBlog
On the afternoon of Jan. 15, activist Diane Wilson kicked off a San Antonio Estuary Waterkeeper meeting on the side of the road across from a Formosa plastics manufacturing plant in Point Comfort, Texas.
After Wilson and the waterkeeper successfully sued Formosa in 2017, the company agreed to no longer release even one of the tiny plastic pellets known as nurdles into the region's waterways. The group of volunteers had assembled that day to check whether the plant was still discharging these raw materials of plastics manufacturing.
Malaysian Environment Minister Yeo Bee Yin (front 2nd L) and officials inspect a container containing plastic waste shipment on Jan. 20, 2020 before sending back to the countries of origin. AFP via Getty Images
The Southeast Asian country Malaysia has sent 150 shipping containers packed with plastic waste back to 13 wealthy countries, putting the world on notice that it will not be the world's garbage dump, as CNN reported. The countries receiving their trash back include the United States, the United Kingdom, France and Canada.
Trump leaves after delivering a speech at the Congress Centre during the World Economic Forum annual meeting in Davos on Jan. 21, 2020. JIM WATSON / AFP via Getty Images