This website uses cookies to ensure you get the best experience while browsing it. By clicking 'Got It' you're accepting these terms.
Will Fracking Be the Demise of Chaco Canyon National Historical Park?
Sep. 04, 2015 07:30AM EST
Once the center of a thriving population of native people, Chaco Canyon National Historical Park is now the object of a battle for its very existence. The key Native American heritage site came under increased threat last month when a federal judge ruled to allow the Bureau of Land Management (BLM) to continue to permit new gas and oil drilling permits in the Mancos shale in Northwest New Mexico. Now, more than 165,000 people have signed petitions calling on elected officials from New Mexico to protect the land from hydraulic fracturing or fracking, Meanwhile, a bill that would prohibit fracking on all federal public lands, is gaining sponsors in the U.S. House of Representatives.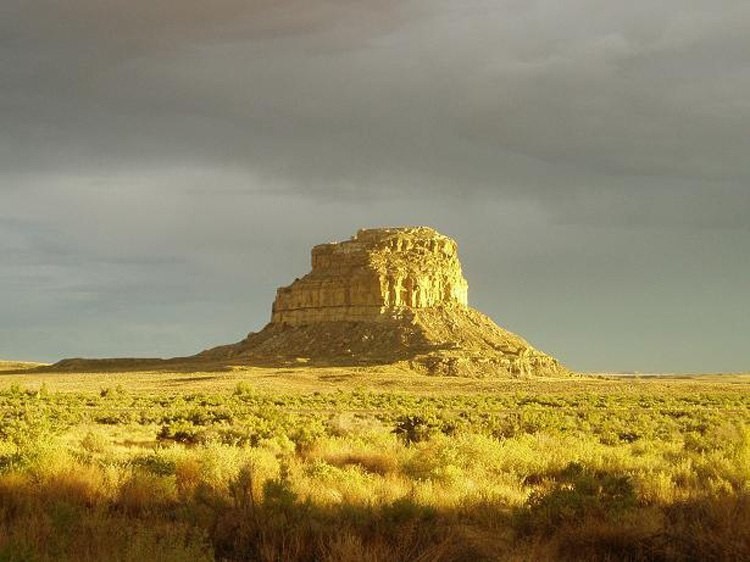 Once the center of a thriving population of native people, Chaco Canyon National Historical Park is now the object of a battle for its very existence. Photo credit: Chaco Culture NHP
In 1987, Chaco National Historical Park was designated on the UNESCO World Heritage list with the stipulation that "interventions that may occur within or adjacent to the property—including development, energy exploration, extraction and transportation projects—do not have a negative impact on the property's Outstanding Universal Value, authenticity and integrity." As custodians, we must honor this mandate by protecting Chaco Canyon from the threat of ever-expanding fossil fuel drilling, including fracking, as well as the possible transport of crude oil through the area via the proposed Pinon Pipeline.
Water scarcity is a major concern in this region, but that doesn't stop the industry from fracking near Chaco Canyon. Fracking is a dangerous horizontal drilling technique that pollutes millions of gallons of fresh water with dozens of toxic chemicals and sand and blasts the mixture deep underground to force out natural gas lodged in shale deposits. The arid desert offers precious little water for these kinds of processes. As such, the industry transports truckload after truckload of water to its well sites, forever scarring the land in its wake. After it is used in fracking, the toxic wastewater becomes a disposal problem for the industry, which injects it into wells, a practice known to threaten aquifers and cause earthquakes in some areas.
Chaco Canyon is a sacred historical place to Native American people in the region. But, these "frackquakes" could destabilize heritage sites like Pueblo Bonito, a celebrated cultural site in Chaco Canyon. At one time the largest single dwelling in North America, Pueblo Bonito stands as a testament to the organizational and engineering abilities of the ancestral Pueblo peoples.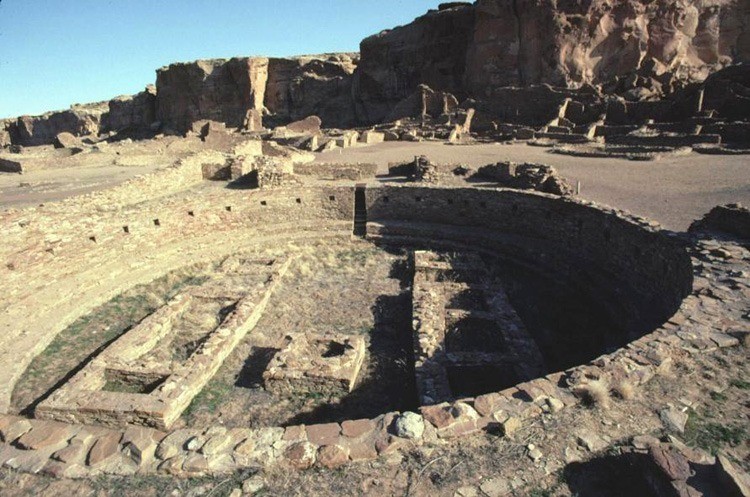 Chaco Canyon is a sacred historical place to Native American people in the region. Photo credit: Chaco Culture NHP
"Navajo people are extremely devastated by the fracking on our land," said Elouise Brown, a member of the Navajo Nation and president of Dooda (NO) Desert Rock Organization. "We have rights which are being violated."
Pueblo Bonito now stands crumbling. And earthquakes aren't the only threat: the continued vibration of dozens of industrial trucks pounding down rural roads each day will only hasten the destruction of these ruins, already fragile from exposure to the elements. Once they are buried, simply unearthing the ruins triggers immediate deterioration.
"Our sacred sites and ceremonial grounds are being defiled," said Brown. "We must keep fracking out of not only Chaco Canyon but from Mother Earth."
In addition to being an invaluable historic site, Chaco Canyon is prized for its remoteness. To access Chaco Canyon National Historical Park, one must drive on roughly 13-16 miles of washboard road, passable only under good conditions. The rural nature of the Park keeps its sacred secrets from casual onlookers. And since it was certified as an International Dark Sky Park, visitors have been able to enjoy the same dark sky enjoyed by ancient residents. Sadly, increased day and night drilling has encroached upon this designation.
"The Canyon is a one of a kind place," said John Sefick, an astronomer and longtime supporter of Chaco Canyon who is a founding member of Friends of Chaco. "We've fought for years just to keep them from paving the access roads which would then open the area to more traffic and drilling which in turn could cause irreparable harm to the ruins. I am against any gas exploration in the region."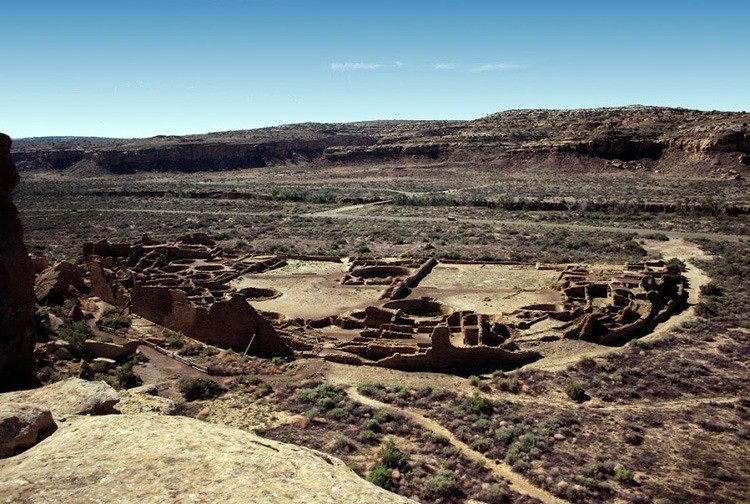 The rural nature of the Park keeps its sacred secrets from casual onlookers. Photo credit: Chaco Culture NHP
But, Chaco Canyon is nestled in the central San Juan Basin of Northwestern New Mexico, a region now exploding with shale gas extraction, which releases a host of greenhouse gases and pollution into the air. In 2014, the Four Corners Region was identified as the major U.S. hot spot for emissions of methane—a by-product of natural gas fracking and a greenhouse gas considerably more potent than carbon dioxide. Researchers using satellite images found the highest concentration of methane gas in the country where Arizona, New Mexico, Colorado and Utah converge. Encompassing an area of 2,500 square miles (the size of Delaware), the "hot spot" is visible from space. In 2013 alone, enough natural gas was flared and wasted in the region to supply Los Angeles for a year.
When one stands in Chaco Canyon, it is difficult to imagine that anyone would knowingly harm a place so unique and wondrous. But, in recent years, the hunger for fossil fuels and the insatiable greed of mega-corporations has eclipsed what should be a greater priority in all of our lives: leaving a sustainable world for generations to come. The State of New Mexico is primarily dependent upon extreme energy extraction like fracking to fund education and basic infrastructure. But if fossil fuels continue to be our primary source of energy and their tax revenue the underpinnings of our public programs in New Mexico, the greed of an unscrupulous industry will supersede the heritage of a once vibrant civilization.
Members of the U.S. Congress have the power to protect Chaco Canyon from fracking nearby on land owned by the Bureau of Land Management. The Protect Our Public Lands Act, introduced by Representatives Mark Pocan (D-WI) and Jan Schakowsky (D-IL), would prohibit fracking, the use of fracking fluid and acidization for the extraction of oil and gas on public lands for any lease issued, renewed or readjusted.
The Protect Our Public Lands Act is essential to protect our air, water and health from fracking and to preserve historical sites like Chaco Canyon National Historical Park and our treasured public lands across the country.
"If Mother Earth is continued to be fracked and damaged," said Elouise Brown, "where will our future generations call home?"
Eleanor Bravo is the southwest organizer for Food & Water Watch. She is based in Albuquerque and first visited Chaco Canyon in l979 when she first moved to New Mexico. It remains to her and her family the most special place in the state.
YOU MIGHT ALSO LIKE
Illegal Dumping of Fracking Wastewater May Be Linked to Radioactivity in PA Creek, Experts Say
Why Are Climate Groups Only Focused on 50% of the Solution?
President Obama, Your Climate Legacy Lies with Keeping Fossil Fuels in the Ground
EcoWatch Daily Newsletter
Sriram Madhusoodanan of Corporate Accountability speaking on conflict of interest demand of the People's Demands at a defining action launching the Demands at COP24. Corporate Accountability
By Patti Lynn
2018 was a groundbreaking year in the public conversation about climate change. Last February, The New York Times reported that a record percentage of Americans now believe that climate change is caused by humans, and there was a 20 percentage point rise in "the number of Americans who say they worry 'a great deal' about climate change."
The head of England's Environment Agency has urged people to stop watering their lawns as a climate-induced water shortage looms. Pexels
England faces an "existential threat" if it does not change how it manages its water, the head of the country's Environment Agency warned Tuesday.
Pexels
By Jessica Corbett
A new analysis revealed Tuesday that over the past two decades heat records across the U.S. have been broken twice as often as cold ones—underscoring experts' warnings about the increasingly dangerous consequences of failing to dramatically curb planet-warming emissions.
A flock of parrots in Telegraph Hill, San Francisco.
~dgies / Flickr
By Madison Dapcevich
Ask any resident of San Francisco about the waterfront parrots, and they will surely tell you a story of red-faced conures squawking or dive-bombing between building peaks. Ask a team of researchers from the University of Georgia, however, and they will tell you of a mysterious string of neurological poisonings impacting the naturalized flock for decades.
Fire burns in the North Santiam State Recreational Area on March 19. Oregon Department of Forestry
An early-season wildfire near Lyons, Oregon burned 60 acres and forced dozens of homes to evacuate Tuesday evening, the Oregon Department of Forestry (ODF) said, as KTVZ reported.
The initial cause of the fire was not yet known, but it has been driven by the strong wind and jumped the North Santiam River, The Salem Statesman Journal reported. As of Tuesday night, it threatened around 35 homes and 30 buildings, and was 20 percent contained.
Edwin Hardeman is the plaintiff in the first U.S. federal trial claiming that Roundup causes cancer. NOAH BERGER / AFP / Getty Images
A second U.S. jury has ruled that Roundup causes cancer.
The unanimous verdict was announced Tuesday in San Francisco in the first federal case to be brought against Monsanto, now owned by Bayer, alleging that repeated use of the company's glyphosate-containing weedkiller caused the plaintiff's cancer. Seventy-year-old Edwin Hardeman of Santa Rosa, California said he used Roundup for almost 30 years on his properties before developing non-Hodgkin's lymphoma.
The decision comes less than a year after a jury awarded $289 million to Bay-area groundskeeper Dewayne Johnson over similar claims. The amount was later reduced to $78 million.
"Today's verdict reinforces what another jury found last year, and what scientists with the state of California and the World Health Organization have concluded: Glyphosate causes cancer in people," Environmental Working Group President Ken Cook said in a statement. "As similar lawsuits mount, the evidence will grow that Roundup is not safe, and that the company has tried to cover it up."
Judge Vince Chhabria has split Hardeman's trial into two phases. The first, decided Tuesday, focused exclusively on whether or not Roundup use caused the plaintiff's cancer. The second, to begin Wednesday, will assess if Bayer is liable for damages.

"We are disappointed with the jury's initial decision, but we continue to believe firmly that the science confirms glyphosate-based herbicides do not cause cancer," Bayer spokesman Dan Childs said in a statement reported by The Guardian. "We are confident the evidence in phase two will show that Monsanto's conduct has been appropriate and the company should not be liable for Mr. Hardeman's cancer."
Some legal experts said that Chhabria's decision to split the trial was beneficial to Bayer, Reuters reported. The company had complained that the jury in Johnson's case had been distracted by the lawyers' claims that Monsanto had sought to mislead scientists and the public about Roundup's safety.

However, a remark made by Chhabria during the trial and reported by The Guardian was blatantly critical of the company.
"Although the evidence that Roundup causes cancer is quite equivocal, there is strong evidence from which a jury could conclude that Monsanto does not particularly care whether its product is in fact giving people cancer, focusing instead on manipulating public opinion and undermining anyone who raises genuine and legitimate concerns about the issue," he said.
Many regulatory bodies, including the U.S. Environmental Protection Agency, have ruled that glyphosate is safe for humans, but the World Health Organization's International Agency for Research on Cancer found it was "probably carcinogenic to humans" in 2015. A university study earlier this year found that glyphosate use increased cancer risk by as much as 41 percent.
Hardeman's lawyers Jennifer Moore and Aimee Wagstaff said they would now reveal Monsanto's efforts to mislead the public about the safety of its product.
"Now we can focus on the evidence that Monsanto has not taken a responsible, objective approach to the safety of Roundup," they wrote in a statement reported by The Guardian.
Hardeman's case is considered a "bellwether" trial for the more than 760 glyphosate cases Chhabria is hearing. In total, there are around 11,200 such lawsuits pending in the U.S., according to Reuters.
University of Richmond law professor Carl Tobias told Reuters that Tuesday's decision showed that the verdict in Johnson's case was not "an aberration," and could possibly predict how future juries in the thousands of pending cases would respond.
PxHere
Americans like wind turbines as neighbors, at least when compared with the alternatives.
Offutt Air Force Base after flooding on March 17. U.S. Air Force / TSgt. Rachelle Blake