Will Fracking Be the Demise of Chaco Canyon National Historical Park?
Sep. 04, 2015 08:30AM EST
Fracking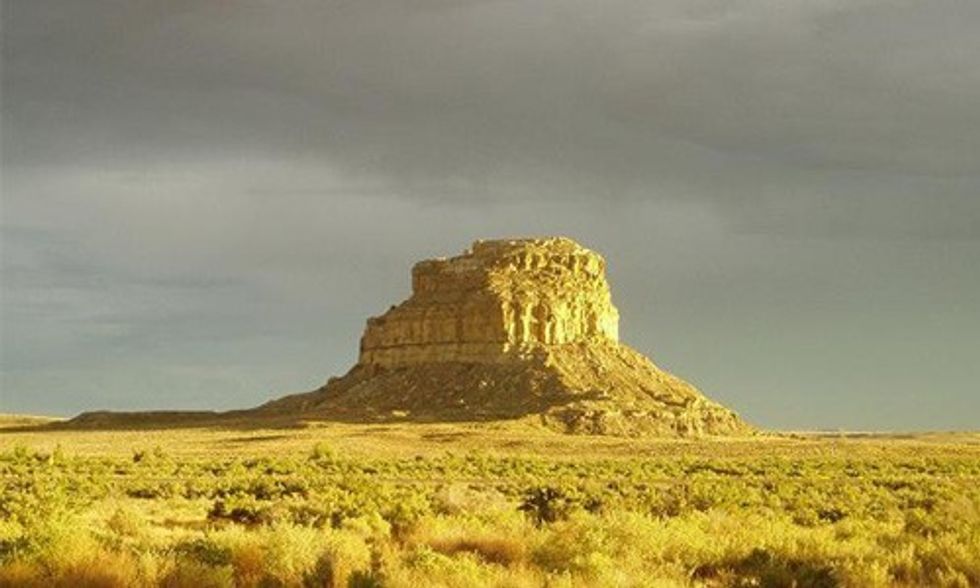 Once the center of a thriving population of native people, Chaco Canyon National Historical Park is now the object of a battle for its very existence. The key Native American heritage site came under increased threat last month when a federal judge ruled to allow the Bureau of Land Management (BLM) to continue to permit new gas and oil drilling permits in the Mancos shale in Northwest New Mexico. Now, more than 165,000 people have signed petitions calling on elected officials from New Mexico to protect the land from hydraulic fracturing or fracking, Meanwhile, a bill that would prohibit fracking on all federal public lands, is gaining sponsors in the U.S. House of Representatives.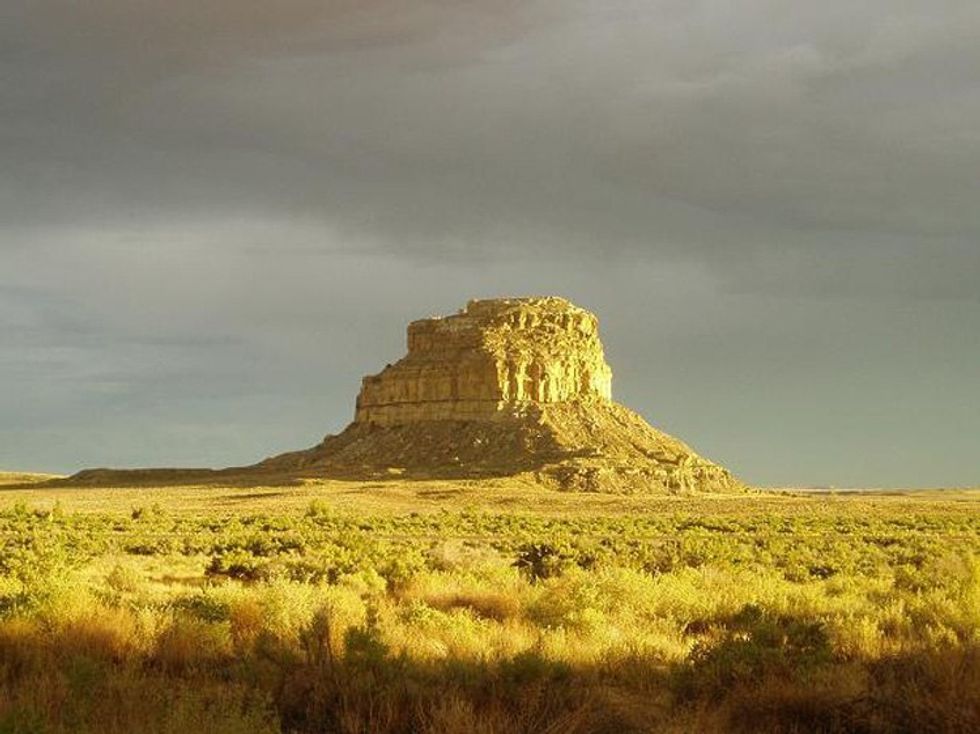 Once the center of a thriving population of native people, Chaco Canyon National Historical Park is now the object of a battle for its very existence. Photo credit: Chaco Culture NHP
In 1987, Chaco National Historical Park was designated on the UNESCO World Heritage list with the stipulation that "interventions that may occur within or adjacent to the property—including development, energy exploration, extraction and transportation projects—do not have a negative impact on the property's Outstanding Universal Value, authenticity and integrity." As custodians, we must honor this mandate by protecting Chaco Canyon from the threat of ever-expanding fossil fuel drilling, including fracking, as well as the possible transport of crude oil through the area via the proposed Pinon Pipeline.
Water scarcity is a major concern in this region, but that doesn't stop the industry from fracking near Chaco Canyon. Fracking is a dangerous horizontal drilling technique that pollutes millions of gallons of fresh water with dozens of toxic chemicals and sand and blasts the mixture deep underground to force out natural gas lodged in shale deposits. The arid desert offers precious little water for these kinds of processes. As such, the industry transports truckload after truckload of water to its well sites, forever scarring the land in its wake. After it is used in fracking, the toxic wastewater becomes a disposal problem for the industry, which injects it into wells, a practice known to threaten aquifers and cause earthquakes in some areas.
Chaco Canyon is a sacred historical place to Native American people in the region. But, these "frackquakes" could destabilize heritage sites like Pueblo Bonito, a celebrated cultural site in Chaco Canyon. At one time the largest single dwelling in North America, Pueblo Bonito stands as a testament to the organizational and engineering abilities of the ancestral Pueblo peoples.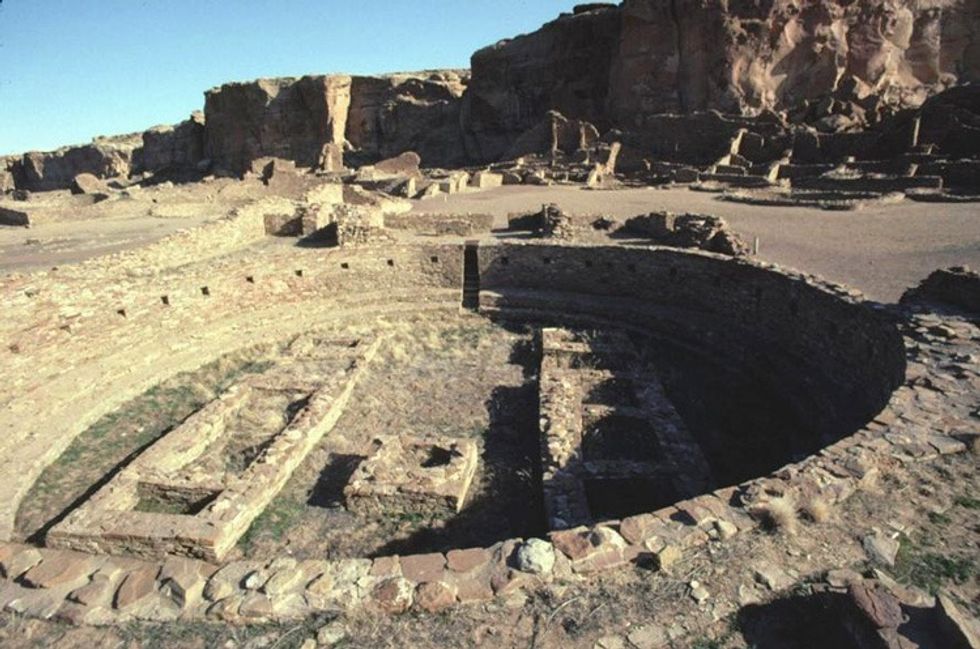 Chaco Canyon is a sacred historical place to Native American people in the region. Photo credit: Chaco Culture NHP
"Navajo people are extremely devastated by the fracking on our land," said Elouise Brown, a member of the Navajo Nation and president of Dooda (NO) Desert Rock Organization. "We have rights which are being violated."
Pueblo Bonito now stands crumbling. And earthquakes aren't the only threat: the continued vibration of dozens of industrial trucks pounding down rural roads each day will only hasten the destruction of these ruins, already fragile from exposure to the elements. Once they are buried, simply unearthing the ruins triggers immediate deterioration.
"Our sacred sites and ceremonial grounds are being defiled," said Brown. "We must keep fracking out of not only Chaco Canyon but from Mother Earth."
In addition to being an invaluable historic site, Chaco Canyon is prized for its remoteness. To access Chaco Canyon National Historical Park, one must drive on roughly 13-16 miles of washboard road, passable only under good conditions. The rural nature of the Park keeps its sacred secrets from casual onlookers. And since it was certified as an International Dark Sky Park, visitors have been able to enjoy the same dark sky enjoyed by ancient residents. Sadly, increased day and night drilling has encroached upon this designation.
"The Canyon is a one of a kind place," said John Sefick, an astronomer and longtime supporter of Chaco Canyon who is a founding member of Friends of Chaco. "We've fought for years just to keep them from paving the access roads which would then open the area to more traffic and drilling which in turn could cause irreparable harm to the ruins. I am against any gas exploration in the region."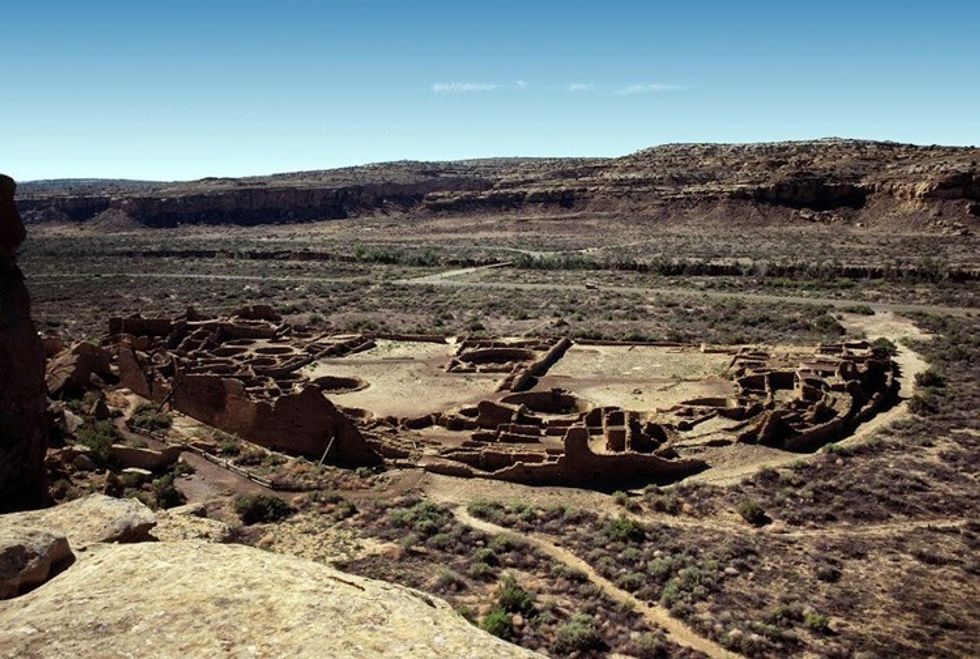 The rural nature of the Park keeps its sacred secrets from casual onlookers. Photo credit: Chaco Culture NHP
But, Chaco Canyon is nestled in the central San Juan Basin of Northwestern New Mexico, a region now exploding with shale gas extraction, which releases a host of greenhouse gases and pollution into the air. In 2014, the Four Corners Region was identified as the major U.S. hot spot for emissions of methane—a by-product of natural gas fracking and a greenhouse gas considerably more potent than carbon dioxide. Researchers using satellite images found the highest concentration of methane gas in the country where Arizona, New Mexico, Colorado and Utah converge. Encompassing an area of 2,500 square miles (the size of Delaware), the "hot spot" is visible from space. In 2013 alone, enough natural gas was flared and wasted in the region to supply Los Angeles for a year.
When one stands in Chaco Canyon, it is difficult to imagine that anyone would knowingly harm a place so unique and wondrous. But, in recent years, the hunger for fossil fuels and the insatiable greed of mega-corporations has eclipsed what should be a greater priority in all of our lives: leaving a sustainable world for generations to come. The State of New Mexico is primarily dependent upon extreme energy extraction like fracking to fund education and basic infrastructure. But if fossil fuels continue to be our primary source of energy and their tax revenue the underpinnings of our public programs in New Mexico, the greed of an unscrupulous industry will supersede the heritage of a once vibrant civilization.
Members of the U.S. Congress have the power to protect Chaco Canyon from fracking nearby on land owned by the Bureau of Land Management. The Protect Our Public Lands Act, introduced by Representatives Mark Pocan (D-WI) and Jan Schakowsky (D-IL), would prohibit fracking, the use of fracking fluid and acidization for the extraction of oil and gas on public lands for any lease issued, renewed or readjusted.
The Protect Our Public Lands Act is essential to protect our air, water and health from fracking and to preserve historical sites like Chaco Canyon National Historical Park and our treasured public lands across the country.
"If Mother Earth is continued to be fracked and damaged," said Elouise Brown, "where will our future generations call home?"
Eleanor Bravo is the southwest organizer for Food & Water Watch. She is based in Albuquerque and first visited Chaco Canyon in l979 when she first moved to New Mexico. It remains to her and her family the most special place in the state.
YOU MIGHT ALSO LIKE
Illegal Dumping of Fracking Wastewater May Be Linked to Radioactivity in PA Creek, Experts Say
Why Are Climate Groups Only Focused on 50% of the Solution?
President Obama, Your Climate Legacy Lies with Keeping Fossil Fuels in the Ground
EcoWatch Daily Newsletter