This website uses cookies to ensure you get the best experience while browsing it. By clicking 'Got It' you're accepting these terms.
Will Elon Musk's Tesla Model 3 Recharge the U.S. Electric Vehicle Market?
Apr. 06, 2016 11:38AM EST
Business
Few product launches in recent memory have captured as much attention as last week's unveiling of the Tesla Model 3 electric vehicle (EV), Tesla's first vehicle pitched at the mass market.
Orders were flooding in even before Tesla CEO Elon Musk revealed the car to a giddy audience last Thursday evening, with prospective buyers queuing at Tesla stores throughout the day to place a deposit on a vehicle they might not even receive for two years or more.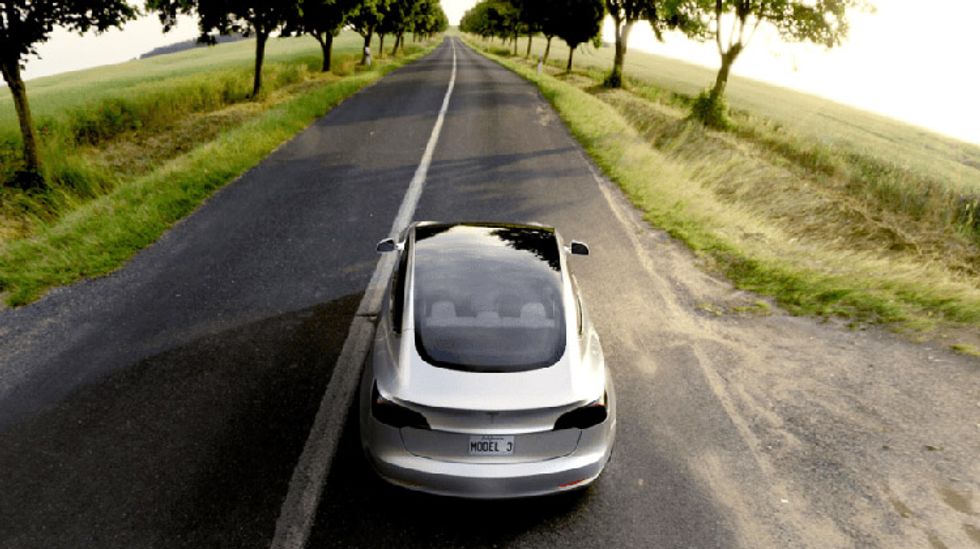 Musk made the case for EVs being "really important for the future of the world," combating rising greenhouse gas emissions and air pollution.
The Model 3 is really important for the future of Tesla and the future of EVs. It promises the sales growth that automotive wunderkind Tesla needs to survive and renews interest in a technology that is yet to have significant real-world impact. Yet even with the introduction of Tesla's flashy new sedan, more pieces need to be in place before the EV market goes truly mainstream.
Battery Prices Dropping
When the Chevrolet Volt plug-in hybrid and Nissan Leaf battery-electric vehicle hit U.S. showrooms in December 2010, the price of gasoline was rising and so were expectations for the future of EVs.
Shortly after, President Obama articulated the goal of having one million EVs on U.S. roads by 2015 and committed billions of investment in EV manufacturing capacity, recharging infrastructure deployment and vehicle purchase incentives.
Five years later, the reality is somewhat different, with the market for hybrid and electric vehicles stagnating (see figure below). Only 415,000 plug-in hybrid and battery-electric vehicles have been sold to date, achieving no more than one percent of new vehicle sales and conventional hybrid vehicles have fared little better, following the price of gasoline down over the past two years.
With gas cheap, sales of SUVs and pickups are booming and all evidence suggests that mainstream car buyers simply do not want the green vehicles that are available currently.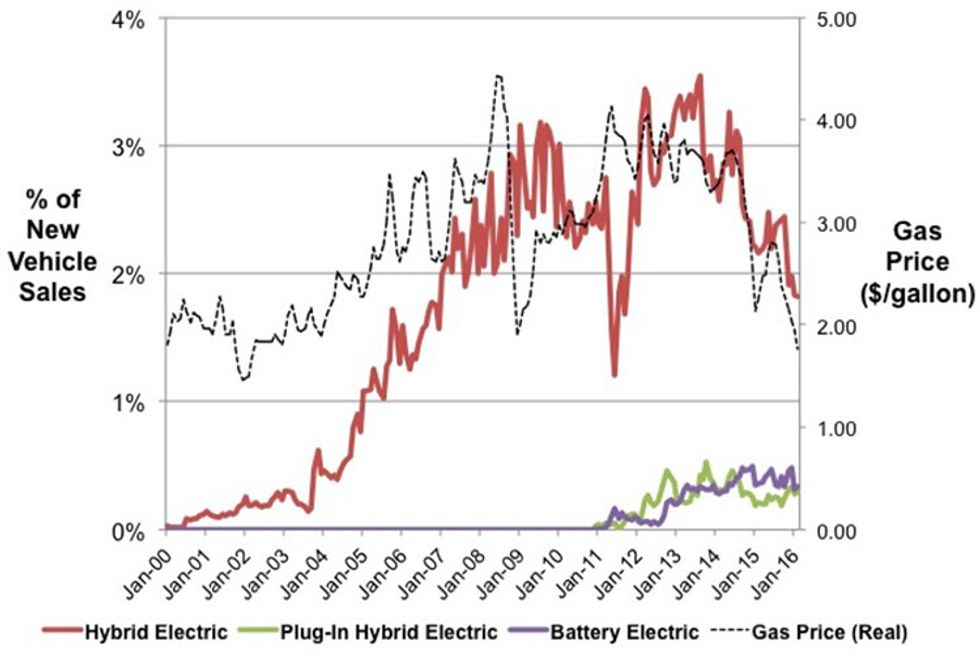 Why then might prospects for EVs be different looking forward? The answer lies in the rapid reductions in lithium-ion battery prices that are being achieved, falling 70 percent since 2007 to US$300 per kWh.
These battery improvements have the potential to significantly affect EV performance compared to gasoline-powered cars. The next wave of electric vehicles, led by the Tesla Model 3 and Chevrolet Bolt, promise more than 200 miles of electric range for $35,000, which advocates hope will be a sweet spot for consumers.
To say that $35,000 for a midsize car is affordable for mass-market consumers, as some have suggested, is optimistic to say the least. However, continued development of these second-generation EVs could soon challenge (again) the gasoline/internal-combustion regime that has dominated global automotive markets for the past 100 years.
Not Just for Techies and Treehuggers
But when a mass-market transition to EVs may occur remains uncertain even with falling battery prices.
A recent report by Bloomberg New Energy Finance received widespread attention for suggesting that EVs would be cost-competitive with gasoline vehicles by 2025. Significant further advances with batteries would be needed for that to occur.
Even so, building a market for EVs that is ecologically and economically sustainable requires more than just cheap batteries. EVs will go mainstream only when everyday car buyers understand the technology, have a wide range of EV makes, models and body styles to choose from and have access to a ubiquitous network of fast charging stations for long trips.
Only Tesla can claim to offer significant charging infrastructure coverage today with their growing network of proprietary Supercharger stations and Tesla faces other challenges internally as they learn to manufacture vehicles at scale with high quality.
The greatest impact of the Model 3, then, to the benefit of the entire EV industry, may be in convincing consumers that EVs are no longer just for treehuggers and techies.
In launching presales far in advance of production, Tesla has empowered 275,000 people (and counting) to tell everyone they know that their next car will be electric, long before the first Model 3 hits the road. For the struggling field of electric cars, that's a real vote of confidence.
YOU MIGHT ALSO LIKE
21 Countries That Reduced Carbon Emissions While Growing Its GDP
Elon Musk Unveils Tesla Model 3: Accelerating Sustainable Transport Is 'Important for the Future of the World'
This Must-See Documentary Shows the Future of Solar Power Is Here Today
Musk, DiCaprio and Rive Talk the Future of Solar at Tesla Gigafactory
EcoWatch Daily Newsletter
The buildings of downtown Los Angeles are partially obscured in the late afternoon on Nov. 5, 2019, as seen from Pasadena, California, a day when air quality for Los Angeles was predicted to be "unhealthy for sensitive groups." Mario Tama / Getty Images
The evidence continues to build that breathing dirty air is bad for your brain.
Wave power in Portugal. The oceans' energy potential is immense. Luis Ascenso, via Wikimedia Commons
By Paul Brown
The amount of energy generated by tides and waves in the last decade has increased tenfold. Now governments around the world are planning to scale up these ventures to tap into the oceans' vast store of blue energy.
Yellowstone National Park closed to visitors on March 24, 2020 because of the Covid-19 virus threat. William Campbell-Corbis via Getty Images
When the novel coronavirus started to sweep across the country, the National Park Service started to waive entrance fees. The idea was that as we started to practice social distancing, Americans should have unfettered access to the outdoors. Then the parking lots and the visitor centers started to fill up, worrying park employees.
Mike Pence and Donald Trump hold a press conference about the coronavirus outbreak in the press briefing room at the White House on March 23, 2020 in Washington, DC. Drew Angerer / Getty Images
By John R. Platt
Both eyes open. Look for potential threats coming from all sides. Be prepared to change course at a moment's notice.