This website uses cookies to ensure you get the best experience while browsing it. By clicking 'Got It' you're accepting these terms.
Will Denmark Become the World's First 100% Organic Country?
Jan. 30, 2016 10:10AM EST
Danish consumers are the most pro-organic consumers in the world, according to Organic Denmark, an association of companies, organic farmers and consumers. Nearly 8 percent of all food sold in Denmark is organic, the highest percentage in Europe. And Danish organic export has risen by more than 200 percent since 2007.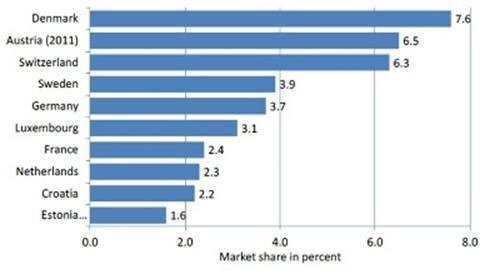 The Danish government is working on drastically increasing the nation's supply of organic food. Last year, The Ministry of Food, Agriculture and Fisheries released an ambitious plan to double the area under organic cultivation by 2020 from 2007 levels.
The government has committed a total of 400 million kroner ($60.8 million) to its action plan, The Local Denmark reported. The country aims to achieve a 60 percent goal for organic food served in public institutions—schools, day care centers, hospitals, etc.—which serve some 800,000 meals per day.
"In order to achieve our goals, which are the most ambitious in the West, the public sector needs to lead the way," Food and Agriculture Minister Dan Jørgensen told The Local Denmark. "With Økologiplan Danmark [Organic Denmark], we will strengthen cooperation between municipalities, regions and ministries with a long line of new initiatives. We will commit ourselves to, among other things, have more organic items on the menu in canteens, hospitals and daycare institutions."
To achieve its goals, the Ministry of Food, Agriculture and Fisheries is:
Allocating more than 3.3 million Euros for sales promotion on the domestic market over the next few years
Simplifying the country's organic regulations
Requiring organic farming on public lands and subsidizing farmers transitioning to organic
Allocating nearly 8 million Euros to help public institutions use more organic products
Other governmental agencies are taking part, too:
The Defense Department is serving more organic food in its cafeterias
The Ministry of the Environment is converting more areas it manages into organic farms
The Ministry of Education is incorporating more lessons about organic farming and its nutritional benefits into the curriculum
Denmark wants to go completely organic "as soon as possible," LifeGate reported. But at least one country has an even more ambitious plan than Denmark. Five years ago, Bhutan pledged to go 100 percent organic by 2020. To be fair though, Bhutan's population (754,000) is dwarfed by Denmark's (5.6 million). Still, Bhutan has some impressive claims. It's not only carbon neutral, it's also a carbon sink—making it one of the few countries in the world to have negative carbon emissions.
YOU MIGHT ALSO LIKE
Michael Moore: 'Do Not Send Us Bottles of Water. Instead, Join Us in a Revolt'
Seattle Sues Monsanto Over PCB Contamination, Becomes 6th City to Do So
Slaughter of Up to 900 Wild Bison at Yellowstone Park Sparks Federal Lawsuit to Protect First Amendment Rights
Monsanto Files Lawsuit to Stop California From Listing Glyphosate as Known Carcinogen
William Happer, head of proposed White House climate panel, in the lobby of Trump Tower in 2017. Jabin Botsford / The Washington Post via Getty Images
The White House is assembling a climate change panel to be headed by a known climate denier who once took money from a coal company to testify at a hearing and who has compared criticism of carbon dioxide to Hitler's demonization of the Jews.
William Happer, a Princeton physicist who has never trained as a climate scientist, joined the Trump administration in September 2018 as senior director for emerging technologies at the National Security Council (NSC).
KarinaKnyspel / iStock / Getty Images
2018 saw a number of studies pointing to the outsized climate impact of meat consumption. Beef has long been singled out as particularly unsustainable: Cows both release the greenhouse gas methane into the atmosphere because of their digestive processes and require a lot of land area to raise. But for those unwilling to give up the taste and texture of a steak or burger, could lab-grown meat be a climate-friendly alternative? In a first-of-its-kind study, researchers from the Oxford Martin School set out to answer that question.
Three scissor-tailed flycatcher fledglings in a mesquite tree in Texas. Texas Eagle / CC BY-NC 2.0
By Gary Paul Nabhan
President Trump has declared a national emergency to fund a wall along our nation's southern border. The border wall issue has bitterly divided people across the U.S., becoming a vivid symbol of political deadlock.
PeopleImages / E+ / Getty Images
By Daniel Ross
Hurricane Florence, which battered the U.S. East Coast last September, left a trail of ruin and destruction estimated to cost between $17 billion and $22 billion. Some of the damage was all too visible—smashed homes and livelihoods. But other damage was less so, like the long-term environmental impacts in North Carolina from hog waste that spilled out over large open-air lagoons saturated in the rains.
Hog waste can contain potentially dangerous pathogens, pharmaceuticals and chemicals. According to the state's Department of Environmental Quality, as of early October nearly 100 such lagoons were damaged, breached or were very close to being so, the effluent from which can seep into waterways and drinking water supplies.