Will Denmark Become the World's First 100% Organic Country?
Danish consumers are the most pro-organic consumers in the world, according to Organic Denmark, an association of companies, organic farmers and consumers. Nearly 8 percent of all food sold in Denmark is organic, the highest percentage in Europe. And Danish organic export has risen by more than 200 percent since 2007.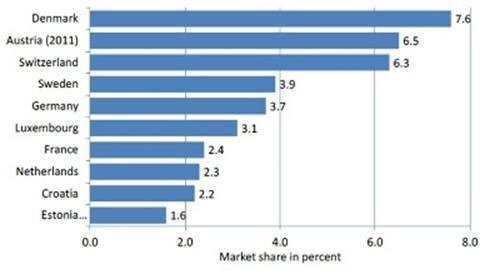 The Danish government is working on drastically increasing the nation's supply of organic food. Last year, The Ministry of Food, Agriculture and Fisheries released an ambitious plan to double the area under organic cultivation by 2020 from 2007 levels.
The government has committed a total of 400 million kroner ($60.8 million) to its action plan, The Local Denmark reported. The country aims to achieve a 60 percent goal for organic food served in public institutions—schools, day care centers, hospitals, etc.—which serve some 800,000 meals per day.
"In order to achieve our goals, which are the most ambitious in the West, the public sector needs to lead the way," Food and Agriculture Minister Dan Jørgensen told The Local Denmark. "With Økologiplan Danmark [Organic Denmark], we will strengthen cooperation between municipalities, regions and ministries with a long line of new initiatives. We will commit ourselves to, among other things, have more organic items on the menu in canteens, hospitals and daycare institutions."
To achieve its goals, the Ministry of Food, Agriculture and Fisheries is:
Allocating more than 3.3 million Euros for sales promotion on the domestic market over the next few years
Simplifying the country's organic regulations
Requiring organic farming on public lands and subsidizing farmers transitioning to organic
Allocating nearly 8 million Euros to help public institutions use more organic products
Other governmental agencies are taking part, too:
The Defense Department is serving more organic food in its cafeterias
The Ministry of the Environment is converting more areas it manages into organic farms
The Ministry of Education is incorporating more lessons about organic farming and its nutritional benefits into the curriculum
Denmark wants to go completely organic "as soon as possible," LifeGate reported. But at least one country has an even more ambitious plan than Denmark. Five years ago, Bhutan pledged to go 100 percent organic by 2020. To be fair though, Bhutan's population (754,000) is dwarfed by Denmark's (5.6 million). Still, Bhutan has some impressive claims. It's not only carbon neutral, it's also a carbon sink—making it one of the few countries in the world to have negative carbon emissions.
YOU MIGHT ALSO LIKE
Michael Moore: 'Do Not Send Us Bottles of Water. Instead, Join Us in a Revolt'
Seattle Sues Monsanto Over PCB Contamination, Becomes 6th City to Do So
Slaughter of Up to 900 Wild Bison at Yellowstone Park Sparks Federal Lawsuit to Protect First Amendment Rights
Monsanto Files Lawsuit to Stop California From Listing Glyphosate as Known Carcinogen
A coalition of conservation groups and others announced Thursday that a historic number of comments and petitions of support have been submitted to the U.S. Department of the Interior in support of Bears Ears National Monument. Despite the entirely inadequate 15-day comment period ending on May 26, more than 685,000 comments in support of Bears Ears National Monument have been collected.
Keep reading...
Show less
Rink Glacier in western Greenland, with a meltwater lake visible center. NASA/OIB
Scientists have had their eyes on Greenland as its iconic glaciers have begun disappearing due to a warming climate. But, what they didn't expect to see was a whole new type of melting.
Keep reading...
Show less
Mountain View Fire
By Lena Moffitt
An oil tanker in Mead, Colorado exploded, killing one and injuring three on Thursday. Authorities are continuing to investigate the cause of the explosion.
Keep reading...
Show less
Banner created by Alliance for Climate Education
Keep reading...
Show less
Twenty-two GOP senators sent a letter Thursday urging Donald Trump to pull out of the Paris agreement. They argued remaining in the deal could "upend" the administration's ability "to fulfill its goal of rescinding the Clean Power Plan."
Keep reading...
Show less
By Cheryl Johncox
The Federal Energy Regulatory Commission (FERC) rejected on Thursday Energy Transfer Partners' request to resume horizontal directional drilling at two sites for its Rover fracked gas pipeline. This rejection comes after numerous leaks into Ohio's wetlands, and Clean Air and Clean Water act violations. FERC has halted the process at only eight locations of the 32 where drilling is taking place under Ohio's wetlands and streams.
Keep reading...
Show less
By Nadia Prupis
A majority of people in eight countries say they are ready to change their lifestyles if it would prevent climate catastrophe, a survey on global threats released Wednesday found.
Keep reading...
Show less
May. 25, 2017 01:55PM EST
Bill Maher is sick of billionaires' obsession with Mars, more like "Mars-a-Lago," he said.
In a new animation produced by ATTN:, the popular talk show host of Real Time, discusses the perils of our planet, including how "climate change is killing us."
Keep reading...
Show less