Will Climate Hawk Kerry Have the Courage to Reject the Keystone XL Pipeline?
Feb. 21, 2013 03:02PM EST
Climate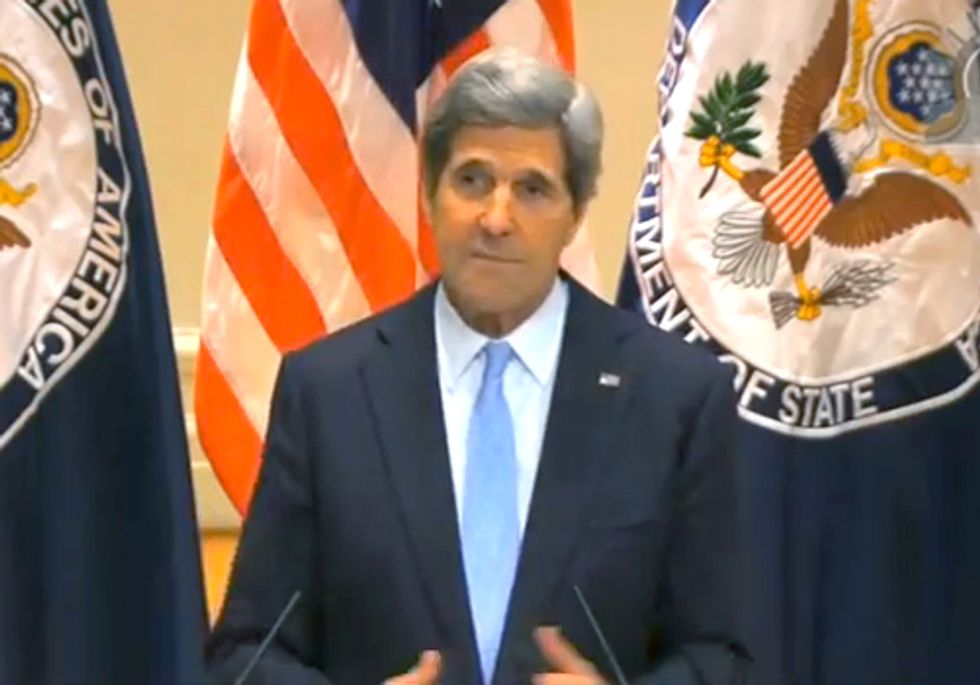 By Joe Romm
A month ago I wrote that the "confirmation of climate hawk Kerry as Secretary of State may doom dirty Keystone XL Pipeline."
Now John Kerry has delivered his first big foreign policy speech as Secretary of State and he shows no sign whatsoever of backing down from the moral urgency that has made him a true climate champion.
Watch this video which captures the passion behind Kerry's words:
Here's the key excerpt (from prepared text):
The stories we need to tell—of standing up for American jobs and businesses and standing up for our American values—intersect powerfully in the opportunity we have to lead on the climate concerns we share with our global neighbors.

We as a nation must have the foresight and courage to make the investments necessary to safeguard the most sacred trust we keep for our children and grandchildren: an environment not ravaged by rising seas, deadly superstorms, devastating droughts and the other hallmarks of a dramatically changing climate.

And let's face it—we are all in this one together. No nation can stand alone. We share nothing so completely as our planet.

When we work with others—large and small—to develop and deploy the clean technologies that will power a new world, we're also helping create new markets and new opportunities for America's second-to-none innovators and entrepreneurs to succeed in the next great revolution.

So let's commit ourselves to doing the smart thing and the right thing and truly commit to tackling this challenge.

Because if we don't rise to meet it, rising temperatures and rising sea levels will surely lead to rising costs down the road. If we waste this opportunity, it may be the only thing our generations are remembered for. We need to find the courage to leave a far different legacy.
Does this sound like a man who is going to launch his term as Secretary of State approving the expansion of one of the dirtiest sources of fossil fuels in the world? His repetition of the word "courage" makes it sound like he is talking directly to the President.
Keystone XL pipeline is the key that unlocks a huge pool of carbon-intensive fuel most of which must be left in the ground—along with most of the world's coal and unconventional oil and gas—if humanity is to avoid multiple devastating impacts that may be beyond adaptation.
Kerry starts as Secretary of State with a clean slate. But approving Keystone would be like dipping that slate into the dirtiest, stickiest tar imaginable. It would be the opposite of courageous, it's not what Kerry wants to be remembered for, and I don't think he will do it.
Visit EcoWatch's CLIMATE CHANGE and  KEYSTONE XL pages for more related news on this topic.
——–
EcoWatch Daily Newsletter
Related Articles from EcoWatch
Recent Stories from EcoWatch