This website uses cookies to ensure you get the best experience while browsing it. By clicking 'Got It' you're accepting these terms.
Will Climate Change Become a Top Priority with John Kerry as Sec. of State?
Feb. 04, 2013 09:30AM EST
Climate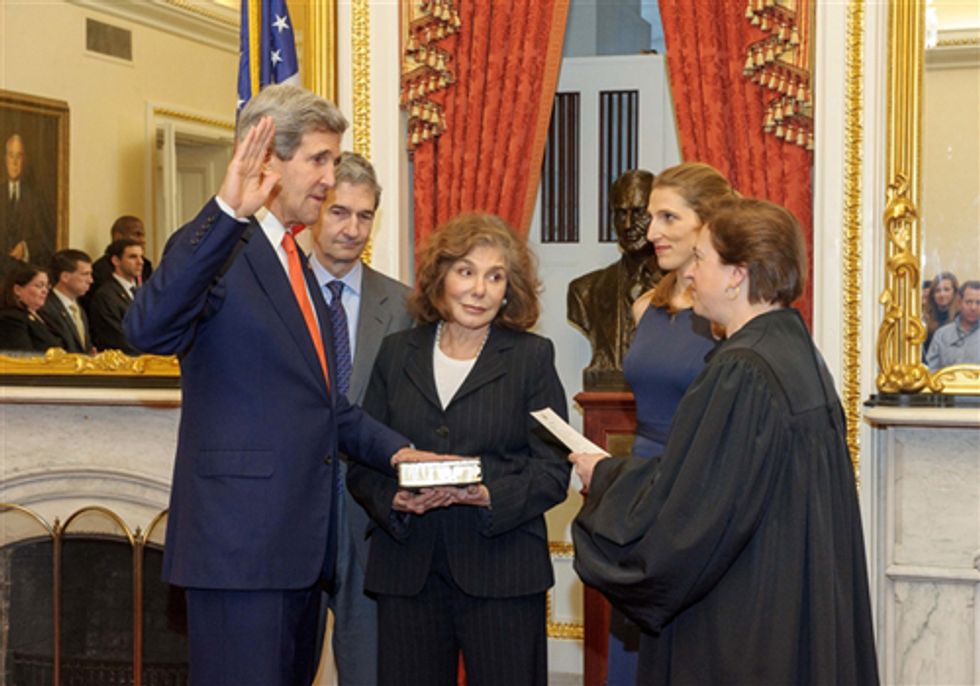 Sen. John Kerry was sworn in as Secretary of State on Friday, Feb. 1. We join many in congratulating Sen. Kerry and hope his choice is a sign from President Obama that he is working on a plan to push climate change during his second term.
As a U.S. Senator for five terms, and a decorated Vietnam veteran, Kerry knows a thing or two about national security issues. He's also been called a '"climate hawk." During his confirmation hearings, Kerry said climate change is a "life-threatening issue." He added that he will make climate change a top priority during his tenure as Secretary of State.
As Secretary of State, Kerry will take over Hillary Clinton's global climate change and clean air initiative. This coalition includes the U.S. Environmental Protection Agency administrator and representatives from four other founding partner countries. It is designed to address "short-lived climate pollutants." According to the State Department, these pollutants "account for more than a third of current global warming."
Like Clinton, Kerry will become a trusted cabinet member to the president. We urge Kerry to use his strong climate change credentials and moral leadership to address climate change as a national security global threat that requires worldwide efforts immediately. Here's why:
Climate change is a national security issue for military reasons.
 Our military leaders know this. They know that their soldiers–our husbands and wives, our children–are the ones whose lives are on the line when wars break out over the shrinking resources caused by water shortages and unproductive land. That's why our military leaders, never known for their radicalism, are pushing for innovative sustainable energy. They want to keep our soldiers out of harm's way.
Climate change is a national security issue for economic reasons.
 America has long been a global leader in engineering innovation and entrepreneurial ingenuity. That's what it takes to create solutions to large, seemingly impossible problems. We put people on the moon! We cannot lose our edge in technological innovation–the first time in our history that we will have done so. We need to reassert our leadership so that we can build solutions–global solutions–to climate chaos, together.
Climate change is a national security issue for humanitarian reasons.
 Americans are blessed with a land that is rich in resources: abundant and fertile farmlands, oceans of plenty to feed us. Not every country has the luxuries we do; and not everyone in this country partakes of our bounty. We have a moral obligation, as good people, to care for one another. Far distant archipelagos may be underwater first, but our own shores will have become threatened. Along with superstorm Sandy, Florida and other coastal areas are feeling the strong effects of climate change. Our love of people knows no national boundaries.
Climate change is a national security issue. Because we are all in this together. All of us. All over the world.
 Our Earth's atmosphere has been compromised by air pollution. And we all breathe the same air, when you get right down to it. We need international cooperation from the largest polluters around the globe to move toward a low-carbon economy. China, India and the U.S. are among the worst for global greenhouse gas emissions. We must work with these countries to slow, and then reverse, the changing climate that is bringing the world tragic and extreme storms, flooding, heat waves, and droughts.
Noah had to choose only a pair of every single species to enter his Ark. Is that a position we want to put our children in?
Whether you believe the story of Noah and his Ark literally, or metaphorically, makes no difference. The fact is, life in a world with an unreliable, chaotic climate means that we–and our children–are going to face some very hard choices about who lives. And who dies.
Climate change is the most urgent and important national security issue Americans will ever face. No one wants to look their children in the eye and answer this one, sad question: "Why didn't you stop this?"
Watch this video of John Kerry at the Sec. of State confirmation hearing showing his commitment to climate change:
Visit EcoWatch's CLIMATE CHANGE page for more related news on this topic.
——–
Click here to tell Congress to Expedite Renewable Energy.

EcoWatch Daily Newsletter
People walk across the bridge near Little Raven Court in downtown Denver. Younger Americans increasingly prefer to live in walkable neighborhoods. Helen H. Richardson / The Denver Post via Getty Images
By David B. Goldstein
Energy efficiency is the cornerstone of any country's plan to fight the climate crisis. It is the cheapest option available, and one that as often as not comes along with other benefits, such as job creation, comfort and compatibility with other key solutions such as renewable energy. This has been recognized by the International Energy Agency (IEA) for at least a decade.
Activists from Extinction Rebellion New York City engaged in nonviolent direct action to confront climate change outside City Hall on April 17, 2019. Erik McGregor / Pacific Press / LightRocket via Getty Images
By Andrea Germanos

Over 500 groups on Monday rolled out an an action plan for the next president's first days of office to address the climate emergency and set the nation on a transformative path towards zero emissions and a just transition in their first days in office.

The Ladakh region of India, pictured above, is a part of the Himalayan mountain region of the upper Indus Valley which is the most vulnerable water tower, according to researchers. Suttipong Sutiratanachai / Moment / Getty Images
Jet stream triggered heat waves could threaten food production in several important breadbaskets, including central North America.
Carl Wycoff /
CC BY 2.0
Researchers have pinpointed a previously underexamined threat to global food production, and they warn it will only get worse as the climate crisis intensifies.

By Jennifer Molidor, PhD
Climate change, habitat loss and pollution are overwhelming our planet. Thankfully, these enormous threats are being met by a bold new wave of environmental activism.