This website uses cookies to ensure you get the best experience while browsing it. By clicking 'Got It' you're accepting these terms.


The best of EcoWatch, right in your inbox. Sign up for our email newsletter!
Will America's Love for Cheap Clothing Doom the Sustainable Fashion Movement?
May. 09, 2016 12:07PM EST
Business
By Liz Dwyer
It's common sense that if you're buying a pair of trendy $9 jeans at the mall, there's a good chance they were made in an overseas sweatshop by poorly paid women or children. Yet a new survey reveals that saving a buck is what's foremost in Americans' minds.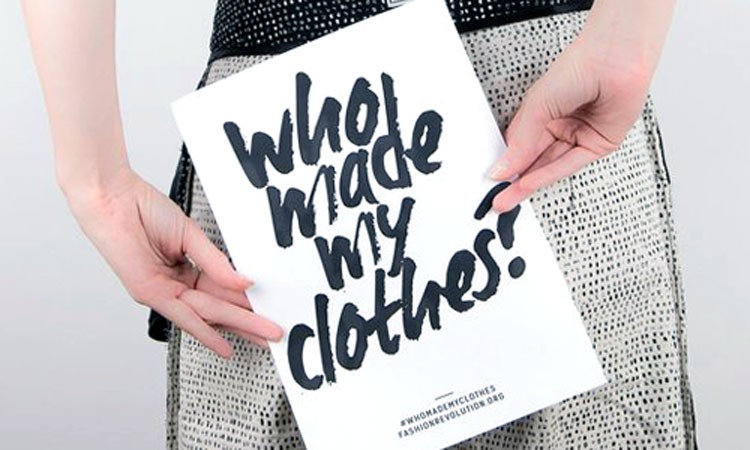 An Associated Press–GFK poll released last month found that when it comes to purchasing clothes, the majority of Americans prefer cheap prices over a "Made in the USA" label. The poll, inspired by campaign trail promises by presidential candidates to bring manufacturing jobs back to the U.S., asked respondents to choose between two pairs of pants of the same fabric and design. The pair manufactured in the U.S. would set the shopper back $85, while the one sewn overseas would cost $50. A full 67 percent of respondents, regardless of household income, said they'd choose the cheaper pair of pants.
American Apparel's "sweatshop-free" premise aside, garments made in the USA aren't always ethically sewn. But inexpensive clothing produced in overseas sweatshops has long been a cornerstone of the fast-fashion industry—and as the poll shows, Americans are in love with low prices.
"Buying cheaply is a cultural deficiency that we can address with a common goal toward more sustainable practices," Orsola de Castro, the U.K.-based cofounder and director of Fashion Revolution, wrote in an email to TakePart.
De Castro launched Fashion Revolution after the fatal 2013 Rana Plaza factory collapse in Bangladesh. The horrific (and preventable) accident killed more than 1,000 people and injured around 2,500 more. The organization works to turn the spotlight on child labor and sweatshop abuses. It spearheaded Fashion Revolution Week, an 86-nation awareness campaign, which took place April 18 - 24.
Given the penchant for low prices, Fashion Revolution's fight to get people to ask brands "Who made my clothes?" might seem like an uphill battle. It also doesn't help that studies show consumers often don't want to know if their clothing was produced ethically—and they'll ridicule people who do.
But de Castro believes "the narrative of fashion is changing and the public is beginning to understand that a fairer fashion industry can only be a change for the better and small changes in our buying habits can have resonant, positive effects."
Despite politicians' promises about a return to a Made in the USA heyday—which, given how cheap it is to make clothing around the world, is not likely to happen—de Castro believes that the solution is to ensure that the people working in places like Bangladesh are granted basic workers' rights.
"It is absolutely about basic human rights wherever there is a fashion production. The fashion industry creates millions of jobs, everywhere," wrote de Castro. "It is about ensuring integrity: encouraging an industry that, wherever it decides to produce, treats its workers fairly, pays a living wage, ensures safety and dignity. Quality products made by people with a good quality of life."
San Francisco–based Starre Vartan, the creator of the sustainable fashion website Eco-Chick.com and a founding member of Fashion Revolution Day USA, thinks there are plenty of things people should care about more than low prices.
"If the people reading support women's empowerment, they will support fair fashion," she wrote in an email. "The vast majority of garment workers in the world (60 million) are women (80 percent) and most clothing is consumed by women. Are you willing to throw another woman under the bus for a cheaper shirt? Considering how responsive the younger generation is on gender issues in the U.S., it doesn't make sense to dismiss issues of who makes your clothes."
The role of kids in producing fast fashion also can't be ignored, wrote Vartan. A video released last month by Fashion Revolution featured children in Germany trying to get jobs at clothing stores and companies. The stunt was designed to get viewers to question why people regularly buy clothing made by kids in developing countries while being simultaneously outraged over the prospect of employing children to work in the Western fashion industry.
Approximately 168 million children around the world are forced to work, according to the International Labour Organization. "Children are still used in many factories for piecework, cleanup and other tasks, rather than going to school so they can earn a few pennies for their families. Children should obviously not be working instead of going to school," wrote Vartan.
Daniela Degrassi, an Italian-born designer working with Fashion Revolution West Coast USA, says she ethically produces everything in her line, Annaborgia Vegan Couture. Her items aren't as inexpensive as what can be found in a trendy story at the mall, but on her company's website, Degrassi regularly blogs about sustainable brands, particularly from nations such as Bangladesh that have problems with sweatshops. People who care only about high prices may simply "not be exposed to the information," she wrote.
Both Degrassi and Vartan recommended The True Cost, a 2015 documentary revealing the often inhumane experiences of people around the globe who work in the garment industry. "People who see The True Cost find themselves unable to participate in fast fashion—or [they] seriously question and redefine their shopping habits," wrote Vartan.
Along with educating the public and demanding transparency from brands, de Castro believes government intervention and pressure on companies is sparking change.
"We are actually seeing a genuine and spontaneous outreach to review the fashion situation and address the pressing issues that affect its supply chain," she wrote. She added that government actions such as the 2015 Modern Day Slavery Act in the U.K.—which tackles slavery and corporate supply chains tied to it—as well as celebrities becoming involved in the conversation are making a difference.
As for the average shopper faced with the decision to buy some inexpensive jeans that'll wear out in a few washes, de Castro offers some sound advice. "We encourage vigilance and participation: be curious, find out, do something," she wrote.
This article was reposted with permission from our media associate TakePart.

YOU MIGIHT ALSO LIKE
3 Solar Ovens That Give You the Power to Cook With the Sun
Exclusive Interview: Pro Surfer Cyrus Sutton Develops Sunblock Safe for People and the Planet
World's First and Only Sunglasses Made From 100% Reclaimed Fishing Nets
EcoWatch Daily Newsletter
PhotoAlto / Laurence Mouton / Getty Images
By Ana Reisdorf, MS, RD
You've probably heard the buzz around collagen supplements and your skin by now. But is the hype really that promising? After all, research has pointed to both the benefits and downsides of collagen supplements — and for many beauty-conscious folk, collagen isn't vegan.
Pixabay
By Marlene Cimons
Neil Pederson's introduction to tree rings came from a "sweet and kindly" college instructor, who nevertheless was "one of the most boring professors I'd ever experienced," Pederson said. "I swore tree rings off then and there." But they kept coming back to haunt him.
Aerial view of the explosion site of a chemical factory on March 22 in Yancheng, Jiangsu Province of China. Caixin Media / VCG / Getty Images)
At least 47 people have died in an explosion at a plant in Yancheng, China Thursday run by a chemical company with a history of environmental violations, Sky News reported.
A fishmonger in Elmina, a fishing port in the Central Region of Ghana. Environmental Justice Foundation
By Daisy Brickhill
Each morning, men living in fishing communities along Ghana's coastline push off in search of the day's catch. But when the boats come back to shore, it's the women who take over.
Pexels
By Sam Nickerson
Links between excess sugar in your diet and disease have been well-documented, but new research by Harvard's School of Public Health might make you even more wary of that next soda: it could increase your risk of an early death.
The study, published this week in the American Heart Association's journal Circulation, found that drinking one or two sugar-sweetened beverages (SSBs) each day — like sodas or sports drinks — increases risk of an early death by 14 percent.
Tyson Foods is recalling approximately 69,093 pounds of frozen chicken strips because they may have been contaminated with pieces of metal, the U.S. Department of Agriculture (USDA) Food Safety and Inspection Service (FSIS) announced Thursday.
The affected products were fully-cooked "Buffalo Style" and "Crispy" chicken strips with a "use by" date of Nov. 30, 2019 and an establishment number of "P-7221" on the back of the package.
"FSIS is concerned that some product may be in consumers' freezers," the recall notice said. "Consumers who have purchased these products are urged not to consume them. These products should be thrown away or returned to the place of purchase."
Environmental exposure to pesticides, both before birth and during the first year of life, has been linked to an increased risk of developing autism spectrum disorder, according to the largest epidemiological study to date on the connection.
The study, published Wednesday in BMJ, found that pregnant women who lived within 2,000 meters (approximately 1.2 miles) of a highly-sprayed agricultural area in California had children who were 10 to 16 percent more likely to develop autism and 30 percent more likely to develop severe autism that impacted their intellectual ability. If the children were exposed to pesticides during their first year of life, the risk they would develop autism went up to 50 percent.