This website uses cookies to ensure you get the best experience while browsing it. By clicking 'Got It' you're accepting these terms.
Will America's Love for Cheap Clothing Doom the Sustainable Fashion Movement?
May. 09, 2016 12:07PM EST
Business
By Liz Dwyer
It's common sense that if you're buying a pair of trendy $9 jeans at the mall, there's a good chance they were made in an overseas sweatshop by poorly paid women or children. Yet a new survey reveals that saving a buck is what's foremost in Americans' minds.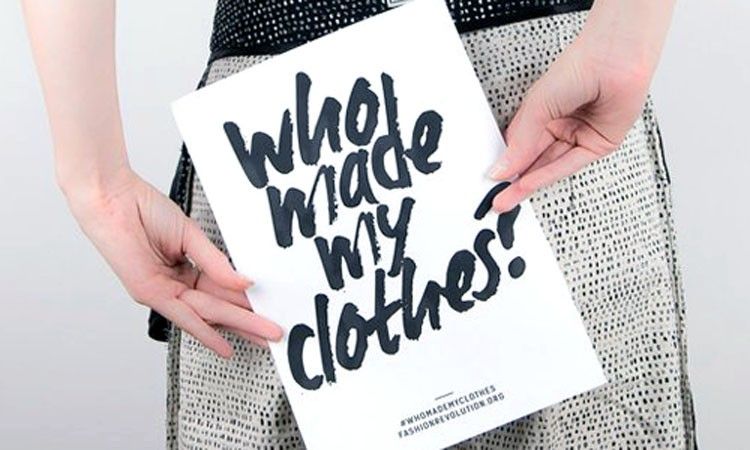 An Associated Press–GFK poll released last month found that when it comes to purchasing clothes, the majority of Americans prefer cheap prices over a "Made in the USA" label. The poll, inspired by campaign trail promises by presidential candidates to bring manufacturing jobs back to the U.S., asked respondents to choose between two pairs of pants of the same fabric and design. The pair manufactured in the U.S. would set the shopper back $85, while the one sewn overseas would cost $50. A full 67 percent of respondents, regardless of household income, said they'd choose the cheaper pair of pants.
American Apparel's "sweatshop-free" premise aside, garments made in the USA aren't always ethically sewn. But inexpensive clothing produced in overseas sweatshops has long been a cornerstone of the fast-fashion industry—and as the poll shows, Americans are in love with low prices.
"Buying cheaply is a cultural deficiency that we can address with a common goal toward more sustainable practices," Orsola de Castro, the U.K.-based cofounder and director of Fashion Revolution, wrote in an email to TakePart.
De Castro launched Fashion Revolution after the fatal 2013 Rana Plaza factory collapse in Bangladesh. The horrific (and preventable) accident killed more than 1,000 people and injured around 2,500 more. The organization works to turn the spotlight on child labor and sweatshop abuses. It spearheaded Fashion Revolution Week, an 86-nation awareness campaign, which took place April 18 - 24.
Given the penchant for low prices, Fashion Revolution's fight to get people to ask brands "Who made my clothes?" might seem like an uphill battle. It also doesn't help that studies show consumers often don't want to know if their clothing was produced ethically—and they'll ridicule people who do.
But de Castro believes "the narrative of fashion is changing and the public is beginning to understand that a fairer fashion industry can only be a change for the better and small changes in our buying habits can have resonant, positive effects."
Despite politicians' promises about a return to a Made in the USA heyday—which, given how cheap it is to make clothing around the world, is not likely to happen—de Castro believes that the solution is to ensure that the people working in places like Bangladesh are granted basic workers' rights.
"It is absolutely about basic human rights wherever there is a fashion production. The fashion industry creates millions of jobs, everywhere," wrote de Castro. "It is about ensuring integrity: encouraging an industry that, wherever it decides to produce, treats its workers fairly, pays a living wage, ensures safety and dignity. Quality products made by people with a good quality of life."
San Francisco–based Starre Vartan, the creator of the sustainable fashion website Eco-Chick.com and a founding member of Fashion Revolution Day USA, thinks there are plenty of things people should care about more than low prices.
"If the people reading support women's empowerment, they will support fair fashion," she wrote in an email. "The vast majority of garment workers in the world (60 million) are women (80 percent) and most clothing is consumed by women. Are you willing to throw another woman under the bus for a cheaper shirt? Considering how responsive the younger generation is on gender issues in the U.S., it doesn't make sense to dismiss issues of who makes your clothes."
The role of kids in producing fast fashion also can't be ignored, wrote Vartan. A video released last month by Fashion Revolution featured children in Germany trying to get jobs at clothing stores and companies. The stunt was designed to get viewers to question why people regularly buy clothing made by kids in developing countries while being simultaneously outraged over the prospect of employing children to work in the Western fashion industry.
Approximately 168 million children around the world are forced to work, according to the International Labour Organization. "Children are still used in many factories for piecework, cleanup and other tasks, rather than going to school so they can earn a few pennies for their families. Children should obviously not be working instead of going to school," wrote Vartan.
Daniela Degrassi, an Italian-born designer working with Fashion Revolution West Coast USA, says she ethically produces everything in her line, Annaborgia Vegan Couture. Her items aren't as inexpensive as what can be found in a trendy story at the mall, but on her company's website, Degrassi regularly blogs about sustainable brands, particularly from nations such as Bangladesh that have problems with sweatshops. People who care only about high prices may simply "not be exposed to the information," she wrote.
Both Degrassi and Vartan recommended The True Cost, a 2015 documentary revealing the often inhumane experiences of people around the globe who work in the garment industry. "People who see The True Cost find themselves unable to participate in fast fashion—or [they] seriously question and redefine their shopping habits," wrote Vartan.
Along with educating the public and demanding transparency from brands, de Castro believes government intervention and pressure on companies is sparking change.
"We are actually seeing a genuine and spontaneous outreach to review the fashion situation and address the pressing issues that affect its supply chain," she wrote. She added that government actions such as the 2015 Modern Day Slavery Act in the U.K.—which tackles slavery and corporate supply chains tied to it—as well as celebrities becoming involved in the conversation are making a difference.
As for the average shopper faced with the decision to buy some inexpensive jeans that'll wear out in a few washes, de Castro offers some sound advice. "We encourage vigilance and participation: be curious, find out, do something," she wrote.
This article was reposted with permission from our media associate TakePart.

YOU MIGIHT ALSO LIKE
3 Solar Ovens That Give You the Power to Cook With the Sun
Exclusive Interview: Pro Surfer Cyrus Sutton Develops Sunblock Safe for People and the Planet
World's First and Only Sunglasses Made From 100% Reclaimed Fishing Nets
EcoWatch Daily Newsletter

georgeclerk / E+ / Getty Images
By Jennifer Molidor
One million species are at risk of extinction from human activity, warns a recent study by scientists with the United Nations. We need to cut greenhouse gas pollution across all sectors to avoid catastrophic climate change — and we need to do it fast, said the Intergovernmental Panel on Climate Change.
This research should serve as a rallying cry for polluting industries to make major changes now. Yet the agriculture industry continues to lag behind.
Edwin Remsburg / VW Pics / Getty Images
Botswana, home to one third of Africa's elephants, announced Wednesday that it was lifting its ban on the hunting of the large mammals.
"The Ministry of Environment, Natural Resources Conservation and Tourism wishes to inform the public that following extensive consultations with all stakeholders, the Government of Botswana has taken a decision to lift the hunting suspension," the government announced in a press release shared on social media.
Pxhere
By Richard Denison
Readers of this blog know how concerned EDF is over the Trump EPA's approval of many dozens of new chemicals based on its mere "expectation" that workers across supply chains will always employ personal protective equipment (PPE) just because it is recommended in the manufacturer's non-binding safety data sheet (SDS).
By Grant Smith
From 2009 to 2012, Gregory Jaczko was chairman of the Nuclear Regulatory Commission, which approves nuclear power plant designs and sets safety standards for plants. But he now says that nuclear power is too dangerous and expensive — and not part of the answer to the climate crisis.
A lake in Rocky Mountain National Park. Brett Walton / Circle of Blue
By Brett Walton
When Greg Wetherbee sat in front of the microscope recently, he was looking for fragments of metals or coal, particles that might indicate the source of airborne nitrogen pollution in Rocky Mountain National Park. What caught his eye, though, were the plastics.
Gabriele Holtermann Gorden / Pacific Press / LightRocket / Getty Images
In a big victory for animals, Prada has announced that it's ending its use of fur! It joins Coach, Jean Paul Gaultier, Giorgio Armani, Versace, Ralph Lauren, Vivienne Westwood, Michael Kors, Donna Karan and many others PETA has pushed toward a ban.
This is a victory more than a decade in the making. PETA and our international affiliates have crashed Prada's catwalks with anti-fur signs, held eye-catching demonstrations all around the world, and sent the company loads of information about the fur industry. In 2018, actor and animal rights advocate Pamela Anderson sent a letter on PETA's behalf urging Miuccia Prada to commit to leaving fur out of all future collections, and the iconic designer has finally listened.
Amer Ghazzal / Barcroft Media / Getty Images
If people in three European countries want to fight the climate crisis, they need to chill out more.
That's the conclusion of a new study from think tank Autonomy, which found that Germany, the UK and Sweden all needed to drastically reduce their workweeks to fight climate change.
Amazon Employees for Climate Justice held a press conference after the annual shareholder meeting on May 22. Amazon Employees for Climate Justice