This website uses cookies to ensure you get the best experience while browsing it. By clicking 'Got It' you're accepting these terms.
Will 2013 Be a Boom or Bust Year for Renewable Energy?
Jan. 14, 2013 10:22AM EST
Energy
By Sven Teske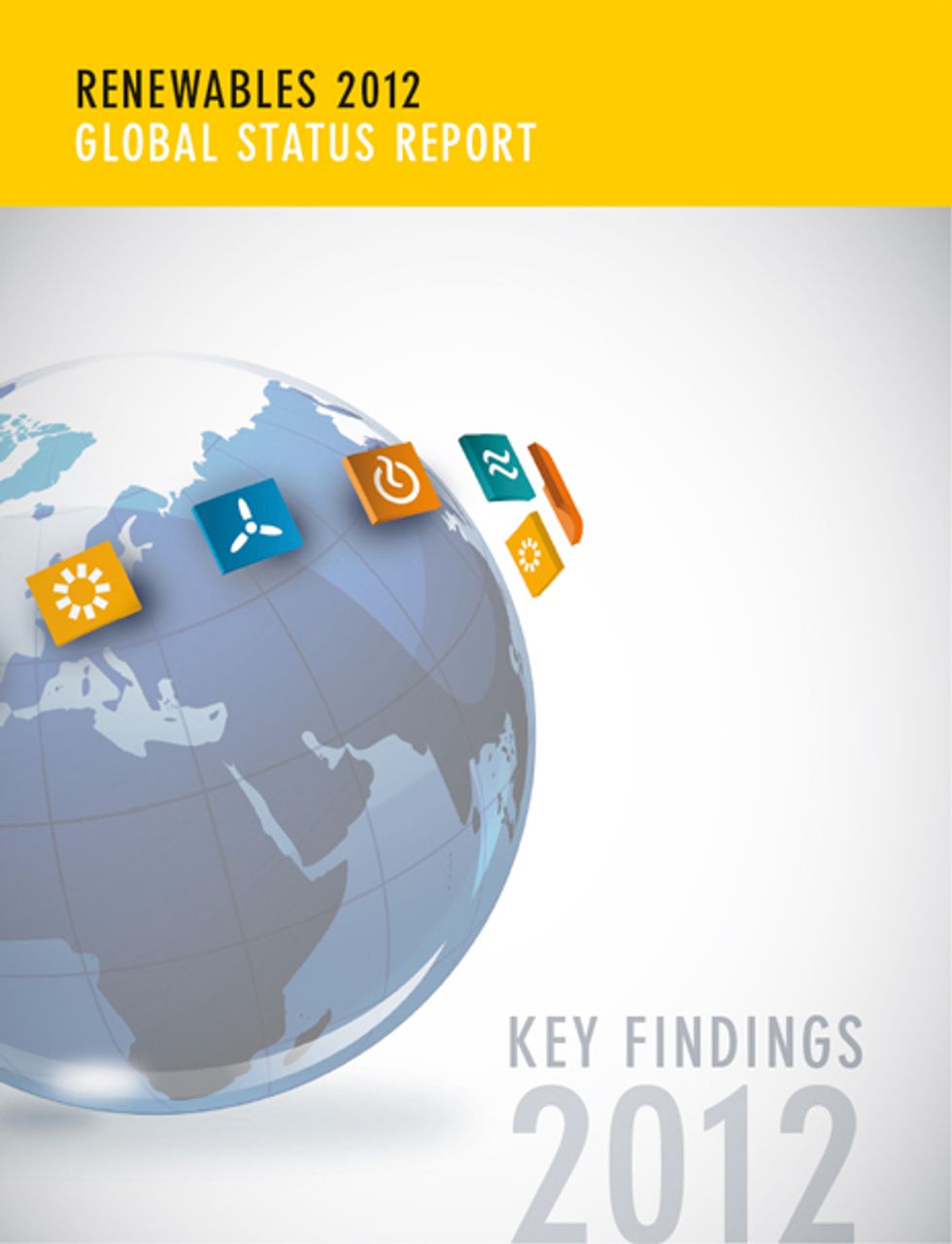 For many energy experts around the world, the New Year starts this coming week in Abu Dhabi at the World Future Energy Summit.
This year, the summit is coupled with two political conferences dedicated to renewable energy: the Assembly of the International Renewable Energy Agency and the Abu Dhabi International Renewable Energy Conference (ADIREC).
It is going to be exciting. The ADIREC continues a renowned series of high-level political conferences that started back in 2004 in Germany. While these conferences have been based on voluntary cooperation, pledges and networking, each conference has helped stimulate action and build momentum for the incredible clean energy race, as highlighted in Renewables 2012 Global Status Report, that's unfolded since 2004. This is what we expect this year too, at a time when strong political and business leadership are needed.
Renewable energy markets are now at the most critical phase. This is especially true for solar photovoltaic (PV) and onshore wind power, which have become mainstream technologies. Prices have fallen dramatically over the last two to three years, and the competition between the solar and wind equipment manufacturers is fierce. Profit margins are minimal and many smaller companies will not survive this price battle.
The wind and solar market in 2012 was half the size of manufacturing capacity because of drastic expansion of capacity in China. But this also had a positive effect. In many countries, the price for solar and wind is now cost competitive with coal, and in some places even competes with gas power plants.
Since 2010, more than half the new power plants have been renewable energy. Increasingly, the fossil fuel industry is feeling the heat of competition with renewables, putting them in the line of fire. While the first half of the "Fossil against Renewable" match went to wind and solar, the second half starts now. The conflict will be about the required infrastructure and new storage technologies—the battle of the grids. "Smart grid," "Smart meter" or "Smart Cities" are the buzzwords at the center of many energy debates.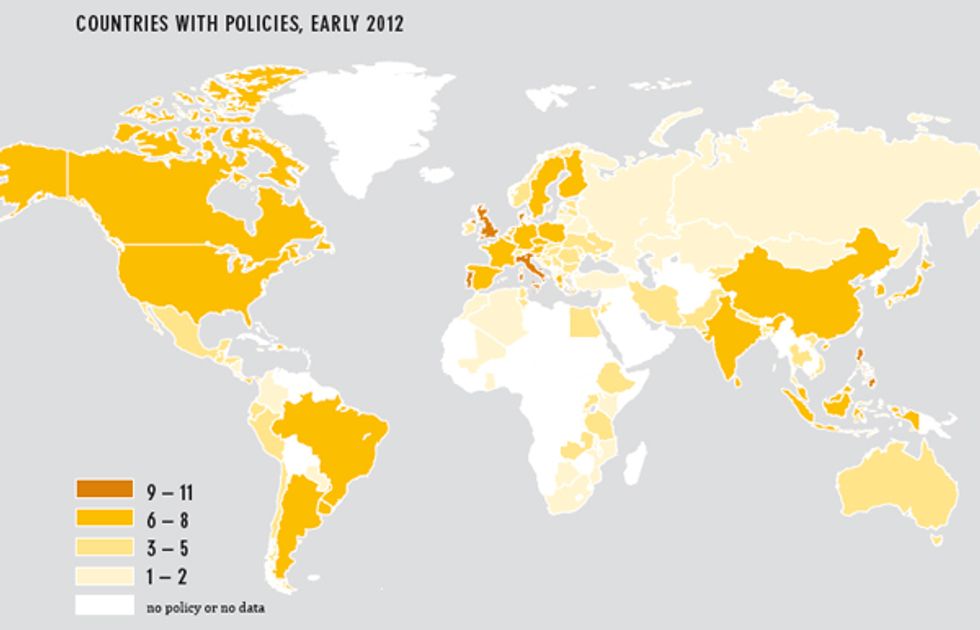 Despite all these positive messages for the renewable industry, the fight is not over at all. In 2013, many companies will merge, get taken over or drop out of the market.
The well-known energy players—AREVA, Siemens, GE or ABB—are already starting to dominate the wind and solar industry. But will they prioritize renewables ahead of their on-going interest on conventionals?
And with the "shale gas revolution" in the U.S. almost turning the entire global power-plant market on its head, "cheap," or more accurately "cross-subsidised" gas, drives not only coal, nuclear but also renewables out of the market.
Renewable energy still needs political support. Not so much in the form of subsidies any more, but in fundamentally different market regulations: increased grid access, modernized power-market design and to some extent a different infrastructure are needed to achieve an energy market that is 100 percent renewable energy. High-level renewable energy conferences, like the ones taking place this week, can help build momentum for good policies and leadership.
Financial institutions have learned a lot about wind and solar. New global investment in renewables rose 17 percent to a record $257 billion in 2011—six times higher than in 2004 and almost twice the total investment in 2007, the last year before the acute phase of the recent global financial crisis. Figures for 2012 are not available yet, but are expected to be on 2011 level. This is not good news.
Fortunately, the first announcements for the crucial year of 2013 are promising. China will step up its solar PV market to 10,000 megawatt in 2013—five times higher than two years ago. Announcements in India might at least double the PV market in 2013.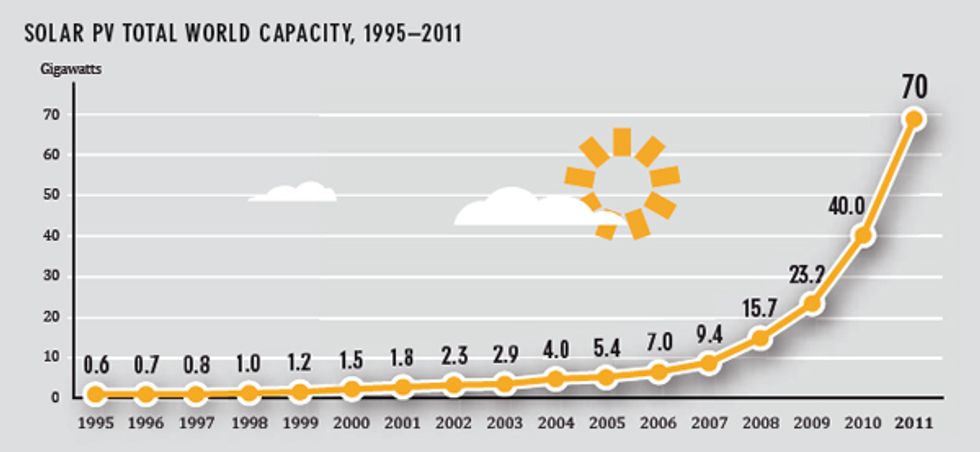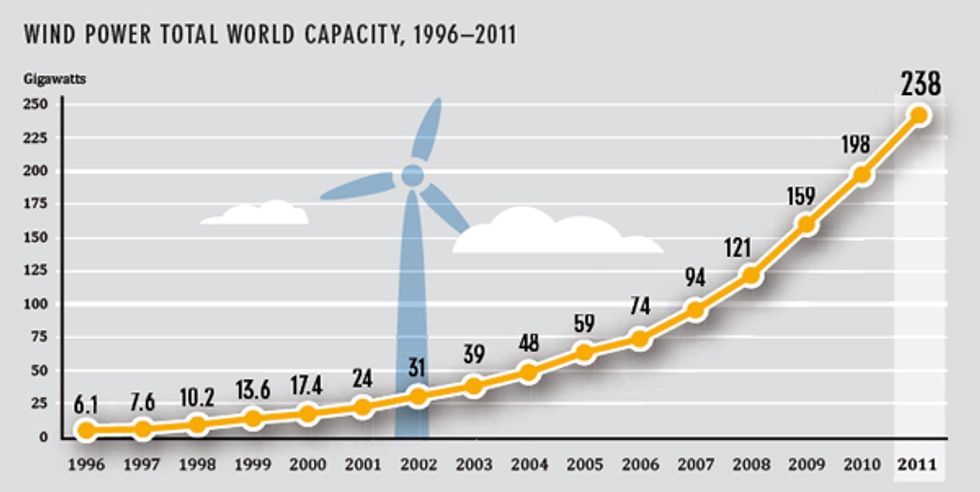 But what do we need to see to really save our climate and to provide clean, safe and affordable energy for all?
To achieve an Energy [R]evolution (a clean-energy pathway Greenpeace has outlined together with our partners EREC and GWEC) we need to maintain the past decade's growth of the renewable market for another decade. This is completely possible, but only with long-term political support for renewable energy and energy efficiency.
Let's hope that the coming week in Abu Dhabi will provide an inspiring start for the renewable energy policy debates and decisions this year.
Visit EcoWatch's RENEWABLES and ENERGY pages for more related news on this topic.
——–
Sven Teske is an expert on renewable energy with Greenpeace International.
——–
Click here to tell Congress to Expedite Renewable Energy.

EcoWatch Daily Newsletter
The largest wetland in Africa is in the South Sudan. George Steinmetz / Corbis Documentary / Getty Images Plus
Methane emissions are a far more powerful greenhouse gas than carbon dioxide – about 28 times more powerful. And they have been rising steadily since 2007. Now, a new study has pinpointed the African tropics as a hot spot responsible for one-third of the global methane surge, as Newsweek reported.
The Rybnik Power Station in Rybnik, Poland on Sept. 20, 2018. Poland gets 80% of its power from coal.
Hans Permana / Flickr
After marathon talks in Brussels, the leaders of European Union member states – bar Poland – agreed early Friday to commit to going carbon neutral by 2050.
Thousands of "penis fish" like these pictured above washed up on a California beach. Ryan Bodenstein / Flickr /
CC BY 2.0
A photographer came across a strange sight when he walked along a Northern California beach last week: thousands of sausage-shaped, 10-inch worms stretching for miles down the beach.
Permanent hair dyes and chemical hair straighteners could be increasing women's risk of breast cancer. kali9 / E+ / Getty Images
Permanent hair dyes and chemical hair straighteners could be increasing women's risk of breast cancer, according to a new study by the National Institutes of Health.
Britain's Prime Minister Boris Johnson (C) walks with Oliver Harmar (R), Yorkshire area director of the Environment Agency as he visits Stainforth near Doncaster, northern England, on Nov. 13, 2019, following flooding caused by days of heavy rain. DANNY LAWSON / POOL/AFP via Getty Images
The Conservative Party emerged victorious in Thursday's UK elections with a majority of 78 seats in the House of Commons, its largest majority since 1987, as BBC News reported.