WildEarth Guardians Sues the Nation's Biggest Wildlife Killer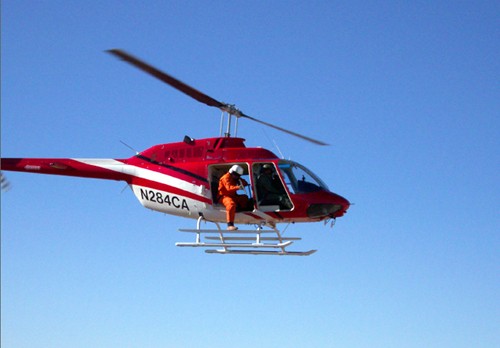 WildEarth Guardians has sued to enjoin the federal agency responsible for killing more than 5 million animals annually for its refusal to analyze the environmental consequences of its actions in almost two decades. Between 2004 and 2010, Wildlife Services, a branch of the U.S. Department of Agriculture, spent nearly $1 billion to kill nearly 23 million animals using aerial guns, poisons, traps, snares and hounds, purportedly to protect agriculture and other private interests as part of a grossly ineffective and wasteful program. Wildlife Services, however, continues to rely on a woefully outdated environmental analysis for its wildlife-killing activities that fails to take into account new reports on the risks and inefficiencies of its program, evolving public values for wildlife, and new scientific and economic information concerning wildlife management.
"Wildlife Services employs an arsenal of weaponry to kill America's native wildlife and it's time that courts neutralize this agency. We want the court to ban its poisons, silence its guns and pull up its traps because it's a horrendous misuse of our tax dollars to slaughter the nation's bears, wolves, coyotes and myriad other species," said Wendy Keefover, director of carnivore protection for WildEarth Guardians.
Wildlife Services relies on an 18 year-old environmental document to conduct its wildlife-eradication programs in violation of federal law. The research cited in that assessment dates as far back as 1936, with most studies dating from the 1980's. WildEarth Guardians has presented significant new information to the agency on the costs, ineffectiveness and environmental harms of wildlife-killing programs to the agency, but it has refused to consider the new data in implementing its actions.
"Wildlife Services relies upon antiquated studies in order to justify its wildlife-killing activities," said Ashley Wilmes, staff attorney for WildEarth Guardians, "and we want it to shut down its lethal operations—particularly those that are conducted in designated Wilderness Areas."
Wildlife Services liberally distributes sodium cyanide booby traps and shoots tens of thousands of native carnivores such as coyotes and wolves from helicopters and airplanes on public lands, including in wilderness areas in violation of federal law. The agency's killing methods are ubiquitous and indiscriminate and annually kill untold numbers of "non-target" species.
Wildlife Services last issued a review of its program in 1994, when it studied the environmental consequences of killing only 17 target species, based upon its records from 1988. Since that study, its budget has grown by about 400 percent and the numbers of target species it kills is closer to 300.
About half of Wildlife Services' budget is funded from federal tax dollars, while the rest is provided by unnamed "cooperators" such as states, counties, municipalities and even industry groups like the American Sheep Industry Alliance and the Farm Bureau.
"Under the National Environmental Policy Act, Wildlife Services cannot continue to rely on this outdated and insufficient analysis of its program, especially since the agency spent $126 million in 2010 to kill 5,008,928 animals," said Wilmes.
The agency has been audited several times by the U.S. Department of Agriculture's Inspector General and sanctioned by the U.S. Environmental Protection Agency because of the dangers it poses to the public and its own employees, including bioterrorism hazards and aircraft accidents.
"All this killing has no real benefit—even to the massive agricultural industry it purports to support. It's time that Wildlife Services stops costly and egregious wildlife killing on our nation's public and private lands," stated Keefover. "A thorough environmental analysis might finally reveal the uselessness and futile nature of Wildlife Services and shutter its operations."
For more information, click here.
Wikimedia Commons
By Stacy Malkan
Neil deGrasse Tyson has inspired millions of people to care about science and imagine themselves as participants in the scientific process. What a hopeful sign it is to see young girls wearing t-shirts emblazoned with the words, "Forget princess, I want to be an astrophysicist."
Keep reading...
Show less
www.youtube.com
By Andy Rowell
Any day now we will truly witness climate change in action. Within days at worst, maybe weeks at best, scientists predict that a huge section of the Larsen C ice shelf in Antarctica will break off into the ocean, in what is called a major "carving" event.
Keep reading...
Show less
www.youtube.com
President Trump visited Cedar Rapids, Iowa on June 21 to speak to a large crowd in the U.S. Cellular Center at a political rally organized by his campaign.
As Trevor Noah noted during The Daily Show episode last night (starts at 2:25), the real reason Trump has these rallies is to "get back in front of his loyal crowds and feed of their energy." Noah believes that "Trump supporters are so on board with their dude he can say anything and they'll come along for the ride."
Keep reading...
Show less
The Kamuthi solar plant in the southern Indian state of Tamil Nadu.
The rapid growth in renewable energy continues to put a dent in the demand for coal.
Coal India, the world's biggest coal mining company and producer of 82 percent of the country's coal, announced the closure of 37 mines that are financially "unviable."
Keep reading...
Show less
www.youtube.com
By Katie O'Reilly
Two years ago—long before coal became one of the most dominant and controversial symbols of the 2016 presidential election—Bloomberg Philanthropies approached production company RadicalMedia with the idea of creating a documentary exploring the U.S. coal mining industry. Last spring, they brought on Emmy-nominated director Michael Bonfiglio, tasked with forging a compelling story out of the multitudes of facts, statistics and narratives underlying the declining industry.
Keep reading...
Show less
Mayors for 100% Clean Energy
Keep reading...
Show less
www.youtube.com
Thanks to Newsy for their coverage on Thursday's news that the U.S. Fish and Wildlife Service removed grizzly bears in the Greater Yellowstone region from the Endangered Species List.
Watch above as Newsy explains that the decision comes despite serious concerns from the environmental and scientific community, and Tribal Nations about a declining, isolated grizzly bear population with diminishing food resources and record-high mortalities.
Keep reading...
Show less
www.facebook.com
By Francine Kershaw
Seismic airguns exploding in the ocean in search for oil and gas have devastating impacts on zooplankton, which are critical food sources for marine mammals, according to a new study in Nature. The blasting decimates one of the ocean's most vital groups of organisms over huge areas and may disrupt entire ecosystems.
And this devastating news comes on the heels of the National Marine Fisheries Service's proposal to authorize more than 90,000 miles of active seismic blasting. Based on the results of this study, the affected area would be approximately 135,000 square miles.
Keep reading...
Show less
By Jill Richardson
Is coconut oil:
good for you
bad for you
neither good nor bad
scientists don't know
The subject of this question is the source of a disagreement. Initially, the question was thought to be settled decades ago, when scientist Ancel Keys declared all saturated fats unhealthy. Coconut oil, which is solid at room temperature, is a saturated fat.
Keep reading...
Show less


Get EcoWatch in your inbox