WikiLeaks Exposes Obama Administration's Weakening of Environmental Policies in TPP
The U.S. and 11 other Pacific Rim countries aren't on the same page regarding environmental policies within the Trans-Pacific Partnership (TPP) trade pact, and the dissension has been exposed by WikiLeaks.
Organizations who have viewed the leaked version of the TPP's environment chapter say it shows that the U.S. could ease up on pollution control requirements, a shark fin harvesting ban and other regulations it had previously been negotiating for. Ilana Solomon, director of the Sierra Club's Responsible Trade Program, told The New York Times that the environment chapter no longer contains language she believes would have ensured that more trade doesn't equate to destruction of the environment.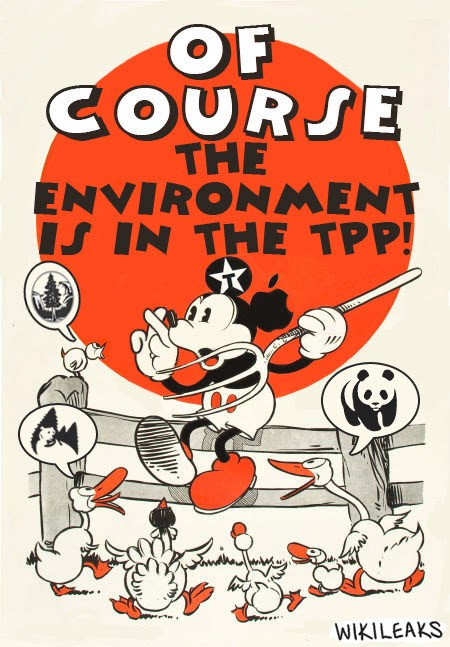 "It rolls back key standards set by Congress to ensure that the environment chapters are legally enforceable, in the same way the commercial parts of free-trade agreements are," she said.
Other groups worry that TPP passage could ignore fracking bans in the U.S. The draft documents are dated Nov. 24. There has been one meeting since then.
The Sierra Club, Natural Resources Defense Council (NRDC) and World Wildlife Fund (WWF) banded together to analyze the document and discover what was missing. Their findings include:
A "clear step back" from the Multilateral Environmental Agreements (MEAs) agreed on by the U.S. and TPP countries in 2007. At the time, Congress and the Bush Administration agreed to "incorporate a specific list of multilateral environmental agreements" in its free trade agreements (FTA), committing the countries to adopting and maintaing those measures and subject them to dispute settlement procedures if need be. Now, TPP countries like Japan, Mexico and New Zealand only need to "affirm" its commitment" to implement the MEAs to which it is a party.

A considerable rollback from the dispute resolution process presented in the May 2007 and recent FTAs. Six years ago, violations of the obligations in the environment chapter could be treated like violations of commercial chapters of the agreement. The organizations who authored Wednesday's analysis say that's a critical piece of the agreement that provides backing to environmental provisions and ensures that there are consequences for violating them. According to the Sierra Club, NRDC and WWF, "the consolidated text of the TPP environment chapter, however, sends countries back to a pre-2007 world."

The credibility of the article on marine capture fisheries has been severely undercut by a failure to subject commitments to binding dispute settlement. Environmental organizations believe that sections on shark finning, fisheries subsidies and Illegal, Unreported, and Unregulated (IUU) fish are among those that must be strengthened.
"This peek behind the curtain reveals the absence of an ambitious 21st-century trade agreement promised by negotiating countries," Carter Roberts, the U.S. CEO of WWF, said in a statement. "The lack of fully-enforceable environmental safeguards means negotiators are allowing a unique opportunity to protect wildlife and support legal sustainable trade of renewable resources to slip through their fingers. These nations account for more than a quarter of global trade in fish and wood products and they have a responsibility to address trade's impact on wildlife crime, illegal logging, and overfishing."
The groups fear that the leaked draft is the final product. If that's the case, Michael Brune, executive director of the Sierra Club, believes President Barack Obama's environmental record would end up being worse than that of Bush.
"This draft chapter falls flat on every single one of our issues—oceans, fish, wildlife, and forest protections," Brune said. "In fact, (the environment chapter) rolls back on the progress made in past free trade pacts."
Visit EcoWatch's ENERGY and CLIMATE CHANGE  pages for more related news on this topic.