This website uses cookies to ensure you get the best experience while browsing it. By clicking 'Got It' you're accepting these terms.
Widespread Use of Neonicotinoids Poses Risks to More Than Bees
Sep. 26, 2013 11:39AM EST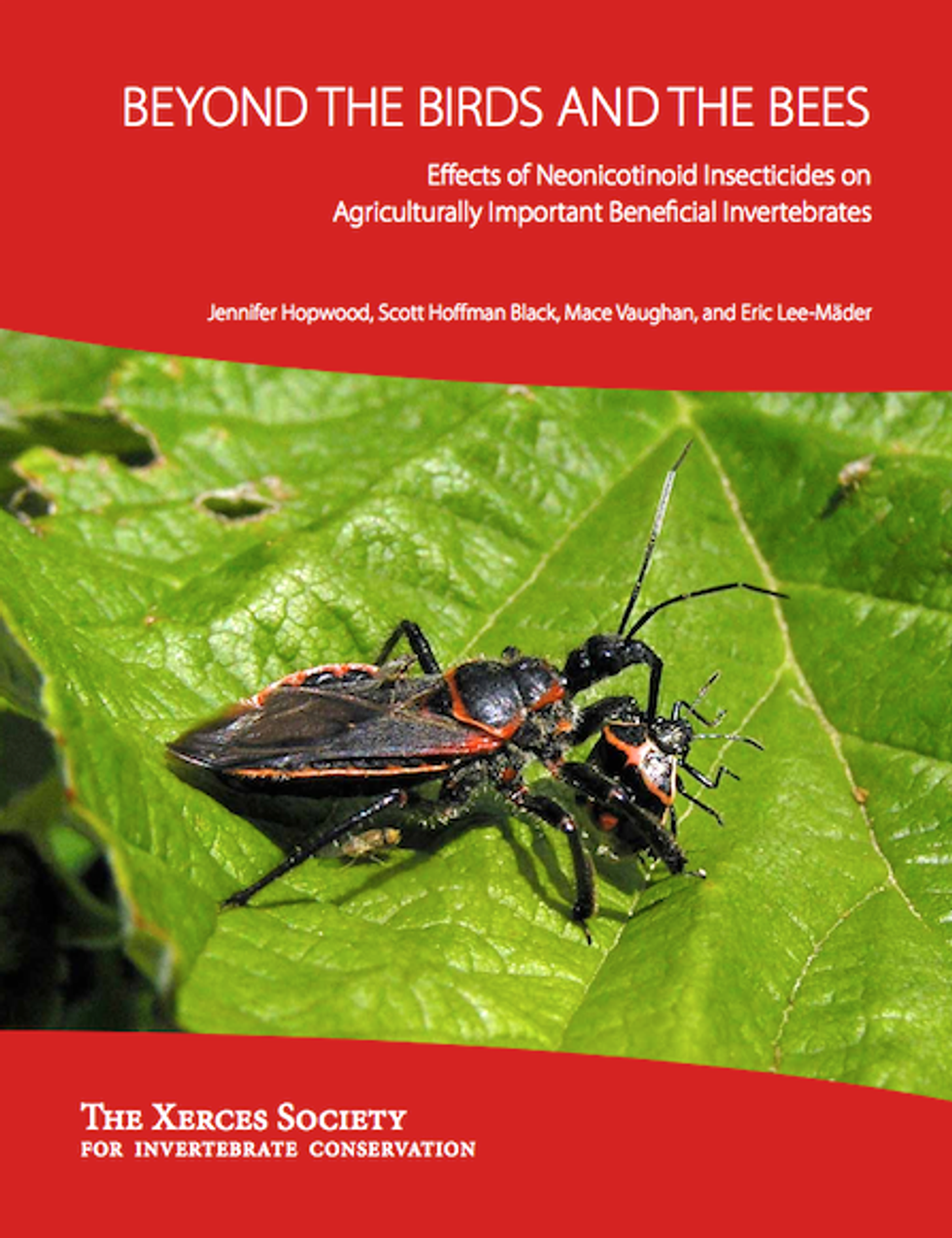 A report released this week by the Xerces Society for Invertebrate Conservation moves the spotlight from the risks neonicotinoids pose to bees to the impacts of neonicotinoids to invertebrates such as earthworms or lady beetles.
Beyond the Birds and the Bees provides a comprehensive review of published articles and pulls together the growing body of research that demonstrates risks from neonicotinoids to these beneficial insects. These risks occur particularly in agricultural systems, but are also found in urban and suburban ornamental landscapes.
Findings from the Review:
Although neonicotinoids have been promoted as safer for beneficial insects than older insecticides, the balance of evidence suggests that neonicotinoids are generally harmful to a variety of beneficial insects.
Widespread preemptive application of neonicotinoids (or any pesticide) represents a fundamental shift away from Integrated Pest Management, since chemicals are frequently applied before pest damage has occurred, and often in the absence of any current pest abundance data.
Use of neonicotinoid seed treatments on annual field crops has increased dramatically in the last decade yet these treatments may not consistently result in yield benefits and can be less cost effective than other control measures.
Though neonicotinoid seed treatments may be unnecessary or more expensive than other treatments in some circumstances, it is very challenging for farmers to obtain non-organic field crop seed that is not treated with neonicotinoids.
Neonicotinoid resistance has been documented in a number of pests, including green peach aphid, whitefly, and Colorado potato beetle. The environmental persistence of neonicotinoids such as imidacloprid and clothianidin, coupled with their widespread use, can facilitate pest resistance.
Although there has been less research on the impact of neonicotinoids to soil organisms, most studies to date have found that neonicotinoids may have negative effects on earthworms and other soil invertebrates.
Although less charismatic than bees, beneficial insects such as beetles and wasps play critical roles in healthy, functioning ecosystems. For example, predatory and parasitic insects and other arthropods provide natural pest suppression to farms—an ecosystem service conservatively valued at more than $4.5 billion annually—as well as to natural areas and developed landscapes.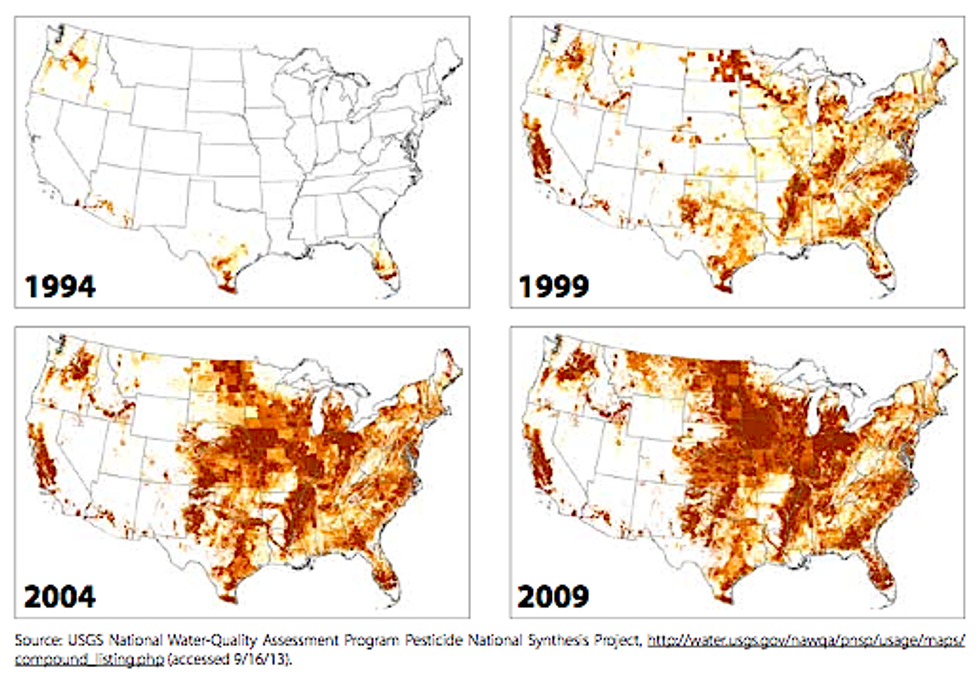 Neonicotinoids are now the most widely used group of insecticides in the world, and their use in the U.S. has been steadily increasing since their initial registration in the mid-1990s. Neonicotinoids have been promoted as low-risk chemicals: low impact on human health, low toxicity to nontarget organisms, lower application rates and compatibility with Integrated Pest Management. Unfortunately, the many studies completed since these compounds began being used have not born out the validity of these assumptions.
Based on the Findings, Xerces Society's Recommendations:
The U.S. Environmental Protection Agency (EPA) should re-assess the ecological safety of currently approved neonicotinoids and immediately suspend registration of imidacloprid, clothianidin, thiamethoxam and dinotefuran for all applications where there is a risk to nontarget organisms.
The U.S. EPA should significantly speed up the registration review process for neonicotinoids. The risk from exposure to neonicotinoid insecticides needs to be scientifically evaluated against the risk posed to beneficial species by alternative control measures.
The U.S. EPA should expand the number of nontarget terrestrial insect species used in the risk assessment process.
The U.S. EPA should adopt risk assessment protocols for exposure to nontarget insects that account for cumulative and synergistic effects, effects of long-term exposure to low concentrations, and exposure to pesticides through pollen and nectar.
The USDA Risk Management Agency's Federal Crop Insurance Corporation should approve reductions in crop insurance premiums for producers who avoid prophylactic use of neonicotinoids where the pest pressure does not warrant use.
The prophylactic use of neonicotinoids on crops should be halted. Neonicotinoids should only be used as part of an Integrated Pest Management plan.
The use of neonicotinoids for cosmetic reasons (such as against aphids in parks and gardens) rather than economic reasons should be banned on city- and county-owned lands.
Visit EcoWatch's BIODIVERSITY page for more related news on this topic.
———

EcoWatch Daily Newsletter
Investing in grid infrastructure would enable utilities to incorporate modern technology, making the grid more resilient and flexible. STRATMAN2 / FLICKR
By Elliott Negin
The Royal Swedish Academy of Sciences' recent decision to award the 2019 Nobel Prize in Chemistry to scientists who developed rechargeable lithium-ion batteries reminded the world just how transformative they have been. Without them, we wouldn't have smartphones or electric cars. But it's their potential to store electricity generated by the sun and the wind at their peak that promises to be even more revolutionary, reducing our dependence on fossil fuels and protecting the planet from the worst consequences of climate change.
Two Javan rhinos deep in the forests of Ujung Kulon National Park, the species' last habitat on Earth. Sugeng Hendratno / WWF
The global population of the critically endangered Javan rhinoceros has increased to 72 after four new calves were spotted in the past several months.
A tiger looks out from its cage at a new resort and zoo in the eastern Lao town of Tha Bak on Dec. 5, 2018. Karl Ammann believes the "zoo" is really a front for selling tigers. Terrence McCoy / The Washington Post / Getty Images
Are tigers extinct in Laos?
That's the conclusion of a detailed new study that found no evidence wild tigers still exist in the country.
A group of scientists is warning that livestock production must not expand after 2030 for the world to stave off ecological disaster.
The largest wetland in Africa is in the South Sudan. George Steinmetz / Corbis Documentary / Getty Images Plus
Methane emissions are a far more powerful greenhouse gas than carbon dioxide – about 28 times more powerful. And they have been rising steadily since 2007. Now, a new study has pinpointed the African tropics as a hot spot responsible for one-third of the global methane surge, as Newsweek reported.