This website uses cookies to ensure you get the best experience while browsing it. By clicking 'Got It' you're accepting these terms.
Widespread Use of Neonicotinoids Poses Risks to More Than Bees
Sep. 26, 2013 11:39AM EST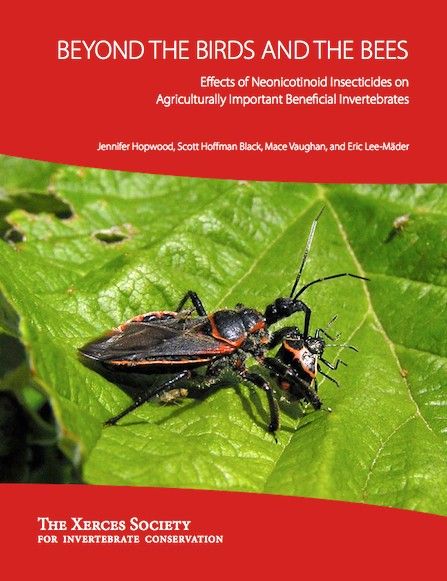 A report released this week by the Xerces Society for Invertebrate Conservation moves the spotlight from the risks neonicotinoids pose to bees to the impacts of neonicotinoids to invertebrates such as earthworms or lady beetles.
Beyond the Birds and the Bees provides a comprehensive review of published articles and pulls together the growing body of research that demonstrates risks from neonicotinoids to these beneficial insects. These risks occur particularly in agricultural systems, but are also found in urban and suburban ornamental landscapes.
Findings from the Review:
Although neonicotinoids have been promoted as safer for beneficial insects than older insecticides, the balance of evidence suggests that neonicotinoids are generally harmful to a variety of beneficial insects.
Widespread preemptive application of neonicotinoids (or any pesticide) represents a fundamental shift away from Integrated Pest Management, since chemicals are frequently applied before pest damage has occurred, and often in the absence of any current pest abundance data.
Use of neonicotinoid seed treatments on annual field crops has increased dramatically in the last decade yet these treatments may not consistently result in yield benefits and can be less cost effective than other control measures.
Though neonicotinoid seed treatments may be unnecessary or more expensive than other treatments in some circumstances, it is very challenging for farmers to obtain non-organic field crop seed that is not treated with neonicotinoids.
Neonicotinoid resistance has been documented in a number of pests, including green peach aphid, whitefly, and Colorado potato beetle. The environmental persistence of neonicotinoids such as imidacloprid and clothianidin, coupled with their widespread use, can facilitate pest resistance.
Although there has been less research on the impact of neonicotinoids to soil organisms, most studies to date have found that neonicotinoids may have negative effects on earthworms and other soil invertebrates.
Although less charismatic than bees, beneficial insects such as beetles and wasps play critical roles in healthy, functioning ecosystems. For example, predatory and parasitic insects and other arthropods provide natural pest suppression to farms—an ecosystem service conservatively valued at more than $4.5 billion annually—as well as to natural areas and developed landscapes.
Neonicotinoids are now the most widely used group of insecticides in the world, and their use in the U.S. has been steadily increasing since their initial registration in the mid-1990s. Neonicotinoids have been promoted as low-risk chemicals: low impact on human health, low toxicity to nontarget organisms, lower application rates and compatibility with Integrated Pest Management. Unfortunately, the many studies completed since these compounds began being used have not born out the validity of these assumptions.
Based on the Findings, Xerces Society's Recommendations:
The U.S. Environmental Protection Agency (EPA) should re-assess the ecological safety of currently approved neonicotinoids and immediately suspend registration of imidacloprid, clothianidin, thiamethoxam and dinotefuran for all applications where there is a risk to nontarget organisms.
The U.S. EPA should significantly speed up the registration review process for neonicotinoids. The risk from exposure to neonicotinoid insecticides needs to be scientifically evaluated against the risk posed to beneficial species by alternative control measures.
The U.S. EPA should expand the number of nontarget terrestrial insect species used in the risk assessment process.
The U.S. EPA should adopt risk assessment protocols for exposure to nontarget insects that account for cumulative and synergistic effects, effects of long-term exposure to low concentrations, and exposure to pesticides through pollen and nectar.
The USDA Risk Management Agency's Federal Crop Insurance Corporation should approve reductions in crop insurance premiums for producers who avoid prophylactic use of neonicotinoids where the pest pressure does not warrant use.
The prophylactic use of neonicotinoids on crops should be halted. Neonicotinoids should only be used as part of an Integrated Pest Management plan.
The use of neonicotinoids for cosmetic reasons (such as against aphids in parks and gardens) rather than economic reasons should be banned on city- and county-owned lands.
Visit EcoWatch's BIODIVERSITY page for more related news on this topic.
———

EcoWatch Daily Newsletter
The Democratic primary candidates take the stage during Tuesday's debate. SAUL LOEB / AFP via Getty Images
On Tuesday night, the Democratic presidential candidates gathered for what The Guardian said was the largest primary debate in U.S. history, and they weren't asked a single question about the climate crisis.
A. Battenburg / Technical University of Munich
By Sarah Kennedy
Algae in a pond may look flimsy. But scientists are using algae to develop industrial-strength material that's as hard as steel but only a fraction of the weight.
Variety of fermented food korean traditional kimchi cabbage and radish salad. white and red sauerkraut in ceramic plates over grey spotted background. Natasha Breen / REDA&CO / Universal Images Group / Getty Image
Even if you've never taken probiotics, you've probably heard of them.
These supplements provide numerous benefits because they contain live microorganisms, such as bacteria or yeast, which support the healthy bacteria in your gut (1, 2, 3, 4).
Pexels
Singapore will become the first country in the world to place a ban on advertisements for carbonated drinks and juices with high sugar contents, its health ministry announced last week. The law is intended to curb sugar consumption since the country has some of the world's highest diabetes rates per capita, as Reuters reported.
A typical adult takes around 20,000 breaths per day. If you live in a megacity like Beijing, with many of those lungfuls you're likely to inhale a noxious mixture of chemicals and pollutants.
Fred Stone holds his brown swiss cow Lida Rose at his Arundel dairy farm on March 18 after a press conference where he spoke about PFAS chemical contamination in his fields. Gregory Rec / Portland Portland Press Herald via Getty Images
By Susan Cosier
First there was Fred Stone, the third-generation dairy farmer in Maine who discovered that the milk from his cows contained harmful chemicals. Then came Art Schaap, a second-generation dairy farmer in New Mexico, who had to dump 15,000 gallons of contaminated milk a day.
Protesters attend the 32nd annual Fur-Free Friday demonstration on Nov. 23, 2018 in Beverly Hills, California. Ella DeGea / Getty Images
California Governor Gavin Newsom signed into law a bill that that bans the sale and manufacture of fur products in the state. The fur ban, which he signed into law on Saturday, prohibits Californians from selling or making clothing, shoes or handbags with fur starting in 2023, according to the AP.
By Simon Evans
During the three months of July, August and September, renewables generated an estimated total of 29.5 terawatt hours (TWh), compared with just 29.1TWh from fossil fuels, the analysis shows.