Sep. 26, 2013 11:39AM EST
Widespread Use of Neonicotinoids Poses Risks to More Than Bees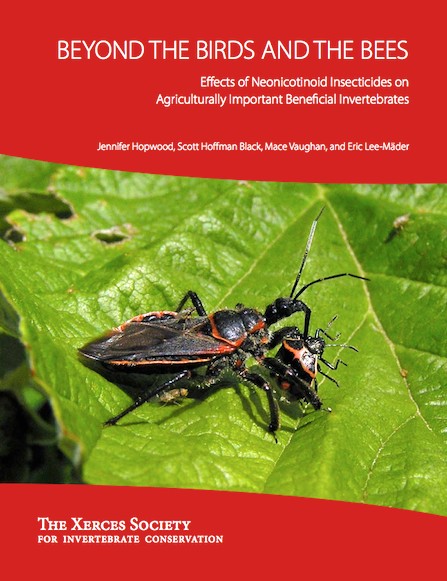 A report released this week by the Xerces Society for Invertebrate Conservation moves the spotlight from the risks neonicotinoids pose to bees to the impacts of neonicotinoids to invertebrates such as earthworms or lady beetles.
Beyond the Birds and the Bees provides a comprehensive review of published articles and pulls together the growing body of research that demonstrates risks from neonicotinoids to these beneficial insects. These risks occur particularly in agricultural systems, but are also found in urban and suburban ornamental landscapes.
Findings from the Review:
Although neonicotinoids have been promoted as safer for beneficial insects than older insecticides, the balance of evidence suggests that neonicotinoids are generally harmful to a variety of beneficial insects.
Widespread preemptive application of neonicotinoids (or any pesticide) represents a fundamental shift away from Integrated Pest Management, since chemicals are frequently applied before pest damage has occurred, and often in the absence of any current pest abundance data.
Use of neonicotinoid seed treatments on annual field crops has increased dramatically in the last decade yet these treatments may not consistently result in yield benefits and can be less cost effective than other control measures.
Though neonicotinoid seed treatments may be unnecessary or more expensive than other treatments in some circumstances, it is very challenging for farmers to obtain non-organic field crop seed that is not treated with neonicotinoids.
Neonicotinoid resistance has been documented in a number of pests, including green peach aphid, whitefly, and Colorado potato beetle. The environmental persistence of neonicotinoids such as imidacloprid and clothianidin, coupled with their widespread use, can facilitate pest resistance.
Although there has been less research on the impact of neonicotinoids to soil organisms, most studies to date have found that neonicotinoids may have negative effects on earthworms and other soil invertebrates.
Although less charismatic than bees, beneficial insects such as beetles and wasps play critical roles in healthy, functioning ecosystems. For example, predatory and parasitic insects and other arthropods provide natural pest suppression to farms—an ecosystem service conservatively valued at more than $4.5 billion annually—as well as to natural areas and developed landscapes.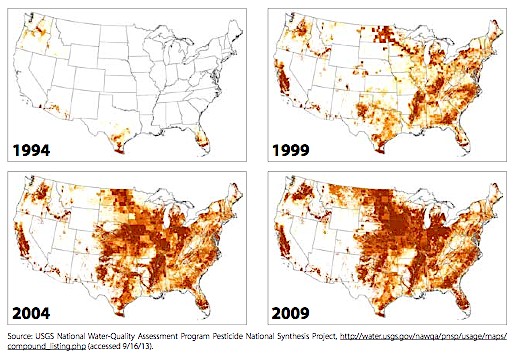 Neonicotinoids are now the most widely used group of insecticides in the world, and their use in the U.S. has been steadily increasing since their initial registration in the mid-1990s. Neonicotinoids have been promoted as low-risk chemicals: low impact on human health, low toxicity to nontarget organisms, lower application rates and compatibility with Integrated Pest Management. Unfortunately, the many studies completed since these compounds began being used have not born out the validity of these assumptions.
Based on the Findings, Xerces Society's Recommendations:
The U.S. Environmental Protection Agency (EPA) should re-assess the ecological safety of currently approved neonicotinoids and immediately suspend registration of imidacloprid, clothianidin, thiamethoxam and dinotefuran for all applications where there is a risk to nontarget organisms.
The U.S. EPA should significantly speed up the registration review process for neonicotinoids. The risk from exposure to neonicotinoid insecticides needs to be scientifically evaluated against the risk posed to beneficial species by alternative control measures.
The U.S. EPA should expand the number of nontarget terrestrial insect species used in the risk assessment process.
The U.S. EPA should adopt risk assessment protocols for exposure to nontarget insects that account for cumulative and synergistic effects, effects of long-term exposure to low concentrations, and exposure to pesticides through pollen and nectar.
The USDA Risk Management Agency's Federal Crop Insurance Corporation should approve reductions in crop insurance premiums for producers who avoid prophylactic use of neonicotinoids where the pest pressure does not warrant use.
The prophylactic use of neonicotinoids on crops should be halted. Neonicotinoids should only be used as part of an Integrated Pest Management plan.
The use of neonicotinoids for cosmetic reasons (such as against aphids in parks and gardens) rather than economic reasons should be banned on city- and county-owned lands.
Visit EcoWatch's BIODIVERSITY page for more related news on this topic.
———

Oil in the Niger Delta. Amnesty International Canada
By Andy Rowell
The decades-long struggle for social and environmental justice in the Niger Delta continues, largely unseen by the wider world.
On Aug. 11, hundreds of people from the Niger Delta stormed the Belema flow station gas plant owned by Shell in the Rivers State region of the Delta. The plant transports crude oil to the Bonny Light export terminal, from where it is shipped overseas.
Keep reading...
Show less
Rainforest Action Network / Flickr

The National Academy of Sciences, Engineering and Medicine said in a statement the Interior Department has directed it to cease its study on the potential health risks for people living near surface coal mines in Central Appalachia.
The Interior Department, which committed more than $1 million to the study last year, has begun an agency-wide review of grants over $100,000 because of the "Department's changing budget situation."
Keep reading...
Show less
California Energy Commission
California and North Carolina's electricity grids faced no disruptions during Monday's solar eclipse, which many saw as a test for the future when solar power will command a greater share of the energy mix.
"It bodes well for renewable energy on the grid during an event like this," said Eric Schmitt, a vice-president at California Independent System Operator that delivers most of the state's electricity.
Keep reading...
Show less
Bob Wick / Bureau of Land Management
Keep reading...
Show less
www.youtube.com
Are you ready to watch the Great American Eclipse of 2017? Will you be in the path of totality? Do you have your safety glasses ready?
Well, however you decide to watch the solar eclipse today, NASA TV will be showing the "Eclipse Across America" with live video of the celestial event. The feed is already live with lots of handy information about today's unprecedented eclipse. So be sure to watch above.
Enjoy!
Energy
Aug. 21, 2017 08:43AM EST
www.youtube.com
"One out of three Americans lives within 50 miles of high-level nuclear waste, some of which, like Plutonium, is lethally dangerous and will be around for an incredible longtime," John Oliver explained last night on Last Week Tonight.
According to the Nuclear Energy Institute, there is more than 71,000 tons of nuclear waste stranded at 104 reactors. "It was a problem we should have solved in the 1980s," Oliver said, "much like a Rubik's Cube."
Despite years of using nuclear energy, the country still doesn't have a permanent facility for its storage, the comedian said. Oliver proposed what the U.S. really needs is some kind of "nuclear toilet."
Watch above.
Popular
Aug. 21, 2017 10:55AM EST
C: Gage Skidmore
By Andy Rowell
As Trump's presidency spirals like a toxic vortex from one crisis to another, and with the global news media reacting to one venomous tweet after another, it is easy to miss the slow assault against science and the environment that continues below the radar.
The crisis for Trump could get a whole lot worse, with his ex-Chief of Staff, Steve Bannon, who was sacked last week, promising that he was "prepared to go to war with his adversaries in the White House."
Keep reading...
Show less
Coal power is getting buried in China—both literally and figuratively.
Earlier this week, a new floating solar farm went live in the Chinese city of Huainan above a retired coal mine, China Daily reported.
Keep reading...
Show less