This website uses cookies to ensure you get the best experience while browsing it. By clicking 'Got It' you're accepting these terms.
Widely Used Fire Retardant Could Trigger Cancer
Sep. 05, 2013 12:06PM EST
Health + Wellness
Earlier this year a disturbing study showed that the brominated fire retardant TBBPA, which is widely used in consumer products, triggers cancer in lab animals. Now a new study suggests that the chemical may do so by interfering with the hormone system and may stimulate estrogen activity in much the same way as the toxic flame retardant it replaced.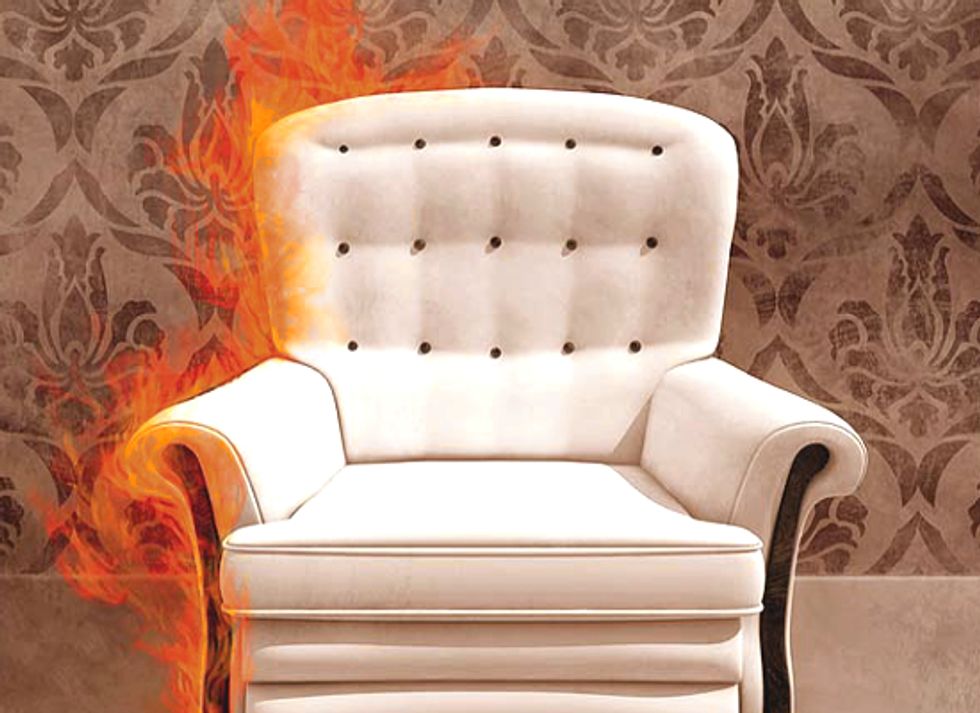 TBBPA was introduced as an alternative to some uses of PDBEs, a class of fire retardants that were phased out because of evidence that they persisted in the environment and interfered with hormone signaling in the body. The troubling new studies suggest that chemical manufacturers may have simply swapped out one toxic chemical for another that has the same biological effect.
TBBPA is now the most heavily manufactured brominated fire retardant in the world, with global production currently topping 200,000 tons a year. It is routinely used in electronic circuit boards and in plastic piping, automotive parts and appliances such as refrigerators. As a result of its widespread production and use in consumer products, TBBPA is now detectable in the environment, in house dust and in people—including in umbilical cord blood and breast milk.
Concerns about the safety of TBBPA spiked when the National Toxicology Program released a two-year study that showed that it induced aggressive uterine cancer in rodents.
It's not known how the chemical causes cancer in animals or whether it would do so in humans. But the new study by researchers at the National Institute of Environmental Health Sciences and the National Cancer Institute might give us a clue.
Using an imaging technique called x-ray crystallography, which can show how molecules interact at the atomic level, the researchers were able to observe that TBBPA attached to the enzyme "estrogen sulfotransferase" (EST for short), which plays an important role in regulating estrogen signaling in people. This kind of interaction can escalate estrogen's activity, which has been linked in other research to excessive growth of the endometrium (the lining of the uterus), and to cancer. Abnormal EST activity in itself is also associated with uterine cancer. These results suggest how TBBPA may be inducing tumors.
The federal researchers also noticed that the interaction between the TBBPA fire retardant and the EST enzyme was similar to what occurred with the PBDE flame retardants that have been phased out.  
Meanwhile global production of TBBPA has continued to climb, a trend that will likely continue, and human exposure may also rise. It is troubling that a chemical we now know can cause tumors is being produced in greater quantities than any other brominated flame retardant. These studies raise new questions about the safety of TBBPA and call into serious question once again the outdated federal system for regulating toxic chemicals, which allows widespread production of substances that have never undergone adequate safety testing.
The TBBPA story is one more reason that legislation to update the outdated Toxic Substances Control Act must provide for safety testing of new and existing chemicals.
Visit EcoWatch's HEALTH page for more related news on this topic.

EcoWatch Daily Newsletter
A volcano erupts on New Zealand's Whakaari/White Island on Dec. 9, 2019.
Michael Schade / Twitter
A powerful volcano on Monday rocked an uninhabited island frequented by tourists about 30 miles off New Zealand's coast. Authorities have confirmed that five people died. They expect that number to rise as some are missing and police officials issued a statement that flights around the islands revealed "no signs of life had been seen at any point,", as The Guardian reported.
Guardians of the Forest monitor passersby entering Juracal Village in Araribóia Indigenous Reserve, Maranhão, Brazil on Aug. 8, 2015. Bonnie Jo Mount / The Washington Post via Getty Images
Two indigenous leaders were killed in a drive-by shooting in Northeast Brazil Saturday, and two others were injured.
Human activity is smothering the ocean, the largest study of its kind has found, and it poses a major threat to marine life.
Pexels
Up to 20% of people may have a food addiction or exhibit addictive-like eating behavior.
Spiced hot chocolate. Lilechka75 / iStock / Getty Images
Food is the cornerstone of the holiday season. It brings friends and family together to share memories, cultural traditions, and great flavors.