This website uses cookies to ensure you get the best experience while browsing it. By clicking 'Got It' you're accepting these terms.
Why You Should Think Twice About Buying a Butterball Turkey
Nov. 24, 2014 09:29AM EST
Food
If you're getting ready to gobble up turkey this Thanksgiving, you may want to think about what it stands for.
The idea of eating a whole ball of butter doesn't seem unappealing to many Americans, and perhaps that's how the entire Butterball turkey concept became so popular. Meat covered in more fat? Sign us up, America said.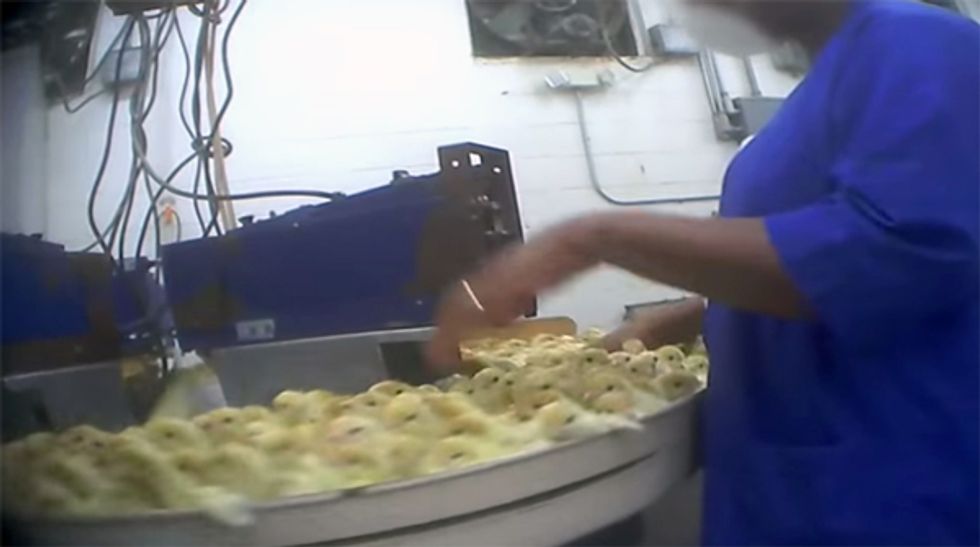 The wild turkeys of the 17th century, which the pilgrims and Native Americans feasted upon, would not even recognize Butterball LLC's birds. Americans circa mid-20th-century became infatuated with our nation's biggest equalizer: pre-packaged foods.
Butterball began in 1940 in Wyoming, Ohio, trademarked by a woman named Ada Walker, though the origin of the name remains unclear. A decade later, in 1951, Leo Peters bought the name and founded Butterball Farms in Grand Rapids, Michigan. American food processing company Swift & Co. leased the name in 1954, and used it to start selling frozen turkeys. In the 1990s, Swift was sold to Nebraska-based food conglomerate ConAgra, which then sold the brand to Carolina Turkeys in 2006. In 2010, Seaboard Corporation acquired 49 percent of Butterball LLC for $250 million.
Butterball is not in fact a preparation of chicken or a specific heritage breed, but rather a business investment, as so much of American cuisine is. In fact, there is no actual butter in or on a Butterball turkey. The fresh turkeys are injected with a basting solution made of salt water and "common household spices," one brand representative told me. Butterball will not share the ingredients of its secret basting formula.
According to the farm animal welfare group Mercy for Animals, Butterball slaughters 20 percent of the 252 million turkeys killed each year in the U.S. Do we really want a corporation controlling so much of our poultry?
According to Butterball's website, it claims it is "dedicated to the humane treatment of our turkeys." The birds are called all-natural, a rather meaningless and non-FDA accredited statement, gluten-free (as all animal protein naturally should be), and raised without hormones on American farms.
But a video released in July 2014 proved that the Butterball turkeys aren't as happy-go-lucky as the multimillion-dollar company claims the birds to be. The animal protection group Butterball Abuse shared a disturbing video of baby birds being ground alive in macerating machines, turkeys having their toes and beaks removed without painkillers and workers kicking, stomping on, throwing and dragging turkeys.
Since 1981, Butterball has operated a Turkey Talk-line every November and December, allowing customers to call Butterball specialists directly to ask for preparation tips, troubleshoot their turkey cooking or just ask questions about the product.
On the Thursday before Thanksgiving, I spoke with a woman called Sandra, who patiently assisted with all of my Butterball-related questions. When I asked her about the charges of animal cruelty, there was a long awkward pause. She assured me that, "As far as the animals being mistreated, we have a quality care that keeps close eyes on our turkeys so that will never happen again." She went on to explain that this quality care team is not certified in any way to watch for animal abuse, but they "make sure the turkeys don't get hurt" and "there's no more abuse for sure." But since Sandra had never visited a Butterball plant, she could not provide me with resources to ensure that the turkeys were treated better today than when the video was shot.
While there's a lot of sketchy information stuffed inside Butterballs turkeys, we do know this: buying a locally raised and humanely slaughtered turkey allows for a greater level of transparency and understanding of the animal you're eating. Buying local has a lower carbon footprint than purchasing from an industrial brand, and a turkey raised on organic feed will most likely be healthier than whatever Butterball is plumping up its turkeys with.
While a farmers market turkey may cost a few extra bucks, if you're going to eat turkey this holiday, put down the extra feathers to celebrate something America should actually be thankful for: local, sustainable, delicious food raised without cruelty to the animals whose lives are being sacrificed for your meal. You can always call the Butterball Hotline for roasting tips: no one will tell.
YOU MIGHT ALSO LIKE
8 Ways to Eat Healthy on Thanksgiving
How This Trending Diet Is Saving the Planet
Big Pharma Cover Up: Hiding Significant Levels of Arsenic in Your Chicken
EcoWatch Daily Newsletter
Animal rights activists try to save dogs at a free market ahead of the Yulin Dog Eating Festival in Yulin city, south China's Guangxi Zhuang Autonomous Region on June 21, 2014. Jie Zhao / Corbis via Getty Images
The Great Barrier Reef, where record-high sea temperatures in February caused its most widespread coral bleaching event. JAYNE JENKINS / CORAL REEF IMAGE BANK
Tropical coral reefs are at a critical tipping point, and we've pushed them there, scientists say. Climate change may now cause previously rare, devastating coral bleaching events to occur in tropical coral reefs around the globe on a 'near-annual' basis, reported The Guardian.
The first peer-reviewed research into a promising coronavirus vaccine was published Thursday. Javier Zayas Photography / Moment / Getty Images
Deserted view of NH24 near Akshardham Temple on day nine of the 21-day nationwide lockdown to curb the spread of coronavirus on April 2, 2020 in New Delhi, India. Raj K Raj / Hindustan Times via Getty Images
A Unicef social mobilizer uses a speaker as she carries out public health awareness to prevent the spread and detect the symptoms of the COVID-19 coronavirus by UNICEF at Mangateen IDP camp in Juba, South Sudan on April 2. ALEX MCBRIDE / AFP / Getty Images
By Eddie Ndopu
South Africa is ground zero for the coronavirus pandemic in Africa.
Its townships are typical of high-density neighbourhoods across the continent where self-isolation will be extremely challenging.
The failure to eradicate extreme poverty is a threat beyond the countries in question.