This website uses cookies to ensure you get the best experience while browsing it. By clicking 'Got It' you're accepting these terms.
Why You Should Have a Himalayan Salt Lamp in Your Home
Jan. 14, 2016 11:26AM EST
Health + Wellness
Salt is a wonderful thing. Not only does it give our food taste and flavor—it also can work wonders for your health when used properly, as we've discussed in the past.
Himalayan pink salt is one of the purest salts you can buy. Not only does it taste arguably even more wonderful than traditional salt—it does everything from balancing pH to strengthening bones and lowering blood pressure.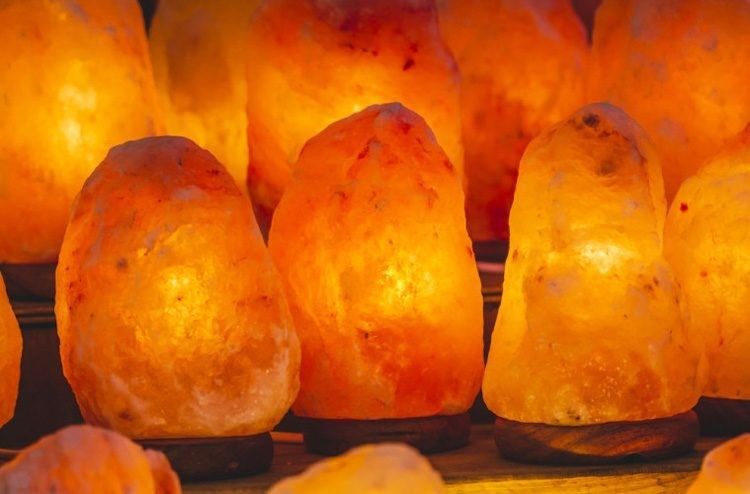 You don't even need to eat the salt to reap the benefits; simply having it around you can be helpful in treating things like allergies, insomnia and migraines.
That doesn't mean you have to sprinkle the salt around your home, by the way—there's a much more gorgeous solution, in the form of a lamp.
G.S. Rahi, associate professor of physical science at Fayetteville State University, had the following to say in regards to the benefits of Himalayan pink salt:
"As all living systems (including human beings) are bio-electric in nature, the electrically charged particles affect the way we feel and act. In natural setting a balance of positive and negative ions contributes to one's sensations and perceptions. Atmospheric ions can affect health, well-being, efficiency, emotions and mental attitude of human beings."
Rahi confirms that placing salt lamps around your home can work wonders to reduce the amount of unhealthy positive ions in your home.
Other sources have raved about the lamps as well, claiming that they increase energy levels and concentration, making them something you just might want to keep around the office or bedroom.
But aside from the benefits they provide you, Himalayan salt lamps are also speculated to be an environmentally friendly source of light.
Some lamps are lit by candles, while others use low wattage light bulbs. The means through which the lamps are constructed are quite green as well, with the reserves that Himalayan pink salt comes from estimated to last another 350 years at the current rate of mining.
So instead of heading to your nearest department store for a conventional lamp, why not take a look around the web for a salt lamp?
If you're wondering just how powerful and important salt can be, take a look at this video from David Wolfe:
YOU MIGHT ALSO LIKE
4 Things You Should Know About Caffeine in Your Coffee
14 Edible Plants You Can Grow Indoors
High Sugar Consumption Linked to Breast Cancer
EcoWatch Daily Newsletter
Tuna auctions are a tourist spectacle in Tokyo. Outside the city's most famous fish market, long queues of visitors hoping for a glimpse of the action begin to form at 5 a.m. The attraction is so popular that last October the Tsukiji fish market, in operation since 1935, moved out from the city center to the district of Toyosu to cope with the crowds.

gmnicholas / E+ / Getty Images
Kristan Porter grew up in a fishing family in the fishing community of Cutler, Maine, where he says all roads lead to one career path: fishing. (Porter's father was the family's lone exception. He suffered from terrible seasickness, and so became a carpenter.) The 49-year-old, who has been working on boats since he was a kid and fishing on his own since 1991, says that the recent warming of Maine's cool coastal waters has yielded unprecedented lobster landings.
Aerial view of lava flows from the eruption of volcano Kilauea on Hawaii, May 2018. Frizi / iStock / Getty Images
Hawaii's Kilauea volcano could be gearing up for an eruption after a pond of water was discovered inside its summit crater for the first time in recorded history, according to the AP.
The Eqip Sermia Glacier is seen behind a moraine left exposed by the glacier's retreat during unseasonably warm weather on Aug. 1 at Eqip Sermia, Greenland. Sean Gallup / Getty Images
hadynyah / E+ / Getty Images
By Johnny Wood
The Ganges is a lifeline for the people of India, spiritually and economically. On its journey from the Himalayas to the Bay of Bengal, it supports fishermen, farmers and an abundance of wildlife.
The river and its tributaries touch the lives of roughly 500 million people. But having flowed for millennia, today it is reaching its capacity for human and industrial waste, while simultaneously being drained for agriculture and municipal use.
Here are some of the challenges the river faces.
By Jake Johnson
As a growing number of states move to pass laws that would criminalize pipeline protests and hit demonstrators with years in prison, an audio recording obtained by The Intercept showed a representative of a powerful oil and gas lobbying group bragging about the industry's success in crafting anti-protest legislation behind closed doors.
Reposted with permission from our media associate Common Dreams.

DESIREE MARTIN / AFP / Getty Images
Wildfires raging on Gran Canaria, the second most populous of Spain's Canary Islands, have forced around 9,000 people to evacuate.