This website uses cookies to ensure you get the best experience while browsing it. By clicking 'Got It' you're accepting these terms.
Why You Should Have a Himalayan Salt Lamp in Your Home
Jan. 14, 2016 11:26AM EST
Health + Wellness
Salt is a wonderful thing. Not only does it give our food taste and flavor—it also can work wonders for your health when used properly, as we've discussed in the past.
Himalayan pink salt is one of the purest salts you can buy. Not only does it taste arguably even more wonderful than traditional salt—it does everything from balancing pH to strengthening bones and lowering blood pressure.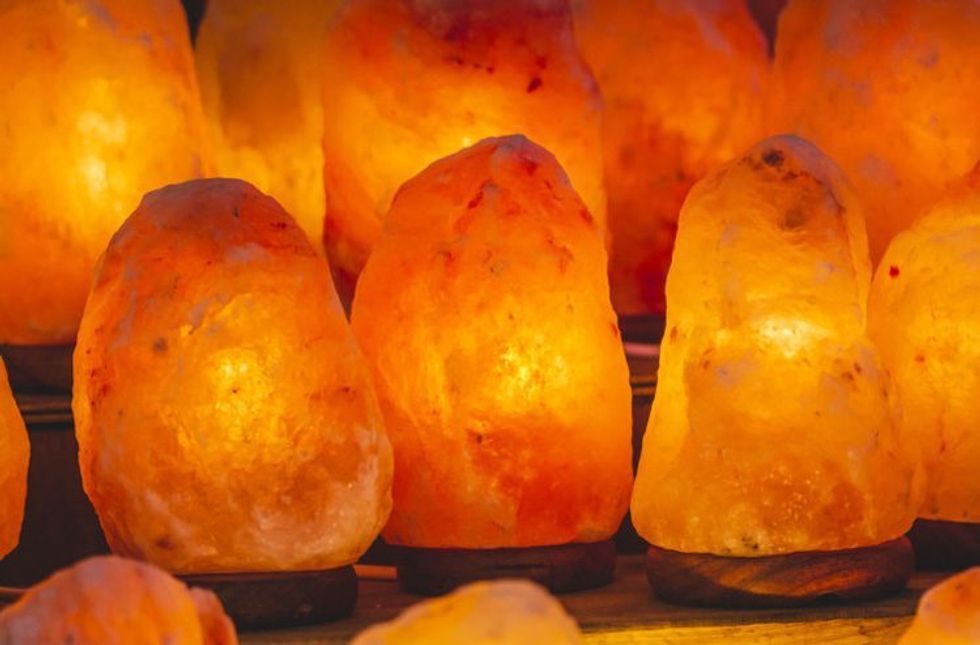 You don't even need to eat the salt to reap the benefits; simply having it around you can be helpful in treating things like allergies, insomnia and migraines.
That doesn't mean you have to sprinkle the salt around your home, by the way—there's a much more gorgeous solution, in the form of a lamp.
G.S. Rahi, associate professor of physical science at Fayetteville State University, had the following to say in regards to the benefits of Himalayan pink salt:
"As all living systems (including human beings) are bio-electric in nature, the electrically charged particles affect the way we feel and act. In natural setting a balance of positive and negative ions contributes to one's sensations and perceptions. Atmospheric ions can affect health, well-being, efficiency, emotions and mental attitude of human beings."
Rahi confirms that placing salt lamps around your home can work wonders to reduce the amount of unhealthy positive ions in your home.
Other sources have raved about the lamps as well, claiming that they increase energy levels and concentration, making them something you just might want to keep around the office or bedroom.
But aside from the benefits they provide you, Himalayan salt lamps are also speculated to be an environmentally friendly source of light.
Some lamps are lit by candles, while others use low wattage light bulbs. The means through which the lamps are constructed are quite green as well, with the reserves that Himalayan pink salt comes from estimated to last another 350 years at the current rate of mining.
So instead of heading to your nearest department store for a conventional lamp, why not take a look around the web for a salt lamp?
If you're wondering just how powerful and important salt can be, take a look at this video from David Wolfe:
YOU MIGHT ALSO LIKE
4 Things You Should Know About Caffeine in Your Coffee
14 Edible Plants You Can Grow Indoors
High Sugar Consumption Linked to Breast Cancer
EcoWatch Daily Newsletter
California Gov. Gavin Newsom speaking with attendees at the 2019 California Democratic Party State Convention at the George R. Moscone Convention Center in San Francisco.
Gage Skidmore
/ Flickr /
CC BY-SA 2.0
California Gov. Gavin Newsom imposed new restrictions on oil exploration in his state yesterday by putting a moratorium on hundreds hydraulic fracturing permits until the projects are reviewed by independent scientists, as the AP reported.
The endangered Houston toad. Courtesy of U.S. Fish and Wildlife Service
While the planet continues to heat up, almost every single one of the 459 species listed as endangered in the U.S. will struggle as the climate crisis intensifies, according to new research published in the journal Nature Climate Change.
"This singular scientific achievement was accomplished at Heliogen's commercial facility in Lancaster, California."
Heliogen
A startup backed by Bill Gates unveiled a breakthrough solar technology Tuesday that could free heavy industry from fossil fuels.
Rhodiola rosea is an adaptogenic herb that can help with chronic fatigue and stress-related burnout. Tero Laakso / Flickr
By Gavin Van De Walle, MS, RD
While everyone has specific life stressors, factors related to job pressure, money, health, and relationships tend to be the most common.
Stress can be acute or chronic and lead to fatigue, headaches, upset stomach, nervousness, and irritability or anger.
A video shows a woman rescuing a koala from Australia's wildfires.
VOA News / YouTube screenshot
More than 350 koalas may have died in the wildfires raging near the Australian town of Port Macquarie in New South Wales, but one got a chance at survival after a woman risked her life to carry him to safety.