This website uses cookies to ensure you get the best experience while browsing it. By clicking 'Got It' you're accepting these terms.
Why You Should Grow Mushrooms on Your Desk
Jan. 19, 2015 09:17AM EST
Food
At 10 a.m. each morning, a subtle yet attention inducing alarm goes off at my desk reminding me to water my mushrooms. Mushroom growing? In an office? Yes, it's odd. Quirky, at best. But when I acquired the Back to the Roots mushroom kit into my office, planning to grow my first batch of oyster mushrooms at home, my boss was intrigued and so I ripped of the cardboard top of the kit, cut the required slits in the soil bag and started watering.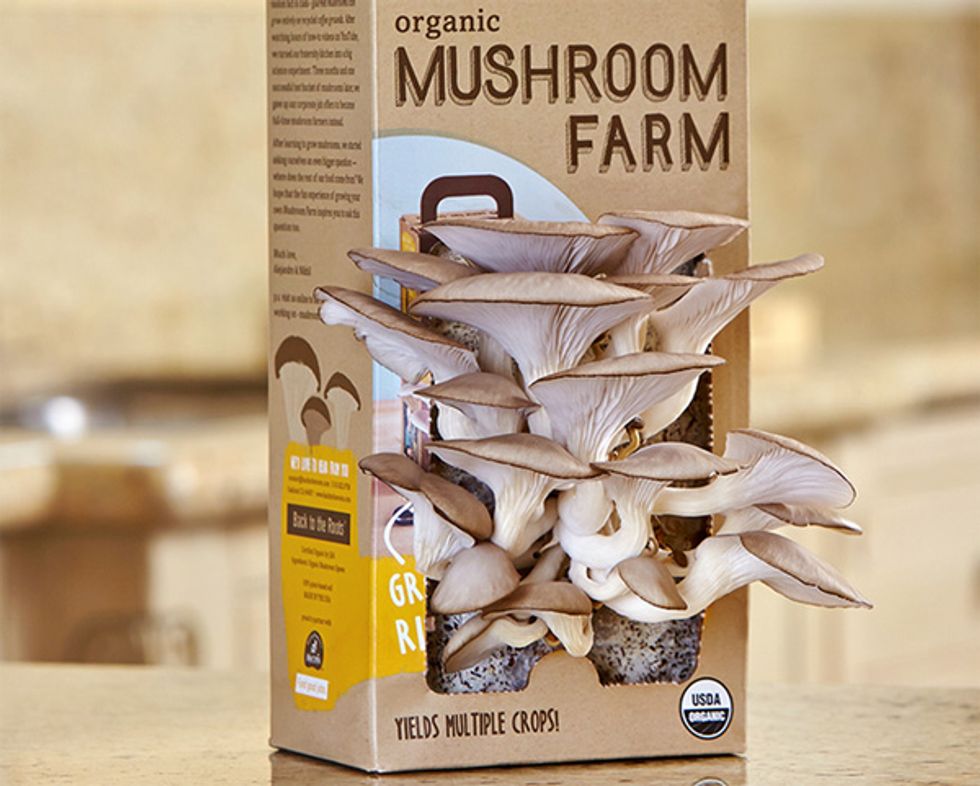 From frat brothers to organic farmers, Back to the Roots has interesting roots itself.
Back to the Roots was founded in 2009 when Berkeley seniors Nikhil Aurora and Alejandro Velez realized that they could grow their own gourmet mushrooms with merely seeds, used coffee grounds and cardboard. A successful and popular experiment in their fraternity kitchen lead to turning down previous offers for consulting and investment banking positions for a career in small scale urban farming.
After five successful years in business, Back to the Roots continues to grow, with an office based out of Oakland. In addition to the boxed mushrooms growing in eco-friendly organic recycled waste (think corn cobs and saw dust), the company also sells a popular Aquafarm: a self-cleaning fish tank garden. Part of Back to the Root's mission is to "create and promote food that is made in a kitchen not a lab," ultimately reconnecting families and individuals with their food.
Using attractive packaging certainly helps. Both the mushroom kit and Aquafarm can be displayed as décor, like the currently stylish terrariums seen everywhere from coffee shops to hip apartments, only edible. And of course, educational. Back to the Roots works with schools to educate young students about ecology and farm to table dining, using their kits as fundraising tools for schools.
While items like the mushroom kit are fun and productive for the short term, a kit retails at $19.99, and the first harvest yields less than a pound of mushrooms. Lucky urban farmers can grow a second "bonus crop", but there's no guarantee. Organic, homegrown mushrooms certainly have more intrinsic value than anything grabbed off a supermarket shelf, but at over $20/lb, unfortunately the model is not sustainable for an all-out mushroom revolution.
Back to the Roots is working on some (allegedly) top-secret products for the new year (and thus, unable for interview at the current time), transforming urban kitchens into micro-gardens with minimal time, effort and cost.
Due to an irregular work schedule, and a 10am urge to rush to the coffee machine, I can't say my mushrooms are 100% stir-fry ready (as I'd hoped they'd be after a few weeks, thanks to an enclosed recipe from Whole Foods) but the process of nurturing a potentially delicious food item during the workday is wholly appealing.
YOU MIGHT ALSO LIKE
5 Reasons Why You Should Be Eating More Mushrooms
Health Benefits of Eating Mushrooms
EcoWatch Daily Newsletter
Pro-environment demonstrators on the streets of Washington, DC during the Jan. 20, 2017 Trump inauguration.
Mobilus In Mobili
/ Flickr /
CC BY-SA 2.0
By Dr. Brian R. Shmaefsky
One year after the Flint Water Crisis I was invited to participate in a water rights session at a conference hosted by the US Human Rights Network in Austin, Texas in 2015. The reason I was at the conference was to promote efforts by the American Association for the Advancement of Science (AAAS) to encourage scientists to shine a light on how science intersects with human rights, in the U.S. as well as in the context of international development. My plan was to sit at an information booth and share my stories about water quality projects I spearheaded in communities in Bangladesh, Colombia, and the Philippines. I did not expect to be thrown into conversations that made me reexamine how scientists use their knowledge as a public good.
Mt. Rainier and Reflection Lake on Sept. 10, 2015. Crystal Geyser planned to open a bottling plant near Mt. Rainier, emails show.
louelke - on and off / Flickr
Bottled water manufacturers looking to capture cool, mountain water from Washington's Cascade Mountains may have to look elsewhere after the state senate passed a bill banning new water permits, as The Guardian reported.
Large storage tank of Ammonia at a fertilizer plant in Cubatão, Sao Paulo State, Brazil. Luis Veiga / The Image Bank / Getty Images
The shipping industry is coming to grips with its egregious carbon footprint, as it has an outsized contribution to greenhouse gas emissions and to the dumping of chemicals into open seas. Already, the global shipping industry contributes about 2 percent of global carbon emissions, about the same as Germany, as the BBC reported.
At high tide, people are forced off parts of the pathway surrounding DC's Tidal Basin. Andrew Bossi /
Wikimedia
The Jefferson Memorial in Washington, DC overlooks the Tidal Basin, a man-made body of water surrounded by cherry trees. Visitors can stroll along the water's edge, gazing up at the stately monument.
But at high tide, people are forced off parts of the path. Twice a day, the Tidal Basin floods and water spills onto the walkway.
Lioness displays teeth during light rainstorm in Kruger National Park, South Africa. johan63 / iStock / Getty Images
Ahead of government negotiations scheduled for next week on a global plan to address the biodiversity crisis, 23 former foreign ministers from various countries released a statement on Tuesday urging world leaders to act "boldly" to protect nature.