This website uses cookies to ensure you get the best experience while browsing it. By clicking 'Got It' you're accepting these terms.
Why You Should Eat More Cukes
Apr. 29, 2014 02:14PM EST
Food
The cucumber is a fruit that often gets overlooked. Like its friend the tomato, it isn't sweet, it isn't fancy, but it can do amazing things for your body. Cucumbers contain an incredible amount of vitamins and minerals that are essential for optimal health.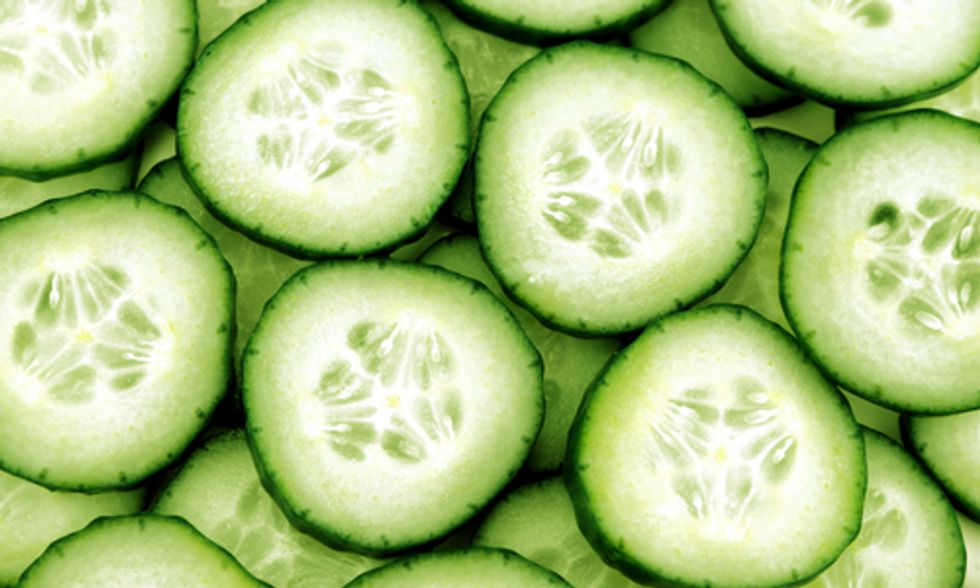 Ever wonder where the expression 'cool as a cucumber' comes from? Photo courtesy of Shutterstock
Here is a list of why you should be eating more cucumbers:
Fights Cholesterol

Cucumbers contain a compound called sterols, which can help reduce your bad cholesterol.
Helps Keep the Mouth Clean

If you have bad breath or have trouble maintaining oral health, you should definitely be eating more cucumbers. The juice from cucumbers can heal diseased gums and will leave your mouth feeling refreshed. Try putting a slice of cucumber in your water for a great taste and clean breath.
Naturally Boosts Energy

Instead of guzzling things like Gatorade, try cucumber juice. Cucumbers contain a large amount of B vitamins and will give you that wide-eyed, energetic feeling, naturally.
Soothes the Eyes

Spas don't do it for show; putting cucumbers on your eyes really does reduce puffiness, dark circles and bags.
Aids Weight Loss

Cucumbers are made up of 95 percent water. Add that to the fact that they contain a lot of dietary fiber, plus help rid the body of toxins, and you've got an ideal food to help you lose unwanted weight.
Promotes Joint Health

Silica is known to strengthen connective tissue which is why it is so great for joint health. Cucumbers a great source of silica so if you suffer from gout or arthritis, combining cucumbers with carrot juice can do wonders for your pain. The combination lowers uric acid levels, thus providing much needed relief.
Provides Skin Care

Ever wonder where the expression cool as a cucumber comes from? Actually I didn't either, but it may be because if you place cucumber on sunburned or irritated skin, the cucumber releases cooling properties and will soothe the skin. The cucumber also contains minerals that are essential to good skin like magnesium, potassium and silicon.
Steadies Blood Pressure

This green fruit is a multi-tasker and can handle both high and low blood pressure. Since cucumbers contain potassium, magnesium and fiber, they can regulate blood pressure excellently.
Helps Heartburn

Cucumbers not only cool the outside of you, they cool the inside of you. If you have heartburn, try drinking cucumber juice to cool your insides.
Prevents Hangovers

Yes you read that right. If you haven't realized by now, cucumbers contain an extreme amount of vitamins and minerals. They also contain natural sugars and electrolytes which help your body replenish the nutrients that are taken away by a night of heavy drinking. Next time you have a little too much fun, before going to bed, chow down on some cucumber and you'll notice that you will feel much better than you normally would have.
Contains Cancer Fighters

There are three important lignans (lariciresinol, pinoresinol and secoisolariciresinol) contained in cucumbers that have been researched and studied for years in relation to cancer prevention.
There you have it. The cucumber may be one of the most versatile foods out there and can benefit you in a plethora of ways. Try eating them with a little lime juice and salt as an afternoon snack. Home-grown garden cucumbers, even better!
This article is reposted with permission from Eco News Network.
——–
YOU MIGHT ALSO LIKE
5 Healthy Berries to Eat By the Handful
Sweet and Juicy Benefits of 20 Natural Disease Fighters
6 Spring Foods to Buy at the Farmers Market
——–
EcoWatch Daily Newsletter
A new report spotlights a U.N. estimate that at least 275 million people rely on healthy coral reefs. A sea turtle near the Heron Island in the Great Barrier Reef is seen above. THE OCEAN AGENCY / XL CATLIN SEAVIEW SURVEY
In a new report about how the world's coral reefs face "the combined threats of climate change, pollution, and overfishing" — endangering the future of marine biodiversity — a London-based nonprofit calls for greater global efforts to end the climate crisis and ensure the survival of these vital underwater ecosystems.
Half of the extracted resources used were sand, clay, gravel and cement, seen above, for building, along with the other minerals that produce fertilizer. Cavan Images / Cavan / Getty Images
The world is using up more and more resources and global recycling is falling. That's the grim takeaway from a new report by the Circle Economy think tank, which found that the world used up more than 110 billion tons, or 100.6 billion metric tons, of natural resources, as Agence France-Presse (AFP) reported.
By Gero Rueter
Heating with coal, oil and natural gas accounts for around a quarter of global greenhouse gas emissions. But that's something we can change, says Wolfgang Feist, founder of the Passive House Institute in the western German city of Darmstadt.

By George Citroner
Recent research finds that official government figures may be underestimating drug deaths by half.
Researchers estimate that 142,000 people died due to drug use in 2016.
Drug use decreases life expectancy after age 15 by 1.4 years for men and by just under 1 year for women, on average.
Government records may be severely underreporting how many Americans die from drug use, according to a new study by researchers from the University of Pennsylvania and Georgetown University.
Water coolers in front of shut-off water fountains at Center School in Stow, MA on Sept. 4, 2019 after elevated levels of PFAS were found in the water. David L. Ryan / The Boston Globe via Getty Images
In a new nationwide assessment of drinking water systems, the Environmental Working Group found that toxic fluorinated chemicals known as PFAS are far more prevalent than previously thought.