This website uses cookies to ensure you get the best experience while browsing it. By clicking 'Got It' you're accepting these terms.
Why You Should Eat Fermented Foods
Mar. 13, 2014 02:06PM EST
Humans have been fermenting foods to aid in digestion for as far back as we can trace. Primarily they were fermented to improve holding and storing properties of foods.
The milk from camels were fermented naturally to produce some of the first yogurts. Stored in goat bags and dropped over the back of camels in the hot deserts of North Africa with temperatures reaching 40°C (110°F), it was the ideal environment for lactic acid-producing bacteria to go to work. Pickles date back to ancient Egypt and vinegar was used by the ancient Greeks and Romans as a digestive aid, and to promote a healthy liver and gallbladder.
Every culture in the world has some form of fermented foods they eat with meals to aid in digestion. It isn't necessary to eat very much, just enough to provide the proper enzymes to help break down food and make the nutrients available for absorption in the small intestine.
Common in Indian, Korean, Chinese and Japanese cuisine are sweet, sour and salty pickles; while in North and Central Europe you will find sauerkraut and, again, pickles; the Mediterranean countries serve a small glass of red wine, cider or beer with meals to provide digestive enzymes.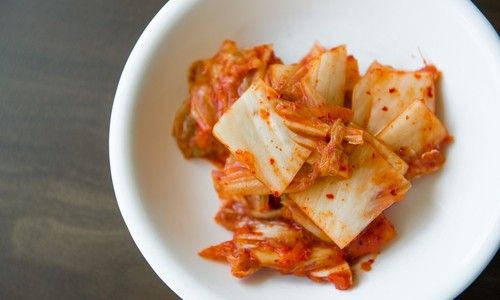 Photo courtesy of Shutterstock
When foods are fermented the bacteria, yeasts or molds used in the process predigest the food, meaning they break down the carbohydrates, fats and proteins to create microflora—friendly, life giving bacteria beneficial to the gastrointestinal system. These colonize in your intestines and work to keep the unfriendly intestinal organisms under control, such as yeast, parasites, viruses and unfriendly bacteria.
Fermented foods come in many guises, some you might eat on a regular basis, such as aged cheese, beer and wine, while others can have medicinal qualities that support the immune system and aid in healing the digestive system. Here are a few to consider:
Acidophilus: Lactobacillus Acidophilus is a beneficial micro-flora commonly found in yogurt, kefir and fermented vegetables. It can also be taken in capsule form.
Cultured Vegetables: Cultured vegetables are made with a base of shredded cabbage and a few other grated vegetables packed tightly into an airtight ceramic container and fermented for up to a week or more. The process creates an acidic environment for friendly bacteria to reproduce. Korean Kimchi and raw sauerkraut are good examples of this. Learn how to ferment vegetables at home.
Miso: Made from either rice, soybeans, barley or chickpeas, miso is a fermented paste aged in wooden kegs for two months to two years. High in beneficial enzymes, with traces of B-12 and antioxidants, it is said to be helpful in removing radiation from the body. Check out 10 benefits and uses for miso.
Pickles: Pickles contain large amounts of lactobacilli bacteria, which are important to the digestion of grains and vegetables. One property common to all pickles is high fiber, which is important to proper intestinal functioning.
Vinegar: Specifically apple cider vinegar is rich in beneficial enzymes and used medicinally is said to strengthen the immune system, control weight, promote good digestion and balance blood pH levels.
Enjoy these fermented foods recipes:
Live culture pickles
Radish and root kimshi
EcoWatch Daily Newsletter
A dead sea lion on the beach at Border Field State Park, near the international border wall between San Diego, California and Tijuana, Mexico. Sherry Smith / iStock / Getty Images
People crossing the Brooklyn Bridge on July 20, 2017 in New York City sought to shield themselves from the sun as the temperature reached 93 degrees. Drew Angerer / Getty Images
by Jordan Davidson

Taking action to stop the mercury from rising is a matter of life and death in the U.S., according to a new study published in the journal Science Advances.
Salmon fry before being released just outside San Francisco Bay. Jim Wilson / The New York Times / Redux
By Alisa Opar
For Chinook salmon, the urge to return home and spawn isn't just strong — it's imperative. And for the first time in more than 65 years, at least 23 fish that migrated as juveniles from California's San Joaquin River and into the Pacific Ocean have heeded that call and returned as adults during the annual spring run.
Protesters hold a banner and a placard while blocking off the road during a protest against Air pollution in London. Ryan Ashcroft / SOPA Images / LightRocket / Getty Images
By Jessica Corbett
Dozens of students, parents, teachers and professionals joined a Friday protest organized by Extinction Rebellion that temporarily stalled morning rush-hour traffic in London's southeasten borough of Lewisham to push politicians to more boldly address dangerous air pollution across the city.

Jose A. Bernat Bacete / Moment / Getty Images
By Bridget Shirvell
On a farm in upstate New York, a cheese brand is turning millions of pounds of food scraps into electricity needed to power its on-site businesses. Founded by eight families, each with their own dairy farms, Craigs Creamery doesn't just produce various types of cheddar, mozzarella, Swiss and Muenster cheeses, sold in chunks, slices, shreds and snack bars; they're also committed to becoming a zero-waste operation.

By Jessica A. Knoblauch
Summers in the Midwest are great for outdoor activities like growing your garden or cooling off in one of the area's many lakes and streams. But some waters aren't as clean as they should be.
That's in part because coal companies have long buried toxic waste known as coal ash near many of the Midwest's iconic waterways, including Lake Michigan. Though coal ash dumps can leak harmful chemicals like arsenic and cadmium into nearby waters, regulators have done little to address these toxic sites. As a result, the Midwest is now littered with coal ash dumps, with Illinois containing the most leaking sites in the country.

picture-alliance / AP Photo / NOAA Pacific Islands Fisheries Science Center
The Group of 20 major economies agreed a deal to reduce marine pollution at a meeting of their environment ministers on Sunday in Karuizawa, Japan.