This website uses cookies to ensure you get the best experience while browsing it. By clicking 'Got It' you're accepting these terms.
Why You Should Eat Fermented Foods
Mar. 13, 2014 02:06PM EST
Humans have been fermenting foods to aid in digestion for as far back as we can trace. Primarily they were fermented to improve holding and storing properties of foods.
The milk from camels were fermented naturally to produce some of the first yogurts. Stored in goat bags and dropped over the back of camels in the hot deserts of North Africa with temperatures reaching 40°C (110°F), it was the ideal environment for lactic acid-producing bacteria to go to work. Pickles date back to ancient Egypt and vinegar was used by the ancient Greeks and Romans as a digestive aid, and to promote a healthy liver and gallbladder.
Every culture in the world has some form of fermented foods they eat with meals to aid in digestion. It isn't necessary to eat very much, just enough to provide the proper enzymes to help break down food and make the nutrients available for absorption in the small intestine.
Common in Indian, Korean, Chinese and Japanese cuisine are sweet, sour and salty pickles; while in North and Central Europe you will find sauerkraut and, again, pickles; the Mediterranean countries serve a small glass of red wine, cider or beer with meals to provide digestive enzymes.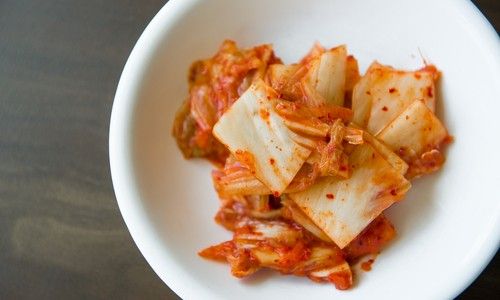 Photo courtesy of Shutterstock
When foods are fermented the bacteria, yeasts or molds used in the process predigest the food, meaning they break down the carbohydrates, fats and proteins to create microflora—friendly, life giving bacteria beneficial to the gastrointestinal system. These colonize in your intestines and work to keep the unfriendly intestinal organisms under control, such as yeast, parasites, viruses and unfriendly bacteria.
Fermented foods come in many guises, some you might eat on a regular basis, such as aged cheese, beer and wine, while others can have medicinal qualities that support the immune system and aid in healing the digestive system. Here are a few to consider:
Acidophilus: Lactobacillus Acidophilus is a beneficial micro-flora commonly found in yogurt, kefir and fermented vegetables. It can also be taken in capsule form.
Cultured Vegetables: Cultured vegetables are made with a base of shredded cabbage and a few other grated vegetables packed tightly into an airtight ceramic container and fermented for up to a week or more. The process creates an acidic environment for friendly bacteria to reproduce. Korean Kimchi and raw sauerkraut are good examples of this. Learn how to ferment vegetables at home.
Miso: Made from either rice, soybeans, barley or chickpeas, miso is a fermented paste aged in wooden kegs for two months to two years. High in beneficial enzymes, with traces of B-12 and antioxidants, it is said to be helpful in removing radiation from the body. Check out 10 benefits and uses for miso.
Pickles: Pickles contain large amounts of lactobacilli bacteria, which are important to the digestion of grains and vegetables. One property common to all pickles is high fiber, which is important to proper intestinal functioning.
Vinegar: Specifically apple cider vinegar is rich in beneficial enzymes and used medicinally is said to strengthen the immune system, control weight, promote good digestion and balance blood pH levels.
Enjoy these fermented foods recipes:
Live culture pickles
Radish and root kimshi
EcoWatch Daily Newsletter
A vegan diet can improve your health, but experts say it's important to keep track of nutrients and protein. Getty Images
By Dan Gray
Research shows that 16 weeks of a vegan diet can boost the gut microbiome, helping with weight loss and overall health.
A healthy microbiome is a diverse microbiome. A plant-based diet is the best way to achieve this.
It isn't necessary to opt for a strictly vegan diet, but it's beneficial to limit meat intake.
New research shows that following a vegan diet for about 4 months can boost your gut microbiome. In turn, that can lead to improvements in body weight and blood sugar management.
Students gathered at the National Mall in Washington DC, Sept. 20. NRDC
By Jeff Turrentine
Nearly 20 years have passed since the journalist Malcolm Gladwell popularized the term tipping point, in his best-selling book of the same name. The phrase denotes the moment that a certain idea, behavior, or practice catches on exponentially and gains widespread currency throughout a culture. Having transcended its roots in sociological theory, the tipping point is now part of our everyday vernacular. We use it in scientific contexts to describe, for instance, the climatological point of no return that we'll hit if we allow average global temperatures to rise more than 2 degrees Celsius above preindustrial levels. But we also use it to describe everything from resistance movements to the disenchantment of hockey fans when their team is on a losing streak.
samael334 / iStock / Getty Images
Berries are small, soft, round fruit of various colors — mainly blue, red, or purple.
A glacier is seen in the Kenai Mountains on Sept. 6, near Primrose, Alaska. Scientists from the U.S. Geological Survey have been studying the glaciers in the area since 1966 and their studies show that the warming climate has resulted in sustained glacial mass loss as melting outpaced the accumulation of new snow and ice. Joe Raedle / Getty Images
By Mark Mancini
On Aug. 18, Iceland held a funeral for the first glacier lost to climate change. The deceased party was Okjökull, a historic body of ice that covered 14.6 square miles (38 square kilometers) in the Icelandic Highlands at the turn of the 20th century. But its glory days are long gone. In 2014, having dwindled to less than 1/15 its former size, Okjökull lost its status as an official glacier.
Members of Chicago Democratic Socialists of America table at the Logan Square Farmers Market on Aug. 18. Alex Schwartz
By Alex Schwartz
Among the many vendors at the Logan Square Farmers Market on Aug. 18 sat three young people peddling neither organic vegetables, gourmet cheese nor handmade crafts. Instead, they offered liberation from capitalism.
Hackney primary school students went to the Town Hall on May 24 in London after school to protest about the climate emergency. Jenny Matthews / In Pictures / Getty Images
Bird watching in the U.S. may be a lot harder than it once was, since bird populations are dropping off in droves, according to a new study.