This website uses cookies to ensure you get the best experience while browsing it. By clicking 'Got It' you're accepting these terms.


The best of EcoWatch, right in your inbox. Sign up for our email newsletter!
Why You Should Eat Fermented Foods
Mar. 13, 2014 02:06PM EST
Humans have been fermenting foods to aid in digestion for as far back as we can trace. Primarily they were fermented to improve holding and storing properties of foods.
The milk from camels were fermented naturally to produce some of the first yogurts. Stored in goat bags and dropped over the back of camels in the hot deserts of North Africa with temperatures reaching 40°C (110°F), it was the ideal environment for lactic acid-producing bacteria to go to work. Pickles date back to ancient Egypt and vinegar was used by the ancient Greeks and Romans as a digestive aid, and to promote a healthy liver and gallbladder.
Every culture in the world has some form of fermented foods they eat with meals to aid in digestion. It isn't necessary to eat very much, just enough to provide the proper enzymes to help break down food and make the nutrients available for absorption in the small intestine.
Common in Indian, Korean, Chinese and Japanese cuisine are sweet, sour and salty pickles; while in North and Central Europe you will find sauerkraut and, again, pickles; the Mediterranean countries serve a small glass of red wine, cider or beer with meals to provide digestive enzymes.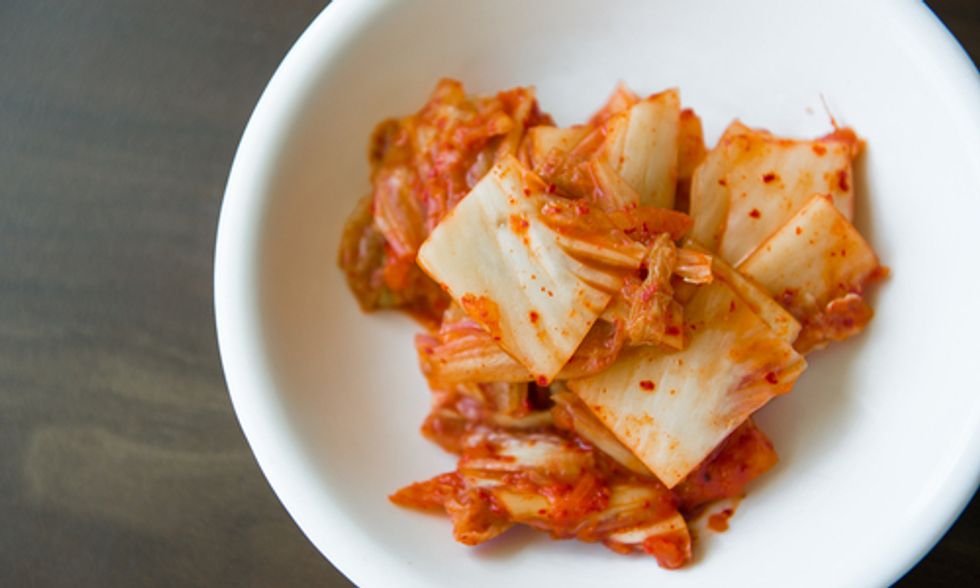 Photo courtesy of Shutterstock
When foods are fermented the bacteria, yeasts or molds used in the process predigest the food, meaning they break down the carbohydrates, fats and proteins to create microflora—friendly, life giving bacteria beneficial to the gastrointestinal system. These colonize in your intestines and work to keep the unfriendly intestinal organisms under control, such as yeast, parasites, viruses and unfriendly bacteria.
Fermented foods come in many guises, some you might eat on a regular basis, such as aged cheese, beer and wine, while others can have medicinal qualities that support the immune system and aid in healing the digestive system. Here are a few to consider:
Acidophilus: Lactobacillus Acidophilus is a beneficial micro-flora commonly found in yogurt, kefir and fermented vegetables. It can also be taken in capsule form.
Cultured Vegetables: Cultured vegetables are made with a base of shredded cabbage and a few other grated vegetables packed tightly into an airtight ceramic container and fermented for up to a week or more. The process creates an acidic environment for friendly bacteria to reproduce. Korean Kimchi and raw sauerkraut are good examples of this. Learn how to ferment vegetables at home.
Miso: Made from either rice, soybeans, barley or chickpeas, miso is a fermented paste aged in wooden kegs for two months to two years. High in beneficial enzymes, with traces of B-12 and antioxidants, it is said to be helpful in removing radiation from the body. Check out 10 benefits and uses for miso.
Pickles: Pickles contain large amounts of lactobacilli bacteria, which are important to the digestion of grains and vegetables. One property common to all pickles is high fiber, which is important to proper intestinal functioning.
Vinegar: Specifically apple cider vinegar is rich in beneficial enzymes and used medicinally is said to strengthen the immune system, control weight, promote good digestion and balance blood pH levels.
Enjoy these fermented foods recipes:
Live culture pickles
Radish and root kimshi
EcoWatch Daily Newsletter
Pexels
By Danielle Nierenberg and Katherine Walla
As the holiday season ramps up for many across the world, Food Tank is highlighting 15 children's books that will introduce young eaters, growers and innovators to the world of food and agriculture. Authors and organizations are working to show children the importance — and fun — of eating healthy, nutritious and delicious food, growing their own produce, and giving food to others in need.
Pixabay
Purple cabbage, also referred to as red cabbage, belongs to the Brassica genus of plants. This group includes nutrient-dense vegetables, such as broccoli, Brussels sprouts, and kale.
Pexels
By Lauren Wolahan
For the first time ever, the UN is building out a roadmap for curbing carbon pollution from agriculture. To take part in that process, a coalition of U.S. farmers traveled to the UN climate conference in Madrid, Spain this month to make the case for the role that large-scale farming operations, long criticized for their outsized emissions, can play in addressing climate change.
Pexels
In recent years, acai bowls have become one of the most hyped-up health foods on the market.
They're prepared from puréed acai berries — which are fruits grown in Central and South America — and served as a smoothie in a bowl or glass, topped with fruit, nuts, seeds, or granola.
Investing in grid infrastructure would enable utilities to incorporate modern technology, making the grid more resilient and flexible. STRATMAN2 / FLICKR
By Elliott Negin
The Royal Swedish Academy of Sciences' recent decision to award the 2019 Nobel Prize in Chemistry to scientists who developed rechargeable lithium-ion batteries reminded the world just how transformative they have been. Without them, we wouldn't have smartphones or electric cars. But it's their potential to store electricity generated by the sun and the wind at their peak that promises to be even more revolutionary, reducing our dependence on fossil fuels and protecting the planet from the worst consequences of climate change.