Why You Should Drink Oolong Tea
May. 19, 2016 11:49AM EST
Food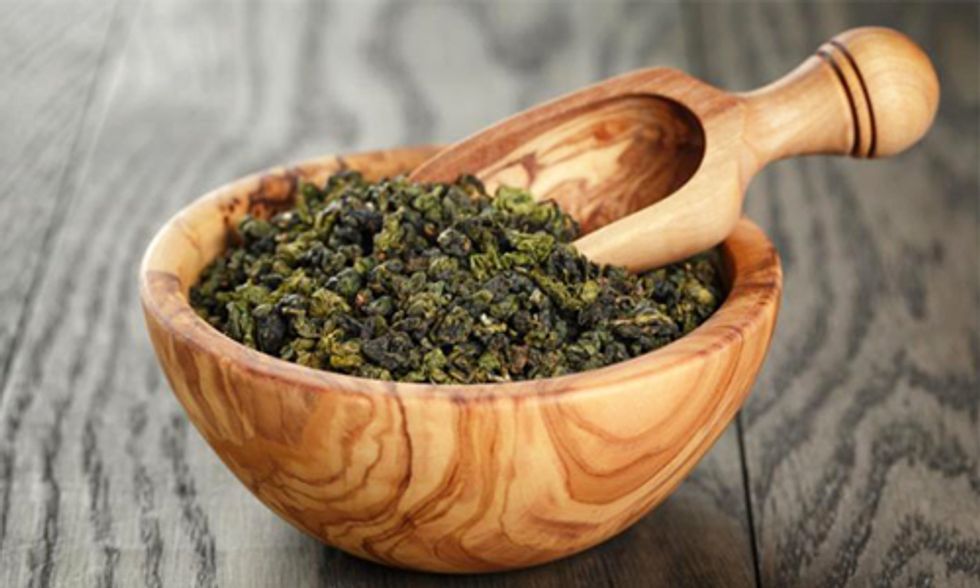 Oolong tea represents only 2 percent of the world's tea, but it's well-worth discovering (1).
It combines the qualities of dark and green teas, giving it several interesting health benefits. For example, it may boost metabolism and reduce stress, helping you feel great each day.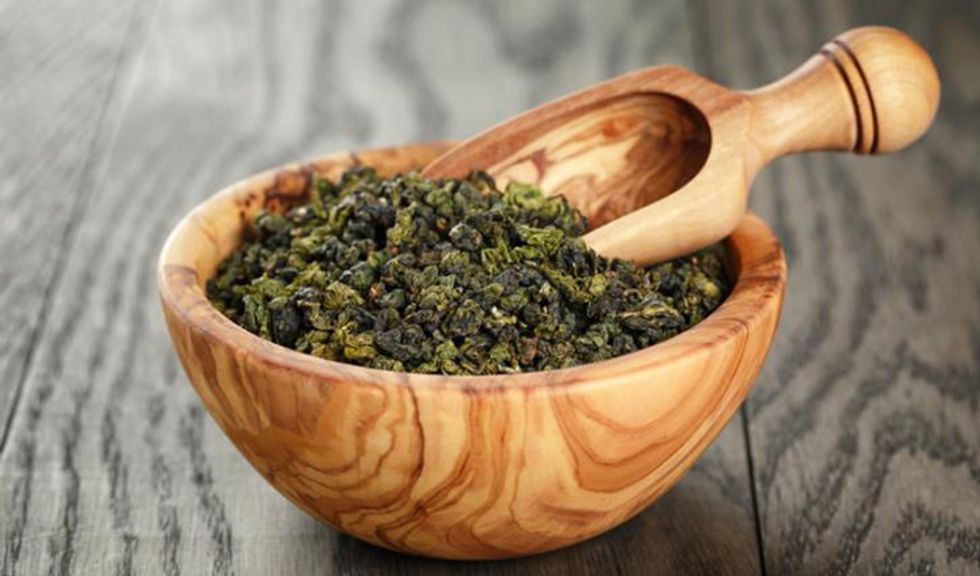 This article explains everything you need to know about oolong tea and its health benefits.
What is Oolong Tea?
Oolong tea is a traditional Chinese tea.
It's made from the leaves of the Camellia sinensis plant, the same plant used to make green tea and black tea. The difference is in how the tea is processed.
All tea leaves contain certain enzymes, which produce a chemical reaction called oxidation. Oxidation is what turns the green tea leaves into a deep black color.
Green tea is not allowed to oxidize much, but black tea is allowed to oxidize until it turns black. Oolong tea is somewhere in between the two, so it is partially oxidized.
This partial oxidation is responsible for oolong tea's color and characteristic taste (2).
This is what oolong tea looks like: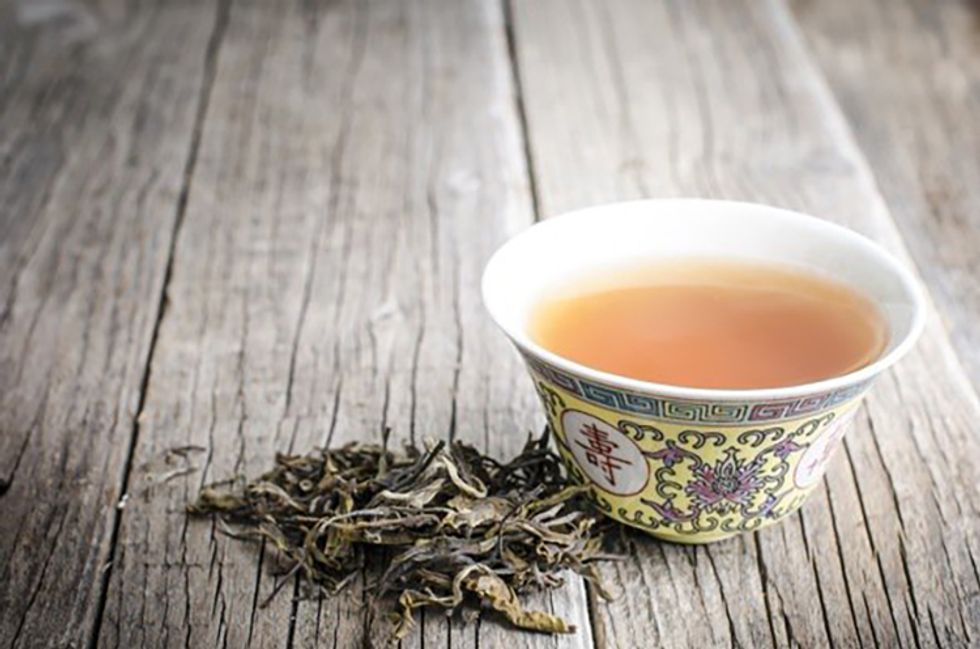 However, the color of the leaves can vary between different brands, ranging from green to dark brown.
Bottom Line: Oolong tea is a traditional Chinese tea made from the partially oxidized leaves of the Camellia sinensis plant.
Nutrients in Oolong Tea
Similar to black and green teas, oolong tea contains several vitamins, minerals and helpful antioxidants.
A cup of brewed tea will contain approximately (3, 4):
Fluoride: 5–24 percent of the RDI.
Manganese: 26 percent of the RDI.
Potassium: 1 percent of the RDI.
Sodium: 1 percent of the RDI.
Magnesium: 1 percent of the RDI.
Niacin: 1 percent of the RDI.
Some of the main antioxidants in oolong tea, known as tea polyphenols, are theaflavins, thearubigins and EGCG. These are responsible for many of its health benefits (5).
Oolong tea also contains theanine, an amino acid responsible for the tea's relaxing effect (6).
Bottom Line: In addition to caffeine, oolong tea contains vitamins, minerals, amino acids and beneficial tea polyphenol antioxidants.
Oolong Tea May Help Prevent Diabetes
The polyphenol antioxidants found in tea are thought to help reduce blood sugar and insulin levels. They're also thought to increase insulin sensitivity (7, 8).
Accordingly, several studies report links between regular tea consumption, improved blood sugar control and a lower risk of developing type 2 diabetes (9, 10, 11, 12).
However, the specific effects of oolong tea are generally not as well researched as those of green or black tea.
That being said, a recent review observed that those drinking 24 oz (720 ml) of oolong tea per day had a 16 percent lower risk of developing type 2 diabetes (13).
Another study reported that diabetics who consumed 50 oz (1.5 liters) per day had up to 30 percent lower blood sugar levels at the end of a 30-day study (14).
Similarly, consuming 33 oz (1 liter) of oolong tea each day for 30 days decreased average blood sugar levels by 3.3 percent (15).
Nevertheless, not all studies agree and one even reports an increased risk of developing diabetes for those drinking 16 oz (480 ml) or more per day (16, 17, 18).
Researchers cite pesticide contamination as a likely cause of the negative effects in this study and do not recommend avoiding oolong tea because of it (18).
Bottom Line: The polyphenol antioxidants may help maintain normal blood sugar levels and decrease the risk of developing type 2 diabetes. However, the evidence is mixed and more research is needed.
Oolong Tea May Improve Heart Health
Regularly consuming tea antioxidants may also improve heart health (19).
Several studies of regular tea drinkers report reduced blood pressure and cholesterol levels, as well as a reduced risk of heart disease (20, 21, 22, 23, 24).
In a recent study, people who drank more than 48 oz (1.4 liters) of tea per day were 51 percent less likely to have heart disease, compared to non-tea drinkers (25).
Several studies have also investigated oolong tea specifically.
One study of more than 76,000 Japanese adults observed that those who drank 8 oz (240 ml) or more of oolong tea per day had a 61 percent lower heart disease risk (26).
What's more, a study done in China reports a 39 percent lower risk of stroke in those drinking 16 oz (480 ml) of oolong or green tea per day (27).
In addition, regularly consuming 4 oz (120 ml) of green or oolong tea per day may reduce your risk of developing high blood pressure by up to 46 percent. However, not all studies agree (28, 29).
One thing to remember is that oolong tea contains caffeine, which may slightly raise blood pressure in some people. That being said, this effect tends to fade with regular caffeine consumption (30, 31, 32, 33).
Furthermore, since the caffeine content in an 8-oz (240-ml) cup is only about one-fourth of that found in the same amount of coffee, this effect is likely to be small.
Bottom Line: Oolong tea may help decrease the risk of heart disease, stroke and high blood pressure in some people.
Oolong Tea May Help You Lose Weight
Scientists believe that some of the polyphenols in oolong tea may boost metabolism and decrease the amount of fat absorbed from your diet (34, 35, 36, 37).
These polyphenol antioxidants are also thought to activate enzymes that help you use stored fat for energy (37).
One study found that both full-strength and diluted oolong tea helped participants burn 2.9–3.4 percent more total calories per day (38).
This could be partially due to the caffeine content of tea, but tea polyphenols may also play a role. To test this idea, researchers compared the effects of caffeine alone to a combination of caffeine and tea polyphenols (37, 38).
Both increased the amount of calories burned by about 4.8 percent, but only the tea polyphenol and caffeine mix increased the participants' fat burning ability (37).
This indicates that the fat burning effects of tea are also caused by the plant compounds in tea, not just the caffeine.
That being said, no studies could be found to clarify whether this increased energy expenditure and fat burning led to any substantial weight loss in humans.
Furthermore, some participants responded better than others, so the effects likely vary from person to person (37).
You can read more in this article about green tea and weight loss. Most of it should apply to oolong tea as well.
Bottom Line: The combination of caffeine and polyphenols found in oolong tea may help increase the amount of calories and fat burned each day. This could ultimately help speed up weight loss.
Oolong Tea May Improve Brain Function
Recent reviews show that tea may help maintain brain function and prevent Alzheimer's disease (39, 40, 41).
In fact, several components of tea may benefit brain function.
For starters, caffeine is shown to increase the release of norepinephrine and dopamine. These two brain messengers are thought to benefit mood, attention and brain function (42, 43).
Further research shows that theanine, an amino acid in tea, may also help boost attention and relieve anxiety (44).
One recent study reports that tea containing both caffeine and theanine increased alertness and attention within the first 1–2 hours after consumption (44).
Tea polyphenols are also thought to have a calming effect, especially starting two hours after intake (44).
Few studies have looked specifically at oolong tea, but one found that regular tea drinkers had up to a 64 percent lower risk of brain function decline. This effect was particularly strong for regular black and oolong tea drinkers (45).
Another study linked regularly drinking green, black or oolong tea to improved cognition, memory, executive function and information processing speed (46).
Although not all studies observed the same beneficial effects of oolong tea on brain function, none were found that showed negative effects (47).
Bottom Line: The caffeine, antioxidant and theanine content of teas may have beneficial effects on brain function and mood.
May Protect Against Certain Cancers
Scientists believe the antioxidants present in black, green and oolong teas may help prevent cell mutations that can lead to cancer in the body (48, 49).
Tea polyphenols might also decrease the rate of cancer cell division (50).
What's more, one review reports that regular tea drinkers may have a 15 percent lower risk of developing oral cancer (51).
Other reviews report similar protective effects for lung, esophageal, pancreatic, liver and colorectal cancers (52, 53, 54, 55, 56, 57).
However, most research reports that tea has small or non-existent effects on breast, ovarian and bladder cancers (58, 59, 60).
Additionally, most research in this field focused on the effects of green or black teas, with the biggest effects noted for green teas.
Since oolong tea falls midway between green and black tea, similar benefits may be expected. However, more research is needed on oolong tea specifically.
Bottom Line: Similar to green and black tea, oolong tea may have protective effects against cancer.
Oolong Tea Promotes Tooth and Bone Strength
The antioxidants found in oolong tea may help keep your teeth and bones strong.
One study showed that people who drank black, green or oolong tea daily over a 10-year period had 2 percent higher overall bone mineral density (61).
A study of 680 postmenopausal Chinese women found that those who drank oolong tea regularly had 4.5–4.9 percent higher bone densities than non-tea-drinkers (62).
In addition, several other recent reviews report similar positive effects of tea on bone mineral density (63, 64).
A higher bone mineral density could lower the risk of fractures. However, the direct link between oolong tea and fractures has not been investigated yet.
Finally, research links tea consumption to reduced dental plaque. Oolong tea is also a rich source of fluoride, which could help strengthen tooth enamel (50).
Bottom Line: Oolong tea may help increase bone mineral density. It may also strengthen tooth enamel and reduce the formation of dental plaque.
Oolong Tea May Help Relieve Eczema
The polyphenols in tea may also have some anti-allergic properties.
One study asked 118 patients with severe cases of eczema to drink 33 oz (1 liter) of oolong tea per day, in addition to maintaining their normal treatment.
Eczema symptoms improved as early as 1–2 weeks into the study. After 1 month of the combined treatment, 63 percent of patients showed improvement.
What's more, the improvement persisted. They were still observed in 54 percent of the patients 5 months later (65).
Bottom Line: The polyphenol antioxidants in oolong tea may help relieve symptoms of eczema and the improvements may last for a long time.
Safety and Side Effects
Oolong tea has been consumed for centuries and is generally considered to be safe.
That being said, it does contain caffeine.
When consumed in excess, caffeine can lead to anxiety, headaches, insomnia, irregular heartbeat and in some, high blood pressure (66, 67, 68, 69).
Additionally, consuming too many polyphenol antioxidants can make them act as pro-oxidants, which are not good for your health. Excess intake may occur from taking polyphenol supplements, but this is unlikely from simply drinking tea (66).
The flavonoids in tea can also bind the iron found in plant foods, reducing absorption from the digestive system by 15–67 percent (70).
Those with low iron levels should avoid drinking tea with meals and consider consuming vitamin C-rich foods to help increase iron absorption (71).
Both the USDA and the European Food Safety Authority consider daily intakes of 400 mg of caffeine as safe. This is equivalent to 48–80 oz of oolong tea (1.4–2.4 liters) per day (72, 73).
Given that the average cup is 8 oz (240 ml), you could drink a total of 6–10 cups of oolong tea per day without consuming too much caffeine.
However, pregnant women are advised to stick to a maximum of 200 mg of caffeine, which is about 3-5 cups of oolong tea per day (74).
Keep in mind that coffee, soda, energy drinks and chocolate also contain caffeine. So if you're trying to reduce your intake, make sure to account for these sources as well.
Bottom Line: Drinking up to 10 cups of oolong tea per day is generally considered to be safe for most people.
Take Home Message
Oolong tea may not be as well known as green or black tea, but it has similar health benefits. These include benefits for heart, brain, bone and dental health.
In addition, it may boost your metabolism, decrease your risk of developing type 2 diabetes and protect against certain types of cancer.
At the end of the day, oolong tea is an incredibly healthy and tasty addition to your lifestyle. Give it a try—you won't be disappointed.
This article was reposted from our media associate Authority Nutrition.
YOU MIGHT ALSO LIKE
4 Things That Can Happen If You Quit Eating Dairy
8 Health Benefits of Coconut Water
Offshore oil and gas drillers have left more than 18,000 miles of pipelines at the bottom of the Gulf of Mexico. Drew Angerer / Getty Images
Offshore oil and gas drillers have discarded and abandoned more than 18,000 miles of pipelines on the floor of the Gulf of Mexico since the 1960s, a report from the Government Accountability Office says.
The industry has essentially recovered none of the pipelines laid in the Gulf in the last six decades; the abandoned infrastructure accounts for more than 97% of all of the decommissioned pipelines in the Gulf.
The pipelines pose a threat to the habitat around them, as maritime commerce and hurricanes and erosion can move sections of pipeline.
The Bureau of Safety and Environmental Enforcement does not conduct undersea inspections even though surface monitoring is "not always reliable for detecting ruptures," according to the GAO.
For a deeper dive:
For more climate change and clean energy news, you can follow Climate Nexus on Twitter and Facebook, sign up for daily Hot News, and visit their news site, Nexus Media News.
EcoWatch Daily Newsletter
Concerns over drinking polluted water top a recent Gallup poll on environmental threats. sonsam / Getty Images
The black cherries of
Coffea stenophylla
.
E. Couturon / IRD, Author provided
By Aaron P Davis
The world loves coffee. More precisely, it loves arabica coffee. From the smell of its freshly ground beans through to the very last sip, arabica is a sensory delight.
Robusta, the other mainstream coffee crop species, is almost as widely traded as arabica, but it falls short on flavor. Robusta is mainly used for instant coffee and blends, while arabica is the preserve of discerning baristas and expensive espressos.
Consumers may be happy, but climate change is making coffee farmers bitter. Diseases and pests are becoming more common and severe as temperatures rise. The fungal infection known as coffee leaf rust has devastated plantations in Central and South America. And while robusta crops tend to be more resistant, they need plenty of rain – a tall order as droughts proliferate.
The future for coffee farming looks difficult, if not bleak. But one of the more promising solutions involves developing new, more resilient coffee crops. Not only will these new coffees have to tolerate higher temperatures and less predictable rainfall, they'll also have to continue satisfying consumer expectations for taste and smell.
Finding this perfect combination of traits in a new species seemed remote. But in newly published research, my colleagues and I have revealed a little-known wild coffee species that could be the best candidate yet.
Coffee Farming in a Warming World
Coffea stenophylla was first described as a new species from Sierra Leone in 1834. It was farmed across the wetter parts of upper west Africa until the early 20th century, when it was replaced by the newly discovered and more productive robusta, and largely forgotten by the coffee industry. It continued to grow wild in the humid forests of Guinea, Sierra Leone and Ivory Coast, where it became threatened by deforestation.
At the end of 2018, we found stenophylla in Sierra Leone after searching for several years, but failed to find any trees in fruit until mid-2020, when a 10g sample was recovered for tasting.
Field botanists of the 19th century had long proclaimed the superior taste of stenophylla coffee, and also recorded its resistance to coffee leaf rust and drought. Those early tasters were often inexperienced though, and our expectations were low before the first tasting in the summer of 2020. That all changed once I'd sampled the first cup on a panel with five other coffee experts. Those first sips were revelatory: it was like expecting vinegar and getting champagne.
This initial tasting in London was followed by a thorough evaluation of the coffee's flavour in southern France, led by my research colleague Delpine Mieulet. Mieulet assembled 18 coffee connoisseurs for a blind taste test and they reported a complex profile for stenophylla coffee, with natural sweetness, medium-high acidity, fruitiness, and good body, as one would expect from high-quality arabica.
C. stenophylla growing in the wild, Ivory Coast. E. Couturon / IRD, Author provided
In fact, the coffee seemed very similar to arabica. At the London tasting, the Sierra Leone sample was compared to arabica from Rwanda. In the blind French tasting, most of the judges (81%) said stenophylla tasted like arabica, compared to 98% and 44% for the two arabica control samples, and 7% for a robusta sample.
The coffee tasting experts picked up on notes of peach, blackcurrant, mandarin, honey, light black tea, jasmine, chocolate, caramel and elderflower syrup. In essence, stenophylla coffee is delicious. And despite scoring highly for its similarity to arabica, the stenophylla coffee sample was identified as something entirely unique by 47% of the judges. That means there may be a new market niche for this rediscovered coffee to fill.
The taste testers approved of stenophylla's sweet and fruity flavour. CIRAD, Author provided
Breaking New Grounds
Until now, no other wild coffee species has come close to arabica for its superior taste. Scientifically, the results are compelling because we would simply not expect stenophylla to taste like arabica. These two species are not closely related, they originated on opposite sides of the African continent and the climates in which they grow are very different. They also look nothing alike: stenophylla has black fruit and more complex flowers while arabica cherries are red.
It was always assumed that high-quality coffee was the preserve of arabica – originally from the forests of Ethiopia and South Sudan – and particularly when grown at elevations above 1,500 metres, where the climate is cooler and the light is better.
Stenophylla coffee breaks these rules. Endemic to Guinea, Sierra Leone and Ivory Coast, stenophylla grows in hot conditions at low elevations. Specifically it grows at a mean annual temperature of 24.9°C – 1.9°C higher than robusta, and up to 6.8°C higher than arabica. Stenophylla also appears more tolerant of droughts, potentially capable of growing with less rainfall than arabica.
Robusta coffee can grow in similar conditions to stenophylla, but the price paid to farmers is roughly half that of arabica. Stenophylla coffee makes it possible to grow a superior tasting coffee in much warmer climates. And while stenophylla trees tend to produce less fruit than arabica, they still yield enough to be commercially viable.
The stenophylla harvest on Reunion Island. IRD / CIRAD, Author provided
To breed the coffee crop plants of the future, we need species with great flavour and high heat tolerance. Crossbreeding stenophylla with arabica or robusta could make both more resilient to climate change, and even improve their taste, particularly in the latter.
With stenophylla's rediscovery, the future of coffee just got a little brighter.
Aaron P Davis: Senior Research Leader, Plant Resources, Royal Botanic Gardens, Kew
Disclosure statement: Aaron P Davis receives funding from Darwin Initiative (UK).
Reposted with permission from The Conversation.
From Your Site Articles
Related Articles Around the Web
Sunrise over planet Earth. Elements of this image furnished by NASA. Elen11 / iStock / Getty Images Plus
On Thursday, April 22, the world will celebrate Earth Day, the largest non-religious holiday on the globe.
NASA has teamed up with non-profit Carbon Mapper to help pinpoint greenhouse gas sources. aapsky / Getty Images
Super-emitters are individual sources such as leaking pipelines, landfills or dairy farms that produce a disproportionate amount of planet-warming emissions, especially methane and carbon dioxide. Carbon Mapper, the non-profit leading the effort, hopes to provide a more targeted guide to reducing emissions by launching special satellites that hunt for sources of climate pollution.
"What we've learned is that decision support systems that focus just at the level of nation states, or countries, are necessary but not sufficient. We really need to get down to the scale of individual facilities, and even individual pieces of equipment, if we're going to have an impact across civil society," Riley Duren, Carbon Mapper CEO and University of Arizona researcher, told BBC News. "Super-emitters are often intermittent but they are also disproportionately responsible for the total emissions. That suggests low-hanging fruit, because if you can identify and fix them you can get a big bang for your buck."
The new project, announced Thursday, is a partnership between multiple entities, including Carbon Mapper, the state of California, NASA's Jet Propulsion Laboratory (JPL) and Planet, a company that designs, builds and launches satellites, according to a press release. The project is being implemented in three stages.
The initial stage, which is already complete, involved the initial engineering development. NASA and Planet will work together in the second stage to build two satellites for a 2023 launch. The third phase will launch an entire constellation of satellites starting in 2025.
The satellites will include an imaging spectrometer built by NASA's JPL, NASA explained in a press release. This is a device that can break down visible light into hundreds of colors, providing a unique signature for chemicals such as methane and carbon dioxide. Most imaging spectrometers currently in orbit have larger pixel sizes, making it difficult to locate emission sources that are not always visible from the ground. However, Carbon Mapper spectrometers will have pixels of around 98 square feet, facilitating more detailed pin-pointing.
"This technology enables researchers to identify, study and quantify the strong gas emission sources," JPL Scientist Charles Miller said in the press release.
Once the data is collected, Carbon Mapper will make it available to industry and government actors via an open data portal to help repair leaks.
"These home-grown satellites are a game-changer," California Governor Gavin Newsom said of the project. "They provide California with a powerful, state-of-the-art tool to help us slash emissions of the super-pollutant methane — within our own borders and around the world. That's exactly the kind of dynamic, forward-thinking solution we need now to address the existential crisis of climate change."