This website uses cookies to ensure you get the best experience while browsing it. By clicking 'Got It' you're accepting these terms.
Why You Should Drink Apple Cider Vinegar Every Day
Oct. 06, 2014 03:37PM EST
Food
The crisp, tangy scent of apple cider is so evocative of autumn it's hard to imagine drinking it in May. So now's the perfect time to synch your vinegar to the season and try some apple cider vinegar. With all the health benefits vinegar provides, it's a great way to get your "apple a day."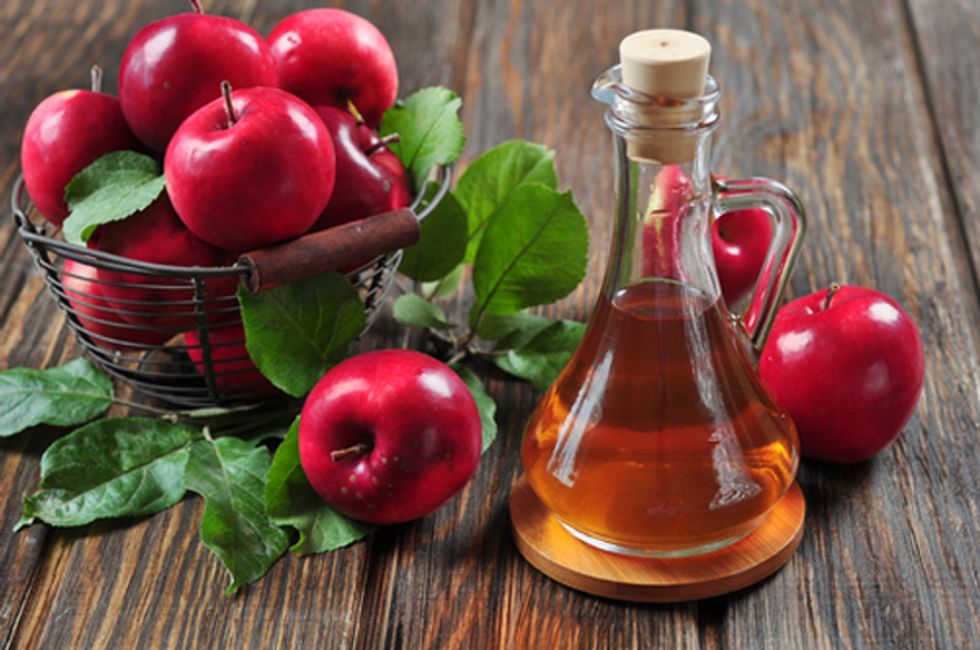 Photo credit: Shutterstock
1. Apple cider vinegar can lower the blood sugar in patients with type 2 diabetes, in which the body's ability to produce insulin to regulate blood sugar is compromised. But lowered blood sugar is a benefit even to people without diabetes. Elevated blood sugar is a factor in a variety of other chronic diseases as well. This benefit has been shown in studies and unlike some others, isn't just an old wives' tale.
2. Apple cider vinegar may help stimulate weight loss, although don't look for that "eat anything you want/never exercise" elixir they promise on late-night TV. Lowering blood sugar and insulin levels can help with that. But vinegar is also one of those ingestibles that, if eaten with a high-carb meal, can make you feel fuller and eat less. 
3. Apple cider vinegar may have some healthy heart benefits. It's unclear because the studies were done in rats, but there's evidence that it may lower cholesterol and triglyceride and prevent LDL cholesterol from oxidization, which leads to heart disease. It may also lower blood pressure, a factor in both heart disease and strokes.
4. Apple cider vinegar may offer some protection against cancer but that hasn't been proven. Again, the studies that showed it can shrink tumors and kill cancer were done with rats.
5. Apple cider vinegar has a high level of antimicrobial acetic acid, so vinegar has been used for centuries as a preservative for its bacteria-killing properties. For the same reason, it's also been used to clean wounds. Apply some to that cut, scratch or sunburn to take advantage of its healing properties. It could play a role in helping to stave off infections.
6. Apple cider vinegar could help give you healthy, glowing skin. Many people have sworn it's the secret to clearing up conditions like rashes, psoriasis, acne and eczema, and even get rid of warts. Tell the wicked witch to get some, pronto!
Apple cider vinegar most likely has no special benefits that many other vinegars don't; all vinegars are a healthy food with no known side effects. So there's no point in buying it as a tablet or supplement and waiting for wonders to occur. But tossing a spoonful on your salad along with a little olive oil in place of that gloppy ranch or thousand island dressing IS going to do wonders for your health.
YOU MAY ALSO LIKE
10 Best Ingredients to Include in Your Superfood Smoothies
Kale is King: 5 Reasons You Should Eat It
EcoWatch Daily Newsletter
Aerial view of Ruropolis, Para state, northen Brazil, on Sept. 6, 2019. Tthe world's biggest rainforest is under threat from wildfires and rampant deforestation. JOHANNES MYBURGH / AFP via Getty Images
By Kate Martyr
Deforestation in Brazil's Amazon rainforest last month jumped to the highest level since records began in 2015, according to government data.
A total of 563 square kilometers (217.38 square miles) of the world's largest rainforest was destroyed in November, 103% more than in the same month last year, according to Brazil's space research agency.
From January to November this year an area almost the size of the Caribbean island of Puerto Rico was destroyed — an 83% overall increase in destruction when compared with the same period last year.
The figures were released on Friday by the National Institute for Space Research (INPE), and collected through the DETER database, which uses satellite images to monitor forest fires, forest destruction and other developments affecting the rainforest.
What's Behind the Rise?
Overall, deforestation in 2019 has jumped 30% compared to last year — 9,762 square kilometers (approximately 3769 square miles) have been destroyed, despite deforestation usually slowing during November and December.
Environmental groups, researchers and activists blamed the policies of Brazil's president Jair Bolsonaro for the increase.
They say that Bolosonaro's calls for the Amazon to be developed and his weakening support for Ibama, the government's environmental agency, have led to loggers and ranchers feeling safer and braver in destroying the expansive rainforest.
His government hit back at these claims, pointing out that previous governments also cut budgets to environment agencies such as Ibama.
The report comes as Brazil came to loggerheads with the Association of Small Island States (AOSIS) over climate goals during the UN climate conference in Madrid.
AOSIS blasted Brazil, among other nations, for "a lack of ambition that also undermines ours."
Last month, a group of Brazilian lawyers called for Bolsonaro to be investigated by the International Criminal Court over his environmental policies.
Reposted with permission from DW.
The Carolina parakeet went extinct in 1918. James St. John /
CC BY 2.0
The Carolina parakeet, the only parrot species native to the U.S., went extinct in 1918 when the last bird died at the Cincinnati Zoo. Now, a little more than 100 years later, researchers have determined that humans were entirely to blame.
Pexels
Vitamin C is a very important nutrient that's abundant in many fruits and vegetables.
BLM drill seeders work to restore native grasses after wildfire on the Bowden Hills Wilderness Study Area in southeast Oregon, Dec. 14, 2018. Marcus Johnson / BLM / CC BY 2.0
By Tara Lohan
In 2017 the Thomas fire raged through 281,893 acres in Ventura and Santa Barbara counties, California, leaving in its wake a blackened expanse of land, burned vegetation, and more than 1,000 destroyed buildings.