This website uses cookies to ensure you get the best experience while browsing it. By clicking 'Got It' you're accepting these terms.
There are many of us who indulge in artificial sweeteners once in a while—a can of diet soda now and then, perhaps a "guiltless" binge of sugar-free pudding packs—even though we know they may not be so great for us. But, hey, neither is sugar, so how bad can Splenda be?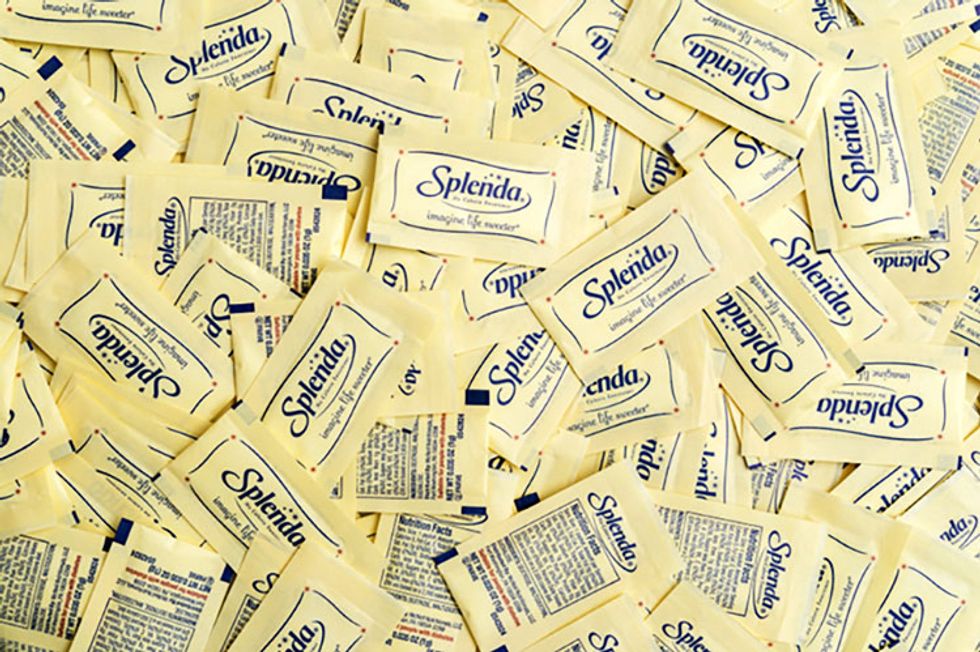 The scientific community has been in favor of or officially "inconclusive," on sucralose, aka Splenda, for years, even amid the growing anti-artificial chatter. The American Heart Association even stated in 2011 that, with moderate use, artificial sweeteners could assist with weight loss and have a positive effect on the metabolism. However, recent research has caused some of the scientific community to officially turn their backs on Splenda. Specifically, the Center for Science in the Public Interest (CSPI) has formally recommended that consumers avoid sucralose altogether.
What caused the CSPI to downgrade Splenda from "caution" to "avoid?" A study published in January in the International Journal of Occupational and Environmental Health proved the final nail in Splenda's coffin. Swiss mice who were fed significant amounts of sucralose throughout their lives developed malignant blood cancers like leukemia. Those not fed sucralose didn't.
While the quantities of sucralose studied were comparable to drinking a whopping 10 cans of diet soda every day, small quantities of carcinogens can do damage over the long term as well. According to CSPI scientist Lisa Lefferts, "When something causes cancer at high doses, it generally causes cancer at lower doses, the risk is just smaller."
While this study dealt with mice, not humans, it shows that Splenda is not as "biologically inert" as previously thought. Along with other damning data—increased obesity risk, increased insulin resistance and with numerous nasty side effects—the science is now clearly showing that Splenda is something unlikely to be fit for human consumption. The Center for Science in the Public Interest rated sucralose as "safe" until as recently as 2013. This is the first time they have urged consumers to avoid the sweetener altogether.
If your health isn't reason enough to ditch the yellow packets, consider the consequences Splenda has on the environment. Due to its unique structure, the artificial sweetener is not broken down in wastewater treatment plants, meaning it is slowly accumulating in our surface and groundwater. While sucralose is resistant to degradation, meaning it is unlikely that it will start releasing the toxic by-products often formed by pollutants, no one knows for sure what impact its accumulation while have on our environment over time. The best case scenario for the environment is that it just sits there, but do we really want sucralose sitting, perpetually intact, in our water supply?
Does the idea of zero calorie sweeteners ever entice you? If you're a regular consumer of Splenda, perhaps stevia or cinnamon could do the trick. As the evidence piles up, it is becoming clear that it's better to indulge in real, whole foods treat than risk the harms of artificial sweeteners.
YOU MIGHT ALSO LIKE
Read This if You Love Eating Fish But Worry Your Getting Too Much Mercury Exposure
9 Steps to Detox Your Body and How it Can Help You Lose Weight
Big Food Found Guilty in Multimillion Dollar Cover Up in GMO Labeling Fight
EcoWatch Daily Newsletter
A new study shows that half of all Arctic warming and corresponding sea-loss during the late 20th century was caused by ozone-depleting substances. Here, icebergs discharged from Greenland's Jakobshavn Glacier. Kevin Krajick / Earth Institute /
EurekAlert!
The world awakened to the hole in the ozone layer in 1985, which scientists attributed it to ozone depleting substances. Two years later, in Montreal, the world agreed to ban the halogen compounds causing the massive hole over Antarctica. Research now shows that those chemicals didn't just cut a hole in the ozone layer, they also warmed up the Arctic.
Diane Wilson holds up a bag full of nurdles she collected from one of Formosa's outfall areas on Jan. 15. Julie Dermansky / DeSmogBlog
On the afternoon of Jan. 15, activist Diane Wilson kicked off a San Antonio Estuary Waterkeeper meeting on the side of the road across from a Formosa plastics manufacturing plant in Point Comfort, Texas.
After Wilson and the waterkeeper successfully sued Formosa, the company agreed to no longer release even one of the tiny plastic pellets known as nurdles into the region's waterways. The group of volunteers had assembled that day to check whether the plant was still discharging these raw materials of plastics manufacturing.
Malaysian Environment Minister Yeo Bee Yin (front 2nd L) and officials inspect a container containing plastic waste shipment on Jan. 20, 2020 before sending back to the countries of origin. AFP via Getty Images
The Southeast Asian country Malaysia has sent 150 shipping containers packed with plastic waste back to 13 wealthy countries, putting the world on notice that it will not be the world's garbage dump, as CNN reported. The countries receiving their trash back include the United States, the United Kingdom, France and Canada.
Trump leaves after delivering a speech at the Congress Centre during the World Economic Forum annual meeting in Davos on Jan. 21, 2020. JIM WATSON / AFP via Getty Images