This website uses cookies to ensure you get the best experience while browsing it. By clicking 'Got It' you're accepting these terms.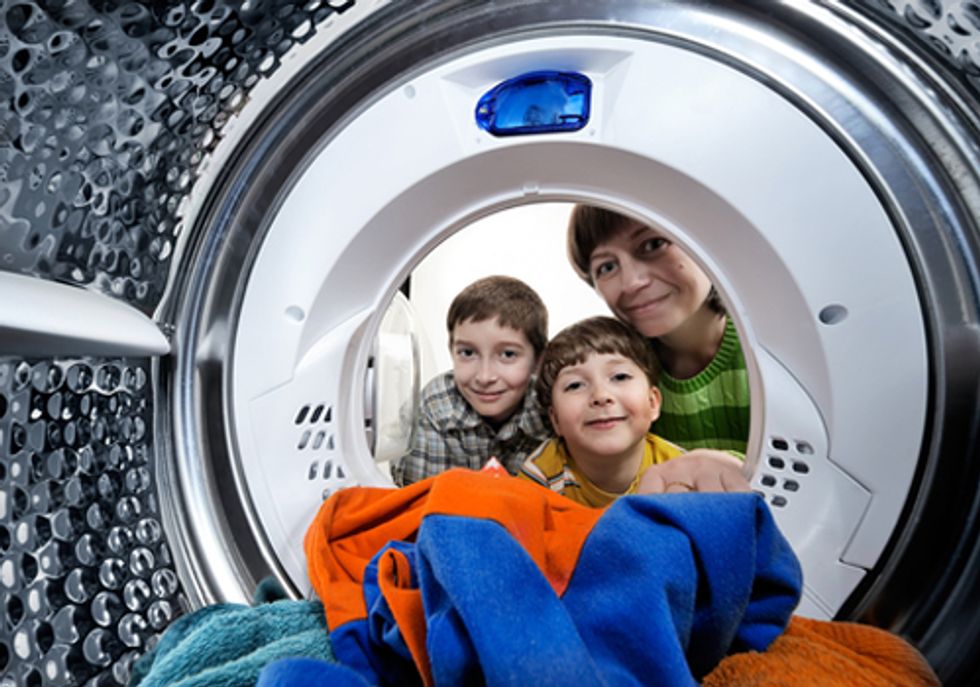 Wait a minute—how do dryer sheets do that?Mmm, the fresh scent of laundry that's been dried with dryer sheets.
Unfortunately, dryer sheets can contain some harmful chemicals—including hidden fragrance chemicals that lots of people are sensitive to—that vent off into the air we breath and rub off on our clothes and then onto our skin. Yikes! And the kicker is that dryer sheets aren't even necessary to our laundry—so they're just an extra source of exposure to toxic chemicals.
Dryer sheets are relatively simple products, generally made of a polyester sheet that's been covered in a fabric softener chemical and, usually, fragrance chemicals. The amount of fragrance used in dryer sheets can be significant, representing up to 10 percent of the contents of the product. These chemicals rub off the dryer sheet and coat your clothing in a slimy layer that has the effect of making your clothes feel softer.
Recent tests of chemicals emitted from dryer sheets indicate the following chemicals are commonly emitted from popular dryer sheets. Many of these chemicals can also be found in the air emissions from dryer vents. Some of these chemicals are linked to serious health problems.
Fragrances can include tens to hundreds of different chemicals, some of which are toxic, and many of which are known allergens, like limonene and linalool. All fragrance chemicals are usually kept secret from consumers. Dryer sheets can contain volatile organic compounds like acetaldehyde and butane, which can cause respiratory irritation. Quats, a fabric softener chemical, is often part of a family of chemicals called quaternary ammonium compounds, many of which are linked to asthma. Acetone, used in dryer sheets, can cause nervous system effects like headaches or dizziness.
Not surprisingly, when asked, survey respondents frequently report adverse health effects from exposure to dryer vents. One study found nearly 11 percent of the respondents reported irritation from exposure to emissions from dryer vents vented outside. Nearly 40 percent of respondents who indicated that they were "chemically sensitive" reported irritation from dryer vent emissions.
Dryer sheets are single-use—which means that we're throwing them away after each round of laundry. Chemicals from dryer sheets can build up and clog your dryer's lint screen, making your dryer a lot less efficient. And, dryer sheets are totally unnecessary for actually making our clothes cleaner—we don't really need them, and so they're an easily-preventable source of exposure to toxic chemicals.
Women have tons of consumer power when it comes to demanding safe products. We make almost 85 percent of consumer decisions in the average home. This means that companies pay a lot of attention to what we buy—and what we don't buy. When we band together to stop buying a toxic product, we can have a huge impact on making the marketplace that much safer.
What's the alternative to toxic dryer sheets? You guessed it: wool balls. (Okay, maybe you didn't guess that). Dryer balls don't contain toxic chemicals, they last for thousands of loads, get rid of static cling and wrinkles, soften clothes, and they actually save time and energy by cutting down on drying time. Another alternative is throwing an old sweater in with your laundry to decrease drying time and reduce static.
Exercise your consumer power. Join women all over the country in taking the Ditch the Dryer Sheets pledge. This is one unnecessary, toxic product that you can feel good about not spending your money on.
EcoWatch Daily Newsletter
Penguins are seen near the Great Wall station in Antarctica, Feb. 9, days after the continent measured its hottest temperature on record at nearly 65 degrees Fahrenheit. Xinhua / Liu Shiping / Getty Images
By Richard Connor
Scientists have recorded Antarctica's first documented heat wave, warning that animal and plant life on the isolated continent could be drastically affected by climate change.
The Athos I tanker was carrying crude oil from Venezuela when a collision caused oil to begin gushing into the Delaware River.
U.S. Department of the Interior
A case that has bounced around the lower courts for 13 years was finally settled yesterday when the U.S. Supreme Court upheld a lower court decision, finding oil giant Citgo liable for a clean up of a 2004 oil spill in the Delaware River, according to Reuters.
The buildings of downtown Los Angeles are partially obscured in the late afternoon on Nov. 5, 2019, as seen from Pasadena, California, a day when air quality for Los Angeles was predicted to be "unhealthy for sensitive groups." Mario Tama / Getty Images
The evidence continues to build that breathing dirty air is bad for your brain.
Wave power in Portugal. The oceans' energy potential is immense. Luis Ascenso, via Wikimedia Commons
By Paul Brown
The amount of energy generated by tides and waves in the last decade has increased tenfold. Now governments around the world are planning to scale up these ventures to tap into the oceans' vast store of blue energy.
Yellowstone National Park closed to visitors on March 24, 2020 because of the Covid-19 virus threat. William Campbell-Corbis via Getty Images
When the novel coronavirus started to sweep across the country, the National Park Service started to waive entrance fees. The idea was that as we started to practice social distancing, Americans should have unfettered access to the outdoors. Then the parking lots and the visitor centers started to fill up, worrying park employees.