Why You Need to Ditch Dryer Sheets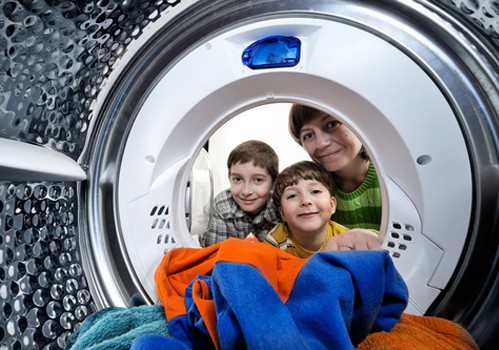 Wait a minute—how do dryer sheets do that?Mmm, the fresh scent of laundry that's been dried with dryer sheets.
Unfortunately, dryer sheets can contain some harmful chemicals—including hidden fragrance chemicals that lots of people are sensitive to—that vent off into the air we breath and rub off on our clothes and then onto our skin. Yikes! And the kicker is that dryer sheets aren't even necessary to our laundry—so they're just an extra source of exposure to toxic chemicals.
Dryer sheets are relatively simple products, generally made of a polyester sheet that's been covered in a fabric softener chemical and, usually, fragrance chemicals. The amount of fragrance used in dryer sheets can be significant, representing up to 10 percent of the contents of the product. These chemicals rub off the dryer sheet and coat your clothing in a slimy layer that has the effect of making your clothes feel softer.
Recent tests of chemicals emitted from dryer sheets indicate the following chemicals are commonly emitted from popular dryer sheets. Many of these chemicals can also be found in the air emissions from dryer vents. Some of these chemicals are linked to serious health problems.
Fragrances can include tens to hundreds of different chemicals, some of which are toxic, and many of which are known allergens, like limonene and linalool. All fragrance chemicals are usually kept secret from consumers. Dryer sheets can contain volatile organic compounds like acetaldehyde and butane, which can cause respiratory irritation. Quats, a fabric softener chemical, is often part of a family of chemicals called quaternary ammonium compounds, many of which are linked to asthma. Acetone, used in dryer sheets, can cause nervous system effects like headaches or dizziness.
Not surprisingly, when asked, survey respondents frequently report adverse health effects from exposure to dryer vents. One study found nearly 11 percent of the respondents reported irritation from exposure to emissions from dryer vents vented outside. Nearly 40 percent of respondents who indicated that they were "chemically sensitive" reported irritation from dryer vent emissions.
Dryer sheets are single-use—which means that we're throwing them away after each round of laundry. Chemicals from dryer sheets can build up and clog your dryer's lint screen, making your dryer a lot less efficient. And, dryer sheets are totally unnecessary for actually making our clothes cleaner—we don't really need them, and so they're an easily-preventable source of exposure to toxic chemicals.
Women have tons of consumer power when it comes to demanding safe products. We make almost 85 percent of consumer decisions in the average home. This means that companies pay a lot of attention to what we buy—and what we don't buy. When we band together to stop buying a toxic product, we can have a huge impact on making the marketplace that much safer.
What's the alternative to toxic dryer sheets? You guessed it: wool balls. (Okay, maybe you didn't guess that). Dryer balls don't contain toxic chemicals, they last for thousands of loads, get rid of static cling and wrinkles, soften clothes, and they actually save time and energy by cutting down on drying time. Another alternative is throwing an old sweater in with your laundry to decrease drying time and reduce static.
Exercise your consumer power. Join women all over the country in taking the Ditch the Dryer Sheets pledge. This is one unnecessary, toxic product that you can feel good about not spending your money on.
Wikimedia Commons
By Stacy Malkan
Neil deGrasse Tyson has inspired millions of people to care about science and imagine themselves as participants in the scientific process. What a hopeful sign it is to see young girls wearing t-shirts emblazoned with the words, "Forget princess, I want to be an astrophysicist."
Keep reading...
Show less
www.youtube.com
By Andy Rowell
Any day now we will truly witness climate change in action. Within days at worst, maybe weeks at best, scientists predict that a huge section of the Larsen C ice shelf in Antarctica will break off into the ocean, in what is called a major "carving" event.
Keep reading...
Show less
www.youtube.com
President Trump visited Cedar Rapids, Iowa on June 21 to speak to a large crowd in the U.S. Cellular Center at a political rally organized by his campaign.
As Trevor Noah noted during The Daily Show episode last night (starts at 2:25), the real reason Trump has these rallies is to "get back in front of his loyal crowds and feed of their energy." Noah believes that "Trump supporters are so on board with their dude he can say anything and they'll come along for the ride."
Keep reading...
Show less
The Kamuthi solar plant in the southern Indian state of Tamil Nadu.
The rapid growth in renewable energy continues to put a dent in the demand for coal.
Coal India, the world's biggest coal mining company and producer of 82 percent of the country's coal, announced the closure of 37 mines that are financially "unviable."
Keep reading...
Show less
www.youtube.com
By Katie O'Reilly
Two years ago—long before coal became one of the most dominant and controversial symbols of the 2016 presidential election—Bloomberg Philanthropies approached production company RadicalMedia with the idea of creating a documentary exploring the U.S. coal mining industry. Last spring, they brought on Emmy-nominated director Michael Bonfiglio, tasked with forging a compelling story out of the multitudes of facts, statistics and narratives underlying the declining industry.
Keep reading...
Show less
Mayors for 100% Clean Energy
Keep reading...
Show less
www.youtube.com
Thanks to Newsy for their coverage on Thursday's news that the U.S. Fish and Wildlife Service removed grizzly bears in the Greater Yellowstone region from the Endangered Species List.
Watch above as Newsy explains that the decision comes despite serious concerns from the environmental and scientific community, and Tribal Nations about a declining, isolated grizzly bear population with diminishing food resources and record-high mortalities.
Keep reading...
Show less
www.facebook.com
By Francine Kershaw
Seismic airguns exploding in the ocean in search for oil and gas have devastating impacts on zooplankton, which are critical food sources for marine mammals, according to a new study in Nature. The blasting decimates one of the ocean's most vital groups of organisms over huge areas and may disrupt entire ecosystems.
And this devastating news comes on the heels of the National Marine Fisheries Service's proposal to authorize more than 90,000 miles of active seismic blasting. Based on the results of this study, the affected area would be approximately 135,000 square miles.
Keep reading...
Show less
By Jill Richardson
Is coconut oil:
good for you
bad for you
neither good nor bad
scientists don't know
The subject of this question is the source of a disagreement. Initially, the question was thought to be settled decades ago, when scientist Ancel Keys declared all saturated fats unhealthy. Coconut oil, which is solid at room temperature, is a saturated fat.
Keep reading...
Show less


Get EcoWatch in your inbox