Why You May Never Want to Eat Shrimp Again
By Jill Richardson
Shrimp cocktail makes a great finger food for holiday parties. Right? Only if you have no idea how those crustaceans were produced. Because if you did,  you wouldn't want to eat shrimp again.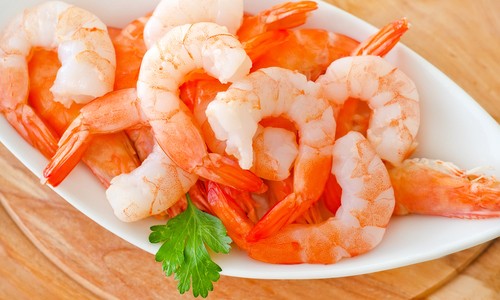 Before I go on, I'll say this: There is good shrimp out there. Monterey Bay Aquarium provides a  list of decent sources. The tricky part is knowing which is which.
Even in the best case, you know which country it's from and whether it's farmed or wild. But odds are you won't know how it was farmed or how it was caught, so you're basically no wiser than you were before you got those tidbits of information.
My rule of thumb is that retailers and restaurants will always tell you when food is extra-good because they'll want to charge you for it.
Why offer up organic fruit or wild Alaskan salmon or heritage turkey unless you can make an extra buck? When food isn't labeled, it's probably the cheapest stuff out there.
So back to the mystery coconut shrimp on that tray at the party this weekend. What's in it? Where did it come from?
By the numbers, shrimp is America's No. 1 seafood by a long shot, and a whopping 85 percent of the shrimp we eat is imported. Some is farmed, and some is wild. And when it arrives in the U.S., almost none of this food is ever inspected.
When it is inspected, some of the top reasons it's rejected are "filth," salmonella and residues of banned veterinary drugs. (Hungry yet?)
Overseas, shrimp is often farmed in ponds that are treated with a long list of chemicals: urea, superphosphate, diesel, piscicides (fish-killing chemicals like chlorine and rotenone), pesticides, antibiotics (including some that are banned in the U.S.), sodium tripolyphosphate (a suspected neurotoxin), borax and occasionally caustic soda.
The ponds are made near the ocean, relying on the tide to refresh the water and carry shrimp excrement out to sea. The area around the ponds turns into a dead zone.
A recently published paper on life in a shrimp-farming area in Bangladesh describes how shrimp farming wrecks the land and the economy, making life practically unlivable for the locals.
A more responsible way to farm shrimp is in closed, inland ponds. And there are responsibly caught wild shrimp too, like the pink shrimp caught in Oregon or spot prawns caught in the Canadian Pacific.
Thankfully, wild caught shrimp aren't treated with a long list of unspeakably gross chemicals like farmed shrimp can be.
But, far too often, wild shrimp are caught with methods that result in a lot of bycatch—the other species of marine life accidentally swept up and then tossed dead and dying over the side of the ship. For every pound of shrimp you eat, imagine five to 20 pounds of other species that died too.
When you pick up a cocktail shrimp off an hors d'oeuvre tray, of course you aren't wishing for the needless deaths of other sea creatures. Nor are you wishing for the devastation of villages in far away countries like Bangladesh. But that could be part of the story that brought the shrimp to the freezer section of your local store at such a great price.
And, honestly, given how disgusting shrimp farming methods can be, and how poorly inspected they are at our ports, I don't care how good they taste. I'm not going to risk it. Researchers tested imported ready-to-eat shrimp, and they found 162 separate species of bacteria with resistance to 10 different antibiotics. Yuck!
Visit EcoWatch's FOOD page for more related news on this topic.

Bill Maher is sick of billionaires' obsession with Mars, more like "Mars-a-Lago," he said.
In a new animation produced by ATTN:, the popular talk show host of Real Time, discusses the perils of our planet, including how "climate change is killing us."
Keep reading...
Show less
Dr. Benjamin D. Santer, research scientist
A group of prominent climate scientists have written a study explicitly refuting statements made by the U.S. Environmental Protection Agency Administrator Scott Pruitt on climate data. During his Senate confirmation hearing, Pruitt claimed in a written response that satellite data shows a "leveling off" of warming over the past two decades.
Keep reading...
Show less
By David Pomerantz
The Nevada Assembly passed a bill Wednesday that would dramatically increase the growth of renewable energy in the state, but Sheldon Adelson, the casino magnate and major donor to Donald Trump, is attempting to prevent the bill from becoming law.
Keep reading...
Show less
Matt Crossick
By Yosola Olorunshola
Whether it's through fashion or protest, Vivienne Westwood is not a woman afraid of making a statement.
On May 23, she rocked up to the residence of the Archbishop of Canterbury in London with a special guest—the Grim Reaper—to issue a strong statement on the Church of England's position on fracking.
Keep reading...
Show less
Military veterans from across Virginia released a letter Thursday opposing two proposed fracked-gas pipelines: Dominion Energy's Atlantic Coast Pipeline and EQT's Mountain Valley Pipeline. These pipelines would cross through pristine areas of Virginia, taking private property by use of eminent domain, removing mountain ridgetops and threatening valuable drinking water resources. The veterans view this as contrary to their service to protect and defend the freedom and security of American citizens.

Keep reading...
Show less
By Paul Brown
The food industry and big agricultural concerns are driving climate change and at the same time threatening to undermine efforts to feed the world's growing population, according to GRAIN, an organization that supports small farmers.
Particularly singled out for criticism are the large chemical fertilizer producers that have gained access to the United Nations talks on climate change. GRAIN accuses them of behaving like the fossil fuel companies did in the 1990s, pushing false information in the hope of delaying real action on climate change.
Keep reading...
Show less
May. 24, 2017 06:55PM EST
By Sydney Robinson
President Trump has no doubt been given a long list of extravagant, elaborate gifts in his lifetime, but the gift given to him today by Pope Francis may not make it on his most favorite list.
Keep reading...
Show less
May. 24, 2017 07:17PM EST
By John Rogers
Maybe it's because I first started working on clean energy while serving in the Peace Corps he founded, or maybe it's my years of working on these issues from his home state. But I can't help thinking about the 100th anniversary of John F. Kennedy's birth, and connecting his stirring rhetoric to the energy challenges of our times.
Here's what our 35th president might have said about the challenges of energy transition and the opportunities in clean energy:
"Change is the law of life. And those who look only to the past or present are certain to miss the future."
Keep reading...
Show less


Get EcoWatch in your inbox