Why Would 46 Senators Support Burning Trees for Electricity When It Contributes More to Climate Change Than Coal?
Jul. 09, 2015 12:34PM EST
Climate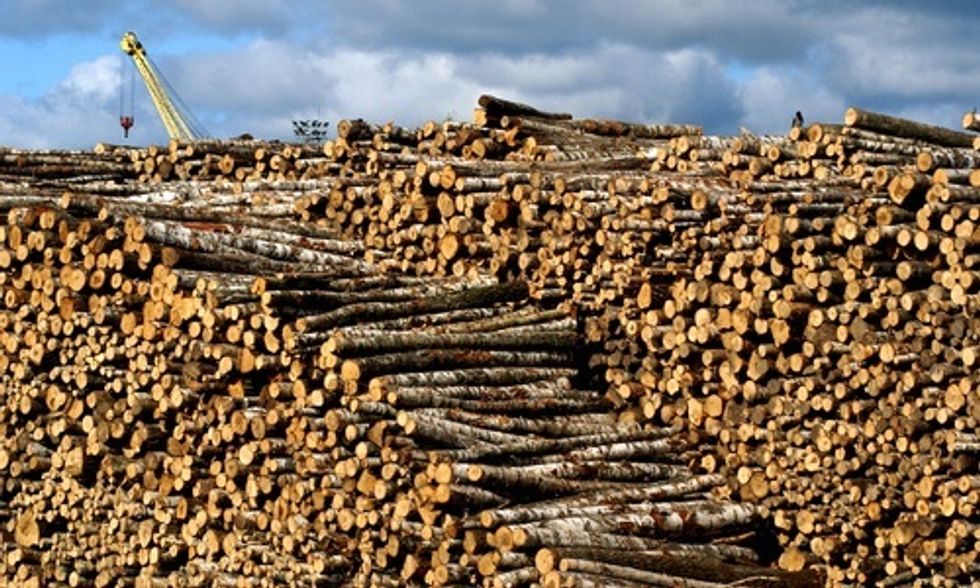 Chopping down trees and feeding them to power plants for electricity is a genuinely awful idea. It hurts biodiversity, belches toxic chemicals and contributes more to climate change than coal—all while masquerading as a source of clean "renewable" energy.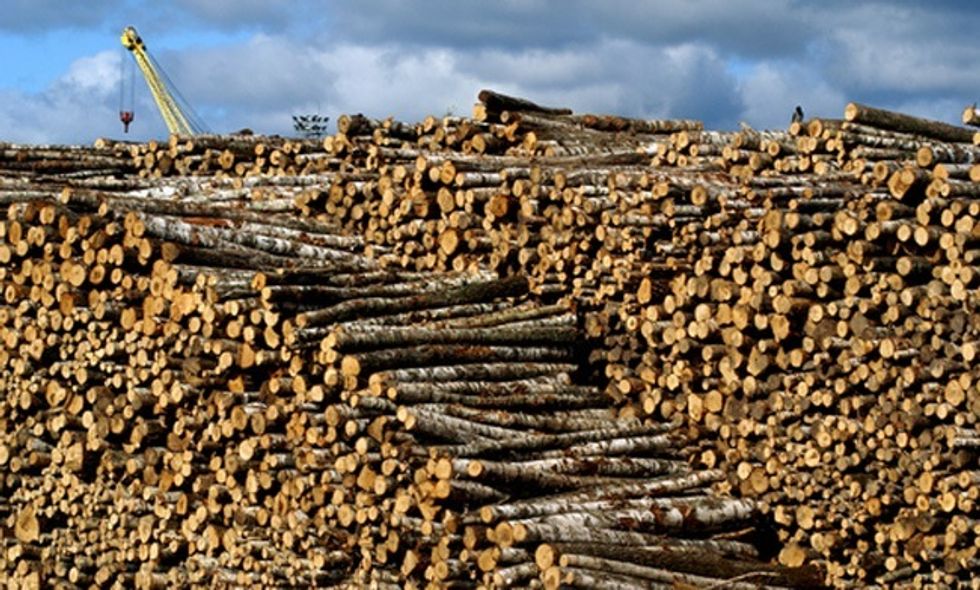 Photo credit: Shutterstock
Unfortunately, none of this stopped 46 senators from publicly endorsing the idea last week. Led by Sen. Susan Collins (R-ME) and Sen. Jeff Merkley (D-OR), the group wrote a letter to the U.S. Environmental Protection Agency, U.S. Department of Agriculture and Department of Energy demanding that the agencies accept something that is clearly, demonstrably false: that biomass power is carbon neutral. While the letter was chock full of anti-science Senators like David Vitter (R-LA), others like Diane Feinstein (D-CA) and Jeanne Shaheen (D-NH) fancy themselves climate leaders and should know better.
The science is clear. Sending whole trees through the smokestacks of power plants is a terrible way to generate electricity. Even using rosy accounting assumptions, it could take at least 50 years to work-off the carbon debt and break even with coal, meaning that burning wood now puts extra emissions into the atmosphere at precisely the time when reductions are most important. At the end of the day it is simply an inefficient source of electricity, emitting 50 percent more carbon than coal generating the same amount of energy. Leaving trees alone and allowing them to function as natural carbon sinks is a much more effective way to mitigate climate change.
The troubling part is that the timing of this letter wasn't an accident. Any day, the U.S. EPA is expected to release the final version of its Clean Power Plan, the rule designed to lower carbon emissions from power plants, and one of the biggest questions is how favorably the rule is going to treat biomass. This means that the senators are angling to make sure that as states implement the rule, wood biomass is guaranteed as an option.
You know to worry when supposed climate champions are willing to line up with outright deniers in order to promulgate an industry myth. The letter contains loads of lawmakers who hate the EPA and want to sabotage the Clean Power Plan, including avowed climate deniers like Bill Cassidy (R-LA) and Shelley Moore Capito (R-WV). Also on the list are senators like Cory Gardner (R-CO) who sometimes admit that climate change is real, but who avidly supports doing nothing about it.
On the other side of the spectrum, these deniers have some strange company. Sen. Jeff Merkley led the charge for the democrats, and he has lifetime score from the League of Conservation Voters of 98 percent. He was joined by other high profile environmental champions like Dianne Feinstein (D-CA) and Al Franken (D-MN), who boast lifetime scores of 89 and 93 percent respectively.
Really, the only thing these lawmakers have in common is a commitment to taking money from timber. Last November the industry poured more than $1.5 million into contested senate races, and unsurprisingly Merkley and Collins both did rather well with $40,399 and $35,250 each.
The senate isn't the only place timber has been investing. Over in the House the industry spent more than $2.9 million on the last election, so it's not particularly surprising that a funding bill that was debated this week includes a massive industry giveaway. Ostensibly, the bill is meant to provide money for the EPA and the Department of the Interior, but snuck into the text is a provision that would require the EPA to ignore all of its previous research and pretend that burning wood biomass is categorically carbon neutral.
Fudging the math to create the illusion of progress doesn't actually keep carbon out of the atmosphere, and while these anti-science attacks are a familiar song from deniers, our climate champions should know better than to play along. Lowering emissions means honestly accounting for where our emissions come from—whether it be agriculture, transportation or electricity—and acting from there to make reductions. Pretending that one of these sources doesn't exist at all is just another species of denial.
YOU MIGHT ALSO LIKE
Teens Continue Fight to Make State Take Action on Climate Change
10 Reasons Bernie Sanders Is 'Rockin' in the Free World'
EcoWatch Daily Newsletter