Why Would 46 Senators Support Burning Trees for Electricity When It Contributes More to Climate Change Than Coal?
Chopping down trees and feeding them to power plants for electricity is a genuinely awful idea. It hurts biodiversity, belches toxic chemicals and contributes more to climate change than coal—all while masquerading as a source of clean "renewable" energy.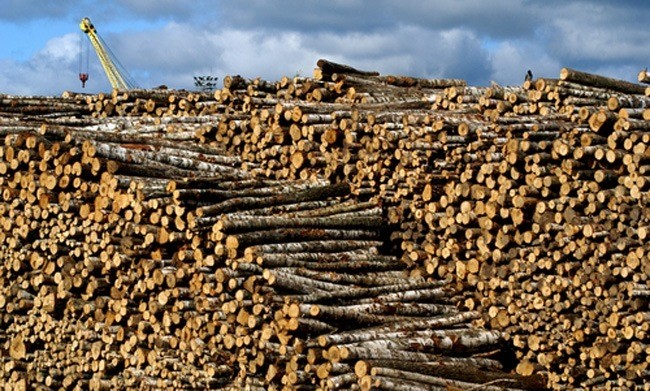 Photo credit: Shutterstock
Unfortunately, none of this stopped 46 senators from publicly endorsing the idea last week. Led by Sen. Susan Collins (R-ME) and Sen. Jeff Merkley (D-OR), the group wrote a letter to the U.S. Environmental Protection Agency, U.S. Department of Agriculture and Department of Energy demanding that the agencies accept something that is clearly, demonstrably false: that biomass power is carbon neutral. While the letter was chock full of anti-science Senators like David Vitter (R-LA), others like Diane Feinstein (D-CA) and Jeanne Shaheen (D-NH) fancy themselves climate leaders and should know better.
The science is clear. Sending whole trees through the smokestacks of power plants is a terrible way to generate electricity. Even using rosy accounting assumptions, it could take at least 50 years to work-off the carbon debt and break even with coal, meaning that burning wood now puts extra emissions into the atmosphere at precisely the time when reductions are most important. At the end of the day it is simply an inefficient source of electricity, emitting 50 percent more carbon than coal generating the same amount of energy. Leaving trees alone and allowing them to function as natural carbon sinks is a much more effective way to mitigate climate change.
The troubling part is that the timing of this letter wasn't an accident. Any day, the U.S. EPA is expected to release the final version of its Clean Power Plan, the rule designed to lower carbon emissions from power plants, and one of the biggest questions is how favorably the rule is going to treat biomass. This means that the senators are angling to make sure that as states implement the rule, wood biomass is guaranteed as an option.
You know to worry when supposed climate champions are willing to line up with outright deniers in order to promulgate an industry myth. The letter contains loads of lawmakers who hate the EPA and want to sabotage the Clean Power Plan, including avowed climate deniers like Bill Cassidy (R-LA) and Shelley Moore Capito (R-WV). Also on the list are senators like Cory Gardner (R-CO) who sometimes admit that climate change is real, but who avidly supports doing nothing about it.
On the other side of the spectrum, these deniers have some strange company. Sen. Jeff Merkley led the charge for the democrats, and he has lifetime score from the League of Conservation Voters of 98 percent. He was joined by other high profile environmental champions like Dianne Feinstein (D-CA) and Al Franken (D-MN), who boast lifetime scores of 89 and 93 percent respectively.
Really, the only thing these lawmakers have in common is a commitment to taking money from timber. Last November the industry poured more than $1.5 million into contested senate races, and unsurprisingly Merkley and Collins both did rather well with $40,399 and $35,250 each.
The senate isn't the only place timber has been investing. Over in the House the industry spent more than $2.9 million on the last election, so it's not particularly surprising that a funding bill that was debated this week includes a massive industry giveaway. Ostensibly, the bill is meant to provide money for the EPA and the Department of the Interior, but snuck into the text is a provision that would require the EPA to ignore all of its previous research and pretend that burning wood biomass is categorically carbon neutral.
Fudging the math to create the illusion of progress doesn't actually keep carbon out of the atmosphere, and while these anti-science attacks are a familiar song from deniers, our climate champions should know better than to play along. Lowering emissions means honestly accounting for where our emissions come from—whether it be agriculture, transportation or electricity—and acting from there to make reductions. Pretending that one of these sources doesn't exist at all is just another species of denial.
YOU MIGHT ALSO LIKE
Teens Continue Fight to Make State Take Action on Climate Change
10 Reasons Bernie Sanders Is 'Rockin' in the Free World'
iStock
By Robert Coleman
The Environmental Working Group's (EWG) just-released Tap Water Database shows that a startling number of cancer-causing chemicals contaminate the nation's drinking water. Of 250 different contaminants detected in tests by local utilities, 93 are linked to an increased risk of developing cancer.
Keep reading...
Show less
Aaron Teasdale
By Aaron Teasdale
"How much moon do we have tonight?" I yelled to my friend Greg, trying to make myself heard over the sounds of wind and surging water. The sun was sinking toward the mountains all too quickly and our float-in campsite lay somewhere down the river's bends in darkening forest.
Greg shrugged. He had no clue of the moon's cycle either, which showed just how tragically pasty and over-civilized we'd turned. Our days had become filled with computer screens, not forest scenes; our nights capped with ceilings, not stars. All of which made this journey on standup paddleboards so sweet—or at least we hoped it would be sweet, if the pesky headwind would let up before we had to risk disfiguring ourselves while navigating boulder-strewn waters by headlamp and whatever light the moon might spare.
Keep reading...
Show less
By Rebekah Wilce
The world of independent chemical testing has a shiny veneer. The public is reassured that chemicals they're exposed to on a daily basis are certified by technicians in spotless white lab coats who carefully conduct scientific studies, including on animals in neat rows of cages.
But a federal grand jury investigation that ended with convictions in the early 1980s discovered that Industrial Bio-Test Laboratories (IBT), the largest such lab in the U.S., conducted trials with mice that regularly drowned in their feeding troughs. The dead animals would decompose so quickly that "their bodies oozed through wire cage bottoms and lay in purple puddles on the dropping trays." IBT even invented an acronym "TBD/TDA" for its raw safety data, later discovered to mean "too badly decomposed."
Keep reading...
Show less
iStock
Roman officials are considering shutting off the water supply to one-third of the city's residents for eight hours per day as early as this weekend, according to reports.
Keep reading...
Show less
Ararat Rock Solar farm in Mount Airy, North Carolina. NARENCO
North Carolina Gov. Roy Cooper signed a bill into law Thursday that will boost solar production but curb wind energy in the state.
House Bill 589, the result of months of arduous negotiations between utilities and the solar industry, is intended to encourage the continued growth of solar in the state, but it includes a moratorium on new wind projects for the next 18 months.
Keep reading...
Show less
Algal blooms in Lake St. Clair and in western Lake Erie in 2015. NASA Earth Observatory
Heavier rainfall linked to rising temperatures could substantially increase the volume of agricultural runoff flowing into waterways, triggering toxic algal blooms, according to new research.
A study published Thursday in the journal Science finds that heavier rainfall could increase nitrogen runoff in U.S. lakes, rivers and streams by 19 percent by the end of this century.
Keep reading...
Show less
iStock
By Jen Sawada
Sharks have been around for 400 million years, before the time of the dinosaurs, but there's much more to them than big teeth and summer blockbusters. Consider these facts, which will change what you think about sharks.
Keep reading...
Show less
Felix Kramer / Wikimedia
By Jason Mathers
The high level of confidence that automotive industry leaders have in the future of electric vehicles (EVs) has been on full display recently.
Keep reading...
Show less


Get EcoWatch in your inbox