Why Women Are Central to Climate Justice and Solutions
Sep. 24, 2015 01:36PM EST
Climate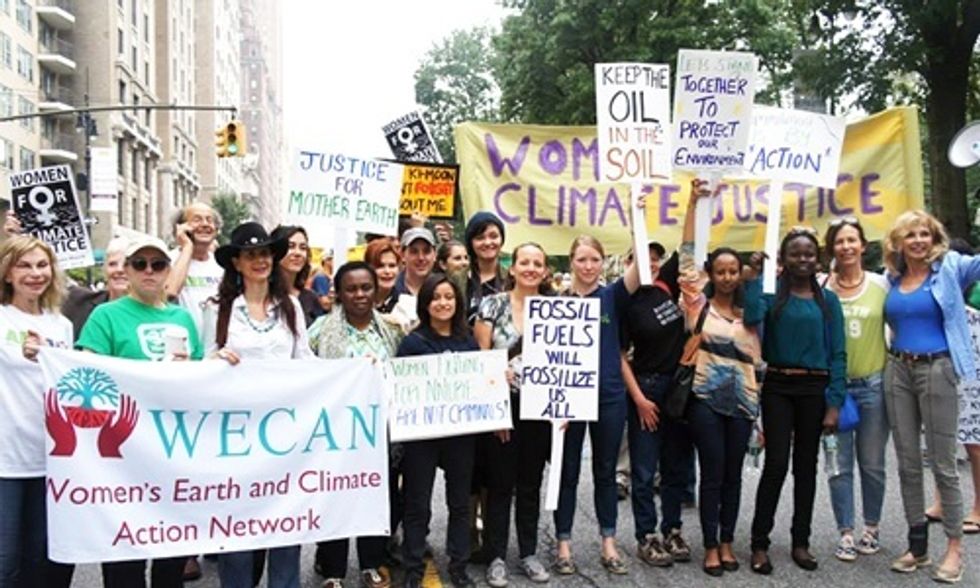 Women comprise roughly 20 million of the 26 million people estimated to have been displaced by climate change since 2010. When extreme weather events hit, when rivers run dry or flood over, when droughts destroy crops, when forests are cleared, when contaminated water leaks from fossil fuel extraction sites—women are the most critically impacted.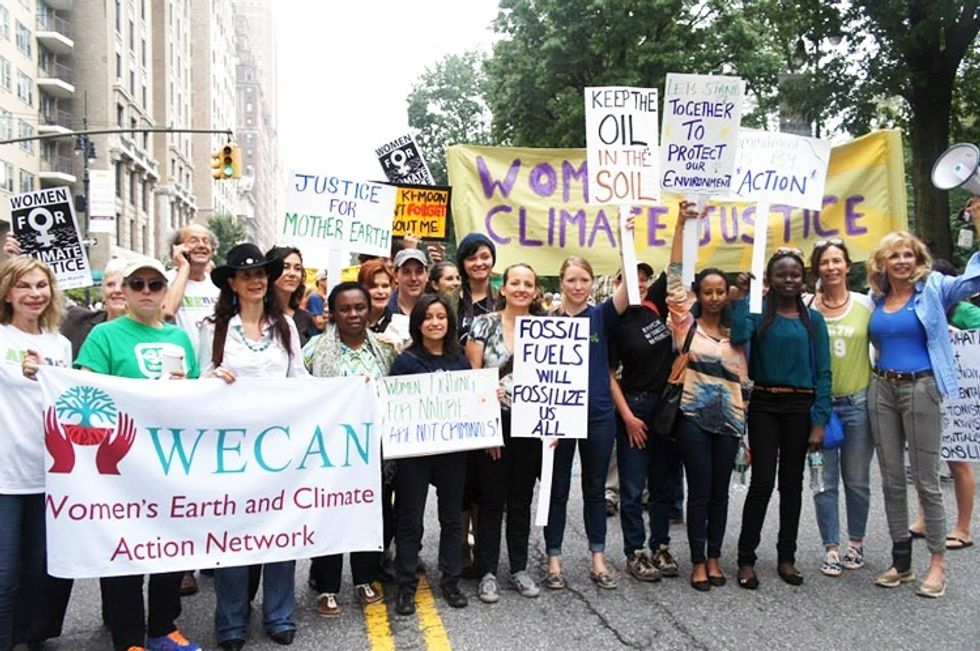 Women stand for climate justice. Photo credit: Emily Arasim
There are many unique circumstances and place-based conditions that account for the disproportionate hardships that women experience, but the bottom line is that women are more affected by environmental devastation and climate change because, at a global scale, their basic rights continue to be denied. Tangentially, there is a clear link between poverty and who climate change impacts first and worst—and women make up the greatest percentage of the worlds poor.
Gender discrimination reduces women's physical mobility, economic independence, freedom of expression and opportunity in many regions of the world. The effects of this inequality are plainly reflected in disaster mortality statistics. As an example, Sri Lanka's 2004 tsunami killed nearly one in five displaced women, more than two times the mortality of displaced men.
While there is no denying the systemic links between the climate crisis, our extractive economic model and the ongoing exploitation and disempowerment of women—one of the most inspiring and untold stories of the ongoing crisis is in fact not about women's vulnerability, but about the dynamic power and diversity of the women's movement for climate justice.
Women around the world are saying loud and clear: "We are not victims! We are the solution!" And they are absolutely right.
Women stand on the frontlines of global efforts to revision and heal our world. Their experiences and leadership must be recognized and engaged as central to climate justice and forward momentum towards a livable future.
Women farmers cultivate 60 to 80 percent of household food in developing countries and continually show themselves to be the most effective stewards and guardians of the biodiversity, water, soil, seeds and plants that sustain all life on Earth. UN studies have repeatedly shown that water conservation and protection projects simply don't work if women are not engaged.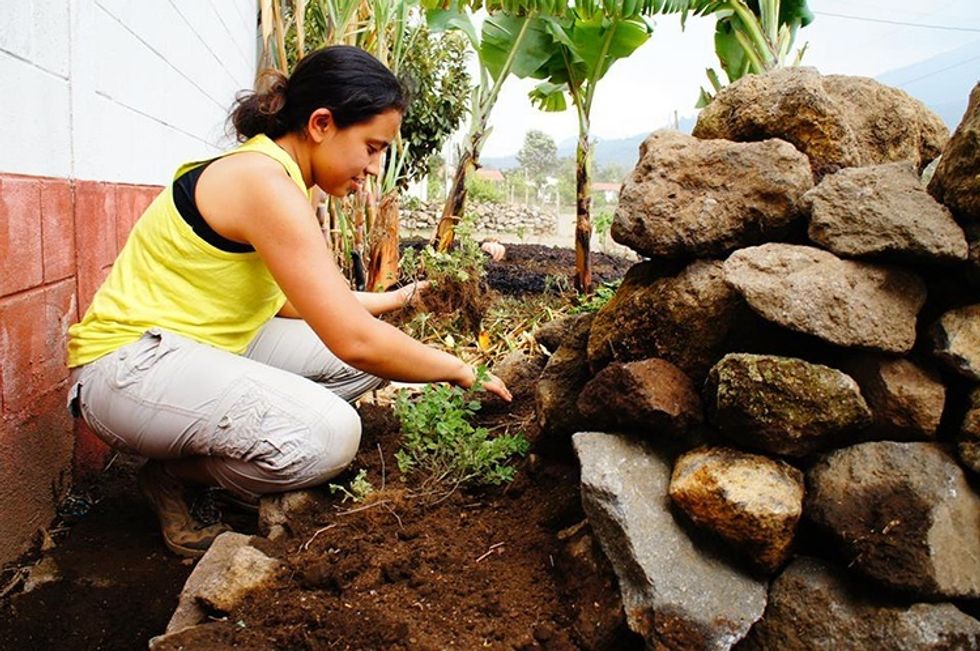 Women farmers feed the world. They are central guardians of water, soil and seeds. Photo credit: Emily Arasim
Women's involvement in decision-making has important implications for climate change—a study of 130 countries found that countries with higher female parliamentary representation are more prone to ratify international environmental treaties.
In the U.S. and Canada, women hold 80 percent of all purchasing power. Just take a moment to image the kind of rapid and transformative changes that could happen if North American women started advocating for 100 percent renewable energy, local agriculture, circular economies and action to address unsustainable consumption.
In diverse ways and in many different places, women are modeling small-scale solutions with potentially huge impacts, from the Solar Sister organization providing solar light and local businesses for women in rural regions of Africa, to women constructing wind-resistant housing in Bangladesh. Women are reminding us that we cannot address climate change using the same frameworks and mindsets that got us into this crisis. Rather, we must move from top-down, solely market-based solutions to holistic, community based and decentralized processes.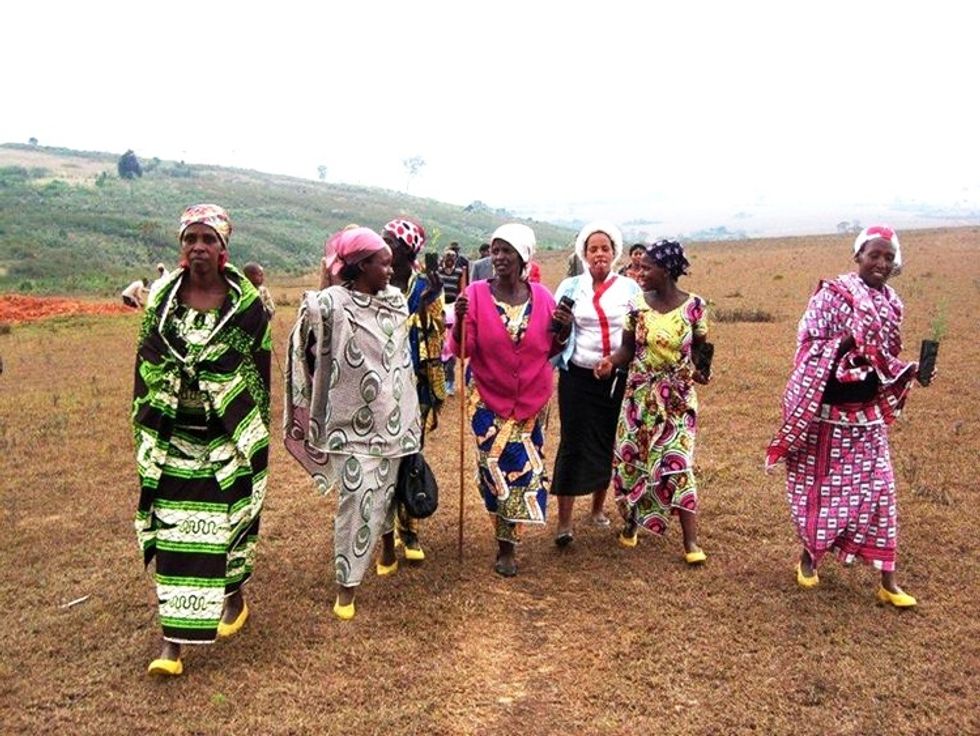 Women of the Democratic Republic of Congo organizing to stop deforestation and protect the rainforests of their region as part of a WECAN International regional climate solutions initiative. Photo credit: Neema Namadamu
For an in-depth analysis about why women are central to climate solutions and a comprehensive plan-of-action moving forward, please see the Women's Climate Action Agenda.
To be clear, the focus on women is not about putting men down but rather about lifting women up. We need to challenge patriarchy and colonial mindsets and we need to have the courage to change everything about how we are living with each other and the planet.
This December, world governments will meet for pivotal United Nations (UN) COP21 climate negotiations in Paris, where they will work to finalize a climate agreement with serious implications for the present and future of all life on Earth. Women's leadership and the implementation of gender-responsive climate policy has never been more vital.
Aware of the critical nature of this moment, the Women's Earth & Climate Action Network (WECAN International) has called for a Global Women's Climate Justice Day of Action on Sept. 29.
The Global Women's Climate Justice Day of Action is a call for women and allies around the world to take action and tell stories about the climate impacts their communities are facing and the alternative visions that they offer. It is an opportunity to demonstrate why uplifting women's struggles, insights and solutions around climate change is so vital.
Photos and statements are being collected on a central Global Women's Climate Justice Day of Action gallery, from where they will be amplified worldwide via social media, print and digital news.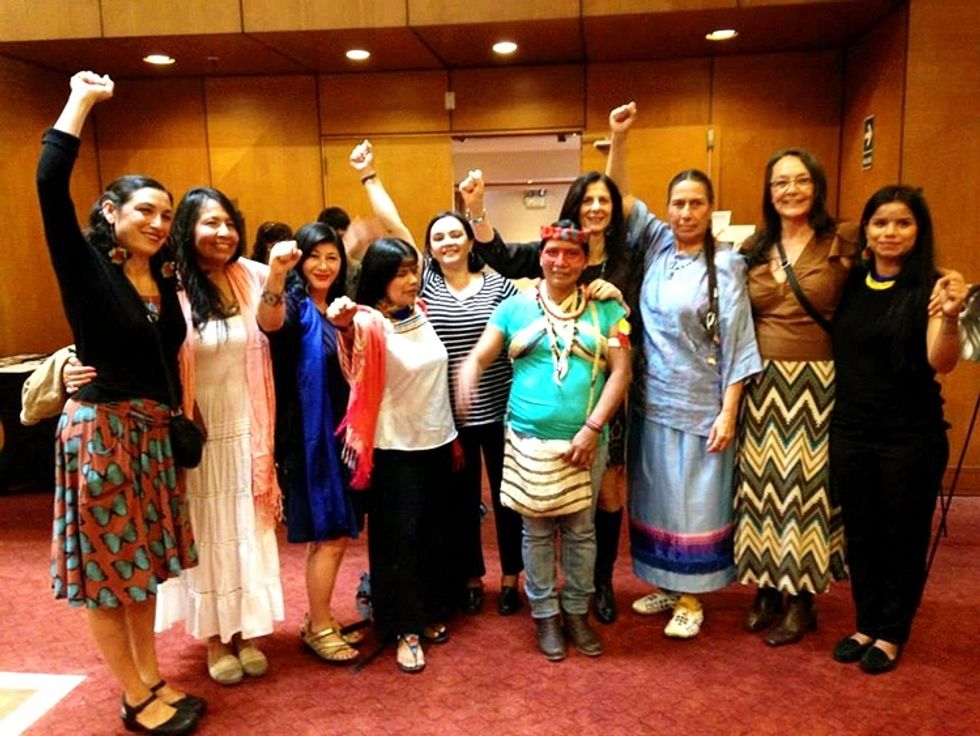 Indigenous women leaders at a Women's Earth and Climate Action Network event in Lima, Peru. Photo credit: WECAN International
While allies hold decentralized actions around the world, WECAN International will present "Women Speak" hub event right across the street from the UN, adding an extra sense of urgency and power to day of action.
Through the "Women Speak: Climate Justice on the Road to Paris and Beyond" event and Global Women's Climate Justice Day of Action, we will expose false climate solutions (including carbon trading schemes, input-dependent agriculture, geo-engineering, shale gas and nuclear power), while drawing attention to solutions that are just, effective and honor frontline communities. We are calling for action to leave 80 percent of remaining fossil fuels in the ground and just transition to 100 percent renewable energy by 2050.
Sept. 29th is also being used as a rallying point for signing and collecting signatures on the Women's Climate Declaration, a powerful climate justice manifesto presented in five languages and signed by leaders such as Jane Goodall, Vandana Shiva, Mary Robinson, Jody Williams, Casey Camp Horenik and Sylvia Earle. The declaration will be delivered to world governments at COP21 this December.
You can participate with allies around the world in adding a voice to the Global Women's Climate Justice Day of Action by submitting a photo and statement to the Day of Action portal. No action is too small and every voice is critical.
We are all a part of the immune system of the Earth and at this critical time we are rising up to protect, heal and defend her. Please join us.
YOU MIGHT ALSO LIKE
96 Cities That Are Quitting Fossil Fuels and Moving Toward 100% Renewable Energy
Join National Day of Action Oct. 14 and Demand Leaders Tackle Climate Change
9 Celebrities #DemandClimateAction at Emmy's as Temperatures Reached 100ºF
EcoWatch Daily Newsletter
Recent Stories from EcoWatch