Why We Must Stop Drinking Bottled Water

Thursday was Use Less Stuff Day. It was created to inspire us to rethink the stuff we use. All our stuff—cell phones, clothes, cars, disposable chopsticks, and on and on—comes from somewhere and has to go somewhere when we throw it out. That takes a big toll on the planet, so thinking about how to use less is an excellent idea.
I've written a bunch about the real need to re-think our approach to the holidays and the mad shopping frenzy that comes with them.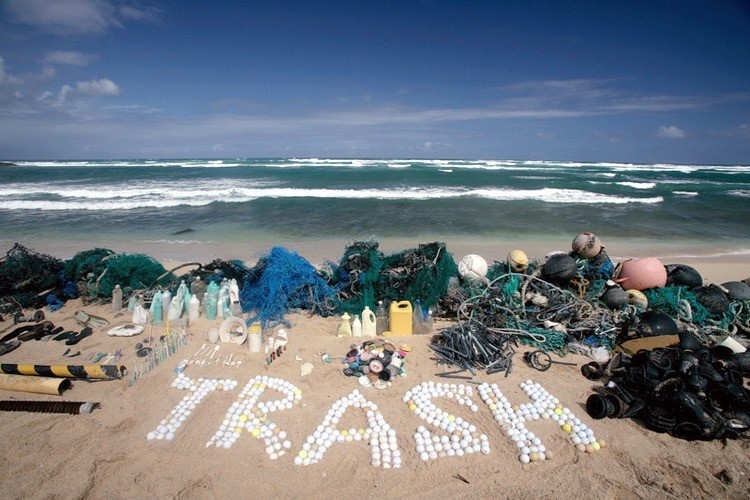 Plastic is displayed on a beach and the word '"TRASH"' is spelt out from golf balls. The wide variety of items shown in this image highlight the diverse range of sources from which the plastics in our oceans originate. This is part of the Ocean Defenders Campaign in which the Greenpeace ship Esperanza MV sails to the Pacific Ocean, sometimes referred to as the North Pacific garbage patch, to document the threat that plastic poses to the environment and sea life. Photo credit: © Greenpeace / Alex Hofford
When it comes to how we do spend our dollars, the product that jumps immediately to mind as obscenely wasteful, expensive and easily preventable is bottled water.
Let's dig a bit deeper into this. It's true that in some parts of the world the water quality is so poor that it's unsafe for people to drink. There are definitely some places in the U.S. where fracking or petrochemical plants have ruined the local water supply, but even then there are better solutions than forcing the community to buy bottled water! For the most part, tap water in the U.S. is clean, readily available and thousands of times cheaper than the bottled stuff.
A four-year review of the bottled water industry in the U.S. and the safety standards that govern it, including independent testing of over 1,000 bottles of water found that there is no assurance that just because water comes out of a bottle it is any cleaner or safer than water from the tap. In fact tap water is tested more frequently than bottled water.
Where does bottled water come from?
If you take the million-dollar marketing at face value, you'd be forgiven for believing that $2 buys you glacier water from a pristine stream somewhere virtually untouched. In fact, a lot of the bottled water sold in the U.S. is just treated water from our municipal water systems; the same place our tap water comes from.
If that doesn't strike you as ridiculous, here's a really shocking example of where bottled water comes from.
While California's in the middle of a historic drought, Nestle—the largest bottler of water in the world—is drawing millions of gallons of water a year from public lands in the San Bernardino National Forest of Southern California. Using a permit that actually expired in 1988, Nestle is able to take huge amounts of water off public lands while paying the Forest Service just $524 a year. So while California's Governor has proclaimed a state of emergency because of water shortages, Nestle's profiting from the little that's left. Does that make sense to you?
As for the plastic containers that bottled water comes in, plastic's made from oil and there's nothing good about drilling that stuff up. To avoid more drilling, ideally all plastic would get recycled over and over, but that's not what happens.
Less than one-third of plastic bottles in the U.S. currently get recycled. Litter, runoff from poorly managed landfills, and other sources mean that plastic bottles often end up out at sea or polluting our coastlines. This is where some really depressing problems start. Plastic doesn't break down like natural materials—it doesn't go away, it just goes from being a floating bottle to tiny plastic particles that are easily eaten by fish and other marine species or simply spread even further afield. A single one-liter bottle could break down into enough small fragments to put one on every mile of beach in the entire world. Ten to 20 million tons of plastic end up in the ocean each year.
Bottled water is just one example of heavily marketed stuff that we could just as easily do without.
As you're planning your holidays with friends or family in the coming week, please try to think before you buy. Will this really make me happier? Could I borrow or share someone else's? Is there a less packaged or non-disposable version of this? Or perhaps I could just do without it altogether?
And please don't forget to ask everyone you spend Thanksgiving with to sign this petition to stop Nestle draining water from our public lands for profit.
Happy holidays!
YOU MIGHT ALSO LIKE
David Suzuki: We Have to Stop Killing Our Oceans With Plastic
22 Facts About Plastic Pollution (And 10 Things We Can Do About It)
Plastic Pollution = Cancer of Our Oceans: What Is the Cure?
These 5 Countries Account for 60% of Plastic Pollution in Oceans
Bill Maher is sick of billionaires' obsession with Mars, more like "Mars-a-Lago," he said.
In a new animation produced by ATTN:, the popular talk show host of Real Time, discusses the perils of our planet, including how "climate change is killing us."
Keep reading...
Show less
Dr. Benjamin D. Santer, research scientist
A group of prominent climate scientists have written a study explicitly refuting statements made by the U.S. Environmental Protection Agency Administrator Scott Pruitt on climate data. During his Senate confirmation hearing, Pruitt claimed in a written response that satellite data shows a "leveling off" of warming over the past two decades.
Keep reading...
Show less
By David Pomerantz
The Nevada Assembly passed a bill Wednesday that would dramatically increase the growth of renewable energy in the state, but Sheldon Adelson, the casino magnate and major donor to Donald Trump, is attempting to prevent the bill from becoming law.
Keep reading...
Show less
Matt Crossick
By Yosola Olorunshola
Whether it's through fashion or protest, Vivienne Westwood is not a woman afraid of making a statement.
On May 23, she rocked up to the residence of the Archbishop of Canterbury in London with a special guest—the Grim Reaper—to issue a strong statement on the Church of England's position on fracking.
Keep reading...
Show less
By Paul Brown
The food industry and big agricultural concerns are driving climate change and at the same time threatening to undermine efforts to feed the world's growing population, according to GRAIN, an organization that supports small farmers.
Particularly singled out for criticism are the large chemical fertilizer producers that have gained access to the United Nations talks on climate change. GRAIN accuses them of behaving like the fossil fuel companies did in the 1990s, pushing false information in the hope of delaying real action on climate change.
Keep reading...
Show less
May. 24, 2017 06:55PM EST
By Sydney Robinson
President Trump has no doubt been given a long list of extravagant, elaborate gifts in his lifetime, but the gift given to him today by Pope Francis may not make it on his most favorite list.
Keep reading...
Show less
May. 24, 2017 07:17PM EST
By John Rogers
Maybe it's because I first started working on clean energy while serving in the Peace Corps he founded, or maybe it's my years of working on these issues from his home state. But I can't help thinking about the 100th anniversary of John F. Kennedy's birth, and connecting his stirring rhetoric to the energy challenges of our times.
Here's what our 35th president might have said about the challenges of energy transition and the opportunities in clean energy:
"Change is the law of life. And those who look only to the past or present are certain to miss the future."
Keep reading...
Show less
May. 24, 2017 01:47PM EST
Keep reading...
Show less


Get EcoWatch in your inbox