This website uses cookies to ensure you get the best experience while browsing it. By clicking 'Got It' you're accepting these terms.
Why We Can't Frack Ourselves Out of an Energy Crisis
Jan. 24, 2014 09:44AM EST
Business
By Alex Kirby
A British businessman will tell world leaders meeting in Switzerland today that it is dangerous to argue that fracking for shale oil and gas can help to avert a global energy crisis.
Jeremy Leggett, a former Greenpeace staff member who founded a successful solar energy company, has been invited to the annual World Economic Forum (WEF) meeting this week in Davos. The theme of the meeting is "The Reshaping of the World: Consequences for Society, Politics and Business."
Leggett told the Climate News Network: "The WEF likes to deal in big ideas, and last year one of its ideas was to argue that the world can frack its way to prosperity. There are large numbers of would-be frackers in Davos.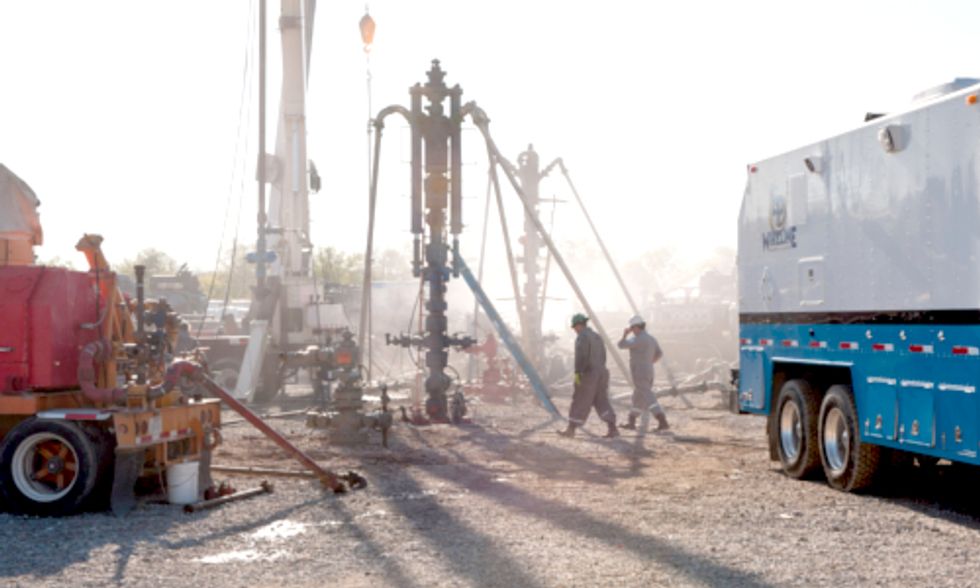 "I'm a squeaky wheel within the system. I'm in Davos to put the counter-arguments to big energy, and I'll tell them: 'You're in grave danger of repeating the mistakes of the financial services industry in pushing a hyped narrative.' This refers to the way in which banking leaders had "their particular comforting narrative catastrophically wrong, until the proof came along in the shape of the financial crash."
Leggett founded Solarcentury, the UK's fastest-growing solar electric company since 2000. He also established the charity SolarAid which aims to eradicate the kerosene lamp from Africa by 2020, and chairs the Carbon Tracker Initiative. His book, Half Gone: Oil, Gas, Hot Air and the Global Energy Crisis was published in 2005, and his latest, The Energy of Nations: Risk Blindness and the Road to Renaissance, in 2013.
'Sunset industry'
Leggett says the conventional oil industry is facing an imminent crisis, because existing crude oil reserves are declining fast, it is having to find the money for soaring capital expenditure, and the amount of oil available for export is falling.
"Big Oil is still extremely powerful and well-capitalized", he says, "but it is fast approaching sunset. The profitability of the big international groups—like Exxon, Shell and BP—is a real worry for investors, and they've been largely locked out of the easy oil controlled by national companies—just look at BP and Russia.
"Gas? Unless the price goes up, the whole U.S. shale gas industry is in danger of becoming a bubble, even a Ponzi scheme. All but one of the biggest production regions have peaked already, and losses are piling up. This is an industry that's in grave danger of committing financial suicide."
A linked message that Leggett will deliver is that there is a growing danger of a carbon bubble building up in the capital markets. He says investors who think governments may agree stringent and strictly-enforced limits on greenhouse gas emissions might decide their investments in oil and gas are at risk of becoming worthless.
Crunch next year?
There is little sign yet that such limits are likely any time soon. But Leggett says that is to miss the point: "You don't have to wait until agreement is close, or even probable. You have to believe only that there's a realistic chance of policymaking which means assets might be stranded."
He will also tell his audience "to take out insurance on the risk of an oil crisis, by accelerating the very things we need to deal with climate change". Chief among these, he says, is the need to channel funds withdrawn from oil, gas, and coal into clean energy instead—though he acknowledges that, as a renewable energy entrepreneur himself, he may be accused of self-interest.
Leggett fears a world oil crisis could occur as early as 2015. And when it comes, it will certainly mean "ruinously high prices," for a start. But it will mean something more, he says. Last December he worked with a U.S. national security expert, Lt. Col. Daniel Davis, to organize the Transatlantic Energy Security Dialogue. Leggett has a regard for the views of people like Davis.
"The military are better than your average politician or consultant to big energy at spotting systemic risk," he says.
Leggett says military think-tanks have tended to side with those who distrust "the cornucopian narrative" of the oil industry. One 2008 study, by the German Army, says: "Psychological barriers cause indisputable facts to be blanked out and lead to almost instinctively refusing to look into this difficult subject in detail. Peak oil, however, is unavoidable."
Visit EcoWatch's RENEWABLES page for more related news on this topic.

EcoWatch Daily Newsletter
In this view from an airplane rivers of meltwater carve into the Greenland ice sheet near Sermeq Avangnardleq glacier on Aug. 4 near Ilulissat, Greenland. Climate change is having a profound effect in Greenland, where over the last several decades summers have become longer and the rate that glaciers and the Greenland ice cap are retreating has accelerated. Sean Gallup / Getty Images
The rate that Greenland's ice sheet is melting surpassed scientists' expectations and has raised concerns that their worst-case scenario predictions are coming true, Business Insider reported.
An Alagoas curassow in captivity. Luís Fábio Silveira / Agência Alagoas / Mongabay
By Pedro Biondi
Extinct in its habitat for at least three decades, the Alagoas curassow (Pauxi mitu) is now back in the jungle and facing a test of survival, thanks to the joint efforts of more than a dozen institutions to pull this pheasant-like bird back from the brink.

Elizabeth Warren's Blue New Deal aims to expand offshore renewable energy projects, like the Block Island Wind Farm in Rhode Island.
Luke H. Gordon / Flickr
By Julia Conley
Sen. Elizabeth Warren expanded her vision for combating the climate crisis on Tuesday with the release of her Blue New Deal — a new component of the Green New Deal focusing on protecting and restoring the world's oceans after decades of pollution and industry-caused warming.
Former U.S. Secretary of State Rex Tillerson leaves the courthouse after testifying in the Exxon Mobil trial on Oct. 30, 2019 in New York. DON EMMERT / AFP via Getty Images
A judge in New York's Supreme Court sided with Exxon in a case that accused the fossil fuel giant of lying to investors about the true cost of the climate crisis. The judge did not absolve Exxon from its contribution to the climate crisis, but insisted that New York State failed to prove that the company intentionally defrauded investors, as NPR reported.
By Sharon Elber
You may have heard that giving a pet for Christmas is just a bad idea. Although many people believe this myth, according to the ASPCA, 86 percent of adopted pets given as gifts stay in their new homes. These success rates are actually slightly higher than average adoption/rehoming rates. So, if done well, giving an adopted pet as a Christmas gift can work out.