This website uses cookies to ensure you get the best experience while browsing it. By clicking 'Got It' you're accepting these terms.
Why Water Is Oregon's New Gold
Dec. 26, 2011 11:29AM EST
Renewable Energy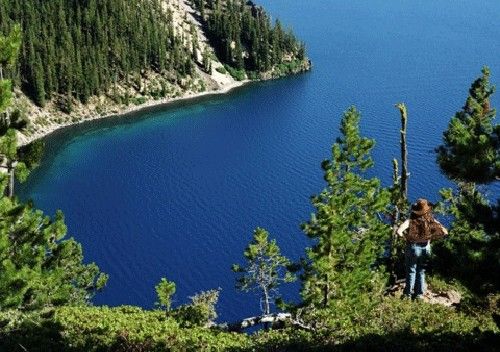 By Teresa Huntsinger
For generations, most Oregonians have had the luxury of taking water for granted.
Today however, water isn't as easy to come by. Oregonians who want to start up a business or establish a new farm aren't able to secure new summertime water rights in much of the state. Worse yet, in many basins more water has been promised than our rivers and aquifers can deliver—resulting in periodic water shortages in basins such as the Klamath and Umatilla. Climate change and population growth are expected to further stress our water supplies in the future.
The time has come to start treating water like the precious resource it is, or risk grave effects on the state's economy. The silver lining in our outdated water systems is that we have a vast opportunity to improve efficiency using readily available technologies. Just as energy providers have recognized that efficiency offers the cheapest source of new energy, investments in water conservation can have a huge payback for Oregon.
While manufacturing plants, cities and homeowners can and should play a role in using water more efficiently, the sector that can make the biggest difference is agriculture. Why? Farmers and ranchers use the largest share of Oregon's water by far—79 percent of the state's overall water withdrawals. Municipal water providers use 7 percent comparatively, and industry uses less than 3 percent.
Irrigation is critical to Oregon agriculture, and agriculture is critical to Oregon's economy. We grow more than 250 commodities in Oregon, requiring more than 230,000 workers in peak season. In 2009, agriculture was linked to more than 15 percent of all economic activity in the state. 77 percent of the state's agricultural production value comes from crops that depend on irrigation. So it's fair to say that if Oregon's agricultural sector fails to quickly adapt to today's realities of water availability, we'll all feel the economic pinch.
Oregon has a number of entrepreneurs in water efficiency innovation who are addressing these challenges and stimulating our economy in hard-hit areas of the state. For example, Fred Ziari of IRZ Consulting uses satellites, computers, automated weather stations, aircraft-mounted scanners and other technologies to monitor crops and make remote adjustments to irrigation needs. Jac Le Roux's company, Irrinet, provides irrigation scheduling advice and equipment to orchards and ranches in Hood River and The Dalles. The Northwest Energy Education Institute in Eugene offers training in water conservation alongside energy management and renewable energy. The "green economy" typically conjures up images of solar panels, wind turbines and hybrid vehicles. Water efficiency represents another path toward providing green jobs, especially in rural Oregon.
While some progress has been made, most irrigation and water delivery systems are highly inefficient. One of the disincentives for water efficiency is the fact that while water users pay for the infrastructure and energy costs of delivering water, the water itself is free. Therefore, saving water is often motivated by energy savings and other ancillary benefits. Making it easier to achieve these benefits will accelerate water conservation. Energy Trust of Oregon and Bonneville Power Administration utilities offer financial incentives for irrigation upgrades. Some irrigation districts are generating renewable energy by incorporating small hydro turbines into their newly piped irrigation canals.
Benefits like these make water efficiency upgrades attractive if users can afford the initial investment, and if they can navigate the red tape and project delays associated with many cost-share programs. Streamlining water and energy efficiency programs and making them easier to navigate will go a long way towards increased participation. The state's Allocation of Conserved Water program is an example of how we can provide water users an incentive to save this valuable resource in a way that benefits them in the long run, but the program suffers from a lack of awareness and coordination with other incentives.
Another way Oregon can take a leap forward in smarter water use is through the state's first Integrated Water Resources Strategy. A first draft of this long-term plan for Oregon's water will be released for public comment by the end of this year. To help inform my participation in the policy advisory group shaping this strategy, I have been reaching out to farmers, ranchers and irrigation experts around the state to produce Oregon Environmental Council's forthcoming report called Making Water Work. The report, which will be posted on our website this month, outlines how advancing water efficiency can support the agricultural community while preventing our streams and rivers from going dry.
Oregon can no longer wait to adopt a smarter approach to water use. By capitalizing on efficiency opportunities now, we will be making valuable investments in a finite natural resource that is crucial for the future prosperity of our state.
For more information, click here.
EcoWatch Daily Newsletter
Artist's conception of solar islands in the open ocean. PNAS
Millions of solar panels clustered together to form an island could convert carbon dioxide in seawater into methanol, which can fuel airplanes and trucks, according to new research from Norway and Switzerland and published in the Proceedings of the National Academy of Sciences journal, PNAS, as NBC News reported. The floating islands could drastically reduce greenhouse gas emissions and dependence on fossil fuels.
Marcos Alves / Moment Open / Getty Images
More than 40 percent of insects could go extinct globally in the next few decades. So why did the U.S. Environmental Protection Agency (EPA) last week ok the 'emergency' use of the bee-killing pesticide sulfoxaflor on 13.9 million acres?
EcoWatch teamed up with Center for Biological Diversity via EcoWatch Live on Facebook to find out why. Environmental Health Director and Senior Attorney Lori Ann Burd explained how there is a loophole in the The Federal Insecticide, Fungicide, and Rodenticide Act under section 18, "that allows for entities and states to request emergency exemptions to spraying pesticides where they otherwise wouldn't be allowed to spray."
Simple swaps that cut down on kitchen trash.
Sponsored
By Kayla Robbins
Along with the bathroom, the kitchen is one of the most daunting areas to try and make zero waste.
View of downtown Miami, Florida from Hobie Island on Feb. 2, 2019.
Michael Muraz / Flickr
The Democratic candidates for president descended upon Miami for a two-night debate on Wednesday and Thursday. Any candidate hoping to carry the state will have to make the climate crisis central to their campaign, as The New York Times reported.
By Sharon Kelly
On Monday, the Wall Street Journal featured a profile of Scott Sheffield, CEO of Pioneer Natural Resources, whose company is known among investors for its emphasis on drawing oil and gas from the Permian basin in Texas using horizontal drilling and hydraulic fracturing, or fracking.
Pexels
By Craig K. Chandler
The federal government has available to it, should it choose to use them, a wide range of potential climate change management tools, going well beyond the traditional pollution control regulatory options. And, in some cases (not all), without new legislative authorization.
Denis Poroy / Getty Images
By Dan Gray
Processed foods, in their many delicious forms, are an American favorite.
But new research shows that despite increasing evidence on just how unhealthy processed foods are, Americans have continued to eat the products at the same rate.
By Sarah Steffen
With a profound understanding of their environmental surroundings, indigenous communities around the world are often cited as being pivotal to tackling climate change.