This website uses cookies to ensure you get the best experience while browsing it. By clicking 'Got It' you're accepting these terms.
Why Walmart Can't Fix the Food System
Feb. 21, 2012 09:06AM EST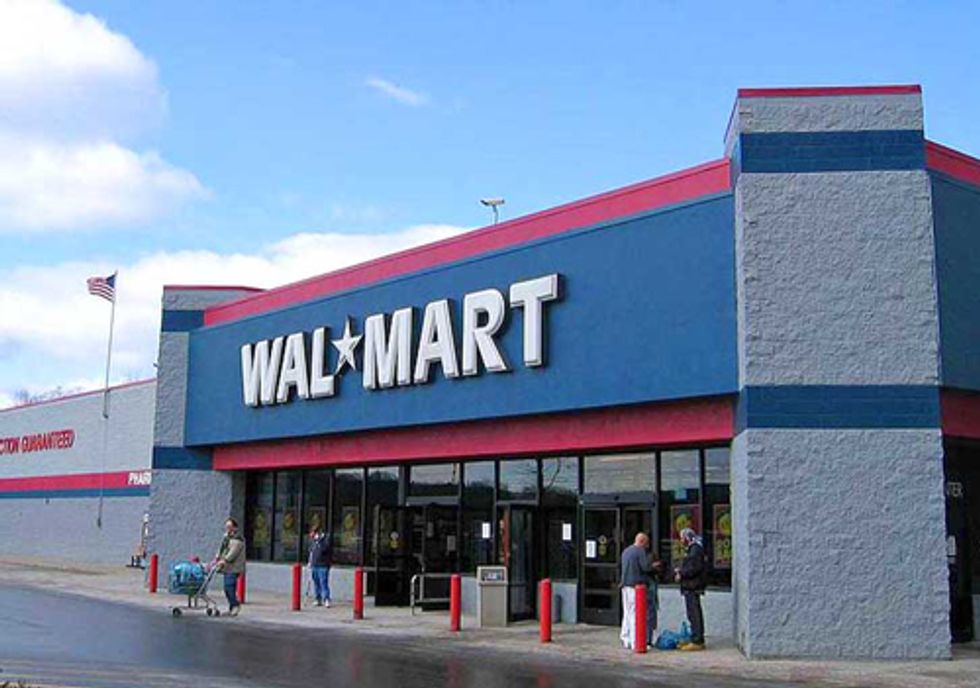 As Walmart releases its fourth quarter earnings on Feb. 21, Food & Water Watch released a report analyzing the rift between Walmart's marketing claims and the true impact the company has on the food system. Why Walmart Can't Fix the Food System finds that Walmart's recent high-profile initiatives to bring healthier fare to food deserts, expand healthy food offerings including local and organic food, and be environmentally sustainable are merely window dressing to divert attention away from the company's business model, which squeezes farmers, workers and processors, and drives food production to become more consolidated and industrialized.
"From press conferences with the First Lady, to promises to buy local produce, to the 'Great For You' healthy labeling scheme they just announced, Walmart's PR machine has been on overdrive for the past couple years as it tries to polish its tarnished image," said Wenonah Hauter, executive director of Food & Water Watch. "The truth is, Walmart is still the retail giant that exploits its workers and suppliers to undercut all other competition, which leaves consumers with a lot less choice. Unless it changes its business model, Walmart cannot help us move towards a more sustainable food system."
Walmart is the biggest company in the U.S. with 2010 sales of $419 billion, a little over half of that coming from grocery sales. In the past 12 years since it began selling food alongside other retail products, Walmart has become the largest food retailer in the U.S. One out of every three dollars spent on groceries in the U.S. goes to Walmart.
Food isn't just good business for Walmart—it's the cornerstone of the company's public relations offensive. The report analyzes Walmart's ambitious campaign to convince skeptical local governments and communities that the company can alleviate the problem of food deserts—low-income areas with little access to fresh food. Contrary to the company's claims, report explains that Walmart's motivation is to break through the strong community opposition that has successfully blocked Walmart from many urban markets including New York, Los Angeles, and until 2006, Chicago.  
"Plunking down a big-box store in the middle of a community with a lack of access to healthy food will not solve this complicated problem," said Hauter. "Selling fruit and vegetables is one step, but all communities, especially those that are struggling financially, will be better served for the long term by local businesses that put money back into the community by paying livable wages and buying from local and regional suppliers and farmers whenever possible."
Walmart's other good food pledges such as buying local, offering more organic foods and being environmentally responsible are probed in the report, which describes Walmart's business model of driving down costs at every step in the supply chain without consideration for the costs to employees, food producers and the environment.
To conclude, the report advises local governments to seek better solutions to increase communities' access to healthy food and encourages the federal government to investigate Walmart's anticompetitive practices and its impact on the food chain—and adapt food and farm policy that strengthens regional food systems and food assistance programs that will provide healthy, affordable food to all communities.
On Thursday, Feb. 23, a press conference will be held on the steps of City Hall in New York City in conjunction with the Walmart-Free NYC campaign. Food & Water Watch's Executive Director Wenonah Hauter will speak alongside national and local community and labor leaders who will also be available for interviews.
To read the full report, click here.
For more information, click here.
EcoWatch Daily Newsletter
No longer will the options when we die be a choice between just burial or cremation. Soon it will be possible to compost your remains and leave your loved ones with rich soil, thanks to a new funeral service opening in Seattle in 2021 that will convert humans into soil in just 30 days, as The Independent reported.
You can reduce the footprint of a medium-sized live tree by donating it to elephants at a local zoo, like this African elephant pictured above. eans / iStock / Getty Images
The holiday season is supposed to be about giving and sharing, but often it is actually about throwing away. The U.S. generates 25 percent more garbage between Thanksgiving and New Year's than it does during the rest of the year. That's around one million extra tons per week, according to National Environmental Education Foundation (NEEF) figures reported by The Associated Press.
The Opera House is seen with smoke haze which enveloped Sydney Harbor on Dec. 10 in Sydney, Australia. Smoke haze hangs over the city as the New South Wales fire danger risk is raised from 'very high' to 'severe'. James D. Morgan / Getty Images
The brushfires raging through New South Wales have shrouded Australia's largest city in a blanket of smoke that pushed the air quality index 12 times worse than the hazardous threshold, according to the Australia Broadcast Corporation (ABC).
People walk across the bridge near Little Raven Court in downtown Denver. Younger Americans increasingly prefer to live in walkable neighborhoods. Helen H. Richardson / The Denver Post via Getty Images
By David B. Goldstein
Energy efficiency is the cornerstone of any country's plan to fight the climate crisis. It is the cheapest option available, and one that as often as not comes along with other benefits, such as job creation, comfort and compatibility with other key solutions such as renewable energy. This has been recognized by the International Energy Agency (IEA) for at least a decade.
Activists from Extinction Rebellion New York City engaged in nonviolent direct action to confront climate change outside City Hall on April 17, 2019. Erik McGregor / Pacific Press / LightRocket via Getty Images
By Andrea Germanos

Over 500 groups on Monday rolled out an an action plan for the next president's first days of office to address the climate emergency and set the nation on a transformative path towards zero emissions and a just transition in their first days in office.