This website uses cookies to ensure you get the best experience while browsing it. By clicking 'Got It' you're accepting these terms.
Why the Voting Rights Act Matters for Environmentalists
Aug. 04, 2015 10:14AM EST
Politics
Many people who care about climate change understand the corrupting influence of big money in politics and rightfully sound the alarm when elected officials who are supposed to represent their constituents instead protect corporate profits. This is especially true when it comes to big political spenders and climate polluters like the Koch Brothers and the fossil fuel companies like Shell.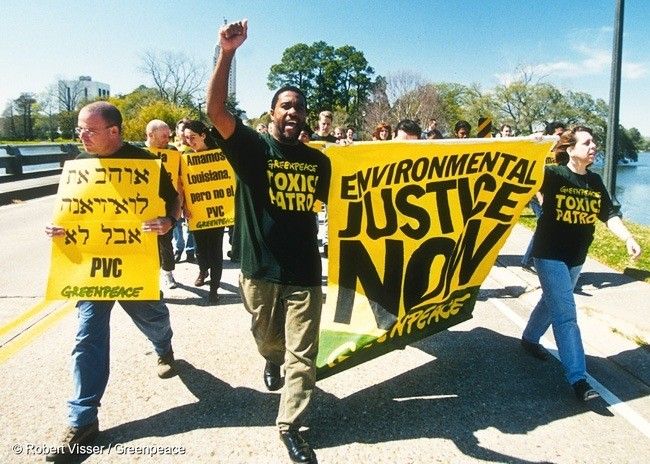 The Greenpeace toxic patrol, lead by Damu Smith, protests against the toxics industry with a banner reading: 'Environmental Justice Now' which is displayed along with other banners as the activists protest through the street. Photo credit: Robert Visser / Greenpeace
However, voter suppression and disenfranchisement are not as commonly talked about in the environmental community. This despite the fact that denying the right to vote strips people of access to a cornerstone of our democracy and a way to have their interests represented in decisions that impact them—including issues of climate and environmental health.
It's high time we make those connections.
Climate Justice and Voting Rights
Jacqueline Patterson, environmental and climate justice director at the National Association for the Advancement of Colored People (NAACP), explains the intersectionality of race, voting rights, climate justice and health in a fantastic blog here.
In her piece, Patterson calls out the fact that "African American children [are] four times as likely as White American children to die from asthma attacks tied to poor air quality for coal fired plants and other facilities and with the rampant loss of life we are seeing from extreme weather events in our communities and worldwide driven by climate change, which largely results from fossil fuel based energy production."
Marginalized communities—often communities of color that have been historically disenfranchised—disproportionately suffer environmental harms and often have the fewest resources available to counteract those harms. When we recognize that a healthy environment and a healthy democracy go hand in hand, it's clear that ensuring the right to vote is critical.
As Patterson puts it:
"… [W]ith entities that have driven the agenda towards stripping voting rights planning on putting $889 million into the coming elections, we must all lean in together on campaign finance reform and voting rights so that communities (and all of us) feel that our votes and our advocacy on issues like net metering, energy efficiency, renewable portfolio standards and indeed relatedly, income inequality and community policing, will actually add value and have a transformational impact."
Aside from being just plain wrong, disenfranchising impacted communities gives corporations and oligarchs even more power to recklessly plunder the world around us. Equality and justice are part of our shared vision for the future. We must stand with our allies to move that vision forward.
What Happened to the Voting Rights Act?
Fifty years ago, the Civil Rights Movement paved the way for the passage of the Voting Rights Act of 1965. Though the fight for justice continues to this day, this was a monumental victory for a movement that was struggling for freedom and self-determination, as it outlawed many of the tools used by racist state and local governments to deny people of color and language minority groups the ability to exercise their right to vote.
However, in June 2013—after 48 years and more than 700 instances of discriminatory impacts prevented by the law between 1982 and 2006 alone—the Supreme Court's conservative majority struck down key pieces of the Voting Rights Act in a case called Shelby County v. Holder. This decision made it far easier for states to pass discriminatory voting measures and more difficult for people of color and language minority groups to register, vote and have their votes counted equally.
This was a huge blow. In the words of the Leadership Conference on Civil and Human Rights, "In this 50th anniversary year of the Voting Rights Act, voters are more vulnerable to discrimination than at any time since the law was first passed in 1965."
Time for Action
In 2015, the right to vote and to have votes counted fairly is still at stake. Though voting has always been one of many ways of building and exercising power and holding elected officials accountable to the communities they are supposed to represent, we are all being called upon (again) to support this most basic right.
Civil rights organizations are leading the charge for a gold standard when it comes to voting rights in the U.S. and it's up to everyone—members of labor unions, environmental organizations and many others—to stand by these leaders in calling for the U.S. to live up to its promise of democracy for all Americans.
Join the call. Tell your member of Congress that it's time to restore the Voting Rights Act.
YOU MIGHT ALSO LIKE
Jimmy Carter: The U.S. Is an 'Oligarchy With Unlimited Political Bribery'
Jon Stewart's 5 Best Segments Bashing Climate Deniers
Inside Bernie Sanders and Donald Trump's Mass Appeal to Americans
EcoWatch Daily Newsletter
Tuna auctions are a tourist spectacle in Tokyo. Outside the city's most famous fish market, long queues of visitors hoping for a glimpse of the action begin to form at 5 a.m. The attraction is so popular that last October the Tsukiji fish market, in operation since 1935, moved out from the city center to the district of Toyosu to cope with the crowds.

gmnicholas / E+ / Getty Images
Kristan Porter grew up in a fishing family in the fishing community of Cutler, Maine, where he says all roads lead to one career path: fishing. (Porter's father was the family's lone exception. He suffered from terrible seasickness, and so became a carpenter.) The 49-year-old, who has been working on boats since he was a kid and fishing on his own since 1991, says that the recent warming of Maine's cool coastal waters has yielded unprecedented lobster landings.
Aerial view of lava flows from the eruption of volcano Kilauea on Hawaii, May 2018. Frizi / iStock / Getty Images
Hawaii's Kilauea volcano could be gearing up for an eruption after a pond of water was discovered inside its summit crater for the first time in recorded history, according to the AP.
The Eqip Sermia Glacier is seen behind a moraine left exposed by the glacier's retreat during unseasonably warm weather on Aug. 1 at Eqip Sermia, Greenland. Sean Gallup / Getty Images
hadynyah / E+ / Getty Images
By Johnny Wood
The Ganges is a lifeline for the people of India, spiritually and economically. On its journey from the Himalayas to the Bay of Bengal, it supports fishermen, farmers and an abundance of wildlife.
The river and its tributaries touch the lives of roughly 500 million people. But having flowed for millennia, today it is reaching its capacity for human and industrial waste, while simultaneously being drained for agriculture and municipal use.
Here are some of the challenges the river faces.
By Jake Johnson
As a growing number of states move to pass laws that would criminalize pipeline protests and hit demonstrators with years in prison, an audio recording obtained by The Intercept showed a representative of a powerful oil and gas lobbying group bragging about the industry's success in crafting anti-protest legislation behind closed doors.
Reposted with permission from our media associate Common Dreams.

DESIREE MARTIN / AFP / Getty Images
Wildfires raging on Gran Canaria, the second most populous of Spain's Canary Islands, have forced around 9,000 people to evacuate.