This website uses cookies to ensure you get the best experience while browsing it. By clicking 'Got It' you're accepting these terms.


The best of EcoWatch, right in your inbox. Sign up for our email newsletter!
Why Solar Cooperatives Are on the Rise
Apr. 24, 2014 08:01AM EST
While many people associate cooperatives with a place for hippies to buy organic food, the cooperative movement has actually grown far and wide, creating sustainable enterprises that generate jobs and strengthen local economies. Today, there are nearly 30,000 cooperatives in the U.S., with more than 100 million members. From day care centers to hardware stores, cooperatives seem to be permeating every sector of society.
So it's no surprise that cooperatives are making their way into the renewable energy field as well.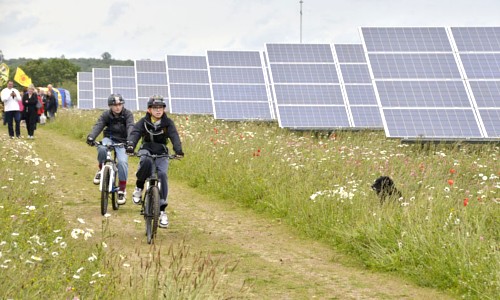 A cooperative is a group of people acting together to meet the common needs and aspirations of its members, sharing ownership and making decisions democratically. Co-ops can be owned by workers, residents, consumers, farmers, the community, or any combination of the above. What they have in common is that they are not about making big profits for shareholders, but rather circulating the benefits back to their member-owners and these benefits ripple out to the broader community.
Solar cooperatives are helping independently-owned solar integrators share best practices, allowing homeowners to install photovoltaic (PV) systems more economically and giving renters or people living in apartments a simple way to join the solar revolution.
Small businesses banding together
Cooperatives come in various forms, from consumer-owned to worker-owned to purchasing cooperatives. In a purchasing cooperative individual businesses band together to enhance their purchasing power. Two of the better-known purchasing coops are Ace Hardware and Best Western hotels. One example of a solar energy purchasing cooperative is Amicus, founded in 2011 when a small group of solar installation companies decided to support each other by sharing best practices and pooling their buying power.
Amicus is jointly owned by its 30 independently owned and operated PV installation member companies from across the United States. Member companies range from California's oldest solar company, Sun Light & Power, to the small solar integrator Radiance Solar in Atlanta, Georgia. Amicus members get lower pricing on products as well as distributed cash dividends based on the amount of total purchases each member makes. And they share expertise and information that often cannot be found at any industry trade show or vendor conference.
"Being a member of a purchasing cooperative with a like-minded and dedicated group of quality solar professionals was an easy sell," says Scott Ely, founder and president of Sunsense Solar, a small solar integration company based in western Colorado that joined Amicus in 2011. Besides the purchasing power gained from being a member of a larger group, Ely claims the pooling and sharing of ideas, best practices and business strategies from companies nationwide has been a huge benefit. "But perhaps most valuable is the camaraderie among the Amicus member companies and the knowledge that we all share a common vision with regard to customer service, company culture and a passion for the technology," he says.
Consumers pooling their purchasing power
Consumer-owned cooperatives, owned by the people who buy the goods or use the services of the co-op, are the most common form of cooperative. Some well-known examples are credit unions and the outdoor retailer REI. There are quite a number of consumer-owned solar cooperatives around the country as well. The Mt. Pleasant Solar Cooperative is a group of over 300 households in the Mt. Pleasant community of Washington, D.C. The founders of the co-op wanted to put solar on their roof and decided if they were going to go through all the work to figure out how to install photovoltaics, they would have more impact by including more people in the project. They also wanted to reduce the costs of the solar systems and figured that a bulk purchase, along with sharing expenses and expertise, would significantly bring down the price.
Over 100 households in Mt. Pleasant now have solar on their roofs thanks to the co-op, which has also supported the creation of other solar co-ops across the region. Louise Meyer, a Mt. Pleasant co-op member with a 2.85 kilowatt (kW) system on her roof, tried to install solar years before the co-op existed when the D.C. government offered a subsidy for PV systems. She was one of the many people who didn't get selected, so she was ecstatic when the co-op was founded. "I felt like I was part of a team, it made much more sense, you could compare notes and not feel so stranded," she says. "It was such a new area for many people and the paperwork is such a hassle, being part of the cooperative made it so much easier." The cooperative has also become a major force for solar advocacy and is pushing for legislation to enable more solar in the greater D.C. area.
DC Solar United Neighborhoods (DC SUN), an umbrella organization for 11 neighborhood solar co-ops located throughout Washington, D.C., including Mt. Pleasant, started offering solar bulk purchases when the Renewable Energy Incentive Program (REIP) was no longer available. A group of twenty or more cooperative members who wanted solar systems bid out their collective jobs to at least three solar installers. Representatives of the group made the selection of an installer based on criteria and values they set. "In less than one year, we've signed up more installations in D.C. than were completed in any two years of REIP," says Robert Robinson, vice president for solar outreach at DC SUN. "We are now seeing bids that are going below $3 per watt installed."
On the other side of the country is California's Cooperative Community Energy. Members join CCEnergy for $300, becoming part owners that gives them a voice and a vote in the direction and activities of the organization, the ability to purchase a solar PV system at a discounted rate and a dividend check if CCEnergy makes a profit. With over 1,000 members, CCEnergy has already helped put solar on a lot of California rooftops.
And similar to the Mt. Pleasant Solar Cooperative, CCEnergy uses its collective strength to advocate for renewable energy policies that benefit all segments of the market.
Community solar
A similar type of cooperative can be found in community solar arrays, also known as solar gardens. Community solar has overcome the barriers for people who want to invest in solar energy but rent their home, live in an apartment, or have too many trees shading their roof. Customers can own or lease solar panels in a large community array and receive the credit on their electric bill. The Clean Energy Collective (CEC) was one of the first organizations to offer shares in solar gardens. In the CEC model, customers can purchase as little or as much solar energy as they'd like and actually own the panels, without having to deal with any installation or maintenance issues.
CEC operates 26 megawatts of solar gardens from Colorado to Vermont, purchasing large amounts of equipment at a time, enabling its customers to get bulk prices that would be impossible to secure on their own. For renters or anyone whose roof isn't suitable for rooftop solar—whether they want to lower their carbon footprint, save money, or hedge against future rising utility prices—solar gardens can be an appealing solution. They've certainly been extremely popular for CEC; shares in the first solar garden CEC built, located in Carbondale, Colorado, sold out in the three months of construction before the array was even completed. "I found [community solar] quite simple to participate in, which overcomes what I see as one of the biggest hurdles for solar today," Brendan Miller wrote on the CEC website. Miller and his wife Robin purchased 11 panels (2.75 kW) in the Denver/Lowry Community Solar Array. "For end users, solar has become very cost competitive with traditional power but still requires some effort on the part of individuals to set up."
Solar cooperatives allow people and companies to work together to help each other succeed. The growing number of solar cooperatives around the country are making solar more affordable and accessible and proving that cooperatives aren't just for hippies anymore. In fact, a recent study estimates that U.S. cooperatives account for nearly $654 billion in revenue and over 2 million jobs.
And as Stephen Irvin, the president of Amicus Solar Cooperative told SolarPro magazine, "the great collaborators of the world will lead the way to a healthier and more vibrant future."
EcoWatch Daily Newsletter
A metal fence marked with the U.S. Border Patrol sign prevents people to get close to the barbed/concertina wire covering the U.S./Mexico border fence, in Nogales, Arizona, on Feb. 9. ARIANA DREHSLER / AFP / Getty Images
D'Bone Collector Museum head Darrell Blatchley shows plastic found inside the stomach of a Cuvier's beaked whale in the Philippines this weekend. - / AFP / Getty Images
Yet another whale has died after ingesting plastic bags. A young male Cuvier's beaked whale was found washed up in Mabini, Compostela Valley in the Philippines Friday, CNN reported. When scientists from the D' Bone Collector Museum in Davao investigated the dead whale, they found it had died of "dehydration and starvation" after swallowing plastic bags―40 kilograms (approximately 88 pounds) worth of them!
Pexels
By Jeff Turrentine
"Be careful what you wish for; you just might get it." This is something that everybody has to learn at some point. Lately, the lesson has hit home for a group of American automakers.
Art direction: Georgie Johnson. Illustrations: Freya Morgan
By Joe Sandler Clarke
"Don't expect us to continue buying European products," Malaysia's former plantations minister Mah Siew Keong told reporters in January last year. His comments came just after he had accused the EU of "practising a form of crop apartheid."

A few months later Luhut Pandjaitan, an Indonesian government minister close to President Joko 'Jokowi' Widodo, warned his country would retaliate if it was "cornered" by the EU.
Torres and his parents walk along the Rio Grande. Luis Torres / Earthjustice
By Luis Torres
For some people who live along the U.S.-Mexico border, President Trump's attempt to declare a national emergency and extend the border wall is worse than a wasteful, unconstitutional stunt. It's an attack on their way of life that threatens to desecrate their loved ones' graves.
Flooding caused by last week's bomb cyclone storm has broken records in 17 places across the state of Nebraska, CNN reported Sunday. Around nine million people in 14 states along the Mississippi and Missouri Rivers were under a flood watch, CNN meteorologist Karen Maginnis said.
A car destroyed by Cyclone Idai in Beira, Mozambique. ADRIEN BARBIER / AFP / Getty Images
At least 150 people have died in a cyclone that devastated parts of Mozambique, Zimbabwe and Malawi over the weekend, The Associated Press reported Sunday. Cyclone Idai has affected more than 1.5 million people since it hit Mozambique's port city of Beira late Thursday, then traveled west to Zimbabwe and Malawi. Hundreds are still missing and tens of thousands are without access to roads or telephones.
"I think this is the biggest natural disaster Mozambique has ever faced. Everything is destroyed. Our priority now is to save human lives," Mozambique's Environment Minister Celso Correia said, as AFP reported.