This website uses cookies to ensure you get the best experience while browsing it. By clicking 'Got It' you're accepting these terms.
Why Restoration Jobs Matter for Mid-Gulf States
Dec. 30, 2011 09:00AM EST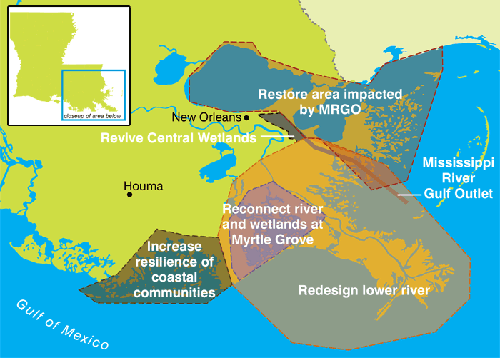 By Seyi Fayanju
People living in Alabama, Louisiana and Mississippi, which lie at the core of the five-state region bordering the Gulf of Mexico, are far more likely than average Americans to have been born and raised in the states where they reside as adults, according to an article published last month on The Atlantic's "Cities" blog. Data from the 2010 American Community Survey showed that an estimated 78.8 percent of Louisianans were born in the Bayou State (by comparison, only 58.7 percent of adults in the U.S. as a whole were born in the states where they presently live), and although Alabama (70.0 percent of adults born in state) and Mississippi (71.9 percent) also ranked high for the relative rootedness of their residents (10th and 6th, respectively), they both placed lower than Louisiana, which ranked 1st among all states.
Sedentary Center—In 2010, Louisiana, Alabama and Mississippi ranked 1st, 10th and 6th, respectively, for the proportion of residents born in state, making the mid-Gulf region one of the least transient sections of the U.S. By contrast, Texas (25th out of the 50 states, with 60.5 percent of residents born in state) and Florida (49th out of the 50 states, with 35.2 percent of residents born in state) ranked much lower due to heavy influxes of Americans from other parts of the country and immigrants from abroad, to fast-growing metropolitan areas like Houston and Miami (Sources—The Atlantic, U.S. Census Bureau)
While some observers have lumped the central Gulf states together as the tail end of a socioeconomically stagnant "Stuck Belt" stretching from the Upper Midwest to the Deep South, it would be fairer to say that the entrenched settlement patterns of the mid-Gulf region have had both good and bad economic consequences. On the one hand, the region's distinctive cuisine and culture, nurtured and preserved by its long-established residents, serves as an important driver for the central Gulf Coast's multi-billion dollar tourism industry. On the other hand, the fact that area residents are disproportionately likely to depend on familial support networks tethered to the Gulf economy means that mid-Gulf staters are especially vulnerable to location-specific shocks like hurricanes and oil spills if and when they hit the region. Furthermore, when one considers that the central Gulf Coast, already one of the poorest regions in the country, has seen stable to increasing unemployment at a time when jobless rates have been falling in much of the rest of the nation, it becomes clear that there is a real need to do something about generating local jobs and making the mid-Gulf economy more resilient to ecological and economic stress.
One way to do this is to pursue a sustainable development strategy along the central Gulf Coast that provides opportunities for area residents to restore regional ecosystems. This would create immediate work for people living in counties recovering from the British Petroleum oil disaster, and it would improve the long-term prospects for habitat-dependent industries like tourism and commercial fishing that have been affected by years of wetland loss and industrial disasters.
There's encouraging news that a comprehensive restoration program could be implemented in the near future. Earlier this month, the Gulf Coast Ecosystem Restoration Task Force released its final report outlining strategies for reversing the deterioration of the Gulf Coast's ecosystem, a transformative course of action that could help the mid-Gulf states emerge stronger from the present crisis. However, any progress on that front is contingent on congressional action to commit oil spill penalties from last year's disaster toward environmental work, a move that would help the central Gulf Coast to remain a well-loved (and well-lived in) place for future generations.
For more information, click here.
EcoWatch Daily Newsletter
Doctors report that only 1 in 4 children are getting the recommended 60 minutes of physical activity per day. Ronnie Kaufman / DigitalVision / Getty Images
By Dan Gray
Pediatricians are being urged to start writing "exercise prescriptions" for the children they see in their office.
A First Nations protester walks in front of a train blockade in Tyendinaga, near Belleville, Ontario, Canada on Feb. 21, 2020. LARS HAGBERG / AFP via Getty Images
An indigenous rail blockade that snarled train travel in Canada for more than two weeks came to an end Monday when police moved in to clear protesters acting in solidarity with another indigenous community in British Columbia (B.C.), which is fighting to keep a natural gas pipeline off its land.
A rainbow snake, a rare reptile spotted in a Florida county for the first time in more than 50 years, seen here on July 5, 2013.
Kevin Enge / FWC Fish and Wildlife Research Institute / Flickr
A Florida hiker recently stumbled across a slithering surprise — a rare snake that hadn't been spotted in the area for more than 50 years.
We need our government to do everything it can to stop PFAS contamination and exposure from wreaking havoc in communities across the country. LuAnn Hun /
Unsplash
By Genna Reed
The EPA announced last week that it is issuing a preliminary regulatory determination for public comment to set an enforceable drinking water standard to two of the most common and well-studied PFAS, PFOA and PFOS.
This decision is based on three criteria:
PFOA and PFOS have an adverse effect on public health
PFOA and PFOS occur in drinking water often enough and at levels of public health concern;
regulation of PFOA and PFOS is a meaningful opportunity for reducing the health risk to those served by public water systems.
Charging EVs in Stockholm: But where does a dead battery go? Ranjithsiji / Wikimedia Commons
By Kieran Cooke
Driving an electric-powered vehicle (EV) rather than one reliant on fossil fuels is a key way to tackle climate change and improve air quality — but it does leave the old batteries behind as a nasty residue.