Why Renewable Energy Subsidies Are the Most Transparent Kind
From direct government support to tax breaks and the cost of negative externalities like pollution, subsidies to the power sector take many different—and often hidden—forms. In fact, the exact definition of a subsidy was the crux of an at times heated debate, "subsidies to the power sector: Europe's best kept secret?" hosted by the European Wind Energy Association (EWEA) in Brussels, with over 100 attendees.
Subsidies to renewable energy are the most transparent and visible in the energy sector, they are directly in an EU member state's budget, explained Tom Howes, from the European Commission's Directorates-General for Energy. "Being so transparent they are the first to attract the eye so there is an unfair treatment in their visibility," Howes told the audience April 29.
Ronald Steenblik from the Organization for Economic Co-operation and Development (OECD) said that subsidies are extremely difficult to measure. "Is government inaction a subsidy?" he questioned, adding that the OECD does not include inaction such as the failure to tax externalities like pollution in its definition.
For Thomas Becker, CEO of EWEA, "a subsidy is always an act of political will. There's nothing wrong with them, but transparency is key," he said. Meanwhile, Brian Ricketts, Secretary General of EURACOAL said "obligations on consumers to purchase an amount of green energy sound like a subsidy to me."
Howes said that the European Commission has just launched a study which will investigate direct and indirect subsidies and the cost of externalities in the power sector—which should be finished in six months. "It's a pretty good secret what subsidies are," he said, adding that the Commission has encountered difficulties in obtaining figures. "There are many different reasons why different groups are unwilling to reveal costs and subsidies. We couldn't get some fuel price data on imports, it's labeled as confidential," he said adding that data on exemptions is also patchy.
Meanwhile, "nobody could find anything on nuclear," Howes said.
"Many people do not have an interest in exposing figures," Becker added.
"There's a whole lot of other market failures to bring to the table. It's very messy. We need data and to explain the relationships," Howes said.
For Beate Raabe, secretary general of Eurogas, there aren't any direct subsidies to the gas sector in Europe and one of the solutions to the problem of including pollution externalities in the power market lies in the Emissions Trading System (ETS)—the EU mechanism for putting a price on carbon emissions. However, "the ETS is not working very well at the moment, we need to make that work. We need to define these externalities and be very transparent about it," Raabe said.
Ricketts called for market-based solutions. "Renewables have disrupted the market—a consequence of having subsidies—we need a level playing field," he said. Becker countered with: "It's a question of pricing our behavior. Do you think coal should pick up the bill for the health and pollution costs of its production?"
"Coal should not have to pick up the pollution bill because the sector we depend on will crumble," Ricketts said citing consumer's willingness to buy cheap goods from China, a coal-based economy.
The well-attended debate threw up many pertinent questions—what exactly is a subsidy? How do we count the cost of indirect subsidies like pollution costs? Do subsidies distort the market and can we fix everything with the Emissions Trading System? And, for wind power, when can it stand on its own two feet without subsidies?
"The fossil fuel industry is trying to frame renewables as an industry that can only survive with subsidies. Yet, fossil fuels historically and currently have many more subsidies. Wind can be without subsidies when all other industries do not get subsidies," Becker said.
Speakers agreed that the Commission's forthcoming study should shed more light onto the subsidy debate.
"Hopefully this time we will have a better set of data and a better story to tell," Howes said.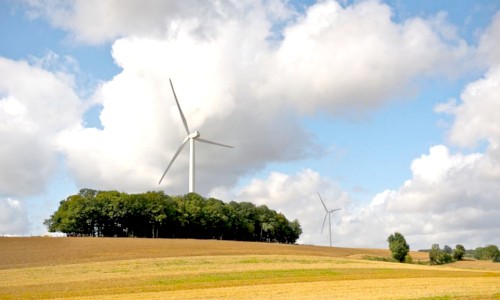 ——–
YOU ALSO MIGHT LIKE
World's Richest Countries Spent $500 Billion on Fossil Fuel Subsidies
Wind Subsidy Cuts Could Thwart Germany's Renewable Energy Revolution
Why There Is No Better Time For Wind and Solar Energy Than Now
——–
A coalition of conservation groups and others announced Thursday that a historic number of comments and petitions of support have been submitted to the U.S. Department of the Interior in support of Bears Ears National Monument. Despite the entirely inadequate 15-day comment period ending on May 26, more than 685,000 comments in support of Bears Ears National Monument have been collected.
Keep reading...
Show less
Rink Glacier in western Greenland, with a meltwater lake visible center. NASA/OIB
Scientists have had their eyes on Greenland as its iconic glaciers have begun disappearing due to a warming climate. But, what they didn't expect to see was a whole new type of melting.
Keep reading...
Show less
Mountain View Fire
By Lena Moffitt
An oil tanker in Mead, Colorado exploded, killing one and injuring three on Thursday. Authorities are continuing to investigate the cause of the explosion.
Keep reading...
Show less
Banner created by Alliance for Climate Education
Keep reading...
Show less
Twenty-two GOP senators sent a letter Thursday urging Donald Trump to pull out of the Paris agreement. They argued remaining in the deal could "upend" the administration's ability "to fulfill its goal of rescinding the Clean Power Plan."
Keep reading...
Show less
By Cheryl Johncox
The Federal Energy Regulatory Commission (FERC) rejected on Thursday Energy Transfer Partners' request to resume horizontal directional drilling at two sites for its Rover fracked gas pipeline. This rejection comes after numerous leaks into Ohio's wetlands, and Clean Air and Clean Water act violations. FERC has halted the process at only eight locations of the 32 where drilling is taking place under Ohio's wetlands and streams.
Keep reading...
Show less
By Nadia Prupis
A majority of people in eight countries say they are ready to change their lifestyles if it would prevent climate catastrophe, a survey on global threats released Wednesday found.
Keep reading...
Show less
May. 25, 2017 01:55PM EST
Bill Maher is sick of billionaires' obsession with Mars, more like "Mars-a-Lago," he said.
In a new animation produced by ATTN:, the popular talk show host of Real Time, discusses the perils of our planet, including how "climate change is killing us."
Keep reading...
Show less