This website uses cookies to ensure you get the best experience while browsing it. By clicking 'Got It' you're accepting these terms.
Why Our Energy Choices Matter in a Warming, Water-Constrained World
Jul. 17, 2013 11:46AM EST
Climate
By John Rogers
In a future of growing climate change impacts and water strains, the water implications of our electricity choices are way worth paying attention to. A new report from the Union of Concerned Scientists (UCS)-organized Energy and Water in a Warming World initiative (EW3) tells it like it is. Or like it will be. Or, actually, like it could be. Where we really head, it turns out, is all up to us.
Previous EW3 work, including our 2011 report, had looked at the electricity sector's freshwater use now, and why it matters—for our lakes, rivers and other water resources, and for the reliability of the power plants themselves.
Like the previous report, Water-Smart Power: Strengthening the U.S. Electricity System in a Warming World is the result of a collaboration among a talented set of independent researchers that explores cutting-edge questions about the intersection of energy, water and climate. This report looks ahead, though, and pieces together detailed pictures of the water futures we can shape through different power sector choices.
Where We Might Head, Energy-Wise
The starting point for this work is where we stand now: energy-water collisions are happening, climate change is real and present and the electricity sector is undergoing some big changes that make it clear that now's a really important time to be making smart decisions, including with regard to water.
In our analysis, we then looked at a range of electricity futures, and what each could mean in terms of water use and water impacts — a sophisticated version of the "compare and contrast" from our school days, applied to some decidedly hefty issues: energy, water and climate change.
One of the electricity scenarios we examined was a business-as-usual pathway. Other scenarios took different approaches to addressing our power plants' global warming problem quickly and head-on. Our modeling generated appreciably different electricity mixes for us to look into in a whole lot more depth.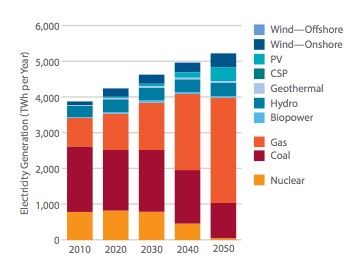 What Our Energy Choices Could Mean, Water-Wise
The next part of our research looked at what each of those pathways might mean in terms of how much water power plants would use (withdraw and consume) over the next few decades. The high geographic resolution of the energy model we used meant we could look not just at national results, but also regional ones.
But it gets better. The water model we incorporated also allowed us to get down to a much more local level in particular important basins, to explore what might happen at scales that matter for particular rivers and particular places—the level at which we have seen particular incidents happening.
Of course, we don't want to plan just for normal or average circumstances. To focus attention on troubled times, we also assumed dry periods—dry sequences of years from recent history—and rising air temperatures, consistent with global warming.
Why Our Electricity Pathway Matters
So what happens when you put all that together?
Business as usual is not a path we want to be on—or have to be.
Low-carbon pathways can be water-smart.
But low-carbon power isn't necessarily water-smart.
Renewables and efficiency can be a winning combination.
Our lakes, rivers and aquifers are feeling pressure from a lot of quarters, and there are lots of ways we could be more water-smart in other areas—farms and cities, for example—to ease the pressure. Climate change by itself will also continue to be a serious factor in the next few decades.
The question is, from the perspective of the power sector, are we going to be making choices that make the situation better or worse? Cutting power plant water dependencies or sticking with approaches that have us racking up more energy-water collisions every summer for years to come?
Everybody Has a Role
As Yogi Berra might have said (and still could), "If you don't watch where you're going, you'll end up where you're headed."

We can clearly make decisions now to cut our climate and water risk, and get us off business as usual. We've got loads of technologies now that mean we can design an electricity system that's better, stronger, and, we found, cheaper.
Making that happen—getting us from business as usual to a much better path—will mean everybody making water-smart electricity decisions and engaging on these issues. Plant owners and investors. Legislators and regulators. Consumer groups and advocates. Researchers, scientists, and, even us engineers. We all have essential roles to play.
Our new report provides a solid foundation for thinking about the water implications of different electricity pathways.
Understanding and addressing the water impact of our electricity choices is urgent business. Because most power sector decisions are long-lived, what we do in the near-term commits us to risks or resilience for decades. We can untangle the production of electricity from the water supply, and we can build an electricity system that produces no carbon emissions. But we cannot wait, nor do either in isolation, without compromising both. For our climate—and for a secure supply of water and power—we must get this right.
Sounds like a plan we can't live without.
Visit EcoWatch's WATER and ENERGY pages for more related news on this topic.
——–
EcoWatch Daily Newsletter
DESIREE MARTIN / AFP / Getty Images
Wildfires raging on Gran Canaria, the second most populous of Spain's Canary Islands, have forced around 9,000 people to evacuate.
Wolves in Mount Rainier, Washington. Ron Reznick / VW Pics / Universal Images Group via Getty Images
The last four members of an embattled wolf pack were killed in Washington State Friday, hours before the court order that could have saved them.
Plateau Creek near De Beque, Colorado, where land has been leased for oil and gas production. Helen H. Richardson / The Denver Post / Getty Images
By Randi Spivak
Slashing two national monuments in Utah may have received the most attention, but Trump's Interior Department and U.S. Forest Service have been quietly, systematically ceding control of America's public lands to fossil fuel, mining, timber and livestock interests since the day he took office.
Aerial view of lava flows from the eruption of volcano Kilauea on Hawaii, May 2018. Frizi / iStock / Getty Images
Hawaii's Kilauea volcano could be gearing up for an eruption after a pond of water was discovered inside its summit crater for the first time in recorded history, according to the AP.
Global SO2 Emission Hotspot Database / Greenpeace
A new report by Greenpeace International pinpointed the world's worst sources of sulfur dioxide pollution, an irritant gas that harms human health. India has seized the top spot from Russia and China, contributing nearly 15 percent of global sulfur dioxide emissions.
The huge surge this year in Amazon deforestation is leading some European countries to think twice about donations to the Amazon Fund. LeoFFreitas / Moment / Getty Images
By Sue Branford and Thais Borges
Ola Elvestrun, Norway's environment minister, announced Thursday that it is freezing its contributions to the Amazon Fund, and will no longer be transferring €300 million ($33.2 million) to Brazil. In a press release, the Norwegian embassy in Brazil stated:
Gina Lopez, the Philippine secretary of the environment, at a meeting with residents affected by a mine tailing disaster. Keith Schneider
Gina Lopez, a former Philippine environment secretary, philanthropist and eco-warrior, died on Aug. 19 from brain cancer. She was 65.
Trump speaks to contractors at the Shell Chemicals Petrochemical Complex on Aug. 13 in Monaca, Pennsylvania. Jeff Swensen / Getty Images
Thousands of union members at a multibillion dollar petrochemical plant outside of Pittsburgh were given a choice last week: Stand and wait for a speech by Donald Trump or take the day off without pay.