This website uses cookies to ensure you get the best experience while browsing it. By clicking 'Got It' you're accepting these terms.
Why Ohio's Budget Update Will Further Crush Renewable Energy
Jun. 19, 2014 08:58AM EST
Business
Fresh off signing the nation's first renewable energy freeze, Ohio Gov. John Kasich approved a biennial budget update that could further damage the state's ability to harness electricity alternatives.
Amid various tax cuts, House Bill 483 contains language requiring wind turbines to be about 1,300 feet from a property line as opposed to previous regulations that required a turbine to be the same amount from a home. Environmental and clean energy advocates say Kasich's refusal to veto that language from the bill could be the final blow that crushes the state's renewable energy sector.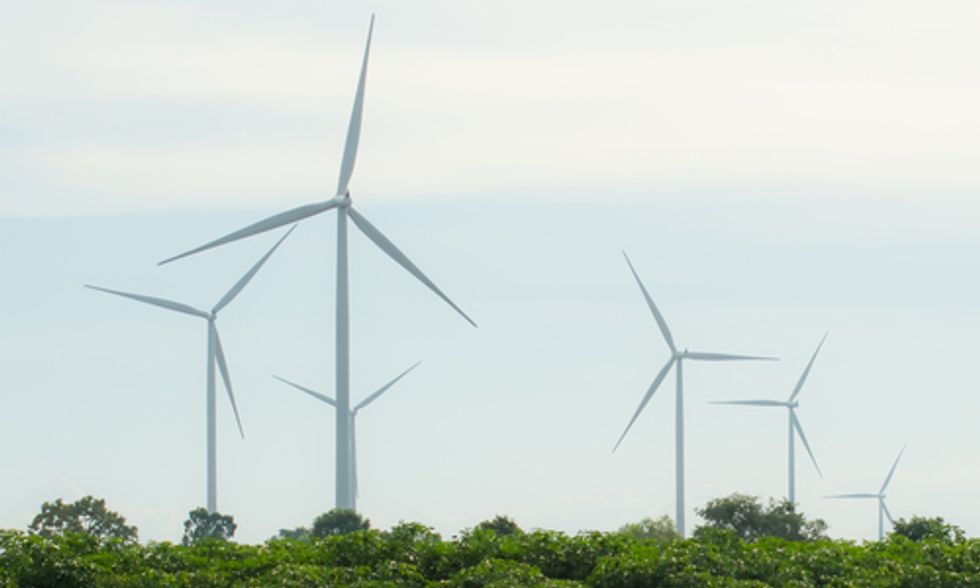 Photo courtesy of Shutterstock
"Gov. Kasich has walked away from his commitment to renewable energy," Tom Kiernan, CEO of the American Wind Energy Association, said in a statement. "He and the Legislature are creating an unfriendly business environment in Ohio.
"Legislators rammed through restrictive rules without due process, and millions of dollars already invested based on the previous set of rules may now be lost without any public debate. This will force clean energy developers and manufacturers to move to neighboring states with similar resources and friendlier business climates."

Kiernan said the passage kills about $2.5 billion in wind energy plans, including jobs, leases, payments to local governments, and factory orders. He charges that the section damaging wind energy was added to the budget bill after public debate. According to AWEA, Gabriel Alonso, CEO of EDP Renewables North America, wrote a letter to Kasich stating that the change would make wind energy "commercially unviable."
The company's Timber Road project represents a $200 million investment in Paulding County along with another $800 million of investment planned in Ohio, "all of which would be devastated by this provision," Alonso said.
"Right-wing lawmakers handed wind energy a death sentence by adding in this setback provision into the [budget bill] at the 11th hour," said Trish Demeter, managing director of energy and clean air programs for the Ohio Environmental Council. "Gov. Kasich could have 'commuted' this death penalty for wind energy, but instead he chose to look the other way.
"Gov. Kasich's quiet approval of this reckless assault—in addition to his signature on SB 310—speaks volumes about his true position on Ohio's clean energy economy."
Demeter now fears that wind energy projects will be headed to neighboring states like Michigan and Pennsylvania.
"While much of the country is moving toward investing more in cleaner and more efficient energy technologies, Ohio has taken two giant steps back to secure its place as a loser in the clean energy sector," she said. "Our state has now made clear to clean energy technology companies that they're not wanted here and that their investment can go to other states."
EcoWatch Daily Newsletter
California Gov. Gavin Newsom speaking with attendees at the 2019 California Democratic Party State Convention at the George R. Moscone Convention Center in San Francisco.
Gage Skidmore
/ Flickr /
CC BY-SA 2.0
California Gov. Gavin Newsom imposed new restrictions on oil exploration in his state yesterday by putting a moratorium on hundreds hydraulic fracturing permits until the projects are reviewed by independent scientists, as the AP reported.
The endangered Houston toad. Courtesy of U.S. Fish and Wildlife Service
While the planet continues to heat up, almost every single one of the 459 species listed as endangered in the U.S. will struggle as the climate crisis intensifies, according to new research published in the journal Nature Climate Change.
"This singular scientific achievement was accomplished at Heliogen's commercial facility in Lancaster, California."
Heliogen
A startup backed by Bill Gates unveiled a breakthrough solar technology Tuesday that could free heavy industry from fossil fuels.
Rhodiola rosea is an adaptogenic herb that can help with chronic fatigue and stress-related burnout. Tero Laakso / Flickr
By Gavin Van De Walle, MS, RD
While everyone has specific life stressors, factors related to job pressure, money, health, and relationships tend to be the most common.
Stress can be acute or chronic and lead to fatigue, headaches, upset stomach, nervousness, and irritability or anger.
A video shows a woman rescuing a koala from Australia's wildfires.
VOA News / YouTube screenshot
More than 350 koalas may have died in the wildfires raging near the Australian town of Port Macquarie in New South Wales, but one got a chance at survival after a woman risked her life to carry him to safety.