Why Ohio's Budget Update Will Further Crush Renewable Energy
Fresh off signing the nation's first renewable energy freeze, Ohio Gov. John Kasich approved a biennial budget update that could further damage the state's ability to harness electricity alternatives.
Amid various tax cuts, House Bill 483 contains language requiring wind turbines to be about 1,300 feet from a property line as opposed to previous regulations that required a turbine to be the same amount from a home. Environmental and clean energy advocates say Kasich's refusal to veto that language from the bill could be the final blow that crushes the state's renewable energy sector.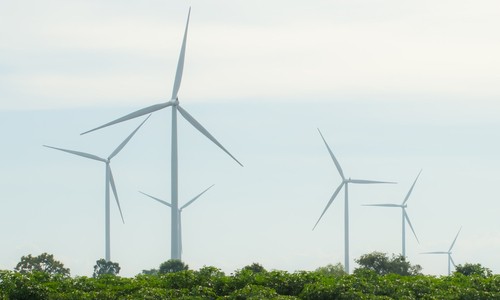 Photo courtesy of Shutterstock
"Gov. Kasich has walked away from his commitment to renewable energy," Tom Kiernan, CEO of the American Wind Energy Association, said in a statement. "He and the Legislature are creating an unfriendly business environment in Ohio.
"Legislators rammed through restrictive rules without due process, and millions of dollars already invested based on the previous set of rules may now be lost without any public debate. This will force clean energy developers and manufacturers to move to neighboring states with similar resources and friendlier business climates."

Kiernan said the passage kills about $2.5 billion in wind energy plans, including jobs, leases, payments to local governments, and factory orders. He charges that the section damaging wind energy was added to the budget bill after public debate. According to AWEA, Gabriel Alonso, CEO of EDP Renewables North America, wrote a letter to Kasich stating that the change would make wind energy "commercially unviable."
The company's Timber Road project represents a $200 million investment in Paulding County along with another $800 million of investment planned in Ohio, "all of which would be devastated by this provision," Alonso said.
"Right-wing lawmakers handed wind energy a death sentence by adding in this setback provision into the [budget bill] at the 11th hour," said Trish Demeter, managing director of energy and clean air programs for the Ohio Environmental Council. "Gov. Kasich could have 'commuted' this death penalty for wind energy, but instead he chose to look the other way.
"Gov. Kasich's quiet approval of this reckless assault—in addition to his signature on SB 310—speaks volumes about his true position on Ohio's clean energy economy."
Demeter now fears that wind energy projects will be headed to neighboring states like Michigan and Pennsylvania.
"While much of the country is moving toward investing more in cleaner and more efficient energy technologies, Ohio has taken two giant steps back to secure its place as a loser in the clean energy sector," she said. "Our state has now made clear to clean energy technology companies that they're not wanted here and that their investment can go to other states."
Monsanto, the maker of the glyphosate-based herbicide Roundup, filed a motion June 16 in U.S. District Court, Northern District of California to reconsider the chemical's addition to California's Proposition 65 list of agents known to cause cancer.
The agrochemical giant made this move based on a June 14 Reuters investigation of Dr. Aaron Blair, a lead researcher on the World Health Organization's International Agency for Research on Cancer (IARC) committee, that classified glyphosate as a "2A probable human carcinogen" in March 2015.
Keep reading...
Show less
By Avery Friedman
Algae is often considered a nuisance, but for Sweden, the rapidly growing sea plant is now an asset.
As the Scandinavian country works to cut all of its greenhouse gas emissions by 2045, it's using algae to sop up the carbon emissions from cement.
Keep reading...
Show less
Jun. 24, 2017 01:35PM EST
By Itai Vardi
A recent intensification in protests against Williams Partners' planned Atlantic Sunrise pipeline in Pennsylvania prompted a state senator to propose legislation aimed at limiting demonstrations.
Last month, Pennsylvania Sen. Scott Martin (R-Norman) announced his intention to introduce legislation that would pass the costs of law enforcement responding to protests onto the demonstrators. Martin also helped introduce a different bill that would criminalize protests at natural gas facilities.
Keep reading...
Show less
Jun. 24, 2017 01:29PM EST
Black Shogun / iStock
The Federal Energy Regulatory Commission (FERC) released its Final Environmental Impact Statement Friday for the Mountain Valley Pipeline, a controversial 303-mile pipeline that would carry two billion cubic feet of fracked gas per day from West Virginia through Virginia.
Keep reading...
Show less
Jun. 24, 2017 01:46PM EST
Falcon PEV
The so-called "first and last mile" problem is one of the biggest hurdles with public transportation. How do you encourage more people to take Earth-friendlier commutes when their homes are miles away from the train or bus station?
One solution, as this Estonian electric scooter company proposes, is to simply take your commute with you—literally. Tallinn-based Stigo has developed a compact e-scooter that folds to the size of a rolling suitcase in about two seconds.
Keep reading...
Show less
Jun. 24, 2017 05:12PM EST
Connect4Climate
[Editor's note: I'm still in shock after hearing the news that Lucia Grenna passed away in her sleep last week. When we first met in April of 2014 at a Copenhagen hotel, I was immediately taken by here powerful presence. We spent the next couple days participating in a Sustainia climate change event where Lucia presented her audacious plans to connect people to the climate issue. I had the chance to partner with Lucia on several other projects throughout the years and work with her incredible Connect4Climate team. I was always in awe of her ability to "make the impossible possible." Her spirit will live on forever. — Stefanie Spear]
It is with a heavy heart that Connect4Climate announces the passing of its founder and leading light, Lucia Grenna. Lucia passed peacefully in her sleep on June 15, well before her time. We remember her for her leadership and extraordinary ability to motivate people to take on some of the greatest challenges of our time, not least climate change.
Keep reading...
Show less
Jun. 23, 2017 07:29PM EST
Wikimedia Commons
By Stacy Malkan
Neil deGrasse Tyson has inspired millions of people to care about science and imagine themselves as participants in the scientific process. What a hopeful sign it is to see young girls wearing t-shirts emblazoned with the words, "Forget princess, I want to be an astrophysicist."
Keep reading...
Show less
Jun. 23, 2017 01:57PM EST
www.youtube.com
By Andy Rowell
Any day now we will truly witness climate change in action. Within days at worst, maybe weeks at best, scientists predict that a huge section of the Larsen C ice shelf in Antarctica will break off into the ocean, in what is called a major "carving" event.
Keep reading...
Show less
Jun. 23, 2017 02:27PM EST
www.youtube.com
President Trump visited Cedar Rapids, Iowa on June 21 to speak to a large crowd in the U.S. Cellular Center at a political rally organized by his campaign.
As Trevor Noah noted during The Daily Show episode last night (starts at 2:25), the real reason Trump has these rallies is to "get back in front of his loyal crowds and feed of their energy." Noah believes that "Trump supporters are so on board with their dude he can say anything and they'll come along for the ride."
Keep reading...
Show less