This website uses cookies to ensure you get the best experience while browsing it. By clicking 'Got It' you're accepting these terms.
Why My Earth Day Was Ruined
Apr. 24, 2015 09:42AM EST
Energy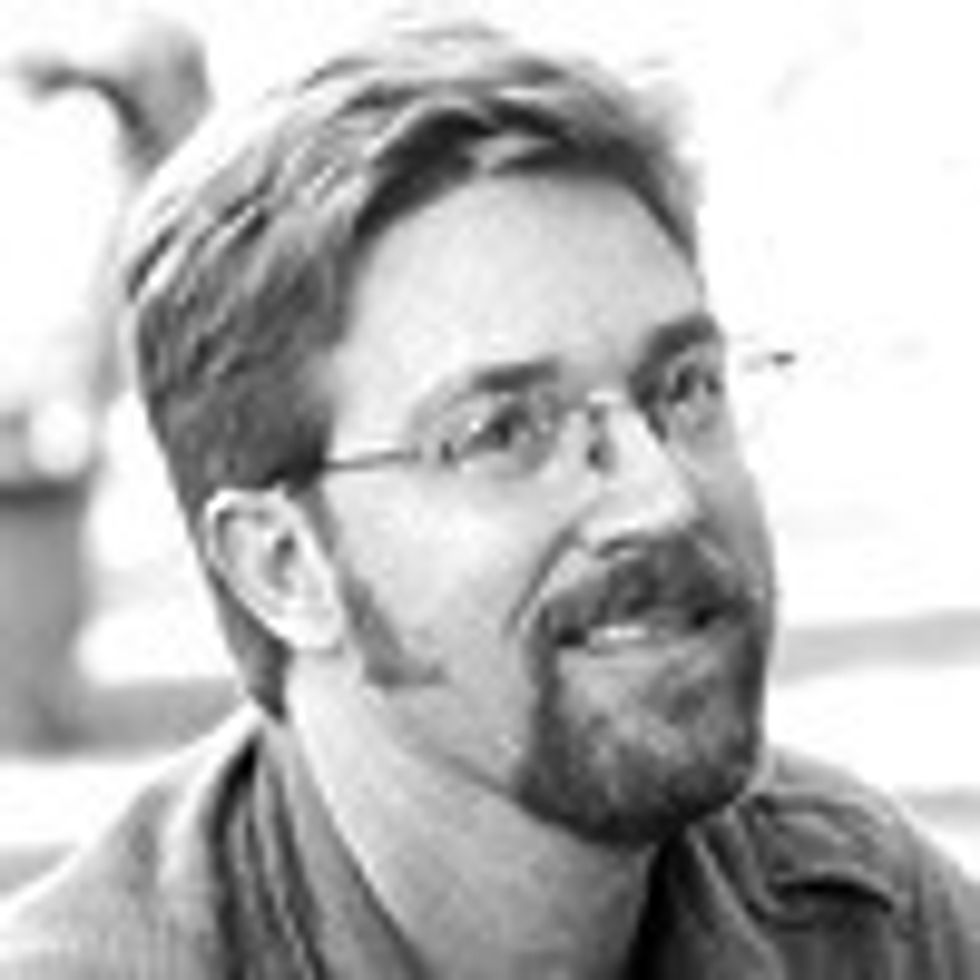 The Washington University Students Against Peabody Energy ruined my Earth Day. They sent me footage of a recent fact-finding trip to Saline County, Illinois, where some of my family members, friends and farmers are being blasted by nearby Peabody Energy strip-mining operations.
Regret to inform you: Coal blasting rages on in southern Illinois, along with cancer-linked mountaintop removal operations in central Appalachia, and mining across the West.
Let's get the narrative right: Coal is not dying, it's declining and shifting, and though mountaintop removal is on the ropes, the knockout still awaits federal action. U.S. coal mining production in 2015 is still set for 926 million tons, down from 996 millions tons, and estimated to rebound to 941 millions tons in 2016, according to the US Energy Information Administration. Thanks to the Appalachian decline, the Illinois Basin mined 104.9 million tons in 2014, up 4.6 percent.
Whether it's 996, 941 or 926 million tons of coal, that's still a lot of unprotected coal mine blasting now linked to cancer, and higher rates of birth defects and disease.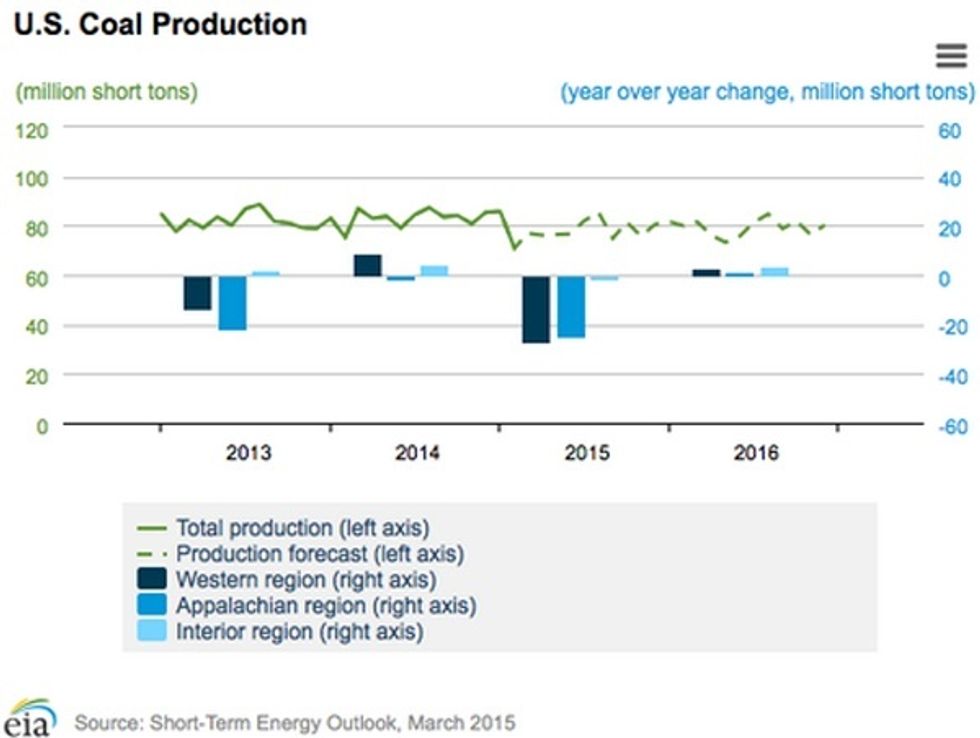 While I love to write about clean energy solutions, Appalachian transition and coalfield regeneration and the inspiring regenerative city movement, to ignore the deadly impacts of mountaintop removal and coal mining is a betrayal to the residents living on the front lines of coal mining mayhem today.
Thankfully, impacted residents and groups continue the fight, despite the odds: More than 80,000 people have recently signed CREDO's petition for a moratorium on the cancer-linked strip mining operations through the Appalachian Community Health Emergency Act.
Does a moratorium sound impossible? In Wales last week, the Assembly Members voted 30-0 after an informative debate to place a moratorium on open cast (strip) mining, similar to the ACHE Act, to study the impact of mining on residents.
It would be great to see such leadership in the US Congress, and among environmental groups based on Capitol Hill.
Earth Day has come and gone, but not the struggle to end mountaintop removal, which was launched in the same year: In 1970, an arsenal of explosives and draglines breached the ramparts of Bullpush Mountain in the Cannelton area of West Virginia, and blasted the first mountaintop removal mining operation.
Despite years of litigation, protests, education campaigns, public hearings and regulatory promises, the cancer-linked strip mine operations continue today in central Appalachia as the flip side of Earth Day's promise of restorative justice.
To celebrate Earth Day and not acknowledge the devastation of mountaintop removal, which provides only a small percentage of our national coal production, is to betray the origins of Earth Day itself.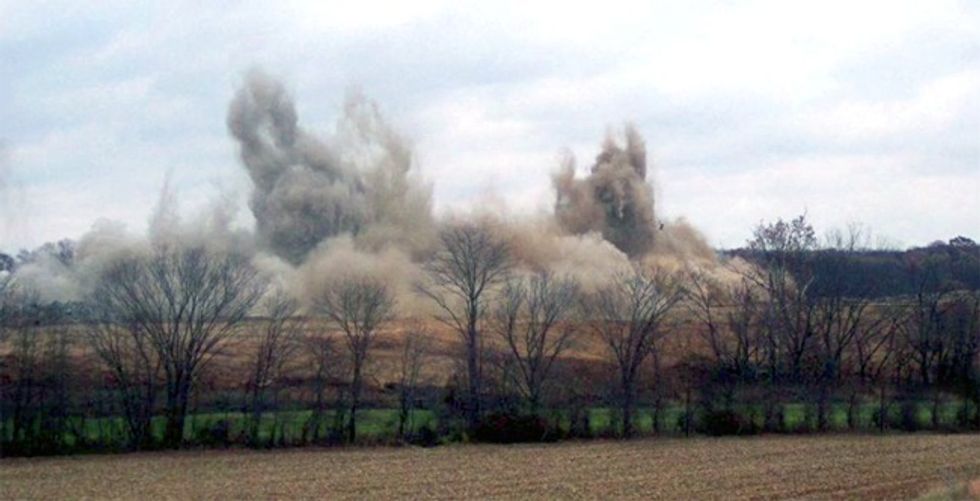 Few people may recall that one of inspirations of Earth Day emerged out of earlier Human Ecology Symposiums organized by public health professor Morton Hilbert, to address the impact of our footprint on the land and its inhabitants.
Our nation's collective inaction over the fallout from strip mining and mountaintop removal does not simply mock the goals of Earth Day co-founder and former Sen. Gaylord Nelson, for "an environment of decency, quality and mutual respect for all other human being and all living creatures."
The federal sanctioning of strip mining and such deadly mountaintop removal operations obliterates the very essence of Earth Day's purpose—and makes us all complicit to a crime against our earth and its Appalachian residents, as well as those dealing with strip mining in southern Illinois and the West.
So, let's be honest: The day after Earth Day is just another day of strip mine blasting in America—until we decide to take a stand like Wales, CREDO and the Washington University students and end it.
YOU MIGHT ALSO LIKE
Duke Energy Coal Ash Ponds Contaminate Wells, Residents Told Not to Drink the Water
Join the Movement to Ban Mountaintop Removal Coal Mining
EcoWatch Daily Newsletter
Aerial shot top view Garbage trucks unload garbage to a recycle in the vicinity of the city of Bangkok, Thailand. bugto / Moment / Getty Images
German researchers have identified a strain of bacterium that not only breaks down toxic plastic, but also uses it as food to fuel the process, according to The Guardian.
The Environmental Protection Agency (EPA) issued a policy memo yesterday that is an expansive relaxation of legally mandated regulations on polluting industries, saying that industries may have trouble adhering to the regulations while they are short-staffed during the coronavirus global pandemic, according to the AP.
Hurricane Dorian was one of the 2019 Atlantic hurricane season's most devastating storms. NASA
2019 marked the fourth year in a row that the Atlantic hurricane season saw above-average activity, and it doesn't look like 2020 will provide any relief.
The deep, open ocean may seem like an inhospitable environment, but many species like human-sized Humboldt squids are well-adapted to the harsh conditions. 1,500 feet below the ocean's surface, these voracious predators could be having complex conversations by glowing and changing patterns on their skin that researchers are just beginning to decipher.
A worker distributes disinfection wipes at a farmers market at Richard Tucker Park in New York City on March 21, 2020. Lev Radin / Pacific Press / LightRocket via Getty Images
Not many restaurants will be able to survive coronavirus, and this is a personal, social and national tragedy.
I'm worried about farmers markets too.