Why Methane Is CO2's Evil Stepsister (And Why We Should Care)
Carbon dioxide is the greenhouse gas that gets tossed around in most climate change conversations.
But methane (CH4) is making its way into the mainstream spotlight.
Here are some things that are happening:
Climate change is warming up areas that were typically cold enough for permafrost. Permafrost—soil that's frozen year round and comprises 24 percent of Northern Hemisphere land (8.8 millions square miles)—is no longer "perma."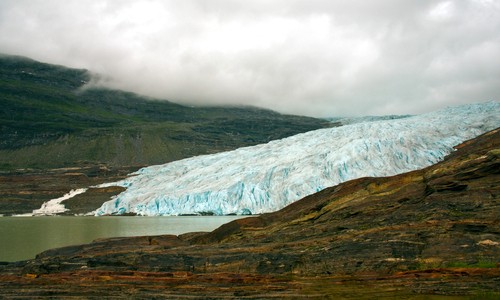 Photo courtesy of Shutterstock
Some permafrost that's been frozen for tens, even hundreds of thousands of years is thawing (i.e., no longer so frosty).
277 billion tonnes of carbon are contained in the peatlands in the permafrost zone of the Northern Hemisphere. That's equivalent to 1,017 billion tonnes of carbon dioxide (CO2). Guess where that's gonna end up when thawing occurs?
But, thawing and decomposing permafrost will lead to relatively more methane than carbon dioxide emissions, which could lead to more serious climate impacts than previously thought, a study said.
To top it off, a newly discovered microbe happens to thrive in thawing permafrost, blooming like algal blooms. Methane is a byproduct of its metabolism. Oops! This new microbe stuff is adding fuel to the fire and, one could say, the microbe's booming and blooming lifestyle is indirectly caused by humans (hey—we're the ones who started throwing all those extra greenhouse gases into the atmosphere, which has thrown off climate cycles according to 97 percent of climate scientists).
Methane is also released in heavy doses from factory farms in the form of cow belches and flatulence.
And it's emitted in the production and transport of coal, natural gas and oil, not to mention the anaerobic decay of organic waste in municipal solid waste landfills. Garbage in, garbage out.
So what's all the "evil stepsister" name-calling of poor old methane?
Why is methane such a big deal for climate change?
Globally, over 60 percent of total methane emissions come from human activities. Methane is the second most prevalent greenhouse gas emitted in the U.S. from human activities. We're the enabler here.
Methane—a more powerful greenhouse gas—is 33 times more effective in heating the Earth than carbon dioxide. Need I say more?
Listen to the latest Green Divas myEARTH360 Report for more on methane and other environmental news.
Bonus video about permafrost:
 ——–
YOU MIGHT ALSO LIKE
Obama's Methane Emissions Plan Puts Oil, Coal and Gas Industries on Notice
Tax Meat to Reduce Methane Emissions and Global Warming, Say Scientists
Study Shows Oil and Gas Industry Can Reduce Methane Emissions By 40 Percent
——–
Bill Maher is sick of billionaires' obsession with Mars, more like "Mars-a-Lago," he said.
In a new animation produced by ATTN:, the popular talk show host of Real Time, discusses the perils of our planet, including how "climate change is killing us."
Keep reading...
Show less
Dr. Benjamin D. Santer, research scientist
A group of prominent climate scientists have written a study explicitly refuting statements made by the U.S. Environmental Protection Agency Administrator Scott Pruitt on climate data. During his Senate confirmation hearing, Pruitt claimed in a written response that satellite data shows a "leveling off" of warming over the past two decades.
Keep reading...
Show less
By David Pomerantz
The Nevada Assembly passed a bill Wednesday that would dramatically increase the growth of renewable energy in the state, but Sheldon Adelson, the casino magnate and major donor to Donald Trump, is attempting to prevent the bill from becoming law.
Keep reading...
Show less
Matt Crossick
By Yosola Olorunshola
Whether it's through fashion or protest, Vivienne Westwood is not a woman afraid of making a statement.
On May 23, she rocked up to the residence of the Archbishop of Canterbury in London with a special guest—the Grim Reaper—to issue a strong statement on the Church of England's position on fracking.
Keep reading...
Show less
By Paul Brown
The food industry and big agricultural concerns are driving climate change and at the same time threatening to undermine efforts to feed the world's growing population, according to GRAIN, an organization that supports small farmers.
Particularly singled out for criticism are the large chemical fertilizer producers that have gained access to the United Nations talks on climate change. GRAIN accuses them of behaving like the fossil fuel companies did in the 1990s, pushing false information in the hope of delaying real action on climate change.
Keep reading...
Show less
May. 24, 2017 06:55PM EST
By Sydney Robinson
President Trump has no doubt been given a long list of extravagant, elaborate gifts in his lifetime, but the gift given to him today by Pope Francis may not make it on his most favorite list.
Keep reading...
Show less
May. 24, 2017 07:17PM EST
By John Rogers
Maybe it's because I first started working on clean energy while serving in the Peace Corps he founded, or maybe it's my years of working on these issues from his home state. But I can't help thinking about the 100th anniversary of John F. Kennedy's birth, and connecting his stirring rhetoric to the energy challenges of our times.
Here's what our 35th president might have said about the challenges of energy transition and the opportunities in clean energy:
"Change is the law of life. And those who look only to the past or present are certain to miss the future."
Keep reading...
Show less
May. 24, 2017 01:47PM EST
Keep reading...
Show less


Get EcoWatch in your inbox