This website uses cookies to ensure you get the best experience while browsing it. By clicking 'Got It' you're accepting these terms.
Why Methane Is CO2's Evil Stepsister (And Why We Should Care)
Apr. 11, 2014 09:26AM EST
Carbon dioxide is the greenhouse gas that gets tossed around in most climate change conversations.
But methane (CH4) is making its way into the mainstream spotlight.
Here are some things that are happening:
Climate change is warming up areas that were typically cold enough for permafrost. Permafrost—soil that's frozen year round and comprises 24 percent of Northern Hemisphere land (8.8 millions square miles)—is no longer "perma."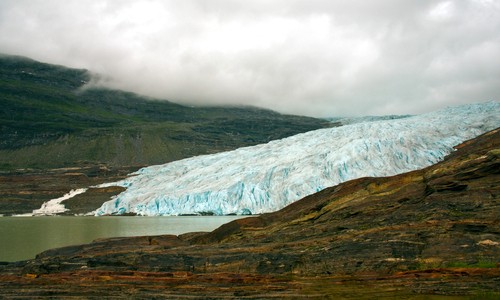 Photo courtesy of Shutterstock
Some permafrost that's been frozen for tens, even hundreds of thousands of years is thawing (i.e., no longer so frosty).
277 billion tonnes of carbon are contained in the peatlands in the permafrost zone of the Northern Hemisphere. That's equivalent to 1,017 billion tonnes of carbon dioxide (CO2). Guess where that's gonna end up when thawing occurs?
But, thawing and decomposing permafrost will lead to relatively more methane than carbon dioxide emissions, which could lead to more serious climate impacts than previously thought, a study said.
To top it off, a newly discovered microbe happens to thrive in thawing permafrost, blooming like algal blooms. Methane is a byproduct of its metabolism. Oops! This new microbe stuff is adding fuel to the fire and, one could say, the microbe's booming and blooming lifestyle is indirectly caused by humans (hey—we're the ones who started throwing all those extra greenhouse gases into the atmosphere, which has thrown off climate cycles according to 97 percent of climate scientists).
Methane is also released in heavy doses from factory farms in the form of cow belches and flatulence.
And it's emitted in the production and transport of coal, natural gas and oil, not to mention the anaerobic decay of organic waste in municipal solid waste landfills. Garbage in, garbage out.
So what's all the "evil stepsister" name-calling of poor old methane?
Why is methane such a big deal for climate change?
Globally, over 60 percent of total methane emissions come from human activities. Methane is the second most prevalent greenhouse gas emitted in the U.S. from human activities. We're the enabler here.
Methane—a more powerful greenhouse gas—is 33 times more effective in heating the Earth than carbon dioxide. Need I say more?
Listen to the latest Green Divas myEARTH360 Report for more on methane and other environmental news.
Bonus video about permafrost:
 ——–
YOU MIGHT ALSO LIKE
Obama's Methane Emissions Plan Puts Oil, Coal and Gas Industries on Notice
Tax Meat to Reduce Methane Emissions and Global Warming, Say Scientists
Study Shows Oil and Gas Industry Can Reduce Methane Emissions By 40 Percent
——–
EcoWatch Daily Newsletter
Strawberries top the Environmental Working Group's "Dirty Dozen" list of U.S. produce most contaminated with pesticides. DANIEL LEAL-OLIVAS / AFP / Getty Images
Which conventionally-grown fruits and vegetables in the U.S. are most contaminated with pesticides? That's the question that the Environmental Working Group answers every year with its "Dirty Dozen" list of produce with the highest concentration of pesticides after being washed or peeled.
A drilling rig in a Wyoming natural gas field. William Campbell / Corbis via Getty Images
A U.S. federal judge temporarily blocked oil and gas drilling on 300,000 acres of federal leases in Wyoming Tuesday, arguing that the Bureau of Land Management (BLM) "did not sufficiently consider climate change" when auctioning off the land, The Washington Post reported.
Mizina / iStock / Getty Images
Oats are widely regarded as one of the healthiest grains you can eat, as they're packed with many important vitamins, minerals, and fiber.
JPMorgan Chase building in New York City. Ben Sutherland / CC BY 2.0
By Sharon Kelly
A report published Wednesday names the banks that have played the biggest recent role in funding fossil fuel projects, finding that since 2016, immediately following the Paris agreement's adoption, 33 global banks have poured $1.9 trillion into financing climate-changing projects worldwide.
Sriram Madhusoodanan of Corporate Accountability speaking on conflict of interest demand of the People's Demands at a defining action launching the Demands at COP24. Corporate Accountability
By Patti Lynn
2018 was a groundbreaking year in the public conversation about climate change. Last February, The New York Times reported that a record percentage of Americans now believe that climate change is caused by humans, and there was a 20 percentage point rise in "the number of Americans who say they worry 'a great deal' about climate change."
The head of England's Environment Agency has urged people to stop watering their lawns as a climate-induced water shortage looms. Pexels
England faces an "existential threat" if it does not change how it manages its water, the head of the country's Environment Agency warned Tuesday.
Pexels
By Jessica Corbett
A new analysis revealed Tuesday that over the past two decades heat records across the U.S. have been broken twice as often as cold ones—underscoring experts' warnings about the increasingly dangerous consequences of failing to dramatically curb planet-warming emissions.
A flock of parrots in Telegraph Hill, San Francisco.
~dgies / Flickr
By Madison Dapcevich
Ask any resident of San Francisco about the waterfront parrots, and they will surely tell you a story of red-faced conures squawking or dive-bombing between building peaks. Ask a team of researchers from the University of Georgia, however, and they will tell you of a mysterious string of neurological poisonings impacting the naturalized flock for decades.