This website uses cookies to ensure you get the best experience while browsing it. By clicking 'Got It' you're accepting these terms.
Why Is the World Obsessed With Donald Trump?
Aug. 26, 2015 09:49AM EST
Politics
He's everywhere.
Spray-tanned face and white teeth exploding through the front pages of newspapers and magazines. Implausible hair mesmerizing on Twitter and Facebook. Comments on female journalists and illegal Mexican immigrants echoing across the ether. It is likely that Donald Trump will be nothing more than an ephemeral political phenomenon but he is still a phenomenon.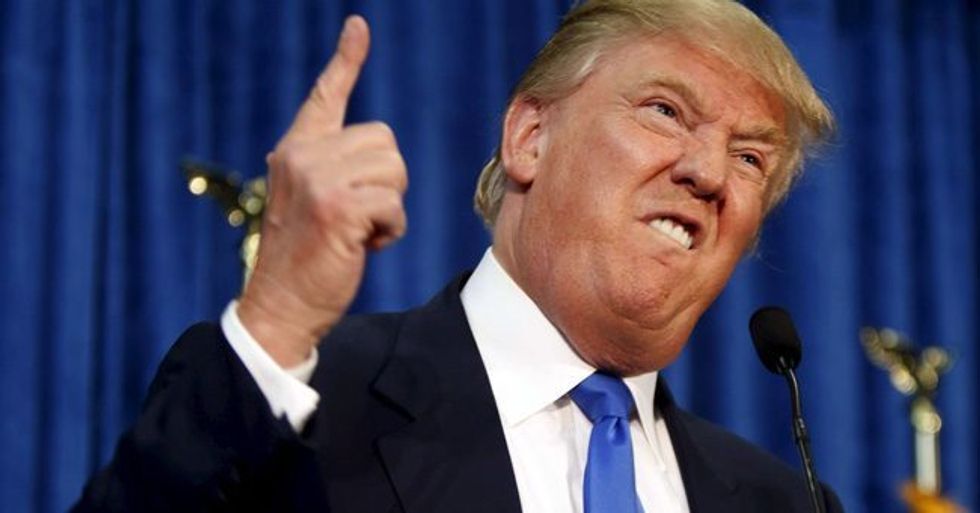 "The concept of global warming was created by and for the Chinese in order to make U.S. manufacturing non-competitive," said Donald Trump in a tweet in 2012. Photo credit: Creative Commons
Politically divisive at home, Trump unifies internationally. My utterly subjective sense is that he is the American many global citizens have been waiting for since the end of the George W. Bush presidency: an American the world can look at and ridicule, a symbol of U.S. arrogance and anti-intellectualism. Paul Thomas of the New Zealand Herald put this view best when he wrote that, "Trump personifies everything the rest of the world despises about America: casual racism, crass materialism, relentless self-aggrandizement, vulgarity on an epic scale. He is the Ugly American in excelsis."
Bashing the U.S. is a favorite pastime of portions of the international press because we Americans have made it so damn easy. We trumpet the fact that our nation is created and protected by God. We parade our guns as evidence of freedom. We revel in a military power we are unafraid to use. We laugh in the face of facts and science. We elected George W. Bush. Twice.
And yet Trump is not the only phenomenon on the U.S. political scene. Another presidential hopeful, also unlikely to get the final nomination, is receiving far less ink internationally than his casino-owning counterpart. As Bernie Sanders mounts an unlikely challenge to Hillary Clinton for the Democratic nomination, the media give him short shrift in favor of yet more Trumpisms.
The concept of global warming was created by and for the Chinese in order to make U.S. manufacturing non-competitive.

— Donald J. Trump (@realDonaldTrump) November 6, 2012
In Sanders we have a candidate who espouses many of the political values supposedly held dear to Europeans: an opposition to economic inequality, a belief in the need for a livable wage and promotion of universal healthcare. Sanders is even willing to out himself as a fan of Scandinavian welfare state politics. He's getting huge numbers at his speeches and rallies. On top of this, he is smart, articulate and passionate.
Given these facts, there is more than a little irony in this international media obsession with Trump. This isn't to say that the international media are rooting for U.S. failure or embarrassment — the global love affair with Obama in 2008 puts that argument to bed — but rather that when a Trump-esque figure emerges in the U.S. (think: Sarah Palin), a certain measure of schadenfreude becomes palpable.
This is not a uniquely American trait. Europe and the U.S. often hold mirrors up to each other, sometimes reveling in misfortune. The collapse of the Greek economy, for example, was met with glee by portions of the right-wing U.S. media who used the crisis to score points about the weakness of the EU and the failure of "socialist" policies.
What Trump does for Europe, for example, is to make it feel better about itself: "Things might be bad here but at least we don't have … that." The problem, of course, is that many of the policies espoused by Trump are not far off what major political parties propose in Europe. The bluster and bombast of people like Trump and Palin make it easy to dismiss a European slide into American-style politics, yet if we strip away the fake tan and hairspray, things can get uncomfortably close.
A recent (albeit contested) poll in Sweden, for example, put the anti-immigration Sweden Democrats as the most popular party in the country. France's Front National scored a huge result in the 2014 EU elections. Despite concerns over the privatization of the National Health Service, David Cameron defied all predictions and was re-elected in the UK. The list goes on. In the relationship between Europe and the U.S., Europe has considered itself to hold the monopoly on social democratic values. The treatment received by Labour leadership hopeful Jeremy Corbyn by substantial portions of the UK press and political establishment, however, is a reminder that politics once considered part of the European mainstream 20 years ago are now openly ridiculed as pie-in-the-sky radicalism.
This brings us back to Sanders and the international coverage of U.S. primary season. Leftist politics aren't the stuff of front pages: political discussions on unions in the U.S. don't set many global newsrooms on fire. Yet, as I watched Jimmy Carter (in the wake of his cancer diagnosis) give one of the most thoughtful and dignified press conferences by a politician in recent memory, I could not help but wish that people like Carter and Sanders would be afforded the international media oxygen given to people like Trump.
Breathless reports of a depoliticized American citizenry fawning over a cartoonish autocrat make for good reading, but they are also de-contextualized. Trump is polling in the low 20s for a party that will likely get in the high 40s in a national election (in 16 months) where the voter turnout will be in the mid-50s. Yes, that's still a lot of people but there are also millions of Americans disgusted with the political status quo as represented by the Republican and Democratic parties. By ignoring those millions in favor of media-friendly crackpots we relegate principled challenges to corporate-dominated politics in the U.S. to a mere footnote in our public debate.
Trump is an easy target and more importantly, he's profitable clickbait. But Trump is also political and journalistic junk food: a diversion from a deeper, uncomfortable discussion about what ails both the U.S. and Europe. There are serious people out there talking about these ailments. It's time we ate our vegetables.
Christian Christensen, American in Sweden, is Professor of Journalism at Stockholm University. Follow him on Twitter: @ChrChristensen
YOU MIGHT ALSO LIKE
Donald Trump: Keystone XL Pipeline Would Have 'No Impact' on The Environment
7 Lessons Learned About the Politics of Climate Change
EcoWatch Daily Newsletter
A new report spotlights a U.N. estimate that at least 275 million people rely on healthy coral reefs. A sea turtle near the Heron Island in the Great Barrier Reef is seen above. THE OCEAN AGENCY / XL CATLIN SEAVIEW SURVEY
In a new report about how the world's coral reefs face "the combined threats of climate change, pollution, and overfishing" — endangering the future of marine biodiversity — a London-based nonprofit calls for greater global efforts to end the climate crisis and ensure the survival of these vital underwater ecosystems.
Half of the extracted resources used were sand, clay, gravel and cement, seen above, for building, along with the other minerals that produce fertilizer. Cavan Images / Cavan / Getty Images
The world is using up more and more resources and global recycling is falling. That's the grim takeaway from a new report by the Circle Economy think tank, which found that the world used up more than 110 billion tons, or 100.6 billion metric tons, of natural resources, as Agence France-Presse (AFP) reported.
By Gero Rueter
Heating with coal, oil and natural gas accounts for around a quarter of global greenhouse gas emissions. But that's something we can change, says Wolfgang Feist, founder of the Passive House Institute in the western German city of Darmstadt.

By George Citroner
Recent research finds that official government figures may be underestimating drug deaths by half.
Researchers estimate that 142,000 people died due to drug use in 2016.
Drug use decreases life expectancy after age 15 by 1.4 years for men and by just under 1 year for women, on average.
Government records may be severely underreporting how many Americans die from drug use, according to a new study by researchers from the University of Pennsylvania and Georgetown University.
Water coolers in front of shut-off water fountains at Center School in Stow, MA on Sept. 4, 2019 after elevated levels of PFAS were found in the water. David L. Ryan / The Boston Globe via Getty Images
In a new nationwide assessment of drinking water systems, the Environmental Working Group found that toxic fluorinated chemicals known as PFAS are far more prevalent than previously thought.