Why is it so Warm in December?
Some on Twitter are having a hard time getting into the Christmas spirit with temperatures far above normal for much of the eastern U.S.
On Sunday in New York City, temperatures topped off at 70 degrees Fahrenheit, breaking a 30-year-old record. This year's strong El Niño is expected to give much of the U.S. a warmer than average winter, while southern states are expected to get an extra dose of precipitation. But while El Niño and, of course, climate change are certainly in play in this bout of exceptionally warm weather, at least one meteorologist said there's another culprit.
The record warmth seen in the Northeast and Midwest is "really associated with the strengthened polar vortex," Mike Halpert, deputy director of the Climate Prediction Center at the National Weather Service, told CNBC.
"I would not associate the lack of snow in Buffalo with El Niño," Halpert said on Thursday. "It is much more likely the Arctic Oscillation."
Polar vortex. Arctic Oscillation. It sounds like these should be bringing colder temperatures, not warmer ones right? After all, the polar vortex is part of the reason the Eastern U.S. had such a cold winter in 2014.
The Arctic Oscillation is a "change in air pressure at the North Pole that affects how far south cold air travels from the Arctic," explained CNBC. When the Arctic Oscillation is in its positive phase, cold air remains confined to the polar region. The belt becomes weaker in its negative phase, allowing colder air to move southward. The polar vortex is a large area of low pressure and cold air surrounding both of the Earth's poles. The weather phenomenon became well known in the winter of 2014, but it's something that has always existed.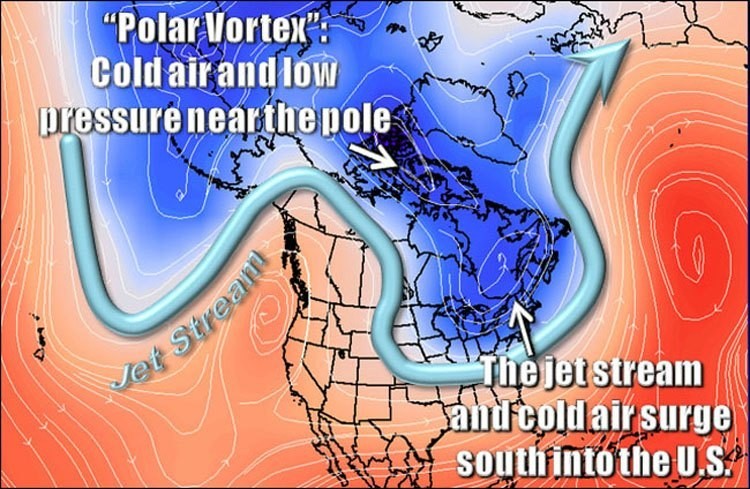 "Many times during winter in the northern hemisphere, the polar vortex will expand, sending cold air southward with the jet stream," the National Weather Service said on its website. "This occurs fairly regularly during wintertime and is often associated with large outbreaks of Arctic air in the United States."
Right now, the Arctic Oscillation is really positive and the polar vortex is stronger than average, explained Judah Cohen, a meteorologist with Atmospheric and Environmental Research, in a recent blog post. That "has resulted in very mild temperatures across northern Europe, the Eastern United States and to a lesser degree East Asia," Cohen wrote. In short, all of that cold, Arctic air is staying up near the poles, but Cohen said the pattern is starting to change and "temperatures are likely to cool from their very elevated levels."
As for how the rest of the winter will shape up in the U.S., that remains to be seen. Weather patterns could certainly shift, as they always do, but there's no doubt they're becoming more extreme and harder to predict because of climate change. In a report last month, discussing one of the top three strongest El Niños on record, World Meteorological Organization (WMO) Secretary-General Michel Jarraud said, "We are in uncharted territory" because the impacts of this so-called "monster" or "Godzilla" El Niño are exacerbated by climate change.
Last month, the WMO announced what climate scientists have predicted for months: 2015 is likely to top the charts as the hottest year in modern observations with 2011-15 the hottest five-year period on record.
For now, if all you want to know is if you'll be having a white Christmas, the National Oceanic and Atmospheric Administration has figured out the statistical likelihood that your area will have snow on Christmas. Thank you, science.
YOU MIGHT ALSO LIKE
President Obama: Paris Climate Agreement a 'Turning Point for the World'
7 Ways the Outcome of Paris Climate Talks Will Impact Your Day-to-Day Life
Arnold Schwarzenegger Doesn't 'Give a ****' Whether You Agree With Him on Climate Change
Monsanto to Be Put on Trial for 'Crimes Against Nature and Humanity'
Bill Maher is sick of billionaires' obsession with Mars, more like "Mars-a-Lago," he said.
In a new animation produced by ATTN:, the popular talk show host of Real Time, discusses the perils of our planet, including how "climate change is killing us."
Keep reading...
Show less
Dr. Benjamin D. Santer, research scientist
A group of prominent climate scientists have written a study explicitly refuting statements made by the U.S. Environmental Protection Agency Administrator Scott Pruitt on climate data. During his Senate confirmation hearing, Pruitt claimed in a written response that satellite data shows a "leveling off" of warming over the past two decades.
Keep reading...
Show less
By David Pomerantz
The Nevada Assembly passed a bill Wednesday that would dramatically increase the growth of renewable energy in the state, but Sheldon Adelson, the casino magnate and major donor to Donald Trump, is attempting to prevent the bill from becoming law.
Keep reading...
Show less
Matt Crossick
By Yosola Olorunshola
Whether it's through fashion or protest, Vivienne Westwood is not a woman afraid of making a statement.
On May 23, she rocked up to the residence of the Archbishop of Canterbury in London with a special guest—the Grim Reaper—to issue a strong statement on the Church of England's position on fracking.
Keep reading...
Show less
By Paul Brown
The food industry and big agricultural concerns are driving climate change and at the same time threatening to undermine efforts to feed the world's growing population, according to GRAIN, an organization that supports small farmers.
Particularly singled out for criticism are the large chemical fertilizer producers that have gained access to the United Nations talks on climate change. GRAIN accuses them of behaving like the fossil fuel companies did in the 1990s, pushing false information in the hope of delaying real action on climate change.
Keep reading...
Show less
May. 24, 2017 06:55PM EST
By Sydney Robinson
President Trump has no doubt been given a long list of extravagant, elaborate gifts in his lifetime, but the gift given to him today by Pope Francis may not make it on his most favorite list.
Keep reading...
Show less
May. 24, 2017 07:17PM EST
By John Rogers
Maybe it's because I first started working on clean energy while serving in the Peace Corps he founded, or maybe it's my years of working on these issues from his home state. But I can't help thinking about the 100th anniversary of John F. Kennedy's birth, and connecting his stirring rhetoric to the energy challenges of our times.
Here's what our 35th president might have said about the challenges of energy transition and the opportunities in clean energy:
"Change is the law of life. And those who look only to the past or present are certain to miss the future."
Keep reading...
Show less
May. 24, 2017 01:47PM EST
Keep reading...
Show less


Get EcoWatch in your inbox