Why Is Climate Denier David Koch on Board of Nation's Leading Natural History Museums?
The nation's top museums are under pressure to cut ties with billionaire funders who profit from wrecking the planet, most notably the Koch brothers. In an open letter, a group of renowned scientists called on science and natural history museums to stop accepting donations from fossil fuel corporations and individual donors like the Koch brothers, who have extensive industry holdings and have funded climate denial, according to Democracy Now!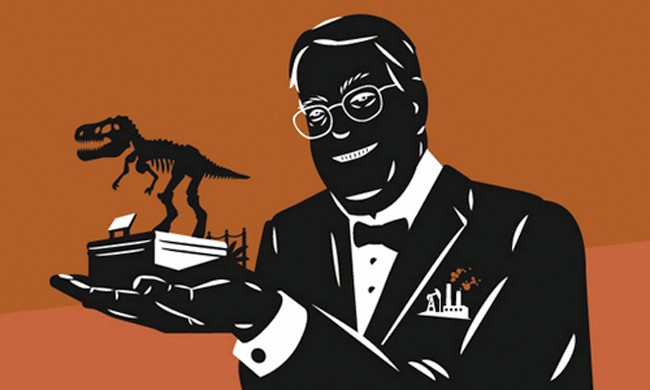 David Koch is a board member of both the American Museum of Natural History and the Smithsonian National Museum of Natural History. "One of the most controversial exhibits is a Koch-backed installation at the Smithsonian that promotes the theory that humankind evolved in response to climate change," reports Democracy Now!
The letter was the brainchild of the new Natural History Museum, a New York-based organization that provides online and mobile programming, and exhibits intended to "affirm the truth of science" and call attention to the "political/funding climate" in the science museum community.
Beka Economopoulos, co-founder and director of the Natural History Museum, who coordinated the letter to 330 science and natural history museums, and James Powell, one of the scientists who signed the letter, joined Amy Goodman on the show this morning to discuss the letter.
YOU MIGHT ALSO LIKE
Renowned Scientists Urge Museums to Drop Climate-Denier Donors, BP Dumps ALEC
Moving Beyond Oil and Keeping Shell Out of the Arctic
Don't Frack with Denton: A Community's Fight to Defend Home Rule
www.facebook.com
Keep reading...
Show less
Scott Pruitt testifies during his Senate confirmation hearing for EPA administrator, January 2017.
The U.S. Environmental Protection Agency's (EPA) chief of staff pressured the leader of its Board of Scientific Counselors to change her congressional testimony to downplay the impact of the agency's mass dismissal of scientists from the board, the New York Times reports.
Keep reading...
Show less
By Jason Mark
Sequoiadendron giganteum. That's the scientific name for the giant sequoia: the mammoth trees found in California's Sierra Nevada that are the largest organisms on Earth, and among the longest-lived. Biologists estimate that about half of all sequoias live in Giant Sequoia National Monument, a 328,000-acre preserve in the Southern Sierra Nevada established by President Clinton in 2000.
Now that national monument is in jeopardy.
Keep reading...
Show less
By Andy Rowell
Donald Trump this week is launching an "energy week," pushing the argument that the U.S. will become a net exporter of oil and gas.
The president and his cronies are talking about a new era of "U.S. energy dominance," which could stretch for decades to come. However, no one believes the president anymore.
Keep reading...
Show less
UN
By Colleen Curry
The United Nations has designated 23 new sites around the world to its World Network of Biosphere reserves—stunning natural landscapes that balance environmental and human concerns and strive for sustainability.
The forests, beaches and waterways were added to the list this year at the International Coordinating Council of the Man and the Biosphere Programme meeting in Paris earlier this month.
Keep reading...
Show less
Jun. 26, 2017 01:48PM EST
www.elysee.fr
By Andy Rowell
There is a growing feeling within European capitals that a quiet, but deeply positive, revolution is happening under Emmanuel Macron in France.
Macron's opinion poll rating is high, especially boosted in how the young French president has reacted to Donald Trump on the international stage.
Keep reading...
Show less
Jun. 26, 2017 12:32PM EST
www.facebook.com
Keep reading...
Show less
Jun. 26, 2017 02:46PM EST
Keep reading...
Show less
Jun. 26, 2017 03:34PM EST
www.youtube.com
According to Bloomberg, "SeaWorld Entertainment Inc. received a subpoena earlier this month from regulators investigating disclosures and public statements by executives, including comments about the Blackfish documentary that caused a public backlash against the confinement of orcas.
Keep reading...
Show less


Get EcoWatch in your inbox