This website uses cookies to ensure you get the best experience while browsing it. By clicking 'Got It' you're accepting these terms.
Why Hydropower Is Not 'Cheap' or 'Clean'
Feb. 23, 2016 12:29PM EST
Energy
The California think-tank Pacific Institute released a report—Impacts of California's Drought: Hydroelectric Generation 2015 Update—earlier this month that contains significant false and misleading information that could negatively impact California rivers and delay the transition away from dirty energy.
First, the report and the news stories surrounding it repeatedly say that hydroelectric power is "less expensive" in California than competing sources. This statement gives credence to the anti-environmental mindset of discounting the negative impacts that dams and reservoirs have on free-flowing rivers, and disregards the externalized costs to the environment. In fact, the report omits the devastating impacts hydropower has on fish, wildlife, wetlands and countless other species that depend on healthy flowing rivers for survival. If the report would have included an "environmental full-cost accounting," the cost of hydropower for California consumers would have been shown to be huge.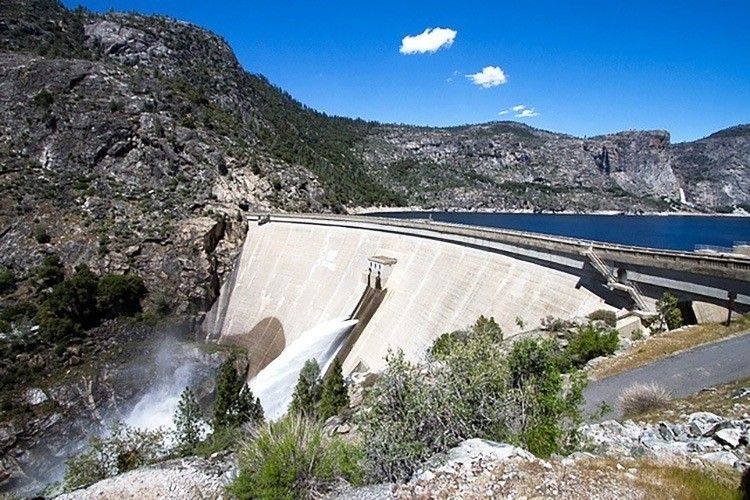 Second, the report pushes the anti-science myth that hydropower is "clean energy," when nothing is further from the truth. Hydropower dams and reservoirs emit methane, a greenhouse gas that is 20 times more potent than carbon dioxide. These emissions are caused by the decomposition of organic vegetation flowing into the water as the reservoir levels fluctuate, and as rivers and floodplains are flooded each year. Methane bubbles up from the surface of the reservoirs and methane is jetted out the turbines below the dam. In fact, in tropical environments, hydropower can emit as much or even more greenhouse gases than coal-fired power plants. Unfortunately, the state of California does not measure the methane emissions from hydropower dams and reservoirs even though the science proving its impact is 25 years old.
Third, the report ignores positive impacts on water and electric use in California due to the drought. For example, the Metropolitan Water District of Southern California spent $450 million "buying lawns" in its service area and replacing them with drought tolerant landscapes. This transformation of the landscape from water guzzling to water conserving has significant impacts that lowers water and energy bills for consumers. Similarly, because of the ongoing drought, in Los Angeles, Orange and San Diego counties, stormwater and wastewater recycling programs have been launched, which could save large amounts of water, energy and money as compared to other types of new water supplies.
Finally, the report says hydropower is "less polluting" and the media surrounding the report has been saying that hydropower is "clean as a whistle"—all of which greenwashes the industry's reckless history of environmental and cultural destruction in the U.S. and across the rest of the globe. Hydropower causes massive impacts to indigenous peoples, forests and biological diversity, and increases the spread of disease (even the Zika virus), all of which is escalating exponentially worldwide.
Thousands of new hydroelectric dams are being proposed in South America, Eastern Europe, Asia and Africa. Hundreds of dams are under construction, most of which are extremely controversial, surrounded by large-scale protests and supported by government subsidies.
The rivers of the world are facing major threats from hydroelectric dams that displaces people, destroys forests and increases climate change emissions. In Latin America, Indonesia, China, Vietnam and across the developing world, people and activists who are fighting to stop these dams are being assaulted, imprisoned and sometimes murdered.
Rivers are the living, breathing blood veins of the planet. Hydroelectric dams kill rivers. Nothing about that is clean and cheap.
YOU MIGHT ALSO LIKE
Warren Buffett Wages Quiet War on Solar in the West
Robert F. Kennedy, Jr. to Keynote SXSW Eco
Koch Brothers Plotting Multimillion Dollar War on Electric Vehicles
EcoWatch Daily Newsletter
Bird watching in the U.S. may be a lot harder than it once was, since bird populations are dropping off in droves, according to a new study.
Amazon CEO Jeff Bezos announces the co-founding of The Climate Pledge at the National Press Club on Sept. 19 in Washington, DC. Paul Morigi / Getty Images for Amazon
The day before over 1,500 Amazon.com employees planned a walkout to participate in today's global climate strike, CEO Jeff Bezos unveiled a sweeping plan for the retail and media giant to be carbon neutral by 2040, 10 years ahead of the Paris agreement schedule.
For the past seven years, the Anishinaabe people have been facing the largest tar sands pipeline project in North America. We still are. In these dying moments of the fossil fuel industry, Water Protectors stand, prepared for yet another battle for the water, wild rice and future of all. We face Enbridge, the largest pipeline company in North America, and the third largest corporation in Canada. We face it unafraid and eyes wide open, for indeed we see the future.
The climate crisis often intensifies systems of oppression. Rieko Honma / Stone / Getty Images Plus
By Mara Dolan
We see the effects of the climate crisis all around us in hurricanes, droughts, wildfires, and rising sea levels, but our proximity to these things, and how deeply our lives are changed by them, are not the same for everyone. Frontline groups have been leading the fight for environmental and climate justice for centuries and understand the critical connections between the climate crisis and racial justice, economic justice, migrant justice, and gender justice. Our personal experiences with climate change are shaped by our experiences with race, gender, and class, as the climate crisis often intensifies these systems of oppression.

Lana Del Rey: "call her Doris Doomsday." Darren Gerrish / BFC / Getty Images Entertainment
By Emer McHugh
Popular music has, and always will be, informed by the political and social contexts from which it emerges.
It was early in the morning last Thursday, and Jonathan Butler was standing on the Fred Hartman Bridge, helping 11 fellow Greenpeace activists rappel down and suspend themselves over the Houston Ship Channel. The protesters dangled in the air most of the day, shutting down a part of one of the country's largest ports for oil.
By C.J. Polychroniou
Climate change is by far the most serious crisis facing the world today. At stake is the future of civilization as we know it. Yet, both public awareness and government action lag way behind what's needed to avert a climate change catastrophe. In the interview below, Noam Chomsky and Robert Pollin discuss the challenges ahead and what needs to be done.
Food manufacturer General Mills issued a voluntary recall of more than 600,000 pounds, or about 120,000 bags, of Gold Medal Unbleached All Purpose Flour this week after a sample tested positive for a bacteria strain known to cause illness.