This website uses cookies to ensure you get the best experience while browsing it. By clicking 'Got It' you're accepting these terms.
Why Hiking Half Dome Is a Must for Your Bucket List
Sep. 22, 2015 12:06PM EST
Adventure
Half Dome in Yosemite National Park is breathtaking just to look at. Don't believe me? Take naturalist and Sierra Club co-founder John Muir's word for it, who was reportedly the ninth person to climb it. He described Half Dome as "the most beautiful and most sublime of all the wonderful Yosemite rocks." I especially love that Muir refers to Half Dome and its surrounding massive granite peaks as "wonderful Yosemite rocks."
[insert_gallery]
Yosemite is one of the most popular parks in the country and Half Dome one of its most popular hikes. The granite crest known as Half Dome towers 4,737 feet above the valley floor (for a total elevation of about 8,800 feet). It's the park's most iconic feature. For the longest time, its summit was deemed "perfectly inaccessible." Then, in 1875 a man by the name of George G. Anderson made it to the top by drilling and placing iron eyebolts into the granite. By 1919, the park had installed cables on the last 400 feet, so that climbers could pull themselves up the incredibly steep grade of smooth granite to reach the top.
Today, thousands of people summit the granite peak every year, but park rangers warn, it's not for the out of shape, the faint of heart or for those with a fear of heights. The 16.4-mile round-trip hike can take 10-11 hours or more as you gain nearly 5,000 feet in elevation over the course of the hike.
The most famous—or infamous—part of the hike is the cables and with good reason. "Since 1919, relatively few people have fallen and died on the cables," the National Park Service says. I think that is supposed to sound encouraging. Of course, "injuries are not uncommon for those acting irresponsibly," the park service cautions. In fact, the park has to "assist" (read: rescue) hundreds of people on the trail every year. So before beginning the hike, it is imperative that you read up and watch this short video from the park service:
Once you've done that and you still think (like me) that this sounds like a lot of fun, then start making your preparations. A permit is required if you wish to go all the way to the top, so you will need to enter a lottery that the park service holds every March. Alternatively, the park service holds daily lotteries from May to October while the cables are up, and then awards a much smaller number of permits a few days in advance.
The hike itself is truly remarkable. It's recommended you start the hike early (around sunrise), which affords hikers beautiful views of the sun peaking over the granite bluffs that dominate the park's landscape. As you progress, you will take in absolutely stunning views of Vernal and Nevada Falls, Liberty Cap and Half Dome, which if like me, you will look at and say, "Wait we're going to the top of that." And once you've finally reached the top, nothing can beat those views. At the top, hikers are rewarded with the most electrifying, panoramic views of  the Yosemite Valley and High Sierra.
Fair warning, the cables are harrowing to say the least—and I don't really have a fear of heights (though this trek made me reconsider that). They require quite a bit of arm strength, but the hardest part for me was the waiting. The hike has become so popular in recent years that the cables frequently become congested (though I'm told it's much better than the days before the permit system).
There is only one way up and down the cables, and hikers have to let each other pass as they ascend and descend. This results in a lot of waiting, especially if someone freezes up out of fear or fatigue. Let me tell you, the waiting game is difficult to do on the side of a cliff at 4,400 feet with fierce wind gusts—especially when the climb is so steep that you can't see the top, but you're too afraid to look back down to see how far you've gone.
I will admit that my main thought climbing the cables was, "people are crazy for doing this. I am crazy for doing this. I can't believe I'm doing this!" But the camaraderie on the cables was incredibly reassuring. Everyone is so encouraging and just a few words like "you got this" from those descending were all I needed to get to the top of that damn rock. And the descent from the cables is so much easier (I even looked down, though I didn't really have a choice).
That view from the top, though, makes it all so worth it. It's hard to put 4,800 feet of elevation into perspective. It's four times higher than the Empire State Building and even higher than the drop from the South Rim of the Grand Canyon to the bottom. That's quite a drop.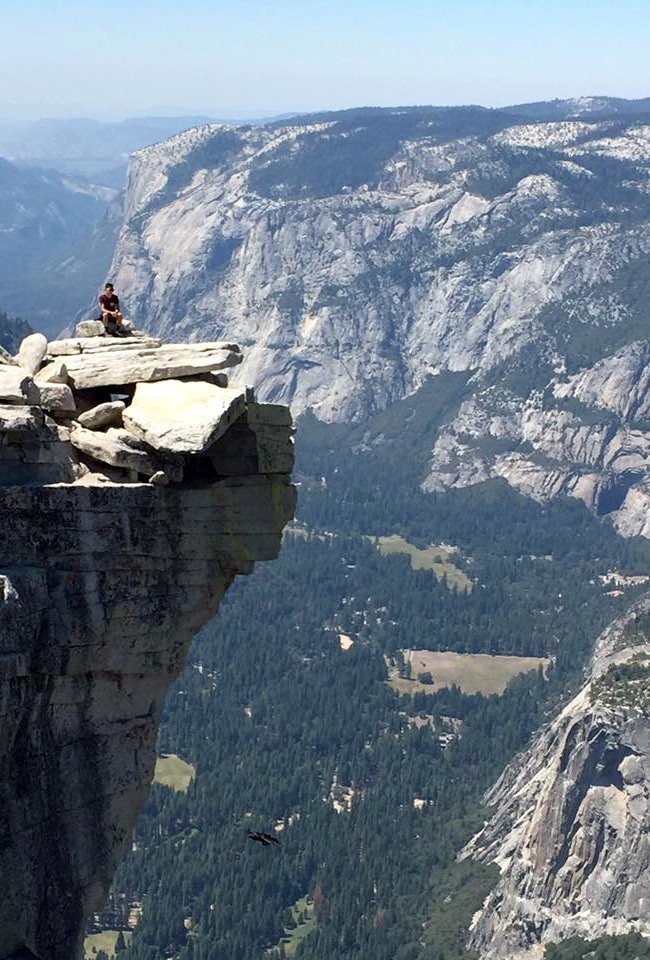 Actually, the entire trek from beginning to end made it all so worth it. You'll follow the Merced River for several miles to the top of Vernal Fall. Then, you'll climb higher until you reach Nevada Fall. After that, you get a slight break from all that elevation gain as you meander through Little Yosemite Valley. Once you work your way through alpine forests, you'll hit Sub Dome, where you learn how fun it is to climb up steep granite steps at 8,000 feet. And then, finally you'll hit the cables and then you're at the top.
That's all there is to it. It's a once-in-a-lifetime experience and well worth the effort. Just be sure to be prepared before you embark and plan on being incredibly sore for the next several days. But before you boast to all your friends that you're going to "conquer a mountain," I think it's important to note what John Muir said upon reflection of his hike to the summit:
When a mountain is climbed it is said to be conquered—as well say a man is conquered when a fly lights on his head. Blue jays have trodden the Dome many a day; so have beetles and chipmunks, and Tissiack [Half Dome] will hardly be more conquered, now that man is added to her list of visitors.
YOU MIGHT ALSO LIKE
Historic Wildfire Season Has Burned More Than 7.5 Million Acres (That's Larger Than Massachusetts)
David Suzuki: How Nature Benefits Human Health
EcoWatch Daily Newsletter
Two Sherpa descending from Everest Base Camp, Himalayas, Khumbu, Nepal. Joel Addams / Aurora Photos / Getty Images
Climate change is having a grizzly effect on Mount Everest as melting snow and glaciers reveal some of the bodies of climbers who died trying to scale the world's highest peak.
Navajo Generating Station, Arizona. Wolfgang Moroder / Wikimedia / CC BY-SA 3.0
The Navajo Nation have decided to stop pursuing the acquisition of a beleaguered coal-fired power plant in Arizona, locking in the plant to be taken offline and its associated coal mine to close later this year.
A Navajo Nation Council committee voted 11-9 last week to stop pursuing the purchase of the 2,250-megawatt Navajo Generating Station, which with the Kayenta coal mine provides more than 800 jobs to primarily Navajo and Hopi workers as well as tribal royalties.
A coalition of utilities that own the plant said in 2017 it would cease operations due to increased economic pressure, and the plant's future has proved a flash point for national and regional energy policy and raised larger questions on how Native communities will handle ties to fossil fuel industries as the economy changes.
For a deeper dive:
Arizona Republic, Indian Country Today, AP, WOKV, Farmington Daily Times
For more climate change and clean energy news, you can follow Climate Nexus on Twitter and Facebook, and sign up for daily Hot News.
Related Articles Around the Web
Sir David Attenborough opens Woodberry Wetlands on April 30, 2016 in London, United Kingdom. Danny Martindale / WireImage
An extended version of the Fuxing bullet train at the China National Railway Test Center on Oct. 15, 2018 in Beijing, China. VCG / VCG via Getty Images
By Jeff Turrentine
Is it just us?
Other countries don't seem to have a problem getting their high-speed rail systems on track. This superfast, fuel-efficient form of mass transit is wildly popular throughout Asia and the European Union. Japan's sleek Shinkansen line, the busiest high-speed rail system in the world, carries an estimated 420,000 riders every weekday. In China, the new Fuxing Hao bullet train now hurries more than 100 million passengers a year between Beijing and Shanghai at a top speed of 218 miles an hour, allowing its riders to make the trip of 775 miles — roughly the distance from New York City to Chicago — in about four and a half hours. Spain, Germany and France together have more than 4,500 miles of track dedicated to high-speed rail, over which more than 150 million passengers travel annually.
Ocean Heroes Bootcamp
By Coda Christopherson (11) and Lea Eiders (15)
Growing up in a plastic-free home, I was sheltered from the plastic waste crisis. I (Coda) went to a very progressive school that had vegan lunch items, farm animals and ran on solar power. My mom produces zero-waste events and my dad is a sailor, so we're very passionate about the ocean. When I was nine years old, we moved back to Manhattan Beach, California and I started 3rd grade in a public school. This was the first time I really understood that plastic-free living is not the norm; single-use plastics were everywhere, especially in the cafeteria. Once I recognized this problem, I knew I had to make a difference.
A major California avocado producer issued a voluntary recall of the popular fruit over concerns they could be contaminated with Listeria monocytogenes, USA Today reported.
Henry Avocado issued the recall Saturday after a routine government inspection at its California packing facility turned up positive test results for the bacteria on "environmental samples," the company said in a statement. No illnesses have been reported.
Acting Secretary David Bernhardt visited Watson Hopper Inc., a manufacturer of rigs and oil drilling equipment in Hobbs, New Mexico on Feb. 6, 2019.
Tami A. Heilemann / DOI
Oil executives gathered for a conference laughed about their "unprecedented" access to Trump administration officials, according to a recording obtained by Reveal from the Center for Investigative Reporting.
In the recording, taken at a June 2017 meeting of the Independent Petroleum Association of America (IPAA) at a Ritz-Carlton in Southern California, members expressed excitement about one official in particular: David Bernhardt, who had been nominated that April to be deputy secretary at the Department of Interior (DOI). Bernhardt would be confirmed the following month.
"We know him very well, and we have direct access to him, have conversations with him about issues ranging from federal land access to endangered species, to a lot of issues," IPAA political director Dan Naatz said in the recording.