Why Hiking Half Dome Is a Must for Your Bucket List
Sep. 22, 2015 01:06PM EST
Adventure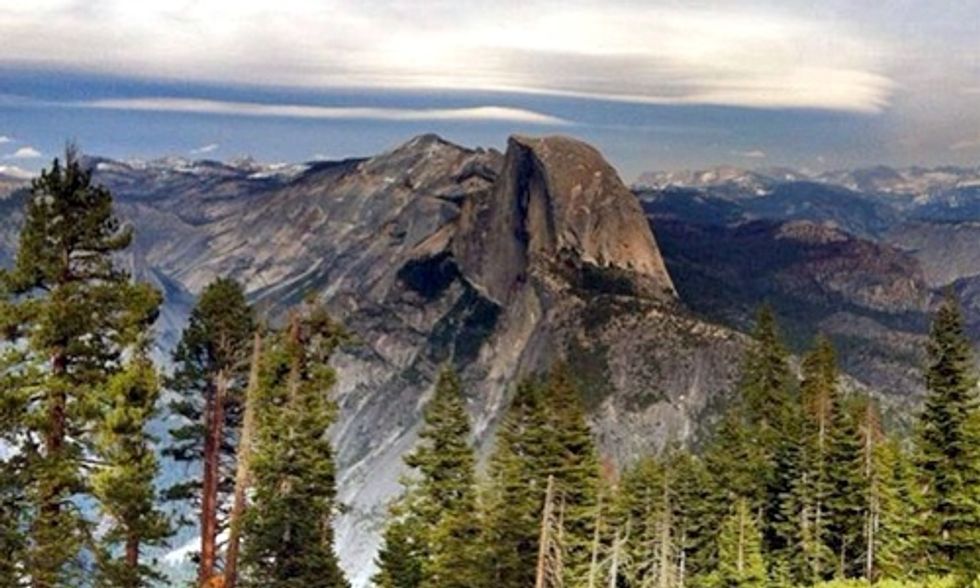 Half Dome in Yosemite National Park is breathtaking just to look at. Don't believe me? Take naturalist and Sierra Club co-founder John Muir's word for it, who was reportedly the ninth person to climb it. He described Half Dome as "the most beautiful and most sublime of all the wonderful Yosemite rocks." I especially love that Muir refers to Half Dome and its surrounding massive granite peaks as "wonderful Yosemite rocks."
[insert_gallery]
Yosemite is one of the most popular parks in the country and Half Dome one of its most popular hikes. The granite crest known as Half Dome towers 4,737 feet above the valley floor (for a total elevation of about 8,800 feet). It's the park's most iconic feature. For the longest time, its summit was deemed "perfectly inaccessible." Then, in 1875 a man by the name of George G. Anderson made it to the top by drilling and placing iron eyebolts into the granite. By 1919, the park had installed cables on the last 400 feet, so that climbers could pull themselves up the incredibly steep grade of smooth granite to reach the top.
Today, thousands of people summit the granite peak every year, but park rangers warn, it's not for the out of shape, the faint of heart or for those with a fear of heights. The 16.4-mile round-trip hike can take 10-11 hours or more as you gain nearly 5,000 feet in elevation over the course of the hike.
The most famous—or infamous—part of the hike is the cables and with good reason. "Since 1919, relatively few people have fallen and died on the cables," the National Park Service says. I think that is supposed to sound encouraging. Of course, "injuries are not uncommon for those acting irresponsibly," the park service cautions. In fact, the park has to "assist" (read: rescue) hundreds of people on the trail every year. So before beginning the hike, it is imperative that you read up and watch this short video from the park service:
Once you've done that and you still think (like me) that this sounds like a lot of fun, then start making your preparations. A permit is required if you wish to go all the way to the top, so you will need to enter a lottery that the park service holds every March. Alternatively, the park service holds daily lotteries from May to October while the cables are up, and then awards a much smaller number of permits a few days in advance.
The hike itself is truly remarkable. It's recommended you start the hike early (around sunrise), which affords hikers beautiful views of the sun peaking over the granite bluffs that dominate the park's landscape. As you progress, you will take in absolutely stunning views of Vernal and Nevada Falls, Liberty Cap and Half Dome, which if like me, you will look at and say, "Wait we're going to the top of that." And once you've finally reached the top, nothing can beat those views. At the top, hikers are rewarded with the most electrifying, panoramic views of  the Yosemite Valley and High Sierra.
Fair warning, the cables are harrowing to say the least—and I don't really have a fear of heights (though this trek made me reconsider that). They require quite a bit of arm strength, but the hardest part for me was the waiting. The hike has become so popular in recent years that the cables frequently become congested (though I'm told it's much better than the days before the permit system).
There is only one way up and down the cables, and hikers have to let each other pass as they ascend and descend. This results in a lot of waiting, especially if someone freezes up out of fear or fatigue. Let me tell you, the waiting game is difficult to do on the side of a cliff at 4,400 feet with fierce wind gusts—especially when the climb is so steep that you can't see the top, but you're too afraid to look back down to see how far you've gone.
I will admit that my main thought climbing the cables was, "people are crazy for doing this. I am crazy for doing this. I can't believe I'm doing this!" But the camaraderie on the cables was incredibly reassuring. Everyone is so encouraging and just a few words like "you got this" from those descending were all I needed to get to the top of that damn rock. And the descent from the cables is so much easier (I even looked down, though I didn't really have a choice).
That view from the top, though, makes it all so worth it. It's hard to put 4,800 feet of elevation into perspective. It's four times higher than the Empire State Building and even higher than the drop from the South Rim of the Grand Canyon to the bottom. That's quite a drop.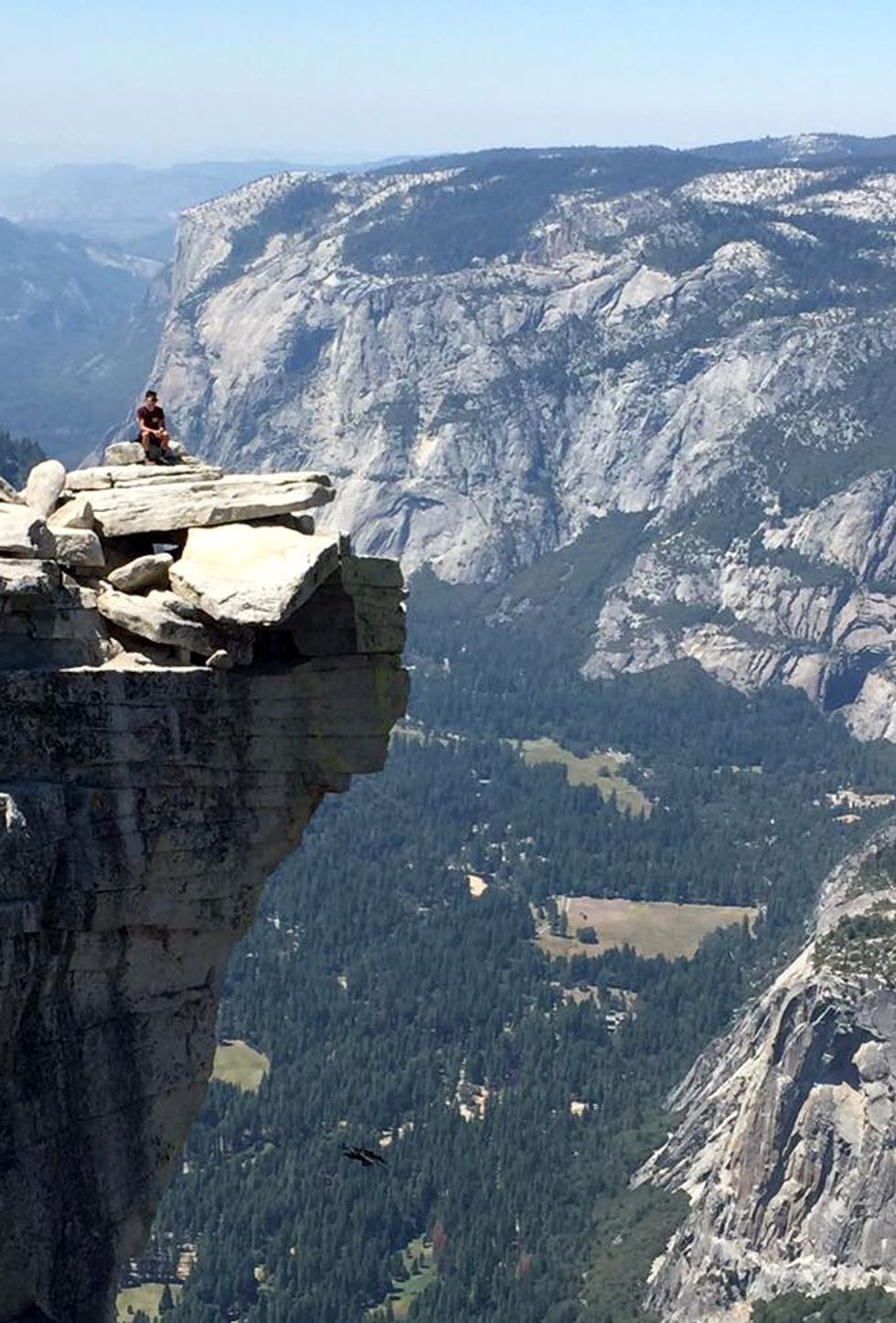 Actually, the entire trek from beginning to end made it all so worth it. You'll follow the Merced River for several miles to the top of Vernal Fall. Then, you'll climb higher until you reach Nevada Fall. After that, you get a slight break from all that elevation gain as you meander through Little Yosemite Valley. Once you work your way through alpine forests, you'll hit Sub Dome, where you learn how fun it is to climb up steep granite steps at 8,000 feet. And then, finally you'll hit the cables and then you're at the top.
That's all there is to it. It's a once-in-a-lifetime experience and well worth the effort. Just be sure to be prepared before you embark and plan on being incredibly sore for the next several days. But before you boast to all your friends that you're going to "conquer a mountain," I think it's important to note what John Muir said upon reflection of his hike to the summit:
When a mountain is climbed it is said to be conquered—as well say a man is conquered when a fly lights on his head. Blue jays have trodden the Dome many a day; so have beetles and chipmunks, and Tissiack [Half Dome] will hardly be more conquered, now that man is added to her list of visitors.
YOU MIGHT ALSO LIKE
Historic Wildfire Season Has Burned More Than 7.5 Million Acres (That's Larger Than Massachusetts)
David Suzuki: How Nature Benefits Human Health
EcoWatch Daily Newsletter
Related Articles from EcoWatch