This website uses cookies to ensure you get the best experience while browsing it. By clicking 'Got It' you're accepting these terms.
Why Grass-Fed Butter Is One of the Healthiest Fats on the Planet
Mar. 03, 2015 01:46PM EST
Popular
Butter is one of the healthiest fats on the planet.
It's not just a big pile of yellow-colored fat, there are many important nutrients in there, some of which have potent biological effects.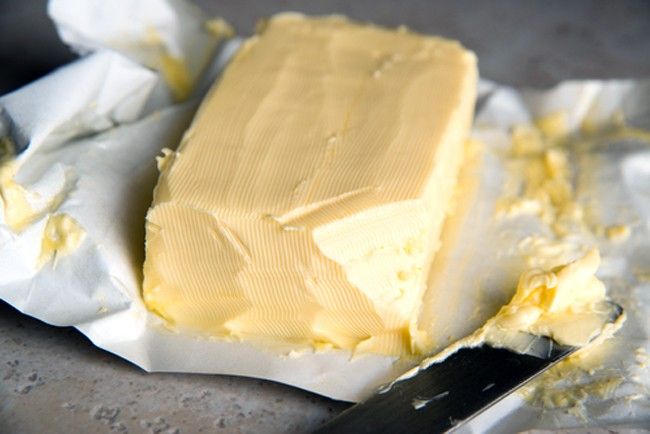 Despite having been demonized in the past, real grass-fed butter is one of the healthiest fats on the planet. Period.Photo credit: Shutterstock
However, this does depend on the type of butter, and the amounts of these nutrients vary greatly depending on what the cows ate.
Butter From Grass-Fed Cows is a Major Source of Heart-Healthy Nutrients
Butter is basically just milk fat, also known as butterfat.
Butterfat is highly complex. It contains about 400 different fatty acids, and a decent amount of fat-soluble vitamins (1).
Fatty acids are actually more than just energy sources, some of them have potent biological activity.
As it turns out, many of the fatty acids in butter can affect our physiology and biochemistry in some way, leading to major health benefits.
This includes the fatty acid CLA (conjugated linoleic acid). It is popular as a fat loss supplement, and studies show that it can have powerful effects on health (2, 3).
Grass-fed butter contains five times more CLA than butter from grain-fed cows (4).
Butter from grass-fed cows is also much higher in Omega-3 fatty acids and vitamin K2, compared to butter from grain-fed cows (5).
As you can see, butter from grass-fed cows is a much healthier and more nutritious choice.
Butter Contains Saturated Fat, But Who Cares?
Butter used to be considered unhealthy, because it contains saturated fat.
However, this is actually not a valid argument against butter, because the saturated fat myth has been thoroughly debunked in recent years.
Two massive review studies were published recently, one in 2010 and the other in 2014. Both included hundreds of thousands of people.
These studies clearly showed that there is no association between saturated fat consumption and heart disease (6, 7).
Studies Show That People Who Eat Grass-Fed Butter Have a Lower Risk of Heart Disease
The relationship between full-fat dairy consumption and heart disease seems to depend on the country in which the study is performed.
In countries where cows are largely grass-fed, the people who eat the most butter seem to have a drastically reduced risk of heart disease.
An impressive study on this was published in the American Journal of Clinical Nutrition, in the year 2010: Smit LA, et al. Conjugated linoleic acid in adipose tissue and risk of myocardial infarction. American Journal of Clinical Nutrition, 2010.
This study looked at the levels of CLA in the fat tissue of 1813 non-fatal heart attack patients, and compared them to 1813 similar subjects who had not gotten heart attacks.
Levels of this fatty acid are a very reliable marker for the intake of fatty dairy products, and this study was done in Costa Rica, where cows are grass-fed.
They split the subjects into 5 groups, from lowest to highest, depending on their levels of CLA. The results were fairly remarkable: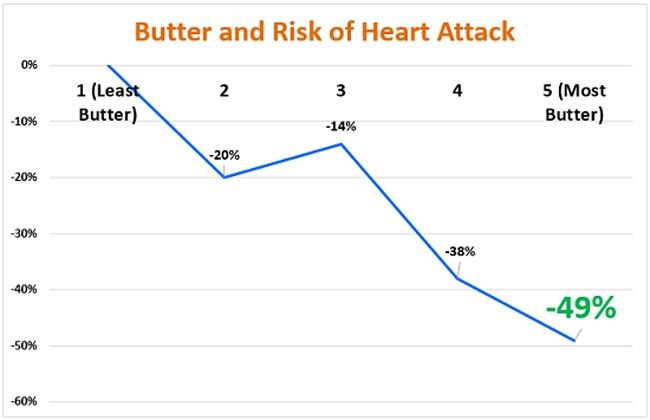 As you can see, the more full-fat dairy (like butter) people ate, the lower their risk of heart attack.
In fact, the people who ate the most were 49 percent less likely to experience a heart attack, compared to those who ate the least.
However, keep in mind that this was a case-control study, a type of observational study. These types of studies can not prove causation.
This study shows that people who eat more grass-fed dairy fat have a lower risk of heart disease, but it can not prove that dairy fat caused the reduction in risk.
But, at the very least, this study is pretty good reassurance that butter is not the devil it was made out to be.
Many Other Studies Have Shown Similar Results
This is far from being the only study.
Another study from Australia showed that people who ate the most full-fat dairy had a 69% lower risk of heart disease than people who ate the least (8).
Several other studies in European countries, where cows are generally grass-fed, have shown that dairy fat is linked to reduced heart attacks and strokes (9, 10).
Grass-Fed Butter is Super Healthy
Despite having been demonized in the past, real grass-fed butter is one of the healthiest fats on the planet. Period.
EcoWatch Daily Newsletter
Ryan Hagerty / USFWS
It's become a familiar story with the Trump administration: Scientists write a report that shows the administration's policies will cause environmental damage, then the administration buries the report and fires the scientists.
A coalition of some of the largest environmental groups in the country joined forces to file a lawsuit in federal court challenging the Trump administration's maneuver to weaken the Endangered Species Act.
beyond foto / Getty Images
By Kimberly Holland
Children who eat a lot of gluten in their earliest years may have an increased risk of developing celiac disease and gluten intolerance, according to a new study published in JAMATrusted Source.
Joe Raedle / Getty Images
By Jake Johnson
Calling the global climate crisis both the greatest threat facing the U.S. and the greatest opportunity for transformative change, Sen. Bernie Sanders unveiled today a comprehensive Green New Deal proposal that would transition the U.S. economy to 100 percent renewable energy and create 20 million well-paying union jobs over a decade.
The Parties to CITES agreed to list giraffes on Appendix II of the Convention on International Trade in Endangered Species (CITES) today at the World Wildlife Conference or CoP18 in Geneva. Such protections will ensure that all giraffe parts trade were legally acquired and not sourced from the poached giraffes trade and will require countries to make non-detriment findings before allowing giraffe exports. The listing will also enable the collection of international trade data for giraffes that might justify greater protections at both CITES and other venues in the future.

The WHO stressed that more research is needed on the potential health risks of microplastic ingestion. luchschen / iStock / Getty Images Plus
The UN's health agency on Thursday said that microplastics contained in drinking water posed a "low" risk at their current levels.
However, the World Health Organization (WHO) — in its first report on the potential health risks of microplastic ingestion — also stressed more research was needed to reassure consumers.
Brazil's right-wing President Jair Bolsonaro is giving President Trump a run for his money in the alternative facts department.
Washington Gov. Jay Inslee, who made solving the climate crisis the center of his presidential campaign, is dropping out of the 2020 Democratic primary race.