This website uses cookies to ensure you get the best experience while browsing it. By clicking 'Got It' you're accepting these terms.


The best of EcoWatch, right in your inbox. Sign up for our email newsletter!
Why Grass-Fed Butter Is One of the Healthiest Fats on the Planet
Mar. 03, 2015 01:46PM EST
Popular
Butter is one of the healthiest fats on the planet.
It's not just a big pile of yellow-colored fat, there are many important nutrients in there, some of which have potent biological effects.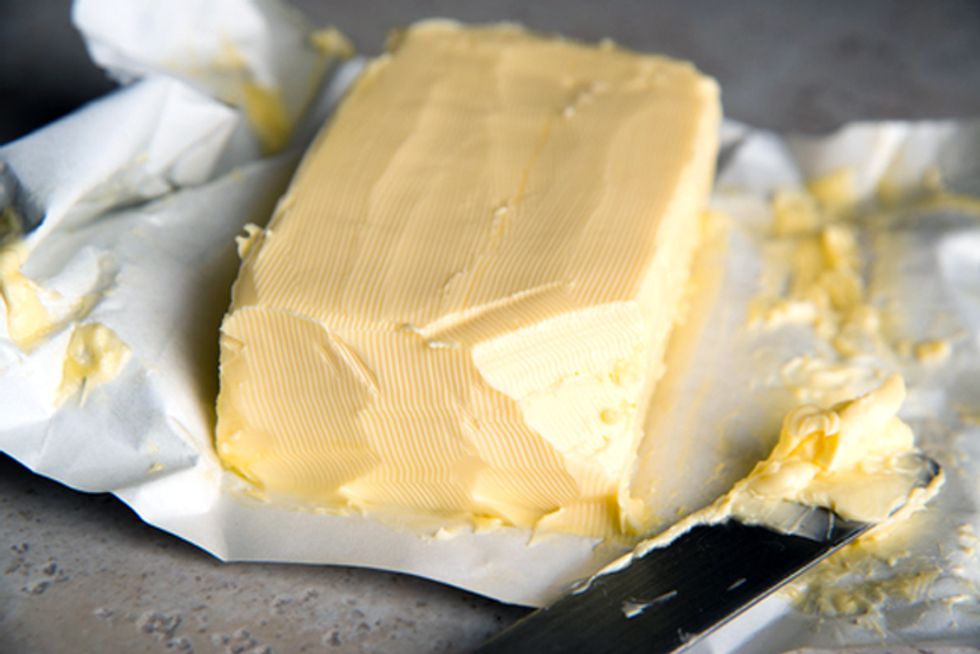 Despite having been demonized in the past, real grass-fed butter is one of the healthiest fats on the planet. Period.Photo credit: Shutterstock
However, this does depend on the type of butter, and the amounts of these nutrients vary greatly depending on what the cows ate.
Butter From Grass-Fed Cows is a Major Source of Heart-Healthy Nutrients
Butter is basically just milk fat, also known as butterfat.
Butterfat is highly complex. It contains about 400 different fatty acids, and a decent amount of fat-soluble vitamins (1).
Fatty acids are actually more than just energy sources, some of them have potent biological activity.
As it turns out, many of the fatty acids in butter can affect our physiology and biochemistry in some way, leading to major health benefits.
This includes the fatty acid CLA (conjugated linoleic acid). It is popular as a fat loss supplement, and studies show that it can have powerful effects on health (2, 3).
Grass-fed butter contains five times more CLA than butter from grain-fed cows (4).
Butter from grass-fed cows is also much higher in Omega-3 fatty acids and vitamin K2, compared to butter from grain-fed cows (5).
As you can see, butter from grass-fed cows is a much healthier and more nutritious choice.
Butter Contains Saturated Fat, But Who Cares?
Butter used to be considered unhealthy, because it contains saturated fat.
However, this is actually not a valid argument against butter, because the saturated fat myth has been thoroughly debunked in recent years.
Two massive review studies were published recently, one in 2010 and the other in 2014. Both included hundreds of thousands of people.
These studies clearly showed that there is no association between saturated fat consumption and heart disease (6, 7).
Studies Show That People Who Eat Grass-Fed Butter Have a Lower Risk of Heart Disease
The relationship between full-fat dairy consumption and heart disease seems to depend on the country in which the study is performed.
In countries where cows are largely grass-fed, the people who eat the most butter seem to have a drastically reduced risk of heart disease.
An impressive study on this was published in the American Journal of Clinical Nutrition, in the year 2010: Smit LA, et al. Conjugated linoleic acid in adipose tissue and risk of myocardial infarction. American Journal of Clinical Nutrition, 2010.
This study looked at the levels of CLA in the fat tissue of 1813 non-fatal heart attack patients, and compared them to 1813 similar subjects who had not gotten heart attacks.
Levels of this fatty acid are a very reliable marker for the intake of fatty dairy products, and this study was done in Costa Rica, where cows are grass-fed.
They split the subjects into 5 groups, from lowest to highest, depending on their levels of CLA. The results were fairly remarkable: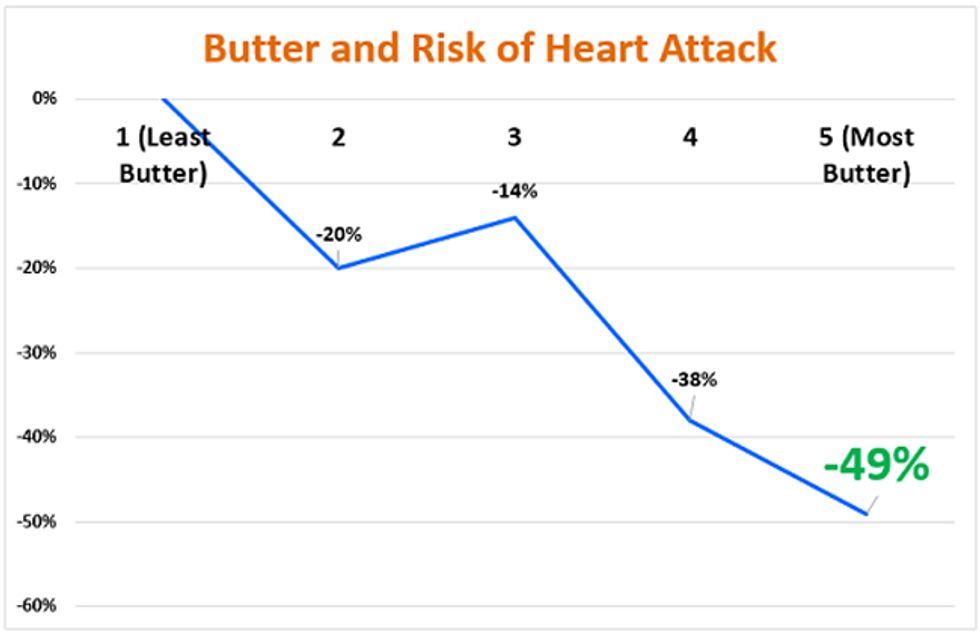 As you can see, the more full-fat dairy (like butter) people ate, the lower their risk of heart attack.
In fact, the people who ate the most were 49 percent less likely to experience a heart attack, compared to those who ate the least.
However, keep in mind that this was a case-control study, a type of observational study. These types of studies can not prove causation.
This study shows that people who eat more grass-fed dairy fat have a lower risk of heart disease, but it can not prove that dairy fat caused the reduction in risk.
But, at the very least, this study is pretty good reassurance that butter is not the devil it was made out to be.
Many Other Studies Have Shown Similar Results
This is far from being the only study.
Another study from Australia showed that people who ate the most full-fat dairy had a 69% lower risk of heart disease than people who ate the least (8).
Several other studies in European countries, where cows are generally grass-fed, have shown that dairy fat is linked to reduced heart attacks and strokes (9, 10).
Grass-Fed Butter is Super Healthy
Despite having been demonized in the past, real grass-fed butter is one of the healthiest fats on the planet. Period.
EcoWatch Daily Newsletter
Brogues Cozens-Mcneelance / EyeEm / Getty Images
Fruit juice is generally perceived as healthy and far superior to sugary soda.
Pexels
By Danielle Nierenberg and Katherine Walla
As the holiday season ramps up for many across the world, Food Tank is highlighting 15 children's books that will introduce young eaters, growers and innovators to the world of food and agriculture. Authors and organizations are working to show children the importance — and fun — of eating healthy, nutritious and delicious food, growing their own produce, and giving food to others in need.
Pixabay
Purple cabbage, also referred to as red cabbage, belongs to the Brassica genus of plants. This group includes nutrient-dense vegetables, such as broccoli, Brussels sprouts, and kale.
Pexels
By Lauren Wolahan
For the first time ever, the UN is building out a roadmap for curbing carbon pollution from agriculture. To take part in that process, a coalition of U.S. farmers traveled to the UN climate conference in Madrid, Spain this month to make the case for the role that large-scale farming operations, long criticized for their outsized emissions, can play in addressing climate change.
Pexels
In recent years, acai bowls have become one of the most hyped-up health foods on the market.
They're prepared from puréed acai berries — which are fruits grown in Central and South America — and served as a smoothie in a bowl or glass, topped with fruit, nuts, seeds, or granola.