Why Grass-Fed Butter Is One of the Healthiest Fats on the Planet
Butter is one of the healthiest fats on the planet.
It's not just a big pile of yellow-colored fat, there are many important nutrients in there, some of which have potent biological effects.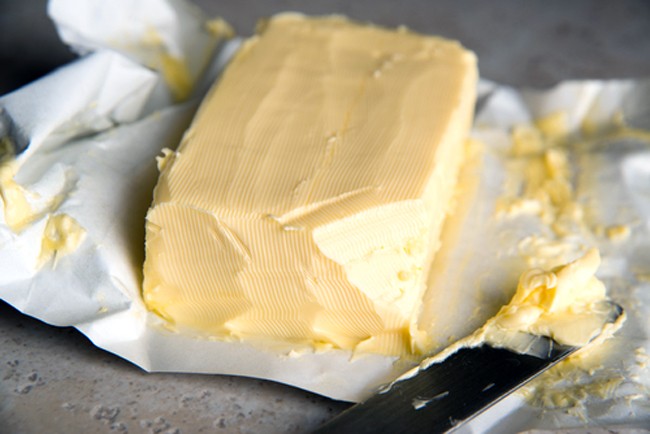 Despite having been demonized in the past, real grass-fed butter is one of the healthiest fats on the planet. Period.Photo credit: Shutterstock
However, this does depend on the type of butter, and the amounts of these nutrients vary greatly depending on what the cows ate.
Butter From Grass-Fed Cows is a Major Source of Heart-Healthy Nutrients
Butter is basically just milk fat, also known as butterfat.
Butterfat is highly complex. It contains about 400 different fatty acids, and a decent amount of fat-soluble vitamins (1).
Fatty acids are actually more than just energy sources, some of them have potent biological activity.
As it turns out, many of the fatty acids in butter can affect our physiology and biochemistry in some way, leading to major health benefits.
This includes the fatty acid CLA (conjugated linoleic acid). It is popular as a fat loss supplement, and studies show that it can have powerful effects on health (2, 3).
Grass-fed butter contains five times more CLA than butter from grain-fed cows (4).
Butter from grass-fed cows is also much higher in Omega-3 fatty acids and vitamin K2, compared to butter from grain-fed cows (5).
As you can see, butter from grass-fed cows is a much healthier and more nutritious choice.
Butter Contains Saturated Fat, But Who Cares?
Butter used to be considered unhealthy, because it contains saturated fat.
However, this is actually not a valid argument against butter, because the saturated fat myth has been thoroughly debunked in recent years.
Two massive review studies were published recently, one in 2010 and the other in 2014. Both included hundreds of thousands of people.
These studies clearly showed that there is no association between saturated fat consumption and heart disease (6, 7).
Studies Show That People Who Eat Grass-Fed Butter Have a Lower Risk of Heart Disease
The relationship between full-fat dairy consumption and heart disease seems to depend on the country in which the study is performed.
In countries where cows are largely grass-fed, the people who eat the most butter seem to have a drastically reduced risk of heart disease.
An impressive study on this was published in the American Journal of Clinical Nutrition, in the year 2010: Smit LA, et al. Conjugated linoleic acid in adipose tissue and risk of myocardial infarction. American Journal of Clinical Nutrition, 2010.
This study looked at the levels of CLA in the fat tissue of 1813 non-fatal heart attack patients, and compared them to 1813 similar subjects who had not gotten heart attacks.
Levels of this fatty acid are a very reliable marker for the intake of fatty dairy products, and this study was done in Costa Rica, where cows are grass-fed.
They split the subjects into 5 groups, from lowest to highest, depending on their levels of CLA. The results were fairly remarkable: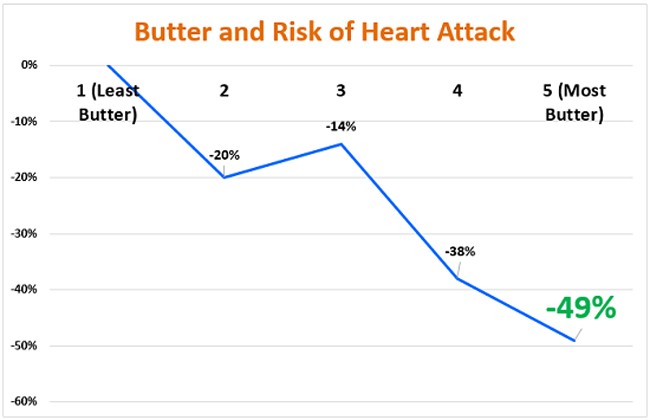 As you can see, the more full-fat dairy (like butter) people ate, the lower their risk of heart attack.
In fact, the people who ate the most were 49 percent less likely to experience a heart attack, compared to those who ate the least.
However, keep in mind that this was a case-control study, a type of observational study. These types of studies can not prove causation.
This study shows that people who eat more grass-fed dairy fat have a lower risk of heart disease, but it can not prove that dairy fat caused the reduction in risk.
But, at the very least, this study is pretty good reassurance that butter is not the devil it was made out to be.
Many Other Studies Have Shown Similar Results
This is far from being the only study.
Another study from Australia showed that people who ate the most full-fat dairy had a 69% lower risk of heart disease than people who ate the least (8).
Several other studies in European countries, where cows are generally grass-fed, have shown that dairy fat is linked to reduced heart attacks and strokes (9, 10).
Grass-Fed Butter is Super Healthy
Despite having been demonized in the past, real grass-fed butter is one of the healthiest fats on the planet. Period.
Disturbing footage of a snake in Goa, India vomiting an empty soft drink bottle highlights the world's mounting plastic pollution crisis.
Keep reading...
Show less
By Melissa Hellmann
When her eldest son was in elementary school in the Oakland Unified School District, Ruth Woodruff became alarmed by the meals he was being served at school. A lot of it was frozen, processed foods, packed with preservatives. At home, she was feeding her children locally sourced, organic foods.
Keep reading...
Show less
May. 28, 2017 01:33PM EST
Laurie Woolever
By James O'Hare
There are 20 million people in the world facing famine in South Sudan, Somalia, Nigeria and Yemen. In developed nations, too, people go hungry. Venezuela, for instance, is enduring food insecurity on a national level as a result of economic crisis and political corruption. In the U.S., the land of supposed excess, 12.7 percent of households were food insecure in 2015, meaning they didn't know where their next meal would come from.
Keep reading...
Show less
May. 28, 2017 01:22PM EST
Melwater, Greenland ice sheet. Diane Tuft
Artists are taking the climate crisis into frame and the results are emotional, beautiful and stirring.
So you've seen the best climate change cartoons and shared them with your friends. You've showed your family the infographics on climate change and health, infographics on how the grid works and infographics about clean, renewable energy. You've even forwarded these official National Oceanic and Atmospheric Administration graphs that explain the 10 clear indicators of climate change to your colleagues at the office.
Keep reading...
Show less
May. 27, 2017 01:11PM EST
As the Trump administration moves full speed ahead on boosting the oil and fossil fuel industry, opposition to increased pipeline construction is cropping up in different communities around the country.
Keep reading...
Show less
May. 27, 2017 01:02PM EST
Minke whale stranding near Havergate Island in Suffolk. MCGA.
By Simon Evans
Last Saturday, two dead whales washed up on the coast of Suffolk, in eastern England, and a third was spotted floating at sea.
What happened next illustrates how news can spread and evolve into misinformation, when reported by journalists rushing to publish before confirming basic facts or sourcing their own quotes.
Keep reading...
Show less
May. 27, 2017 01:22PM EST
By Monica Amarelo and Paul Pestano
Sun safety is a crucial part of any outdoor activity for kids, and sunscreen can help protect children's skin from harmful ultraviolet rays. Kids often get sunburned when they're outside unprotected for longer than expected. Parents need to plan ahead and keep sun protection handy in their cars or bags.
Keep reading...
Show less
May. 27, 2017 01:02PM EST
By Joe McCarthy
A lot of people take part in community clean-up efforts—spending a Saturday morning picking up litter in a park, mowing an overgrown field or painting a fence.
Keep reading...
Show less


Get EcoWatch in your inbox