This website uses cookies to ensure you get the best experience while browsing it. By clicking 'Got It' you're accepting these terms.
Why Grass-Fed Butter Is One of the Healthiest Fats on the Planet
Mar. 03, 2015 01:46PM EST
Butter is one of the healthiest fats on the planet.
It's not just a big pile of yellow-colored fat, there are many important nutrients in there, some of which have potent biological effects.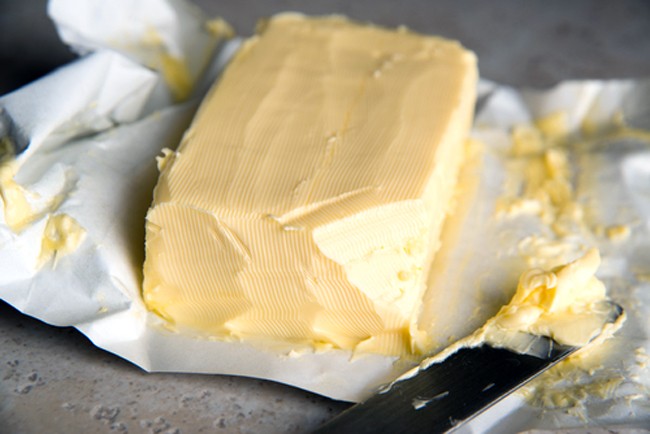 Despite having been demonized in the past, real grass-fed butter is one of the healthiest fats on the planet. Period.Photo credit: Shutterstock
However, this does depend on the type of butter, and the amounts of these nutrients vary greatly depending on what the cows ate.
Butter From Grass-Fed Cows is a Major Source of Heart-Healthy Nutrients
Butter is basically just milk fat, also known as butterfat.
Butterfat is highly complex. It contains about 400 different fatty acids, and a decent amount of fat-soluble vitamins (1).
Fatty acids are actually more than just energy sources, some of them have potent biological activity.
As it turns out, many of the fatty acids in butter can affect our physiology and biochemistry in some way, leading to major health benefits.
This includes the fatty acid CLA (conjugated linoleic acid). It is popular as a fat loss supplement, and studies show that it can have powerful effects on health (2, 3).
Grass-fed butter contains five times more CLA than butter from grain-fed cows (4).
Butter from grass-fed cows is also much higher in Omega-3 fatty acids and vitamin K2, compared to butter from grain-fed cows (5).
As you can see, butter from grass-fed cows is a much healthier and more nutritious choice.
Butter Contains Saturated Fat, But Who Cares?
Butter used to be considered unhealthy, because it contains saturated fat.
However, this is actually not a valid argument against butter, because the saturated fat myth has been thoroughly debunked in recent years.
Two massive review studies were published recently, one in 2010 and the other in 2014. Both included hundreds of thousands of people.
These studies clearly showed that there is no association between saturated fat consumption and heart disease (6, 7).
Studies Show That People Who Eat Grass-Fed Butter Have a Lower Risk of Heart Disease
The relationship between full-fat dairy consumption and heart disease seems to depend on the country in which the study is performed.
In countries where cows are largely grass-fed, the people who eat the most butter seem to have a drastically reduced risk of heart disease.
An impressive study on this was published in the American Journal of Clinical Nutrition, in the year 2010: Smit LA, et al. Conjugated linoleic acid in adipose tissue and risk of myocardial infarction. American Journal of Clinical Nutrition, 2010.
This study looked at the levels of CLA in the fat tissue of 1813 non-fatal heart attack patients, and compared them to 1813 similar subjects who had not gotten heart attacks.
Levels of this fatty acid are a very reliable marker for the intake of fatty dairy products, and this study was done in Costa Rica, where cows are grass-fed.
They split the subjects into 5 groups, from lowest to highest, depending on their levels of CLA. The results were fairly remarkable: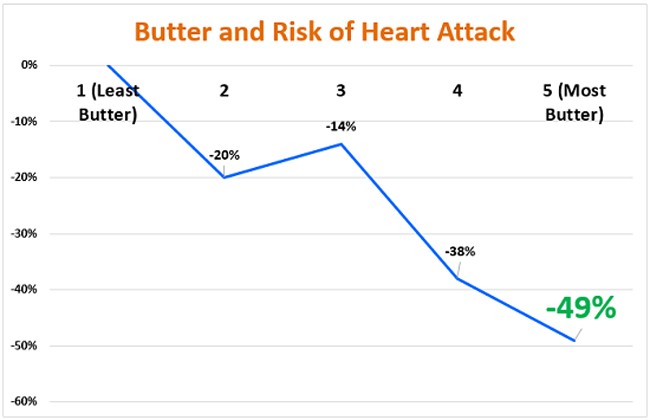 As you can see, the more full-fat dairy (like butter) people ate, the lower their risk of heart attack.
In fact, the people who ate the most were 49 percent less likely to experience a heart attack, compared to those who ate the least.
However, keep in mind that this was a case-control study, a type of observational study. These types of studies can not prove causation.
This study shows that people who eat more grass-fed dairy fat have a lower risk of heart disease, but it can not prove that dairy fat caused the reduction in risk.
But, at the very least, this study is pretty good reassurance that butter is not the devil it was made out to be.
Many Other Studies Have Shown Similar Results
This is far from being the only study.
Another study from Australia showed that people who ate the most full-fat dairy had a 69% lower risk of heart disease than people who ate the least (8).
Several other studies in European countries, where cows are generally grass-fed, have shown that dairy fat is linked to reduced heart attacks and strokes (9, 10).
Grass-Fed Butter is Super Healthy
Despite having been demonized in the past, real grass-fed butter is one of the healthiest fats on the planet. Period.
EcoWatch Daily Newsletter
A drilling rig in a Wyoming natural gas field. William Campbell / Corbis via Getty Images
A U.S. federal judge temporarily blocked oil and gas drilling on 300,000 acres of federal leases in Wyoming Tuesday, arguing that the Bureau of Land Management (BLM) "did not sufficiently consider climate change" when auctioning off the land, The Washington Post reported.
Mizina / iStock / Getty Images
Oats are widely regarded as one of the healthiest grains you can eat, as they're packed with many important vitamins, minerals, and fiber.
JPMorgan Chase building in New York City. Ben Sutherland / CC BY 2.0
By Sharon Kelly
A report published Wednesday names the banks that have played the biggest recent role in funding fossil fuel projects, finding that since 2016, immediately following the Paris agreement's adoption, 33 global banks have poured $1.9 trillion into financing climate-changing projects worldwide.
Sriram Madhusoodanan of Corporate Accountability speaking on conflict of interest demand of the People's Demands at a defining action launching the Demands at COP24. Corporate Accountability
By Patti Lynn
2018 was a groundbreaking year in the public conversation about climate change. Last February, The New York Times reported that a record percentage of Americans now believe that climate change is caused by humans, and there was a 20 percentage point rise in "the number of Americans who say they worry 'a great deal' about climate change."
The head of England's Environment Agency has urged people to stop watering their lawns as a climate-induced water shortage looms. Pexels
England faces an "existential threat" if it does not change how it manages its water, the head of the country's Environment Agency warned Tuesday.
Pexels
By Jessica Corbett
A new analysis revealed Tuesday that over the past two decades heat records across the U.S. have been broken twice as often as cold ones—underscoring experts' warnings about the increasingly dangerous consequences of failing to dramatically curb planet-warming emissions.
A flock of parrots in Telegraph Hill, San Francisco.
~dgies / Flickr
By Madison Dapcevich
Ask any resident of San Francisco about the waterfront parrots, and they will surely tell you a story of red-faced conures squawking or dive-bombing between building peaks. Ask a team of researchers from the University of Georgia, however, and they will tell you of a mysterious string of neurological poisonings impacting the naturalized flock for decades.
Fire burns in the North Santiam State Recreational Area on March 19. Oregon Department of Forestry
An early-season wildfire near Lyons, Oregon burned 60 acres and forced dozens of homes to evacuate Tuesday evening, the Oregon Department of Forestry (ODF) said, as KTVZ reported.
The initial cause of the fire was not yet known, but it has been driven by the strong wind and jumped the North Santiam River, The Salem Statesman Journal reported. As of Tuesday night, it threatened around 35 homes and 30 buildings, and was 20 percent contained.