This website uses cookies to ensure you get the best experience while browsing it. By clicking 'Got It' you're accepting these terms.
Why Excreta Matters in India
Jan. 16, 2012 08:00AM EST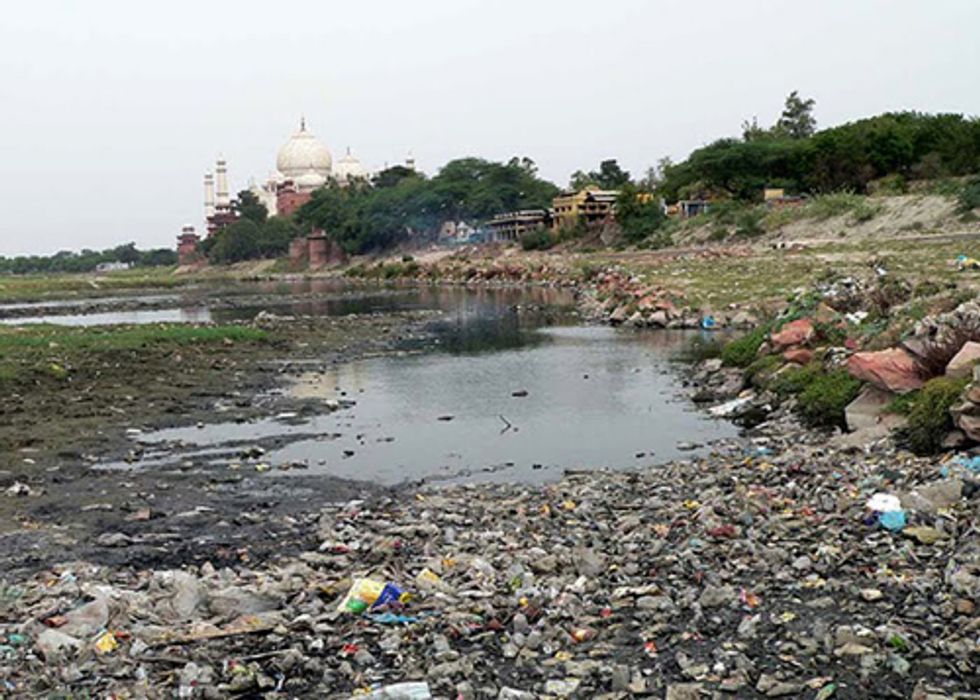 By Sunita Narain
In India, water is life and sewage tells its life story. This is the subject of the Citizens' Seventh Report on the State of India's Environment—Excreta Matters: How urban India is soaking up water, polluting rivers and drowning in its own excreta. It has a seemingly simple plot—it asks where Indian cities get their water and seeks to discover where the waste goes. But this isn't just a question or answer about water, pollution and waste. It's about the way Indian cities (and perhaps other parts of the world that are similarly placed) will develop. It's about a paradigm of growth that's sustainable and affordable.
Urbanisation in India, relentless as it is, will only continue to grow. How should the country manage its water needs so that it doesn't drown in its own excreta? This is what the Centre for Science and Environment (CSE) has asked and tried to answer in the book. What has amazed us is the lack of data, research and understanding surrounding this issue in India. People consume water, discharge waste and see their rivers die. But they often don't make the connection between flushing toilets and dying rivers. It's as if they don't want to know.
Is this a reflection of the caste system of Indian society, where removing waste is somebody else's business? Or is it a reflection of current governance systems, where water and waste are government's business, and within that the business of a seemingly lowly water and sanitation bureaucracy? Or is it a reflection of Indian society's extreme arrogance—that is, the notion that India will somehow be able to solve its water and sewage problems at its own convenience because the current problem isn't pressing enough.
It's clear Indians know little about the water they use and the waste they discharge. We at CSE had to collect data the hard way—city by city, ferreting out the material from government offices, which are rarely visited by researchers. The second volume—71 cities: water-excreta survey—of the seventh citizens' report puts together individual city profiles. Each city is mapped to know more about its past, current and future water footprint. Each city is mapped to know more about where the waste generated from such use of water goes. It's a geography lesson that's essential to learn.
It was back in the late 1990s that environmentalist Anil Agarwal, who conceived and crafted the state of India's environment reports, had said one needs to understand the political economy of defecation, where the rich are subsidised to excrete in convenience.
When we researched for this report, which explains the political economy of defecation, we were struck by one fact that should make us all angry. We found countless instances where a city's drain, called nullah, was actually a river. Delhi residents are familiar with Najafgarh drain, which discharges the city's waste into the Yamuna River. But most of them don't know that this drain has its source in the Lake Sahibi. Now Sahibi is gone, and what has replaced it is a drain carrying only filth—not water. Worse, New Gurgaon—the second largest city in the Indian state of Haryana—is now dumping its sewage into the same lake.
Buddha Nullah—a seasonal water stream—in Ludhiana is referred to as a drain because today, it's full of stench and filth. But not so long ago Buddha Nullah was a clean freshwater stream. One generation has changed its form and name.
The Mithi River is Mumbai's shame. When floods drowned Mumbai in 2005, it learned it had a clogged drain called Mithi, marred by encroachments. It did not realise that the Mithi had not shamed the city, the city had shamed the Mithi. This drain, which originates near the city, is really a river. It was recognised as a river. It flowed like one. But today even official environmental status reports call this living river a storm water drain. One more city has lost its river. These lost rivers are our collective shame.
But should Indians be surprised? Today they take water from their rivers—for irrigation, drinking and hydro-electric plants—and give back waste. Water no longer flows in its rivers. Instead, they flow with the load of excreta and industrial effluent.
Indians should be angry over the loss of our rivers. More worryingly, if they don't change their ways they'll lose their remaining rivers, lakes and other water bodies. This generation won't just be pitied for losing its rivers, but accused of committing deliberate hydrocide. Coming generations will forget that the Yamuna, Cauvery and the Damodar were rivers. They'll get to know them only as what they've become—drains.
For more information, click here.
EcoWatch Daily Newsletter
The CDC has emphasized that washing hands with soap and water is one of the most effective ways to prevent the spread of COVID-19. Guido Mieth / Moment / Getty Images
The Centers for Disease Control has emphasized that washing hands with soap and water is one of the most effective measures we can take in preventing the spread of COVID-19. However, millions of Americans in some of the most vulnerable communities face the prospect of having their water shut off during the lockdowns, according to The Guardian.
A California newt (Taricha torosa) from Napa County, California, USA. Connor Long /
CC BY-SA 3.0
Aerial photos of the Sierra Nevada — the long mountain range stretching down the spine of California — showed rust-colored swathes following the state's record-breaking five-year drought that ended in 2016. The 100 million dead trees were one of the most visible examples of the ecological toll the drought had wrought.
Now, a few years later, we're starting to learn about how smaller, less noticeable species were affected.
Disinfectants and cleaners claiming to sanitize against the novel coronavirus have started to flood the market.
Natthawat / Moment / Getty Images
Disinfectants and cleaners claiming to sanitize against the novel coronavirus have started to flood the market, raising concerns for the U.S. Environmental Protection Agency (EPA), which threatened legal recourse against retailers selling unregistered products, according to The New York Times.
A customer packs groceries in reusable bags at a NYC supermarket on March 1, 2020. Eduardo Munoz Alvarez/Getty Images
The global coronavirus pandemic has thrown our daily routine into disarray. Billions are housebound, social contact is off-limits and an invisible virus makes up look at the outside world with suspicion. No surprise, then, that sustainability and the climate movement aren't exactly a priority for many these days.
Ingredients are displayed for the Old School Pinto Beans from the Decolonize Your Diet cookbook by Luz Calvo and Catriona Rueda Esquibel. Melissa Renwick / Toronto Star via Getty Images
By Molly Matthews Multedo
Livestock farming contributes to global warming, so eating less meat can be better for the climate.